Picture this: it's a beautiful summer day, and you're enjoying the sunshine in your back garden with a drink in your hand. You can smell freshly mown grass and hear the faint hum of bumblebees from the flowers. It sounds like heaven—made even more perfect by the beautiful pergola you stand under.
A patio cover is essentially an outdoor overhead structure that allows you to enjoy the weather in all its glory while protecting you from extreme sunlight, wind and rain.
It protects you from harsh UV rays of the sun as you enjoy its warmth during the summer. And when it's windy, you can curl up with a mug of hot chocolate and listen to the calming sound of air whooshing past as your pergola protects you. Having an outdoor space helps you truly revel in the beauty of nature around you.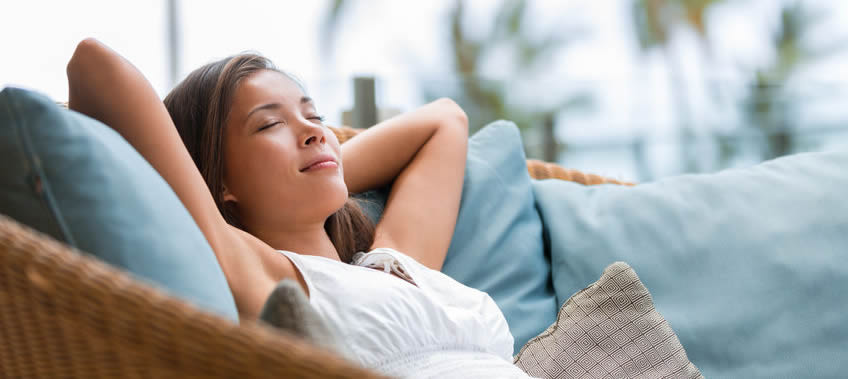 These easy-to-use, attractive outdoor living structures can transform your yard into a functional, comfortable space that you, your family, and visitors are sure to love.
But modern manufacturers offer many types of pergolas, so make sure that you get one that suits you best. This comprehensive buyer's guide is meant to help you explore all kinds of patio covers, making it easy for you to choose the one that's right for you.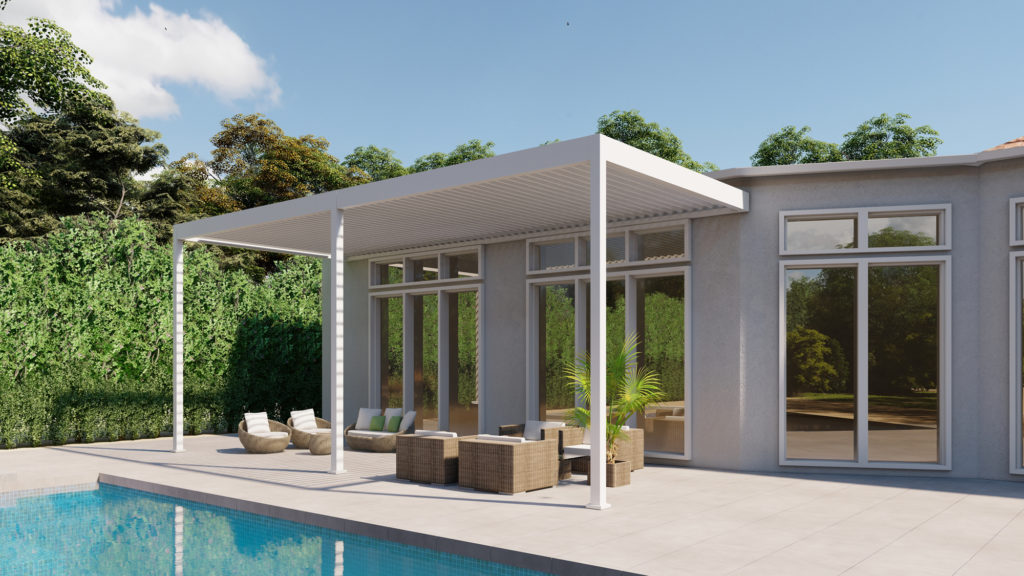 ---
What is a pergola?
Pergolas are wide-open structures with four support beams holding up an ornamental roof design like a lattice. They typically have no walls, thereby accentuating their nature as outdoor structures.
However, these vary significantly in design and construction material. And if you feel that your pergola needs a shade, it's possible to add screens to it. If you require a peaceful space in your backyard, a pergola with a louvered wall will give you the privacy you need.
You can use a pergola to accentuate your backyard, of course, but also to link pavilions and provide shade on open terraces. They typically comprise slatted roofs that allow some sunlight into the space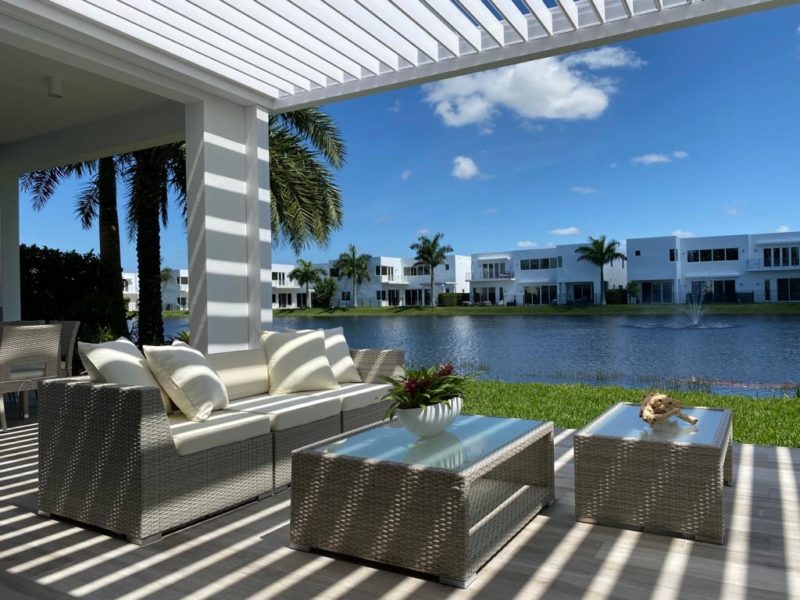 ---
The History Of Pergolas
While the materials, styles, and names have evolved, pergolas have remained popular over three millennia. Architects, historians, and designers alike wonder whether pergolas' popularity stems from their functionality or aesthetic—innovative manufacturers believe it to be both.
Origins
History has shown us that the pergola is a timeless design element.
A surviving architectural plan from around 1400 BC shows a pergola in the entryway to a garden in what might've been a high court official's home in ancient Egypt. Back then, pergolas were made of readily available materials such as wood, brick, and stone. Gardeners planted creepers and vines around the slats in the roof to provide shade to the users.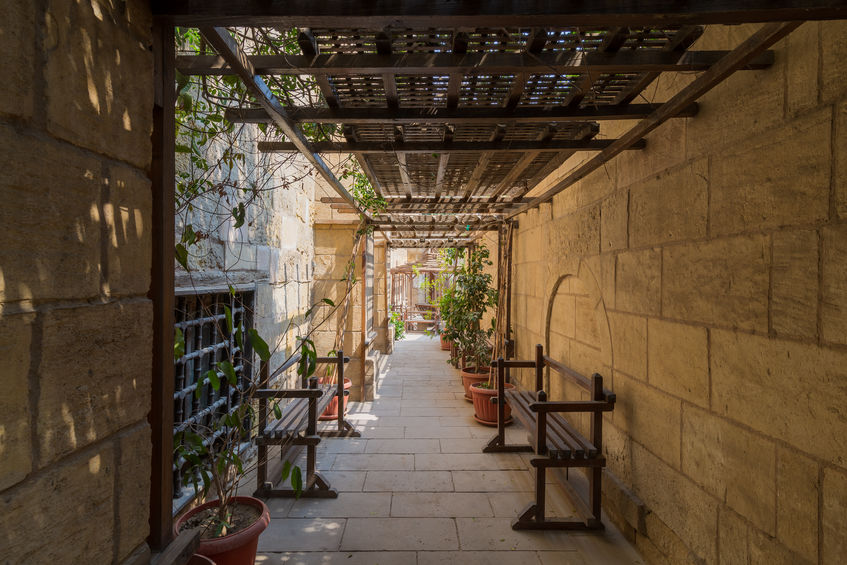 Early Pergolas In Europe
The wealthy elite built pergolas in their gardens and yards to enjoy the weather and spend time with their peers. The partial covering makes harsh sunlight and extreme weather bearable as it did back then. They were also used to provide shade for passageways between buildings and open terraces.
As their popularity spread, people realized that they could be utilized to grow harvestable plants. Their slatted roofs and columns make them ideal as hanging gardens.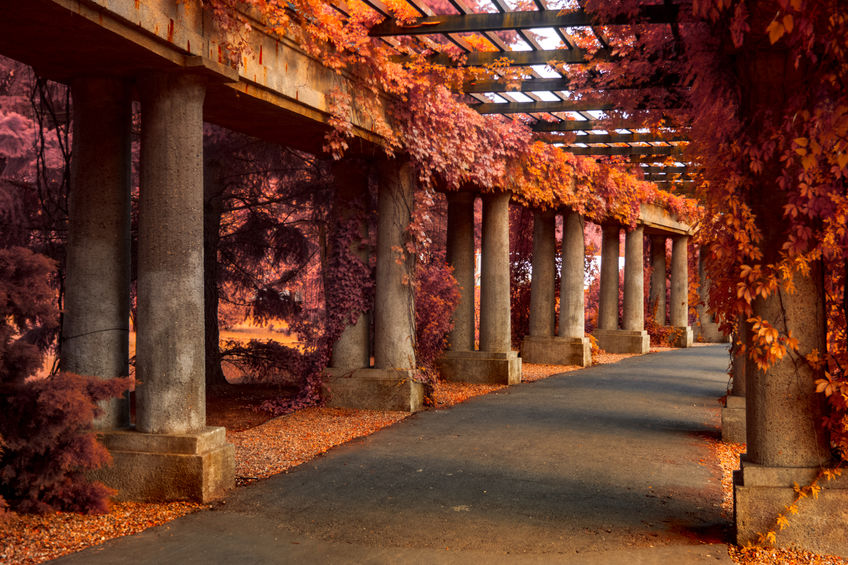 The term "pergola" stems from the Latin "pergula," which means "projecting eave"—used to refer to an arbor or extended roof. However, the word "pergola" was first used by John Evelyn in Rome while referring to the Trinita Dei Monti's cloister.
Some of the biggest names in European garden design—such as Gertrude Jekyll and Sir Edwin Lutyens—featured pergolas as their centerpieces in the late 19th and early 20th centuries.
The Pergolas Of The Italian Renaissance
One of the most monumental periods of artistic revival, the Great Italian Renaissance, popularized the use of pergolas in the 17th century. But at this time, people were more interested in the beauty of pergolas rather than their functionality. The Italian pergolas of the 17th century had smooth pillars of stone that supported intricate covers, adding drama to their spaces.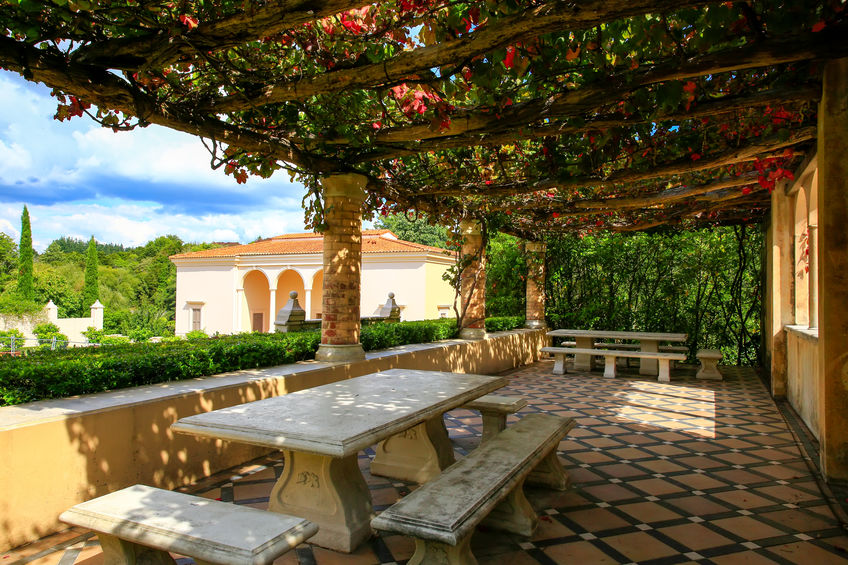 Contemporary Pergolas In The US
Detached pergolas provide you and your family with a comfortable outdoor area that enables you to enjoy the sun and breeze while protecting you from harmful weather elements. Detached pergolas are perfect for creating a shaded entertainment space on a pool deck, in a garden, or down on the beach. For homeowners that are looking to create a more seamless indoor/outdoor space, modern pergolas can also be attached directly to the home. A pergola attached to the house can effectively expand your usable living space at a fraction of the cost of building a home addition.
But these contemporary pergolas aren't made using brick or stone. Today, renowned pergola manufacturers build structures in aluminum for improved weather resistance. This equips you with climate management systems that ensure your complete comfort at all times—but more on that later.
Today's modern aluminum pergolas are crafted from the finest quality aluminum, and coated with top-quality powder coatings to protect them from the elements. This combination of materials allows pergola designers to get extremely creative in the size, shape, and style of your custom pergola. Quality pergola manufacturers will offer multiple standard colors for you to choose. The best manufacturers will also be able to customize the exterior powder coating to match any shade, or even apply a wood grain for a natural outdoor look.
Aluminum pergolas also offer unique opportunities to integrate modern amenities into the pergola itself. Modern pergolas feature hidden internal gutter systems to capture all the rainwater flowing off the pergola roof and channel it away from the living space below. Homeowners can also choose to integrate patio fans, LED lights, infrared heaters, motorized retractable shades or insect screens, and more.
---
The US Market For Pergolas
From reality TV sets to your favorite celebrity's backyard, pergolas seem to be everywhere on media channels nowadays. Amid the pandemic, homeowners fell back in love with entertaining family and friends at their homes. Backyard makeovers and covered patios complete with custom outdoor kitchens, fire features, dining spaces, etc. became one of the most coveted features on home shoppers lists. As a result, their popularity in the US has undoubtedly soared over the last few years.
Homeowners favor using these covers in outdoor spaces since it increases their usable living area. Improving functional area also adds value to your residence. Furthermore, a pergola increases your curb appeal and can considerably increase your property's value.
The landscaping market in the United States was worth $8.2 billion in 2019, and these modern living structures have played quite a role in its progress. US consumers find pergolas a good investment since they add shade, contrast, color, and design to the outdoors easily and affordably. You're likely to love a pergola as well—join the US pergola family and find the terrace shelter that's perfect for you.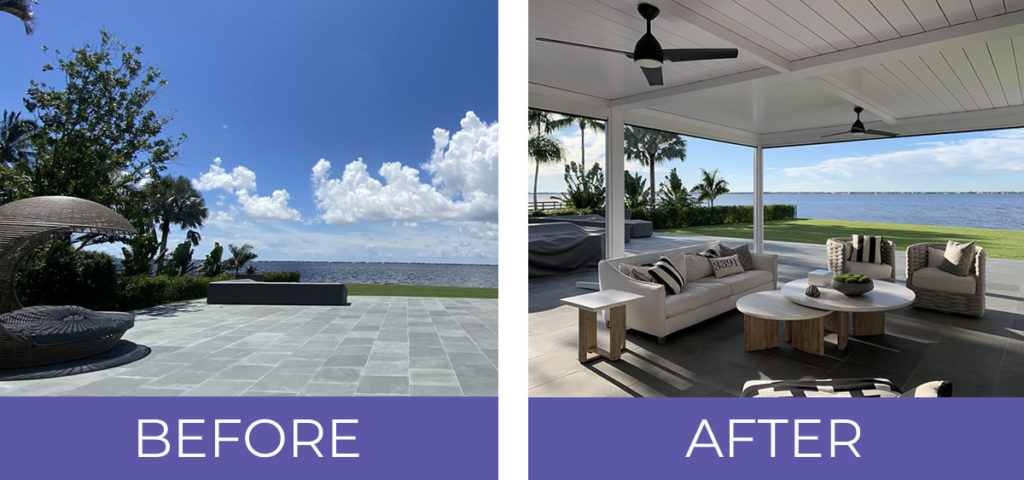 ---
Pergola As a Protection
Pergolas provide protection against the weather without restricting your view or experience of it. While a slatted roof might not seem like a good idea, it can provide a truly flexible solution for your patio if you choose a pergola that closes tightly to seal out the rain and keep the space below dry. Controlled with a handheld remote or voice commands to your preferred home digital assistant, the adjustable louvered roof allows you fine control over the sun/shade balance. For the ultimate hands-free experience, high-quality manufacturers use sensor technology and climate management systems to make your pergola weather-proof. With an embedded sensor array monitoring conditions, the pergola can automatically close at the first sign of rain. It will also automatically open its louvers in high winds to prevent potential damage from updrafts. For homes in cooler zones, a frost sensor will watch for dipping temperatures and open the louvers to prevent snow build up.
Pergolas provide you and your family with:
Rain Protection
Many people believe that pergolas let the rain in, but modern innovative louvered pergolas are designed to withstand extreme weather and be watertight. Streamlined gutter systems make these even more functional, draining rainwater away and ensuring that your outdoor space remains dry.
In fact, you can even buy pergolas with automated louvered roof systems that can close when it's raining. Make sure to select a louvered roof pergola capable of completely sealing out the rainwater when closed. Request a demonstration from your pergola contractor to make sure you can enjoy your covered patio regardless of the weather.
Wind Protection
A high-quality pergola made with durable materials such as aluminum will provide you wind resistance. These materials add stability and strength to the structure.
You can get either a freestanding pergola for your backyard or an attached terrace shelter for shade. Attached pergolas act as a wind buffer since their structure makes them especially resistant.
You can get an attached pergola for your patio or deck to substantially improve wind resistance. A well-designed, high-quality pergola will withstand the elements and provide you with shade and stylish comfort for many years to come.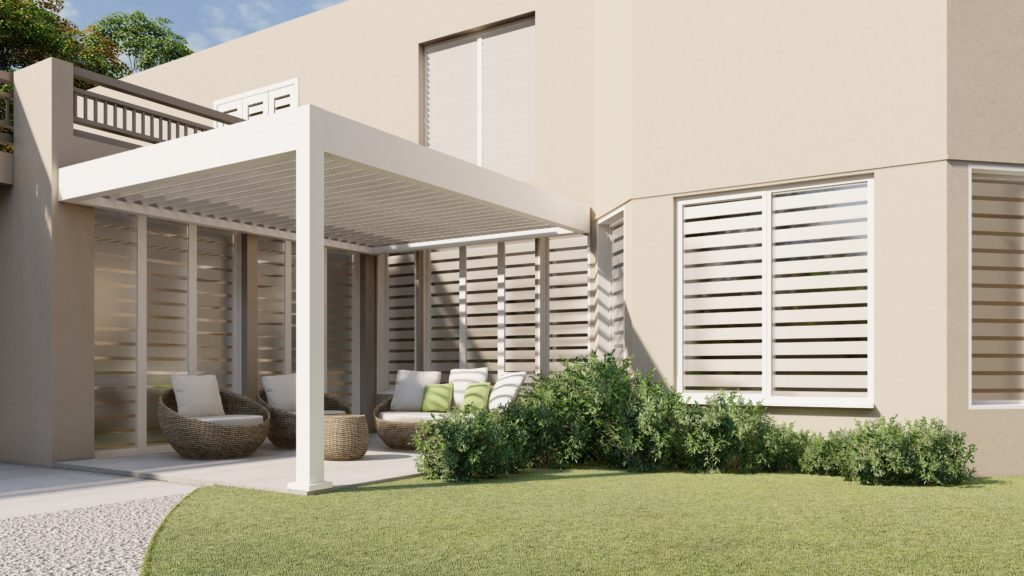 Protection Against Sun Exposure
Too much sunlight and ultraviolet (UV) rays can harm you. This unprotected sun exposure can cause skin cancer and may even lead to eye issues and immune system suppression.
However, it's essential that you get your daily dose of sunlight while protecting yourself from UV rays. That's because the human body gets its Vitamin D from the sunlight.
The slatted roof of a louvered pergola allows the right amount of sunlight into your outdoor sitting space. Bioclimatic pergolas offer sun protection in the summer and heat and light penetration in the winter, so you can get all the healthful benefits of sunlight.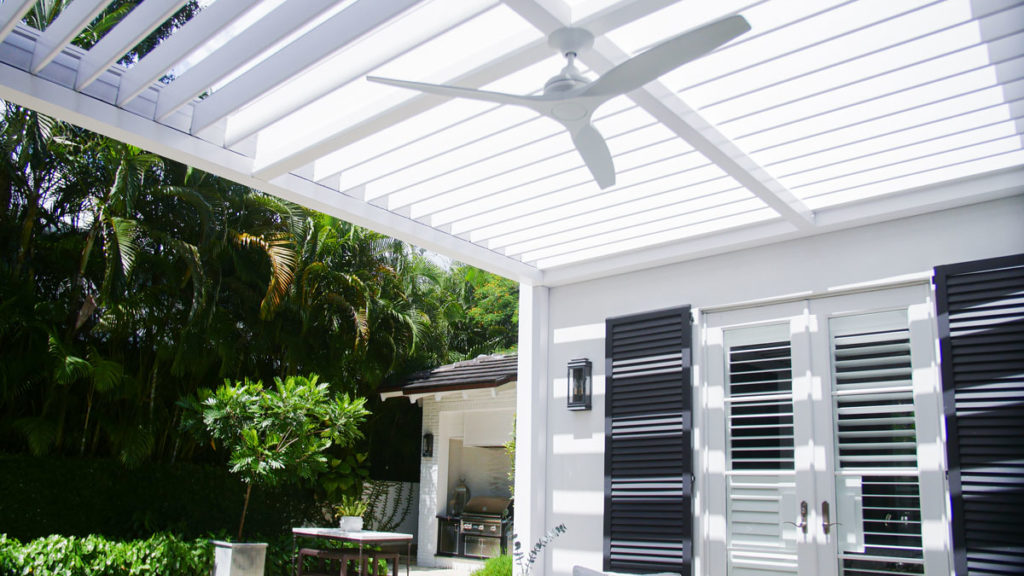 Improved Airflow
Pergolas are popular since they enable homeowners to adjust the temperature of their outdoor surroundings.
While a full screen or cover on your pergola will protect you against sun exposure, it'll also limit the airflow. You won't be able to appreciate breezes as fully as you would with a motorized pergola.
You can open or close the louvers on motorized pergolas with the touch of a button. This feature allows you to enjoy fresh air and light breezes by opening your louver at the exact angle you want. Some manufacturers also provide you with the option of connecting your pergola's louver system to your home automation.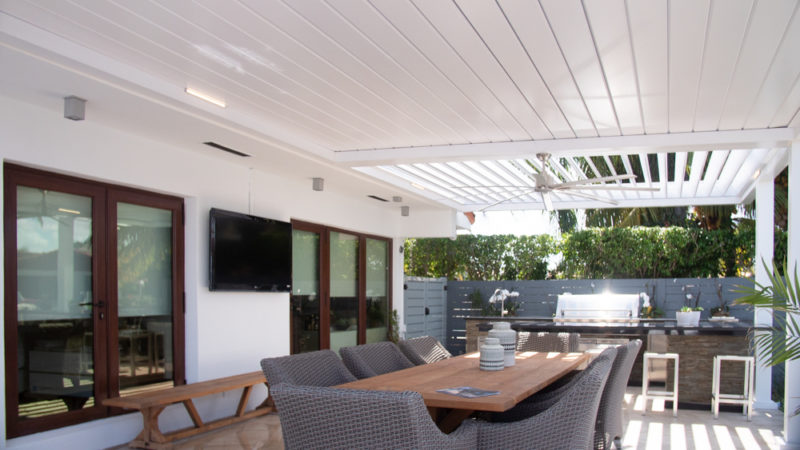 ---
What Does A Pergola Add To Your House?
As a homeowner, you can use it as shade when your friends come over for a mid-summer barbeque without having the sun beat down on you. But if you need more reasons to install a pergola in your yard, these factors may convince you:
Add Color And Contrast
A vast, open backyard may be great for kids to play in. However, if you're a fan of hosting parties, you'll love how a pergola adds contrast to your outdoor space and breaks the monotony of a grass-covered lawn.
The pillars that hold pergolas upright are an incredible spot to grow vines and creepers. Growing different varieties of plants enables you to add some drama to your pergola.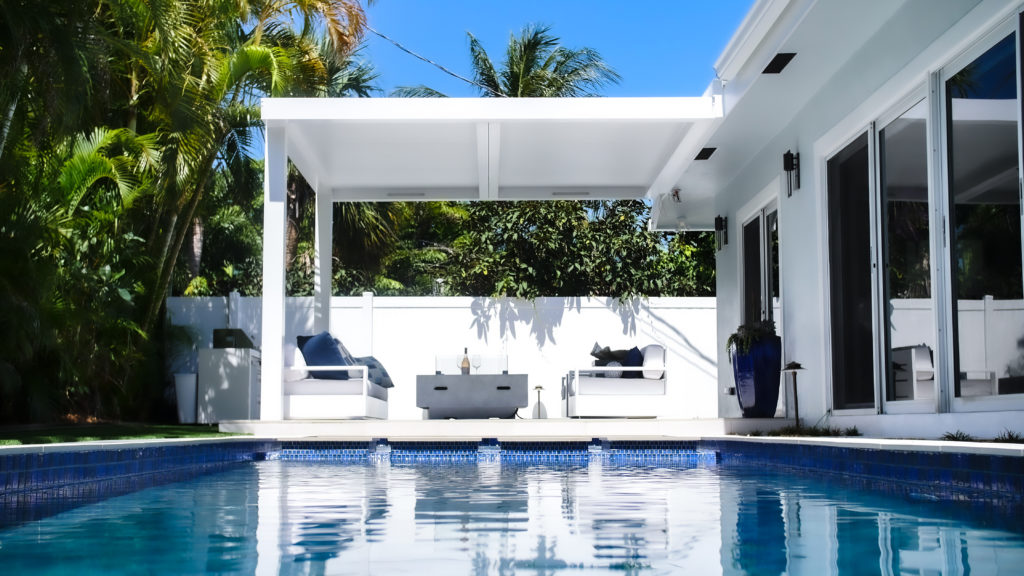 Privacy
While pergolas are open structures, patio roofs that open and close help you add privacy to your backyard. Moreover, you can use drapes to cover the sides of the pergola and shield yourself from prying eyes. It's a great way to spend your time alone or add intimacy to your space. If you want to be one with nature and protect your privacy, louvered pergolas are the way to go.
Al Fresco
Every day can be a picnic with the right pergola. Invite your friends over for an open-air barbeque or have your Sunday brunch al-fresco in your outdoor living space. The open-air, comfortable seating, and the smell of good food combined with the fresh scent of flowers and grass will make your al-fresco experience truly enjoyable.
Convenience
There are many lattice-covered and solid pergolas on the market, but they can't be adjusted for temperature and extreme weather. High-quality pergola manufacturers offer motorized louvered roofs that are entirely adjustable. For days that feel stuffy, press a button and convert the solid top to one that provides you with 50% airflow.
Sensors make the pergola a space that offers you comfort through climate management. As soon as rain sensors detect water, the pergola automatically closes the louvers. Our wind sensors open the louvers in case there's high wind to break its speed.
Curb Appeal
Pergolas transform the look of your backyard and extend your functional living space, thereby increasing its value. By adding a pergola and maintaining it, you're sure to make more money when you sell your home. Real estate agents and homebuyers will find it a beautiful addition—especially when they see its motorized roof and bioclimatic features.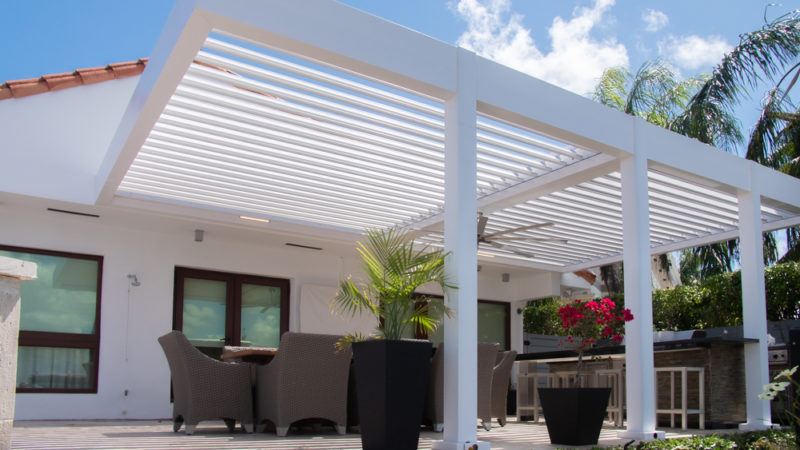 ---
Azenco's Pergolas And Covers
If you're looking for unique pergolas with a sleek, contemporary design, look no further than Azenco. Our remote-controlled, louvered pergolas enable you to adjust functions for the wind speed, temperature, and amount of light you want to let in. Here are some of our best-loved designs.
R-BLADE Pergola with louvered roof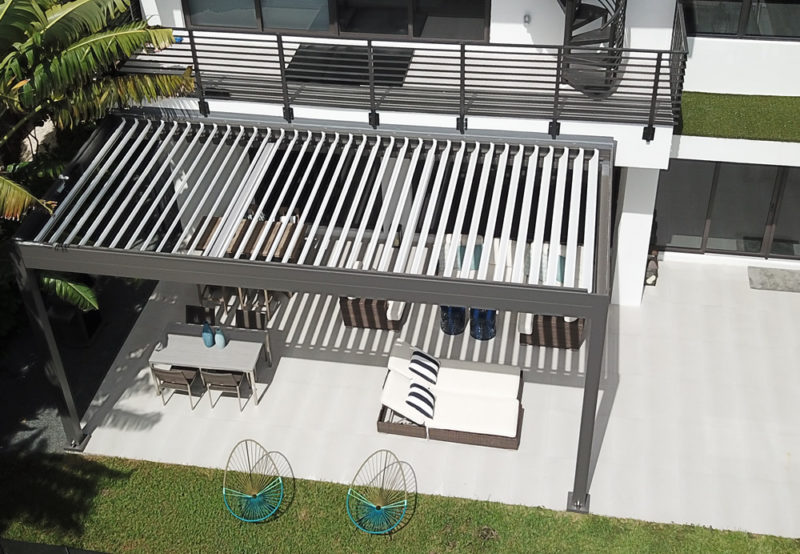 This bioclimatic pergola offers you the following key strengths:
An utterly leak-free roof due to gapless louvered roof design
Unique dual-wall louvers unlike any other in the market that offers tighter sealing
Improved weather resistance due to tougher, longer louvers
Seamless design with invisible hardware
Better protection against snow and rain
A streamlined, integrated, invisible gutter fitted into the frame
Color-durable, unique high-quality finish due to Class 2 powder coating
Wind and rain sensors enable you to make the most of any weather.
1. Easy Usage
The R-BLADE pergola offers you ease of use. You can adjust the louvers, lighting or fan in your pergola by pressing a button on your remote control. The remote allows you to manage the extent to which your louvers open.
2. Temperature Control
When air flows through a restricted opening, the pressure increases, thereby causing it to travel faster. This principle is known as the Venturi effect. In the R-BLADE pergola, the Venturi effect takes place when air flows through the blades on the roof. The R-BLADE's design offers you protection against the sun's harsh rays while making the mildest summer breezes much more refreshing.
During the winter, completely opening your pergola's louvers enables heat and light to penetrate the space and make it more comfortable and warm. If you want a cozy nook to read a book or enjoy your morning coffee, you can set up a bench and a few plants to make your pergola homier. No matter the weather, the R-BLADE pergola is the ideal relaxation spot.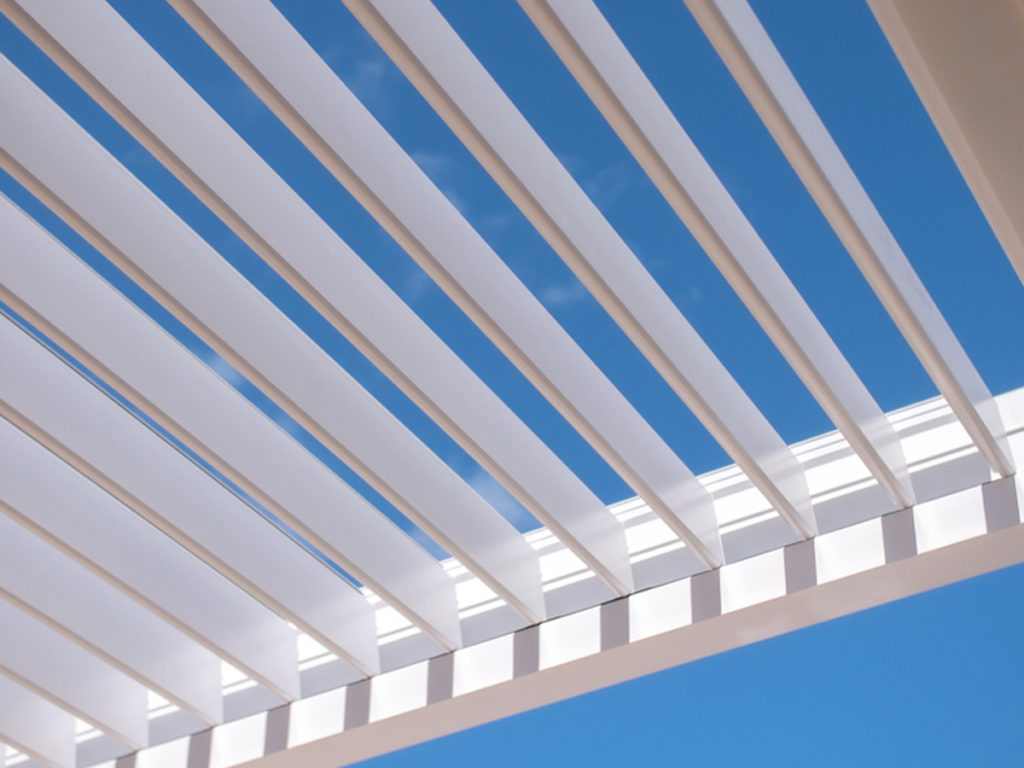 3. Adaptability
The R-BLADE one-of-a-kind pergola has a completely modular design. Whether you need a large pergola for your backyard or a small one for your terrace, the R-BLADE is adaptable to all shapes and spaces.
Due to its sleek, elegant design, the R-BLADE pergola goes well with any kind of house or structure, whether it's modern or classic.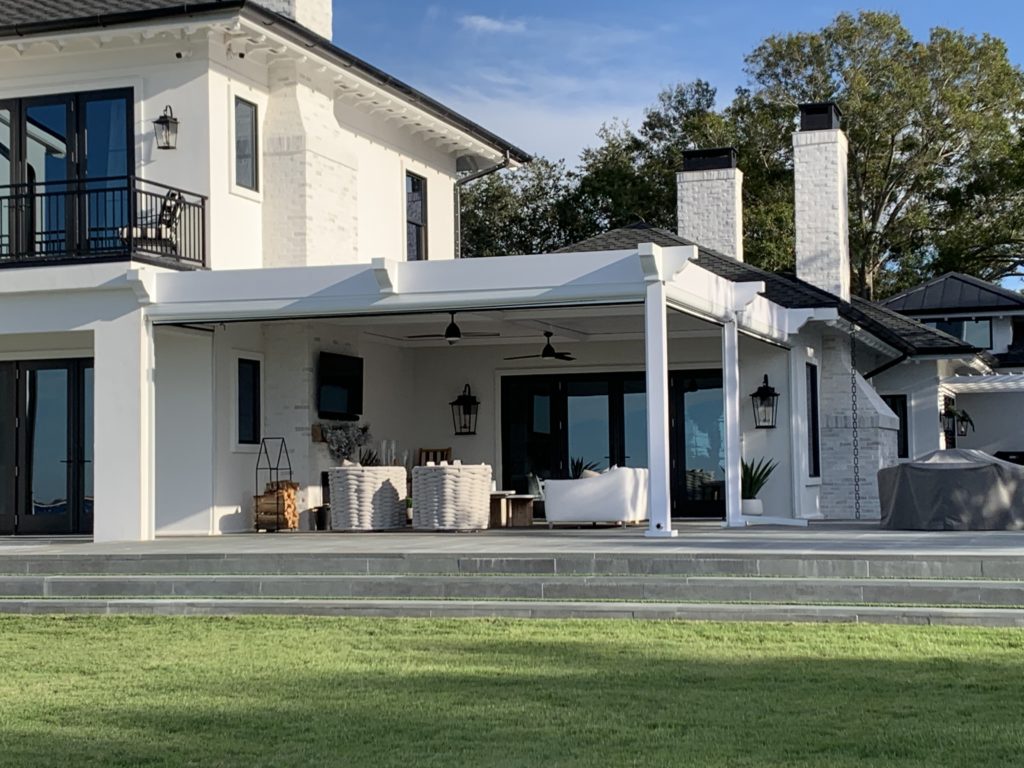 4. Automated Comfort
The R-BLADE has bioclimatic slats and is fully equipped with an automated climate adjustment system. Your remote-controlled louvered pergola will have the following sensors for real-time temperature adjustments:
A rain sensor that triggers the louvers closed on detecting water droplets
A wind sensor that triggers the louvers open and lets air pass through
A temperature sensor to control opening or closing depending on the weather.
5. Louvers
Azenco's louvers are unlike any other. You can enjoy up to 50% more light using Azenco louvers than you would by using others in the market. Whether you want the protection of a fully covered roof with the louvers closed or the aesthetic of a partial shade with them open, Azenco offers you complete control.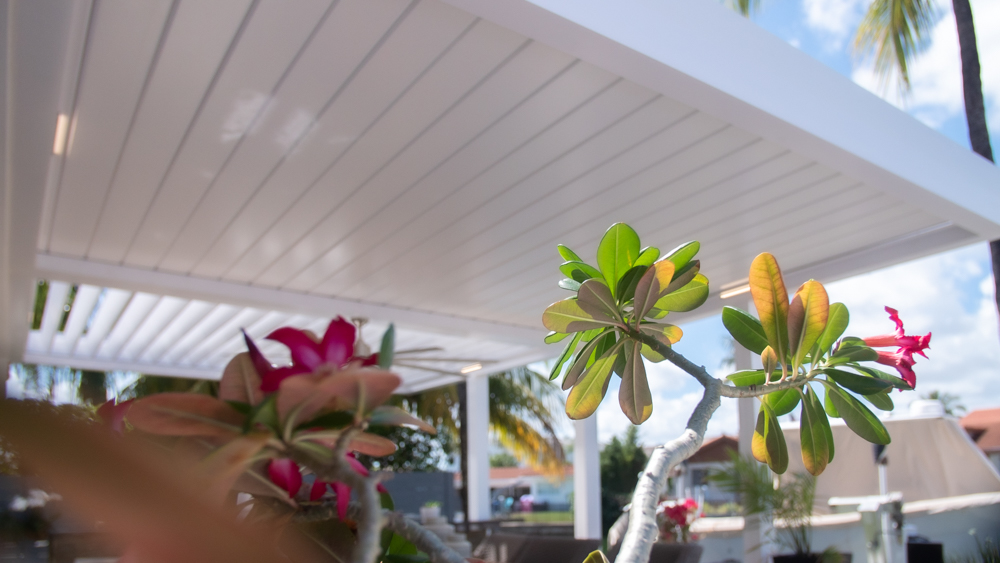 6. High-Quality Materials
The R-BLADE's pillars are made of thermo-lacquered aluminum structures called Qualimarine and Qualicoat. These high-quality materials make your pergola durable, enabling it to withstand harsh weather.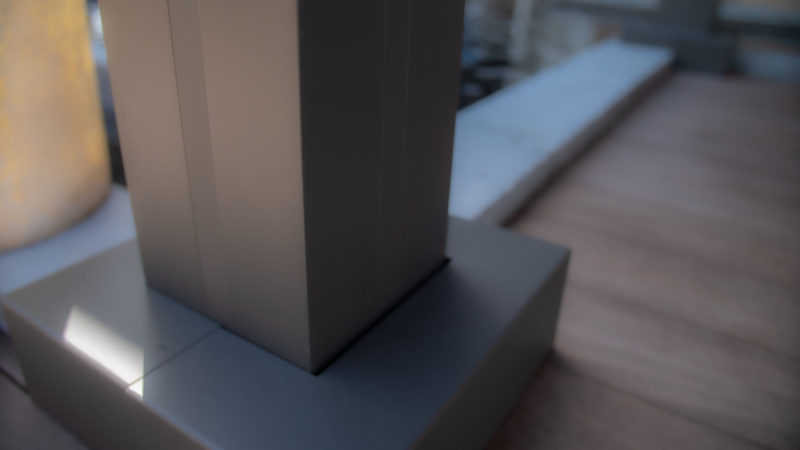 Moreover, the louvers are also constructed of extruded aluminum laid as dual walls to resist extreme weather conditions and provide perfect sealing. The R-BLADE's side walls comprise aluminum louvered panels, curtains, screens or the side of your choice.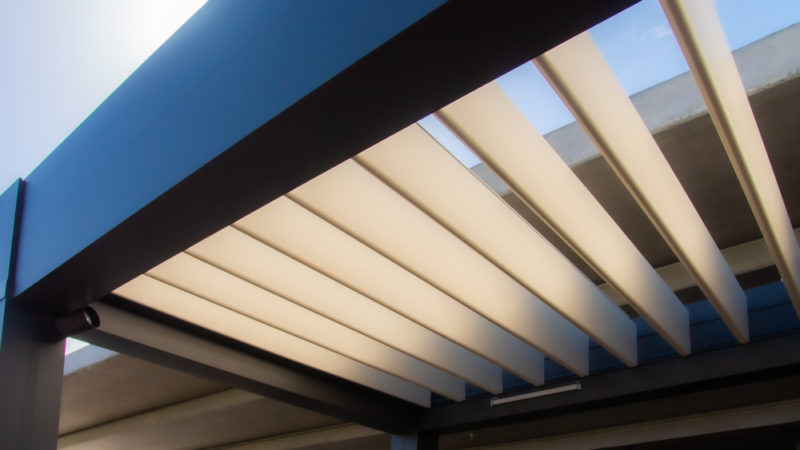 7. Technical Properties
Powder-coated Qualimarine and Qualicoat aluminum structures that come with a 10-year guarantee
(201mm) Aluminum blades that can tilt up to 90 °
165 / 165mm aluminum poles
Multi-channel remote control
Bioclimatic management center
Aluminum mounting plate and stainless steel screws for invisibility
Standard color of the structure: RAL 7016 (gray bronze) or RAL 9010 (white)
Standard color of the slats: RAL 9010 (white)
Remote-controlled peripheral gutters that tilt downwards at the angle you want for efficient drainage
Are you considering getting an Azenco's R-BLADE pergola for your beautiful backyard?
---
R-SHADE Pergola with fixed roof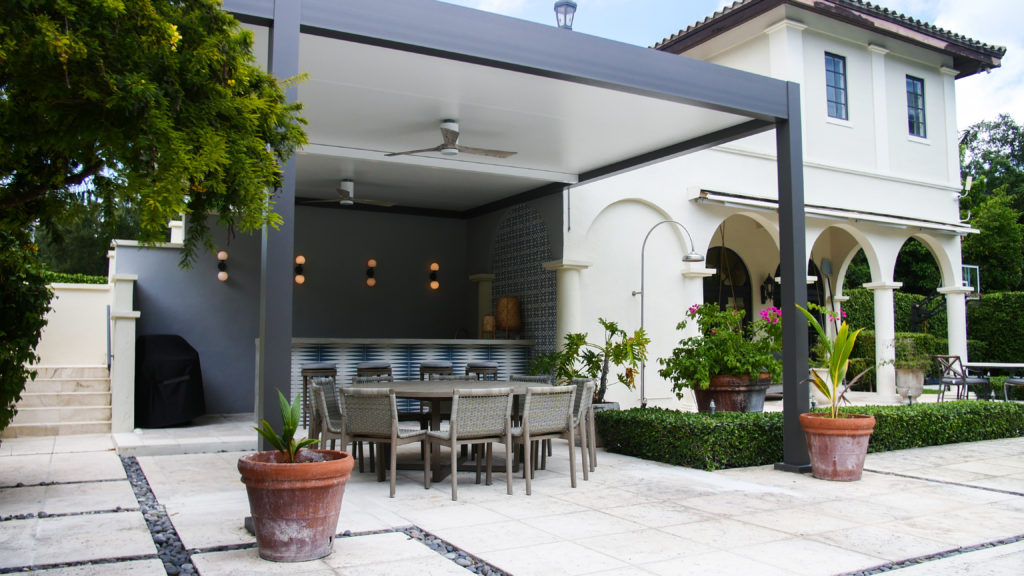 An R-SHADE pergola offers you the benefits such as:
Weather-resistant architecture. Since the R-SHADE is designed to withstand Florida's harsh weather, the pergola works well anywhere.
Airtight seals. Your R-SHADE's frame comprises pipes that let rainwater flow away freely without seeping into the inner area.
Aesthetic appeal. The insulated roof pergola adds curb appeal to your house. Its classic colors and adaptable design make it perfect as a stand-alone garden seating space. You can also use it to extend your house's outdoor area as a wall-mounted pergola.
Heat management. The R-SHADE's insulation protects you against heat during the summer.
Customization options. If you live in a warm location, you can add a ceiling fan to your pergola using the beam provided.
While the R-SHADE pergola is the ideal poolside deck cover, it's suitable as a car shade as well, resulting in its other name: the R-CAR. Whether you use it as a pergola or carport, its features comprise:
Complete protection against the rain and sun due to its insulated sandwich-paneled roof
Waterproof, wind-resistant design
Compliance with the Miami Dade Notice of Acceptance to meet protection requirements for high-velocity hurricane zones. The R-SHADE's design can withstand Florida's extreme weather conditions, so it's sure to resist harsh rain or winds.
Completely adjustable design
Can be fitted with solar panels for greater energy efficiency.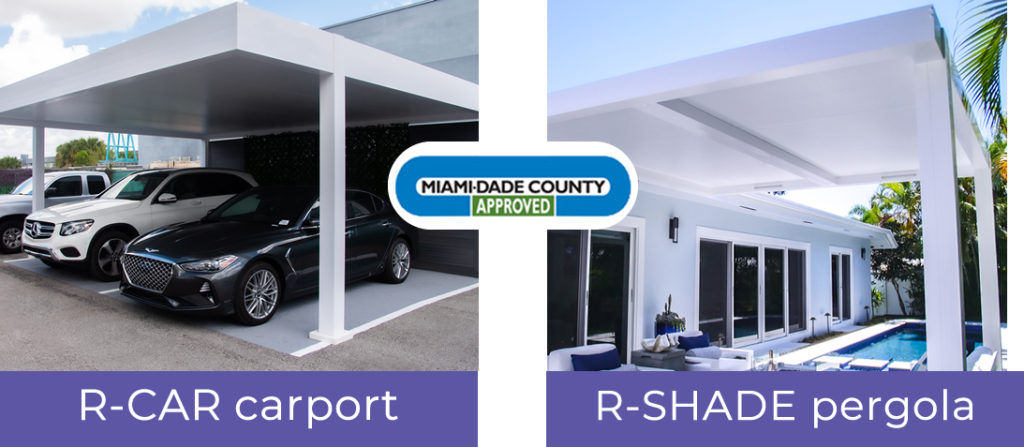 1. Superior Design
A pergola with a roof is the ultimate indicator of comfort and luxury in outdoor living spaces. The R-SHADE's innovative design helps you upgrade your deck or terrace's appearance by bringing together many technologies that result in a cohesive, harmonious structure.
The R-SHADE's adaptable design makes it perfect for all spaces. Whether you want a pergola on the deck or in your yard, the R-SHADE is the bioclimatic solution for you. Its clean lines and sleek look make it an aesthetic addition to any style of house. This pergola incorporates sophisticated technologies for waterproofing and insulation that add to its beauty.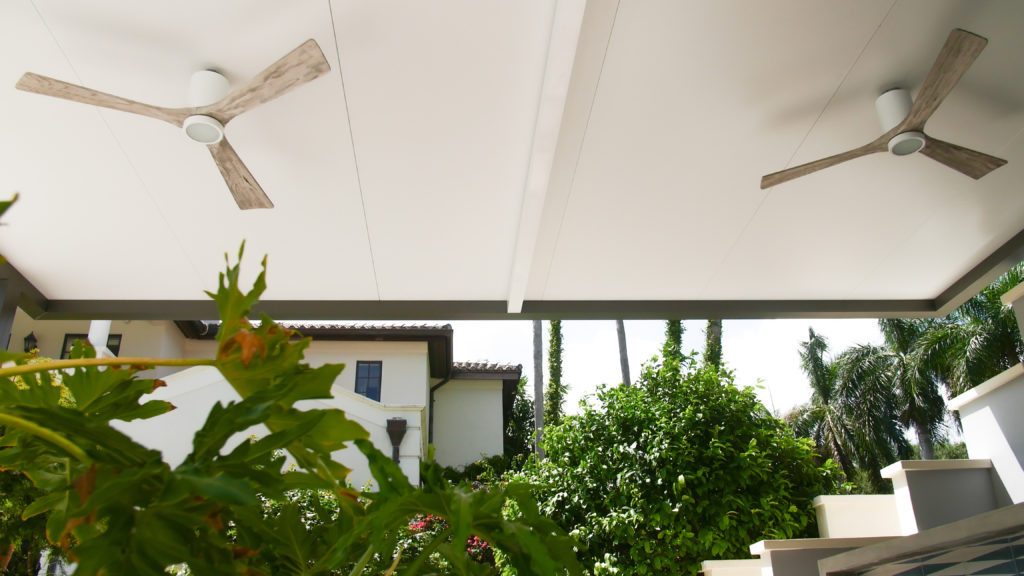 2. Why Should You Get A Sandwich-Paneled Pergola?
Azenco's R-SHADE insulated roof pergola are incredibly durable. Their design comes from the company's European expertise and know-how, the manufacturing is made in Azenco's USA factory, resulting in high-quality structures. Since the R-SHADE pergolas are assembled on site by teams of experts, they offer users the convenience of easy and safe installation.
The 60 mm-thick roof panels prevent the sun's harmful UV rays from penetrating the space. The roof's waterproof nature also protects users during periods of heavy rain.
The R-SHADE pergola hardtop is constructed of polycarbonate material that's held together using wedges incorporating tightening screws. These hardware elements make the pergola roof a resistant, stable structure.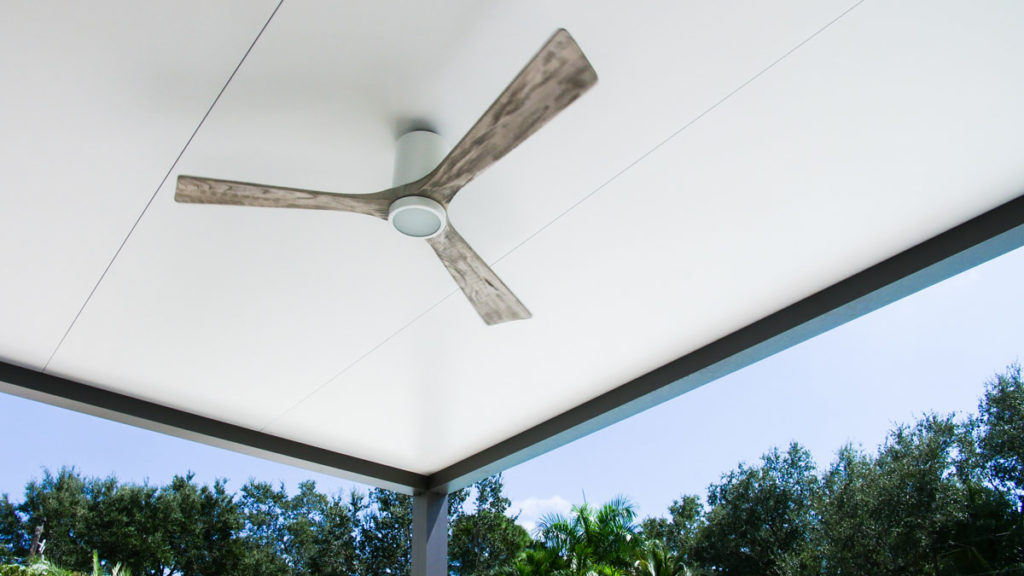 Azenco offers you two color options for your R-SHADE pergola's roof: White at the top and the bottom, and charcoal gray on top with white at the bottom. If you want to enjoy your R-SHADE at night, you can incorporate LED lighting into the pergola.
3. R-Shade pergola Pergola on deck
Bioclimatic pergolas enable you to make the most of a spa or pool. When it's hot, you can take a swim in your pool without the sun beating down on you. Picture this: you and your family out under the pergola's shade in the summer with a fresh iced drink, having fun and unwinding together.
You can set deck chairs and a table under your poolside pergola. The R-SHADE adds to your house's appearance as a pergola on a deck and gives it the appeal of a holiday resort. It gives you a shelter that you can enjoy in any climate and at any time.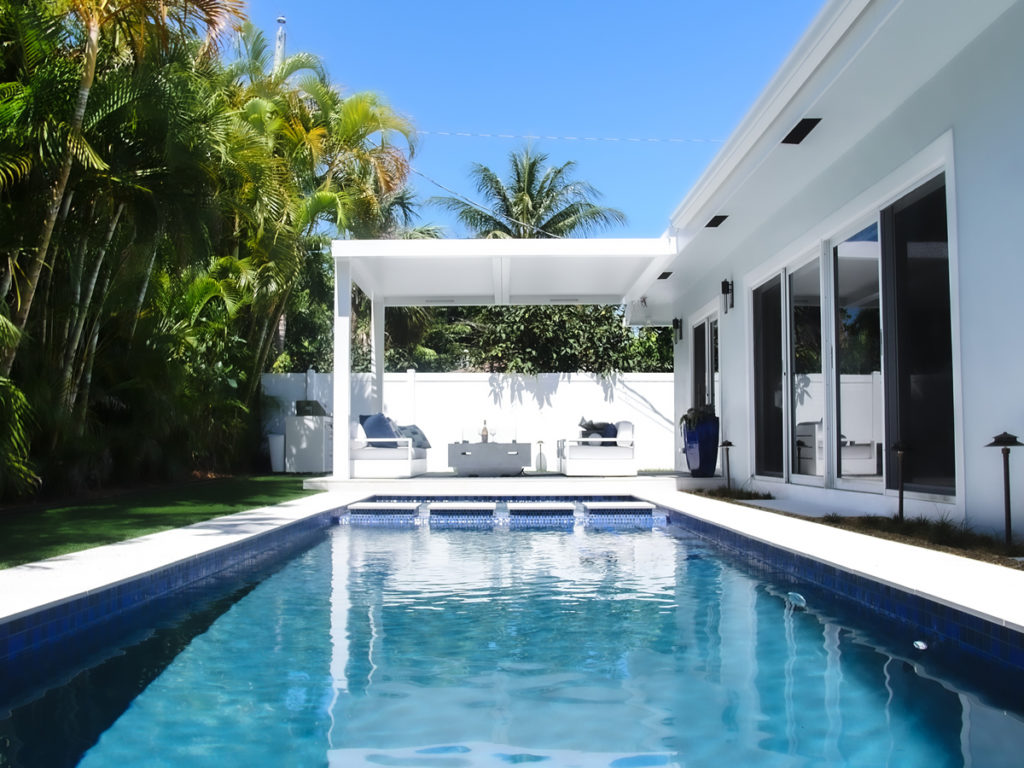 4. Technical Properties:
Powder-coated Qualimarine and Qualicoat aluminum structures that come with a 10-year guarantee
Aluminum poles (165/165mm)
Self-supporting roof with 60 mm-thick insulating sandwich panels
Aluminum mounting plate and stainless steel screws for hardware invisibility
Free-standing and wall-mounted pergola options
Standard color of the structure: RAL 7016 (anthracite gray) or RAL 9010 (white)
Standard color of the panel: RAL 9010 (white)
---
R-CAR Carport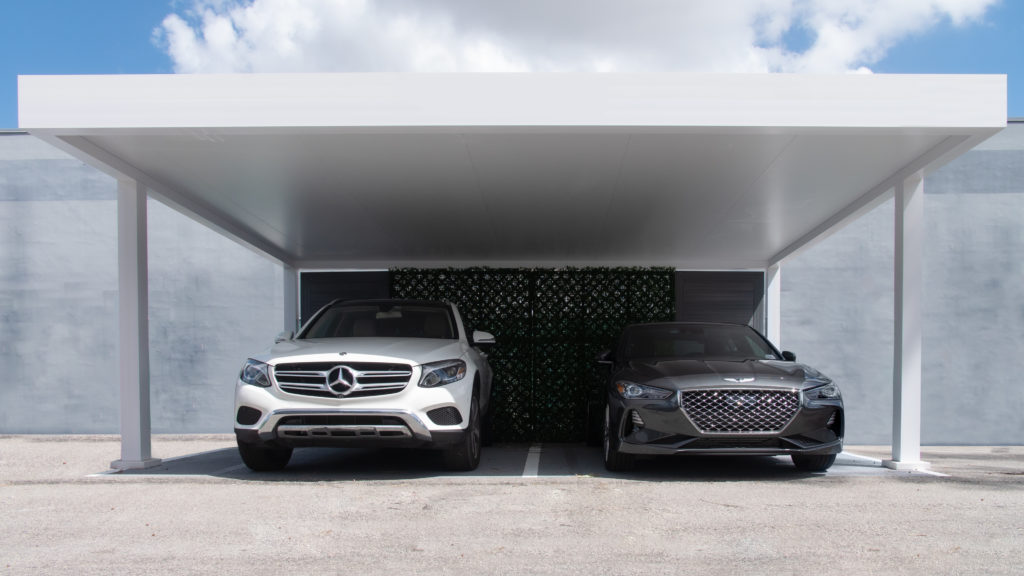 The insulated roof pergola has specification options that turn it into a sleek carport known as the R-CAR. The R-CAR carport can house either one or two vehicles, depending on the category you choose. It comes as in wall-mounted and stand-alone options.
Here are some of its characteristics:
Powder-coated Qualimarine and Qualicoat aluminum structures that come with a 10-year guarantee
2.36″ thick sandwich panels for insulation
Streamlined design for easy maintenance and elegance
R-CAR for one car is perfect for protecting a vehicle against the rain and shield it from the sun when it's parked in your driveway or outside your home
R-CAR for two cars is built to house two vehicles underneath it. You can add screens that protect your vehicles against dust and frost while the roof prevents rain or harsh sun rays from getting into contact with your car.
R-CAR RV Shelter comes as a covered porch and protects your car against extreme weather when it's parked outside.
---
K-BANA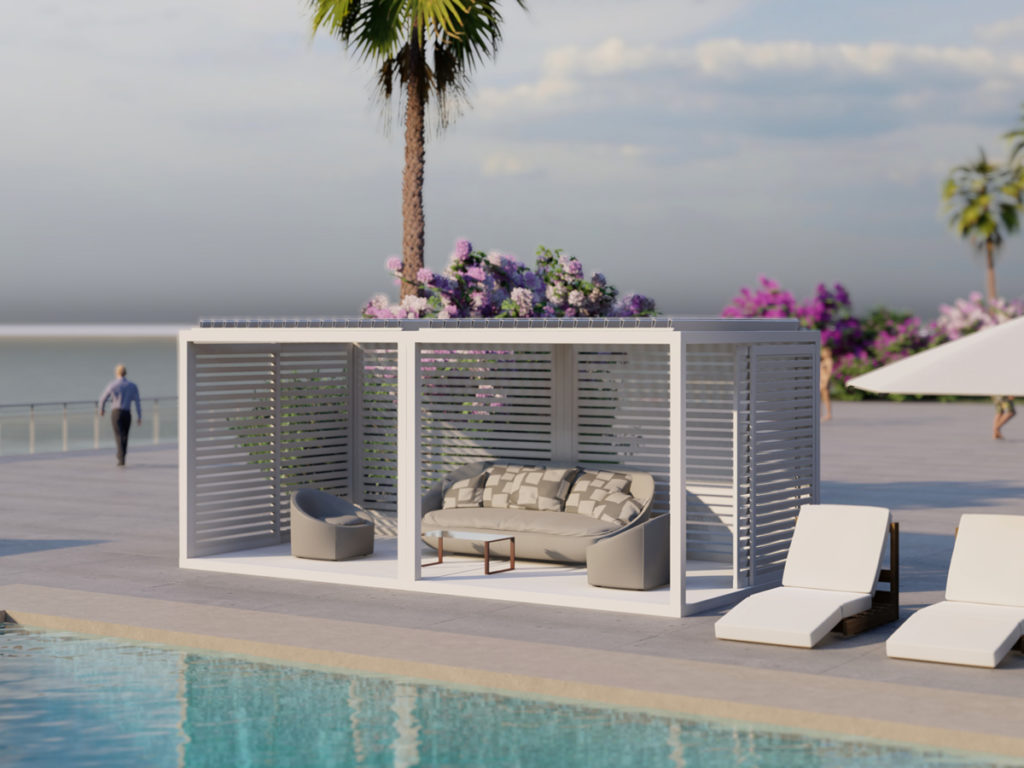 If you want an adjustable pergola without getting into the hassle of obtaining permits, the K-BANA is for you. You can get it with single or multiple modules to enjoy your outdoor living space.
The K-BANA's sliding louvered panels and cubic design make it a versatile, elegant addition to your home. It's entirely customizable from its roof to its floor and available in nine sizes to match any yard capacity.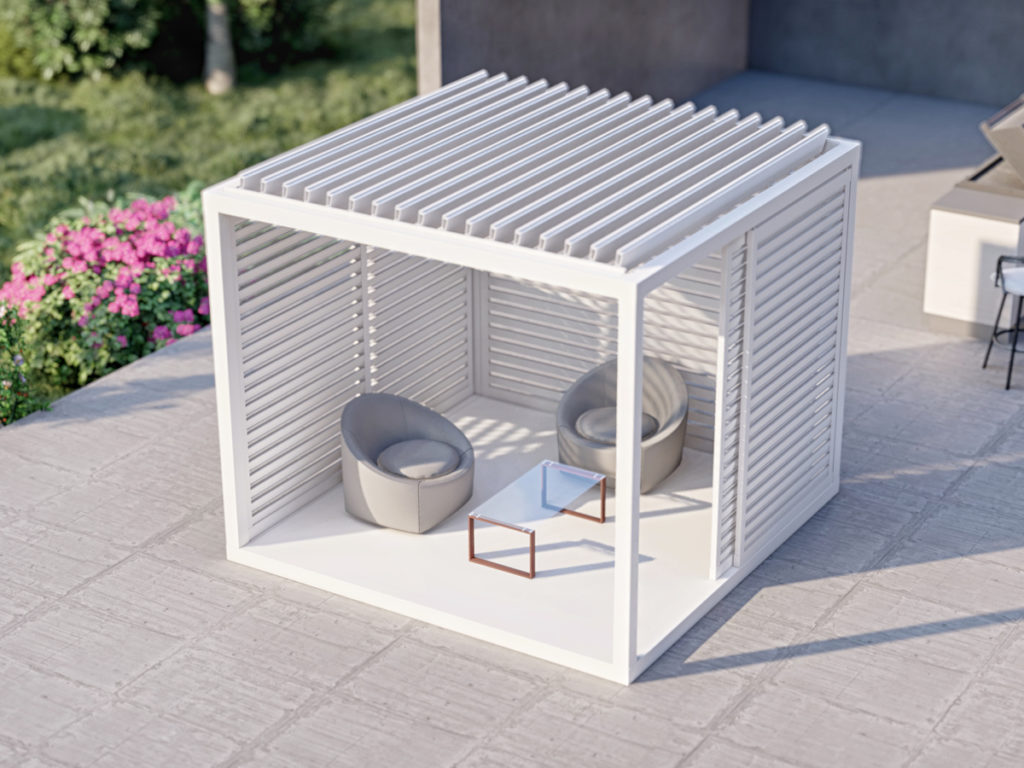 Some features of the K-BANA include:
All-manual panels. The K-BANA's dual-wall louvers make it unique. The cabana's louvers offer users complete sealing when closed and natural ventilation when open. You can control the amount of sunlight you want during the summer and close the louvers for protection against snow, rain, and wind.
Multiple screen and panel options. The K-BANA pergola's manual louvered roof and side panels equip you with the flexibility to create an outdoor space for any season.
In-built floor structure. The K-BANA's ready-to-use floor goes well with all types of flooring. Whether you want a pergola that goes with your terrace's concrete or your lawn's grass, the K-BANA is ideal for you.
No extra work. The K-BANA's extendable posts and bases enable users to adjust the structure accurately even when the ground isn't smooth.
No permits are needed for installation. Since the K-BANA offers you quick installation and easy transportation, it falls under the category of furniture. You don't require permits to install the cabana and can move it to a new house when you move.
---
Types Of Installation Azenco Does
Whether you want a terrace shelter or an adjustable pergola for your yard, Azenco offers you comprehensive installation services.
Depending on your location, you'll need to obtain a permit to get an Azenco pergola installed in your residence. However, installing the K-BANA doesn't require a license since its cubic design and easy set-up categorize it as furniture. Your local installer will inform you of the applicable regulations and permits you need for all other pergolas.
Here are the pergola installation options Azenco offers:
Residential
One of the simplest ways to upgrade your outdoor living space is by adding a patio cover. You can enjoy the shade in your backyard, use it as a seating space during dinner parties and barbeques, and add privacy to your outdoor area. A residential pergola adds curb appeal and increases the value of your house. Azenco's residential installation options include:
1. Free-Standing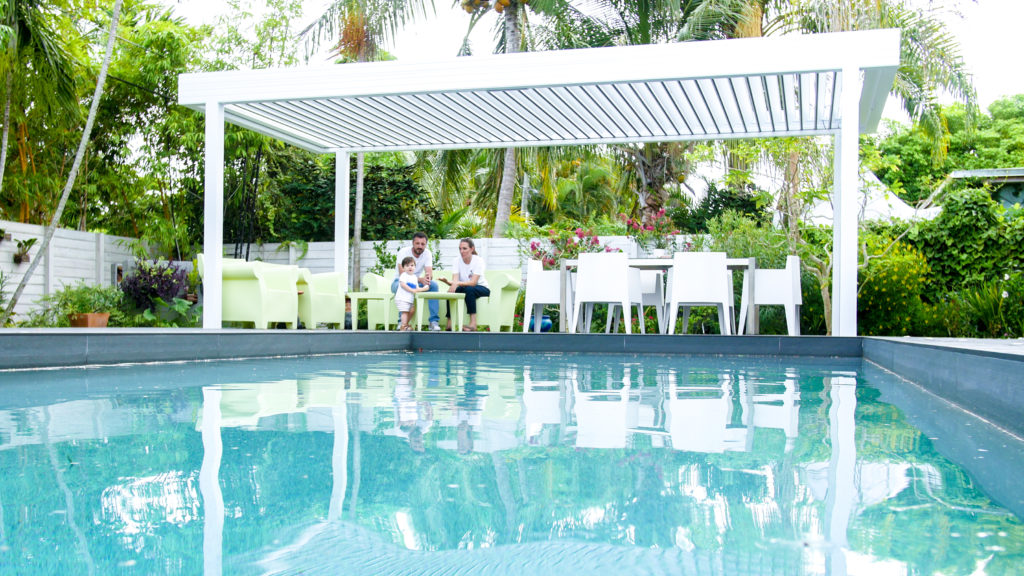 Free-standing pergolas are ideal for your backyard or front garden. They provide you shade and a sophisticated outdoor living space with added comfort and functionality. Azenco's louvered roof systems make your free-standing pergola completely customizable for maximum control.
2. Wall-Mounted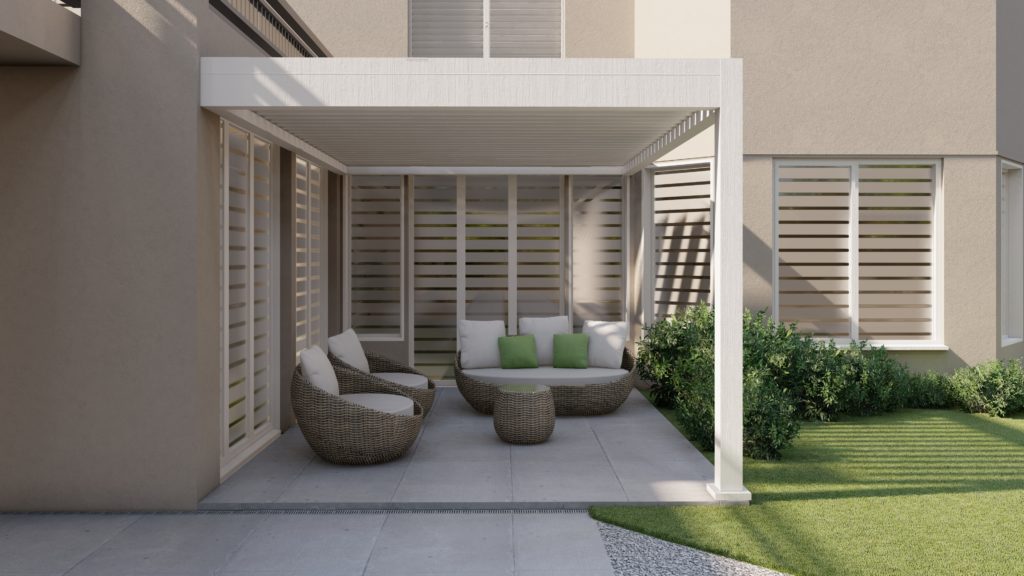 A wall-mounted pergola extends outwards from your house's wall and provides you with a covered porch. Azenco's R-SHADE pergola is ideal as a wall-mounted structure due to its insulation and customization options. You can add a fan to the beam for greater ventilation.
3. Poolside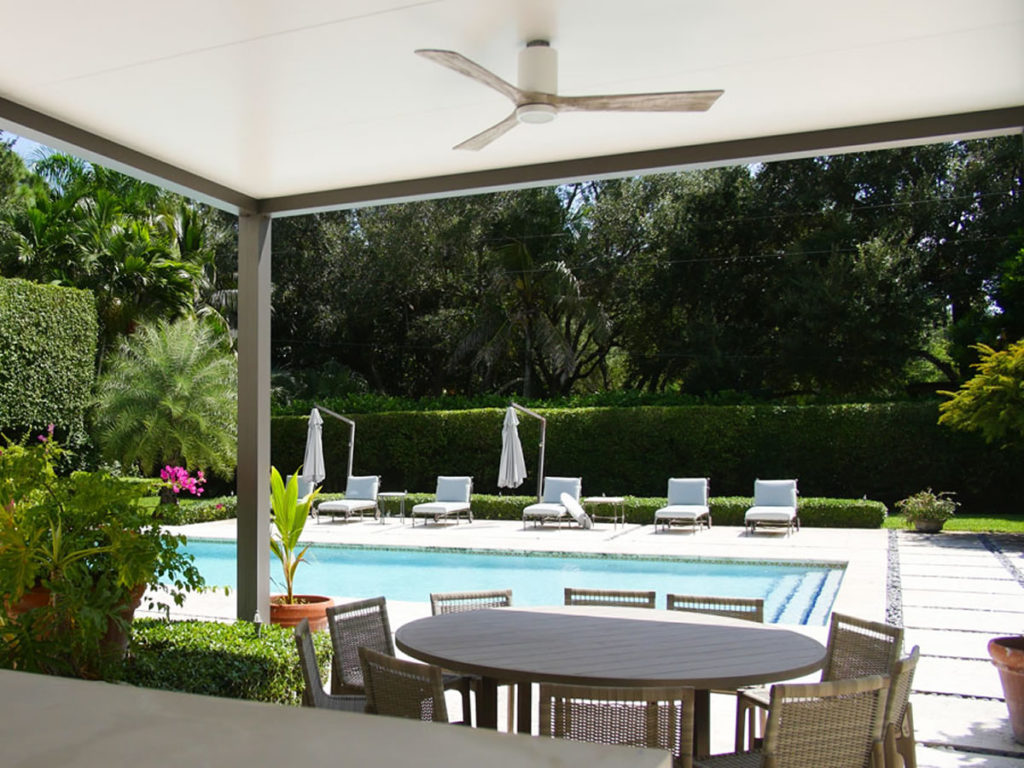 A pergola with a roof adds functionality, shade, and aesthetic to your poolside. You can set up a seating area with deck chairs and tables to hold drinks. A poolside pergola will enable you to enjoy a swim during summers without having to worry about sun damage.
4. Covered Outdoor Kitchen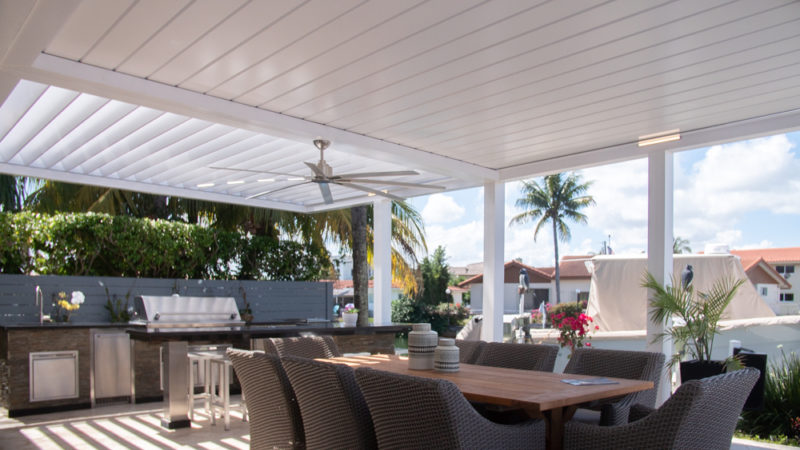 Outdoor kitchens are among the freshest lifestyle and home improvement trends recently. Their popularity stems from the crisp enjoyment of preparing food while taking in nature.
While only people in warmer regions could enjoy outdoor kitchens in the past, Azenco's modern design makes it possible for you to cook outdoors, even in colder climates. A covered outdoor kitchen can be equipped with all the fixings—from overhead fans to granite countertops and high-end lighting options.
5. Outdoor Carport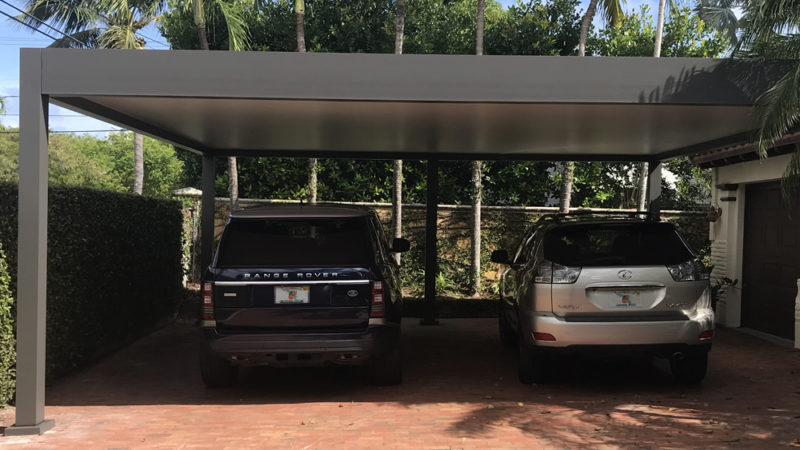 Vehicles are among the most valuable, functional investments one makes. Azenco's R-CAR carport makes it easy for you to protect your investment. Its sandwich-paneled roof design provides insulation, keeping your car safe from rain and harsh sunlight. You can also add screens for greater security against hail or wind.
Commercial
Commercial pergolas are a great way to add outdoor seating for customers or carports for vehicles. We rely on professional installers who go through rigorous training to ensure that your high-quality Azenco product receives the attention and care it deserves.
Here are the commercial installation options Azenco offers:
1. Restaurant Bars And Terraces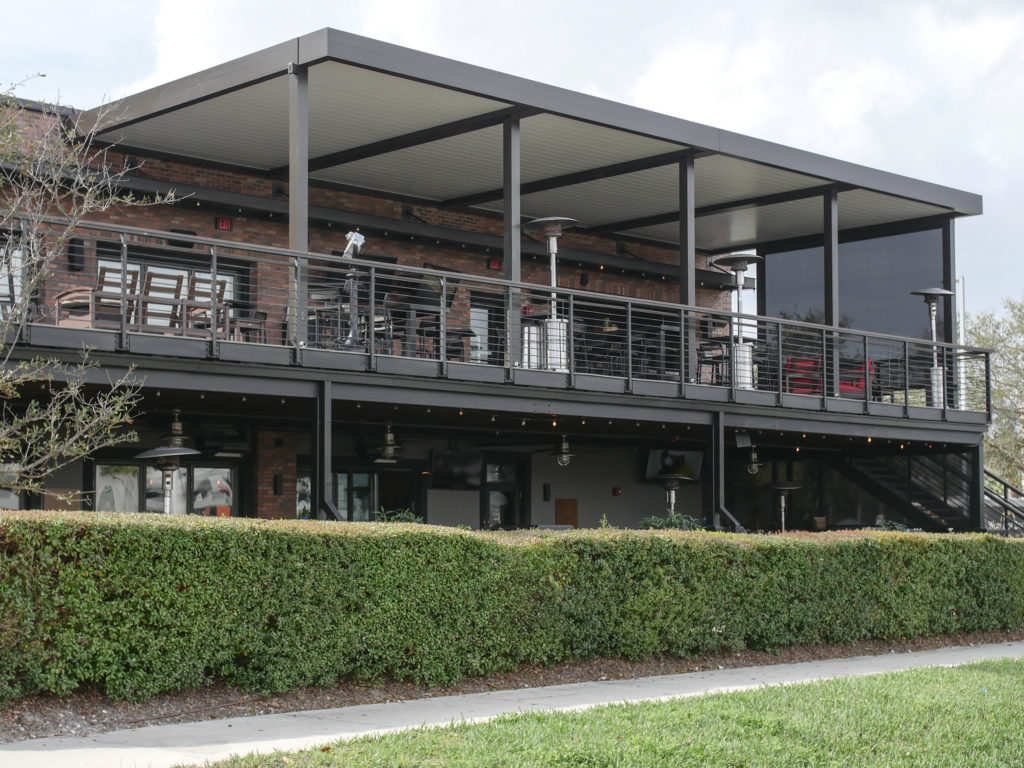 More and more restaurants are providing their customers with outdoor seating capabilities. Having a drink and eating delicious food in the open air—what could be better than that? Our remote-controlled, louvered pergolas are an ideal option for restaurateurs who want to add an atmosphere of intimacy to their space.
2. Outdoor Area For Hotels
Most high-end hotels have some kind of outdoor overhead structures where guests can unwind and spend time together under the shade while enjoying the fresh air. Our waterproof, adjustable pergolas add aesthetic appeal to any hotel's outdoor area and elevate its sophistication.
Commercial Condominium Outdoor Area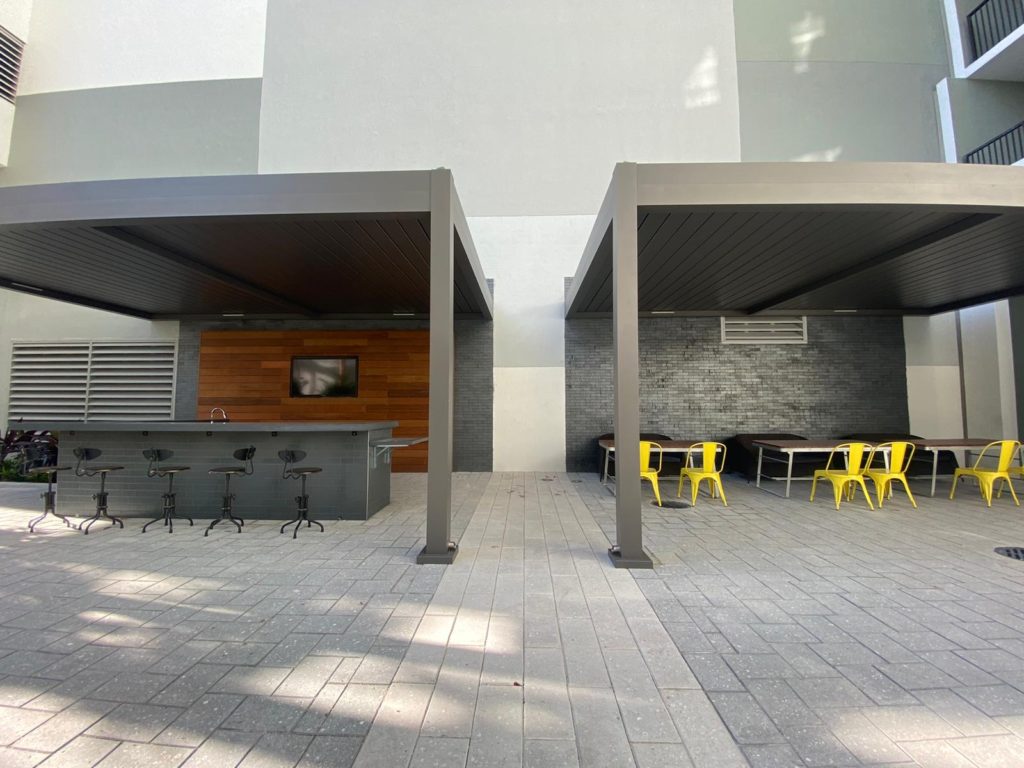 Azenco offers pergola installations for country clubs, resorts, and other commercial community spaces. Whether you want a commercial outdoor kitchen or patio cover installation, Azenco's licensed dealers and installers will take care of the project for you.
Outdoor Area For Office Buildings
Do you have an office courtyard that no one uses because the sun's always beating down? Your employees will enjoy the space instead of avoiding it if you install pergolas with opening roof systems. A dedicated seating space outdoors will be a valuable resource when stakeholders or clients visit you as well.
Outdoor Area For Malls
Malls require pergolas for outdoor and terrace seating and carports to ensure that vehicles are safe against the elements when visitors park them in the parking lot. Azenco's waterproof pergolas and carports keep customers and their vehicles safe from the sun and rain.
---
Pergola Project: What To Prepare Before Buying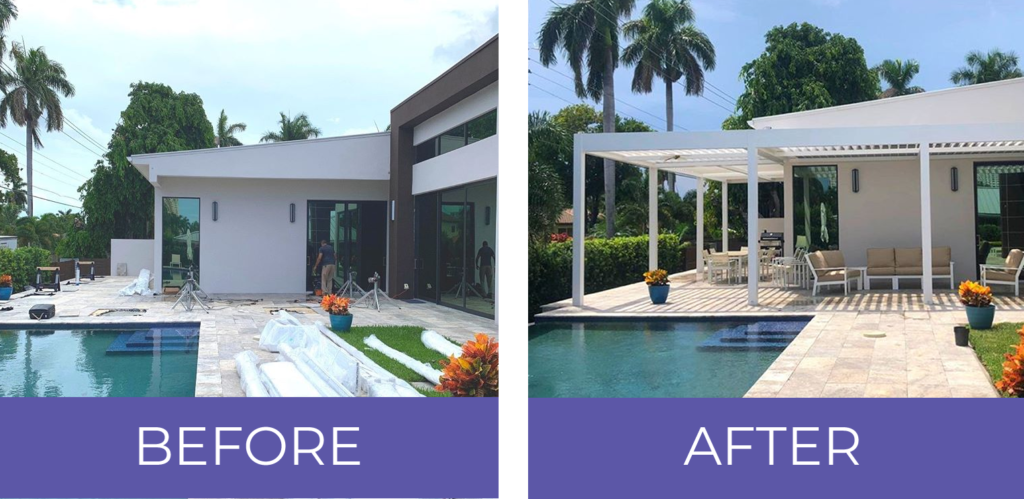 Purchasing a pergola is an undertaking that requires some preparation. You'll need to carry out in-depth research to ensure you're getting the right patio cover for your climate. You'll also need to consider whether you'd like a free-standing backyard pergola or an attached terrace shelter. Here's everything you need to prepare for before getting a pergola installed.
Weather Conditions
Consider the climate of the region you live in. Is it usually sunny, or is there a lot of cloud cover and heavy wind?
If you live somewhere with a tropical climate—such as Florida or Hawaii—you'll likely benefit from a insulated roof pergola. These offer you sun and rain protection through insulated sandwich panels. Their wind-resistant, waterproof design makes them ideal for these extreme climates.
The hurricane-rated pergola is explicitly built to comply with safety requirements in high-velocity wind zones.
Contemporary pergolas with fixed roofs also have gutter systems that lead water away from the space. You can attach solar panels to the fixed top to improve energy efficiency. These solar panels act as energy reserves during long, sunny days.
If you live in a region with temperate weather conditions, you can get a deck cover with a louvered roof installed. A louvered roof system enables you to adjust the amount of wind or sunlight you want in the space by increasing or decreasing the louvers' angle. You can operate a modern louvered pergola with remote control.
The Level Of Sun Protection You Require
You need to consider how much sunlight you want in your space. Do you want a patio cover that offers you and your family complete sun protection during hot summer days after you've taken a dip in the pool? Or do you want a terrace shelter that lets in some dappled sunlight so you can get your daily dose of vitamin D?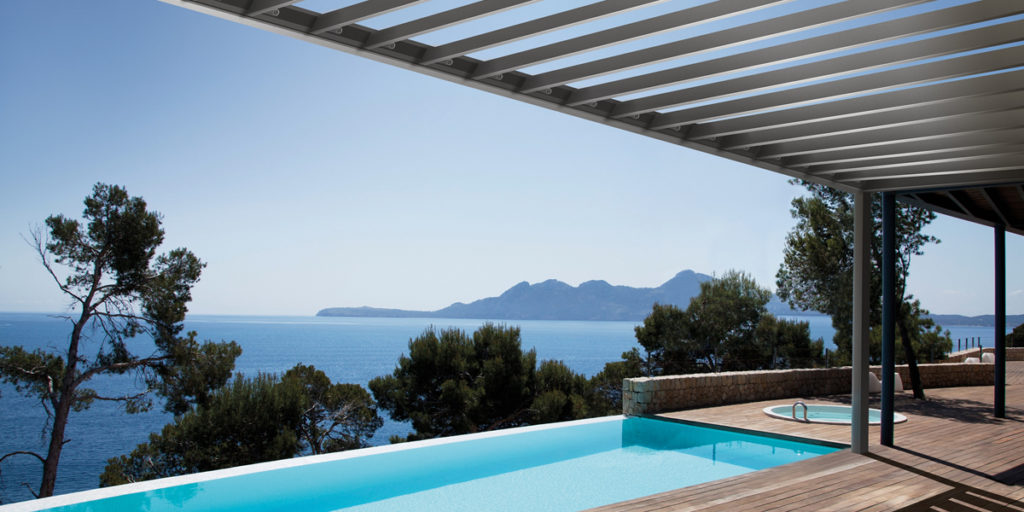 If you live in a region that doesn't get too much sunlight, you may want to consider a pergola with an opening roof system. On the other hand, an insulated roof pergola is ideal for places that receive long hours of harsh sunlight. A pergola with a fixed roof is also ideal for offering your children a space that's sun-protected as they play outside.
Your Budget
The type of pergola you'll get depends heavily on the budget you've kept in mind. A high-quality pergola made with strong, resistant material will cost you significantly more than a patio cover that utilizes plastic materials such as PVC, for instance.
Since pergolas are custom-made to match the specifications you detail for size, you'll usually be paying by the number of square feet of material used. For more information, you'll need to contact a builder who installs pergolas near you.
The pergola cost of installation will also differ depending on the type of outdoor overhead structures you're getting. For instance, a louvered cabana with modular units requires very little installation work, so setting it up will be inexpensive. However, the cost of installing a large, louvered pergola will be significantly more.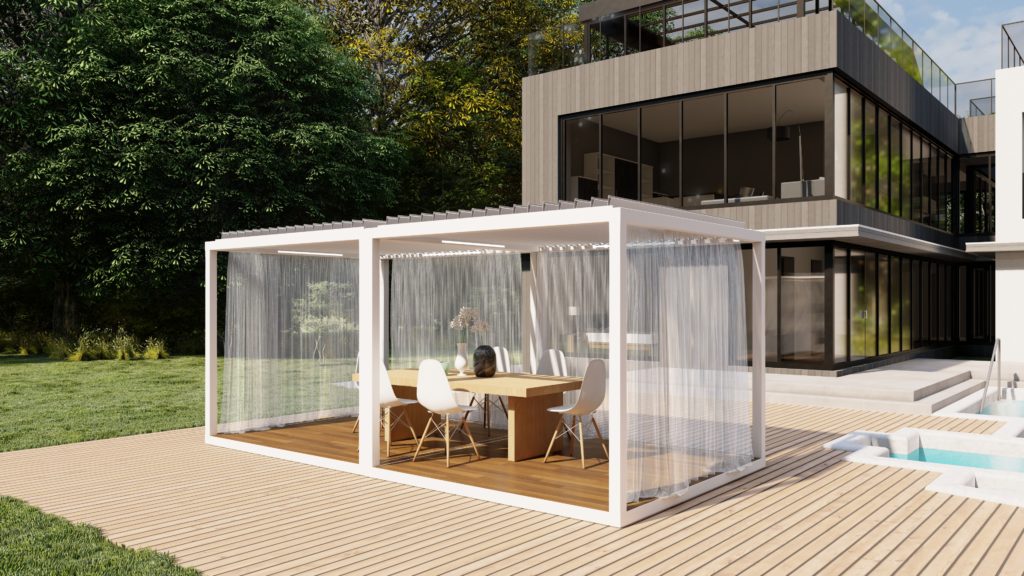 How Long You'll Stay In The House
Do you have a special attachment to the house you live in? If you can see yourself living in the same place for years to come, you may want to get a high-end pergola installed. The superior quality of the materials used to manufacture your pergola gives it the ability to withstand heavy rains, harsh sunlight, and high-velocity wind—enabling you to enjoy it for years to come.
On the other hand, if you live in a rental space, you can get a louvered cabana. These technically count as furniture instead of outdoor living structures since they require minimal installation, and you can transport them with you when you leave the house.
Where You Want Your Pergola Installed
Where you get your patio cover installed depends on the requirements you have from it. If you need a pergola on your deck, it may be wise to get a fixed-roof pergola attached poolside.
If you want to expand your living space, a pergola in your backyard would be perfect for you. It's also an excellent space for barbeques, children's playtime, or tea in the evening. You can add flowers and vines to add character and make your outdoor overhead structure more attractive.
You can get a patio cover attached to your house if you want your outdoor space to be an extension of your indoor area. The 2 post pergola would have one wall affixed to your home and an overhead cover for sun and rain protection.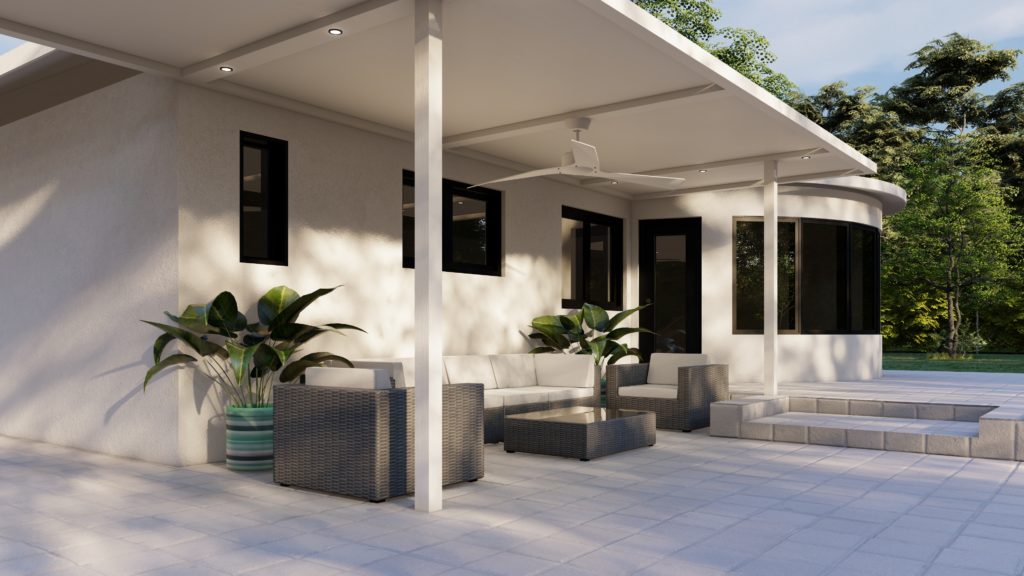 Orientation In The Background
If your pergola is attached to the roof of your home, your space will usually receive quite a bit of shade. If you live in a sunny region, you may want to use shading windows. However, photochromic windows may make the space too dark in the late afternoon.
If you're getting a pergola installed in your backyard, you'll want it in a space that enables it to match your landscaping. A pergola with large plants or trees to the side will make your outdoor space look more natural.
If you're getting a louvered pergola, you can control the rafters' orientation, so you don't need to worry about shade.
A white pergola will go well with all types of backyards, and decks. A pergola in a neutral shade—such as silver, or grey— will blend easily in gardens. You want to make sure that your modern structure doesn't clash with your space. Instead, you want to feel at peace due to the environmental harmony you've cultivated through your pergola.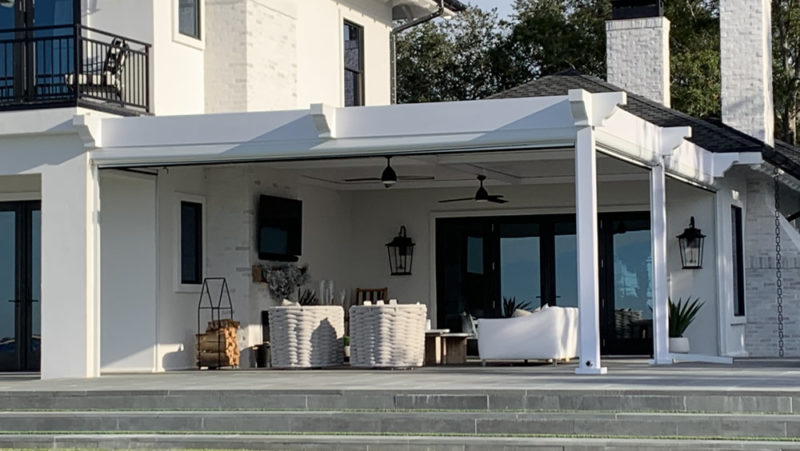 Size
Most pergola manufacturers will charge you by square footage or the number of modules you get installed. Your patio cover will be custom-made to match the amount of space you have available.
Modular pergolas are perfect for smaller backyards, while fixed-roof or louvered pergolas are ideal for patios and decks.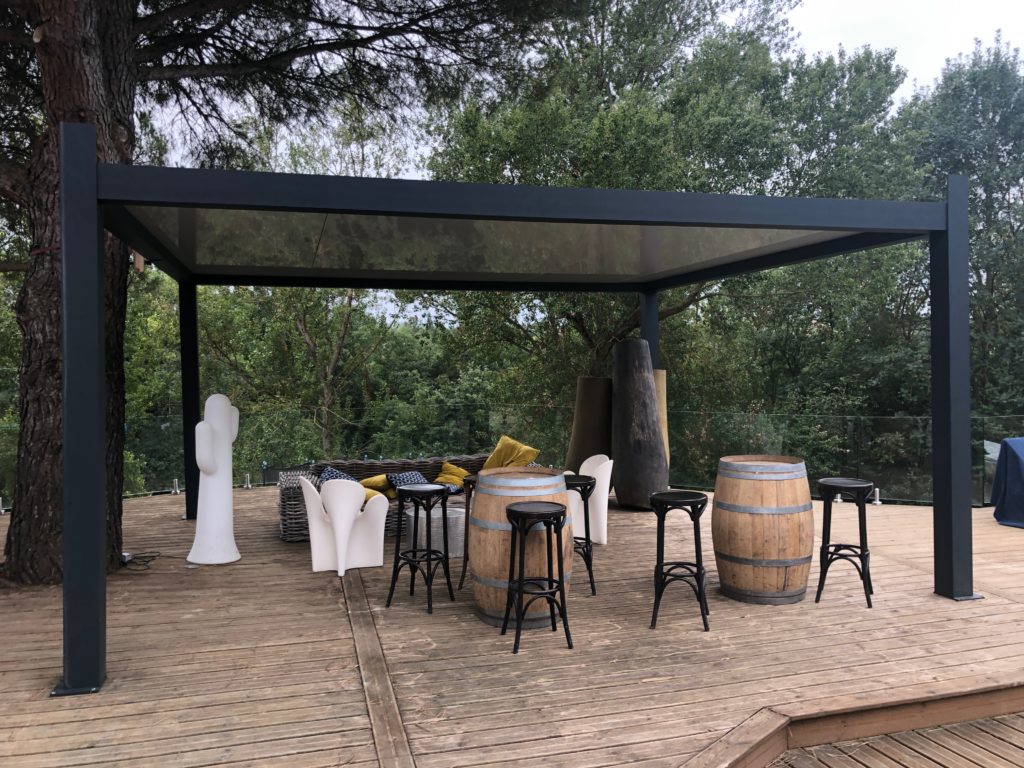 ---
Anatomy Of Azenco R-BLADE
The Azenco R-BLADE is the bioclimatic pergola of your dreams. Its temperature-controlled design and motorized louvered roof make it the perfect accompaniment to your outdoor space. Whether your house's design is contemporary or classic, the R-BLADE will go perfectly with the architecture due to its streamlined structure.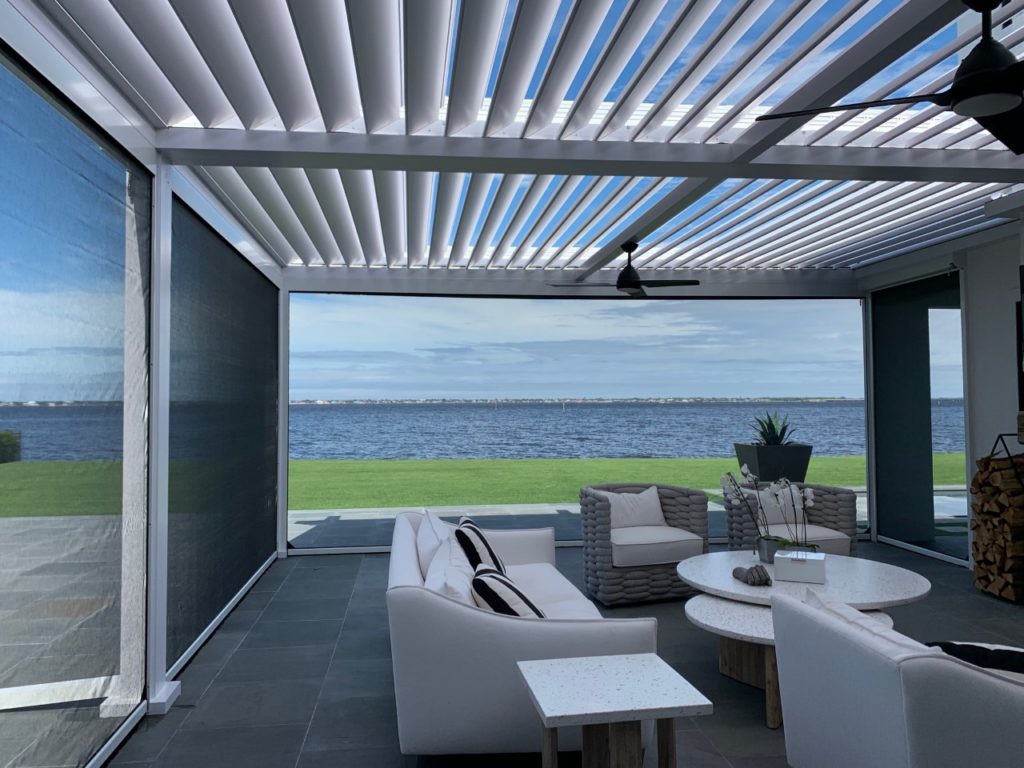 Aluminum Structure
The R-BLADE is made of the aluminum alloy 6060 T6, which makes the pergola extremely corrosion-resistant. It is this resistance that enables the R-BLADE to withstand rain without deteriorating.
The T6 aluminum alloy is heat-treated and artificially aged. Newly forged and cast metals have chemical properties that change naturally and make them settle over a long duration at room temperature. However, artificial aging speeds up this process to ensure that the metal's quality specifications are met.
Heat-treated, artificially aged metal has a greater tolerance for high temperatures. The aluminum alloy used in the R-BLADE is bioclimatic due to this tolerance.
The aluminum structure is powder-coated with a guarantee of 15 years. The high-quality, color-durable finishing will make your pergola the centerpiece of your backyard for many years.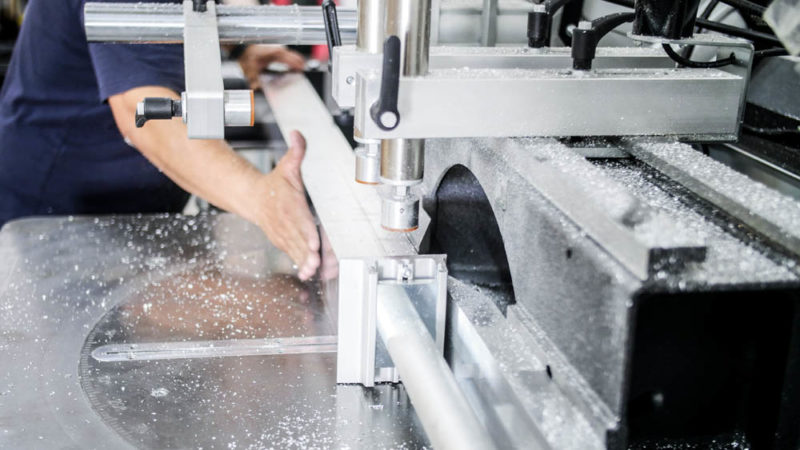 Roof
The R-BLADE's louvered roof makes it suitable for all kinds of weather. If you live in a sunny climate, you can keep the blades open to 25% to allow some sunlight in through the pergola's remote control. If it's raining, the climate automation system will automatically close all louvers unless you manually choose to keep them open.
The convenience that a louvered roof system offers you is second to none. You control its slats depending on how much sunlight you want to let into your space.
Azenco's R-BLADE louvers are placed 8.54 inches apart for optimum protection from the sun in the summer and greater light penetration in the winter. The louvers can tilt up to 90°, thereby offering you total control.
The roof is utterly leak-free due to the R-BLADE's gapless design that offers tighter sealing than any other louvered pergola in the market.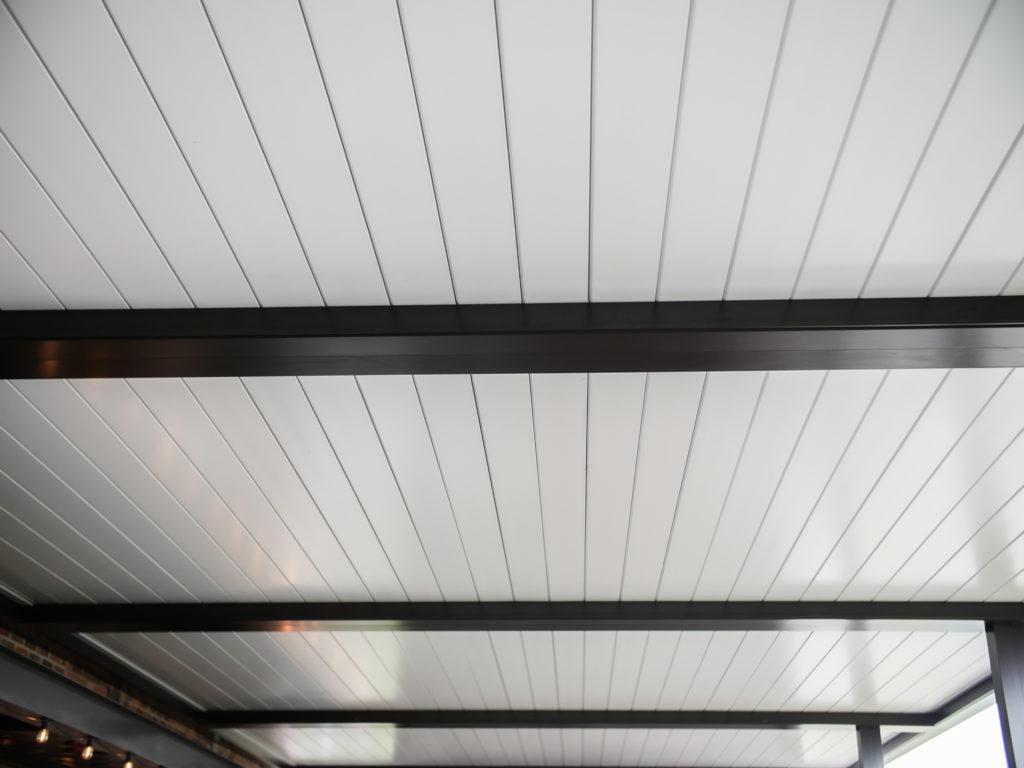 Gutter
Nobody wants their convertible pergola to have a gutter system that everyone can see. The R-BLADE's invisible gutter system is integrated into the pergola's frame to ensure that your outdoor space remains stylish. It automatically leads the water away from the area and prevents puddles from forming.
Azenco's innovative invisible gutters combine functionality with design—your gutters will be integrated seamlessly with the pergola's façade.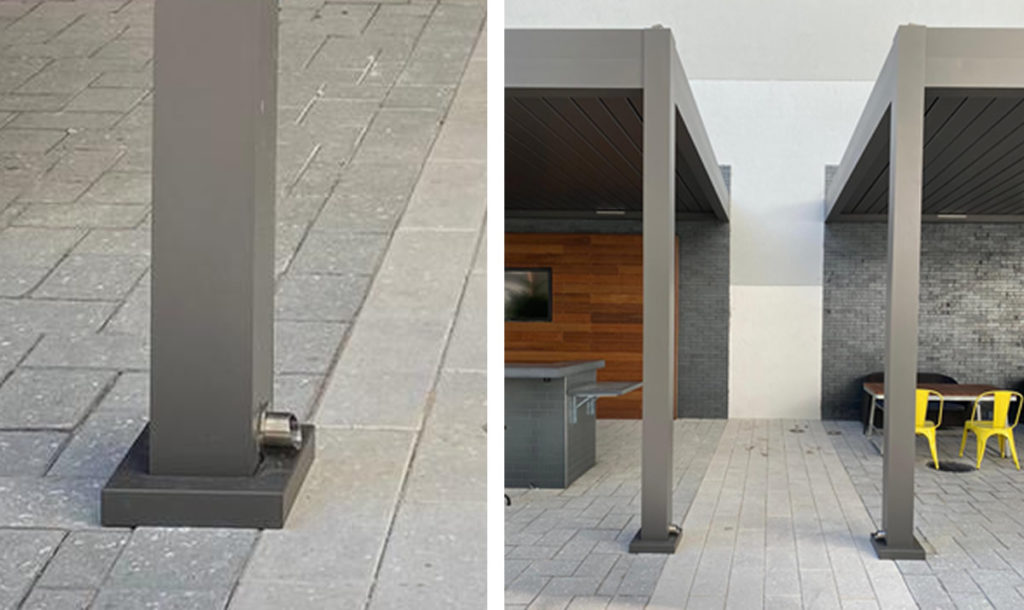 Automations Available
The R-BLADE comes with many innovations and automation features. The electric louvered pergola has bioclimatic slats and sensors to detect rain, wind, and temperature.
The rain sensor automatically closes the louvers when it detects water droplets. In contrast, the wind sensor allows air to pass through. The temperature sensor controls the slats and makes them open or close depending on how sunny and hot it is outside.
---
What Material Should Your Pergola's Structure Be Made Of?
A patio cover should be a beautiful addition to your outdoor space. But it must also be sturdy, functional, and resistant to weather elements that would destroy weaker structures. We're breaking down the pros and cons of using the pergola materials that most manufacturers utilize.
Advantages And Disadvantages Of Using Steel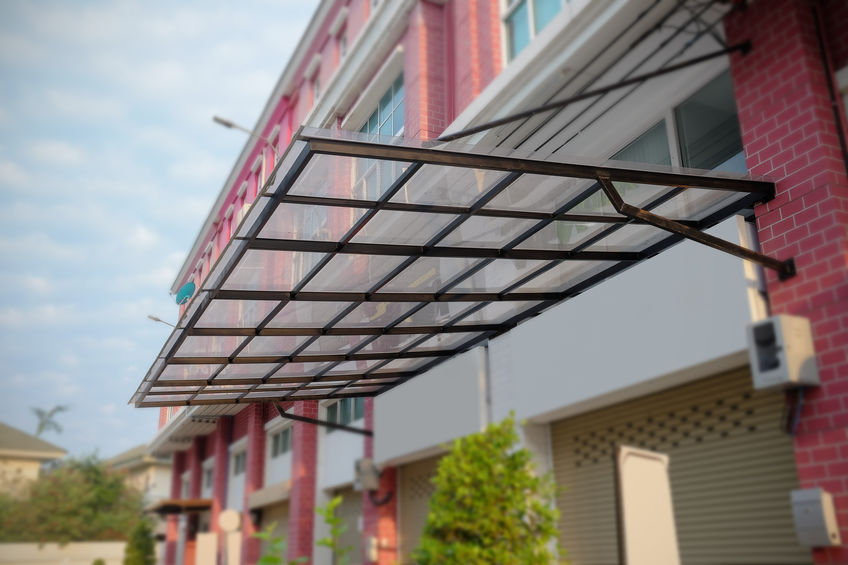 Many pergola manufacturers utilize steel frames that provide the structure with durability and strength. Steel pergolas are easy to construct and require less maintenance than those made of wood since they don't decay or rot.
Since steel doesn't deteriorate the way wood does, it will also last longer. However, you'll often have to pay a steeper price. Pergolas made of steel are not as popular as those made of aluminum or wood due to their avant-garde look that clashes with the beauty of natural gardens and backyards.
While steel frames don't require much maintenance, you will need to keep an eye out for corrosion and rust. This isn't a problem if the steel is galvanized, which means that it's entirely coated with zinc. You can also use zinc-aluminum paint to cover the steel frame for corrosion resistance.
Advantages And Disadvantages Of Using Wood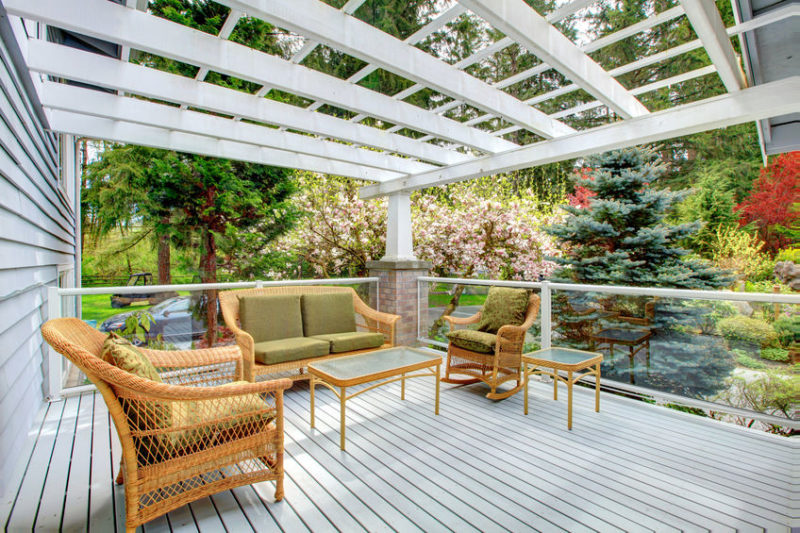 Wood is a prevalent choice among pergola manufacturers since this material adds a classic touch of natural beauty to backyards. It's also a more cost-effective material than steel or aluminum.
However, wood deteriorates quickly due to rot. If you live in a humid climate, the water vapor will seep into the timber and soften it, thereby compromising the pergola's structural integrity. Therefore, a pergola made of wood is often not the safest choice.
Timber pergolas require the most maintenance. You'll need to use bleach to wipe the pergola's frame regularly to prevent mold growth. A wood pergola will need to be repainted at least twice every decade to keep it in good condition.
Advantages And Disadvantages Of Using Plastic Or Vinyl
Plastic and vinyl are newly popular as materials for pergola manufacture. They're an excellent choice for modular, lightweight, movable pergolas that you can customize and easily transport.
Vinyl pergolas are also inexpensive, easy to install, virtually maintenance-free, and available in a range of colors. However, they're not as strong as aluminum or steel, so they can sag if they undergo a heavy load, such as a thick layer of snow. You also can't attach a vinyl or plastic pergola to your house.
Advantages And Disadvantages Of Using Aluminum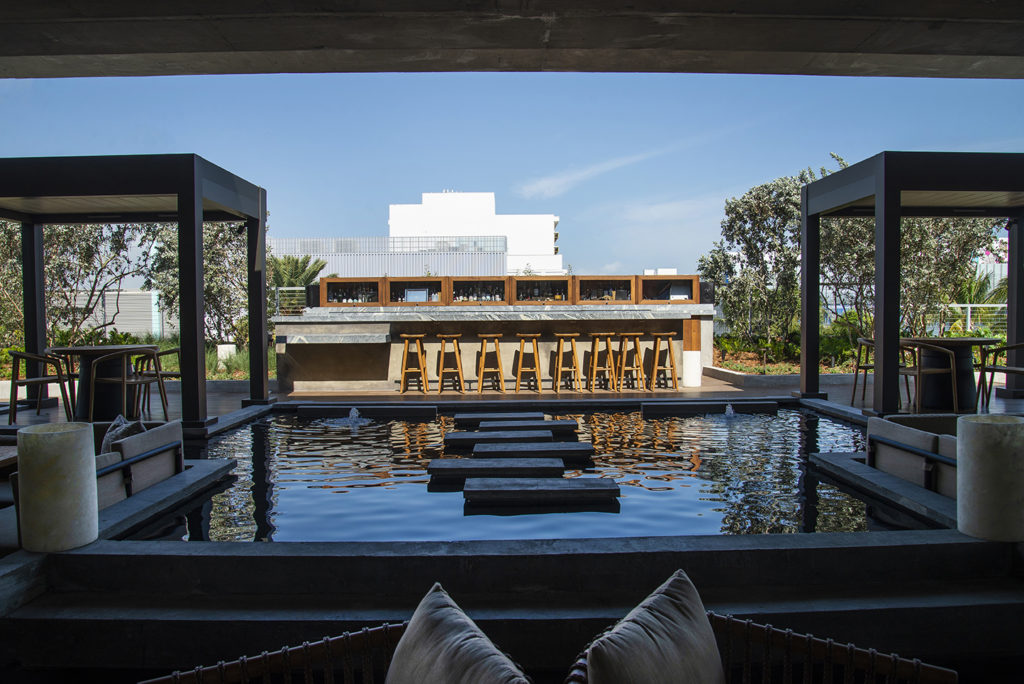 While aluminum pergolas do come with a higher price tag than other materials, they also have the best characteristics for the outdoors. Aluminum is a lightweight, corrosion-free metal that's perfect for any climate—no matter whether it's humid or arid where you live.
High-quality aluminum pergola manufacturers powder-coat their frames to ensure they last as long as possible. The durability of an aluminum pergola is second to none. It's the ideal material for any outdoor overhead structure.
What Material Should Your Pergola's Roof Be Made Of?
Traditional pergolas had trellised roofs made of wood that allowed most sunlight in. Contemporary pergola roofs are made of various materials, including fabrics, fiberglass, aluminum louvers, and glass. Here are the pros and cons of the most commonly-used pergola roof materials.
Fabrics
Modern pergola fabrics are made of acrylic and designed to be:
UV-resistant
Mold-resistant
Tear-resistant
Low-maintenance
Stain-resistant
Water-resistant.
However, pergola roof fabrics also have their share of disadvantages:
Difficult to clean since dirt adheres to the fabric
Water-resistant but not water-tight, which means leaks may occur when it rains heavily
Fade or fray over time, so they need regular replacements.
Fiberglass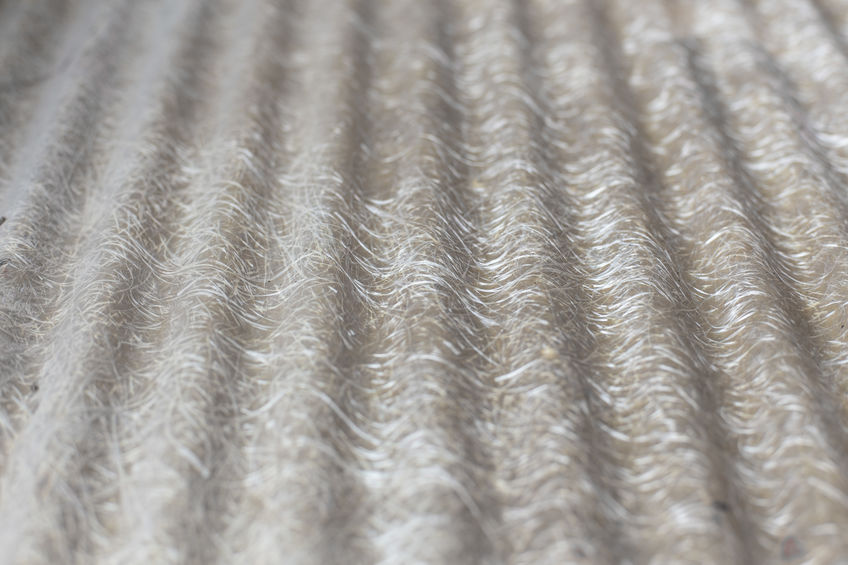 Fiberglass offers users advantages such as:
Little to no maintenance
Strength, so it can withstand heavy rain
Easy installation
No corrosion or rotting
The cons of using fiberglass are as follows:
High expense
Fewer manufacturers offer fiberglass roofs
Expensive replacement
Trellis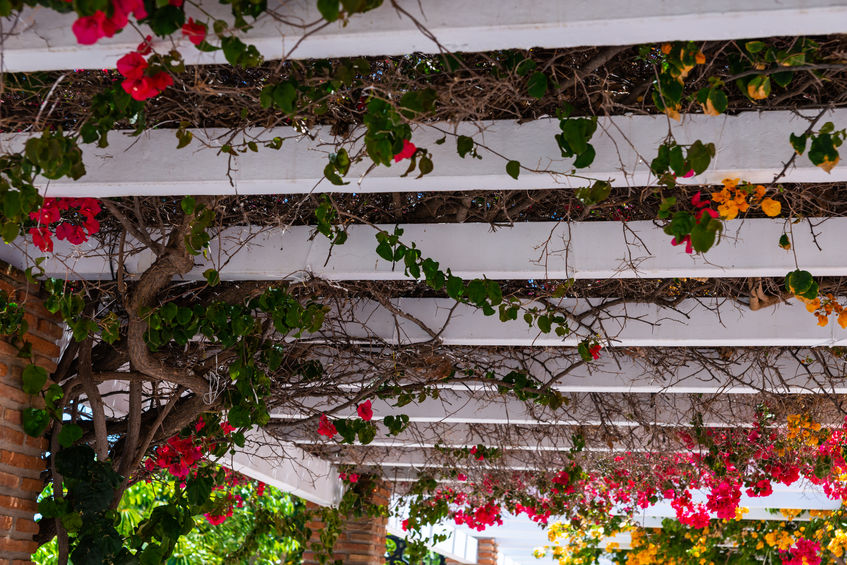 Trellises have been a popular pergola roof choice since they were created. Pergola manufacturers incorporate trellised roofs into their designs since they:
Offer a classic, natural beauty
Are ideal for people who want to have climbing plants or creepers to accentuate their outdoor living space
Provide you with a wide-open seating space
However, trellised roofs:
Don't offer you protection against the sun
Aren't wind-resistant
Provide no protection against the rain
Insulated Panels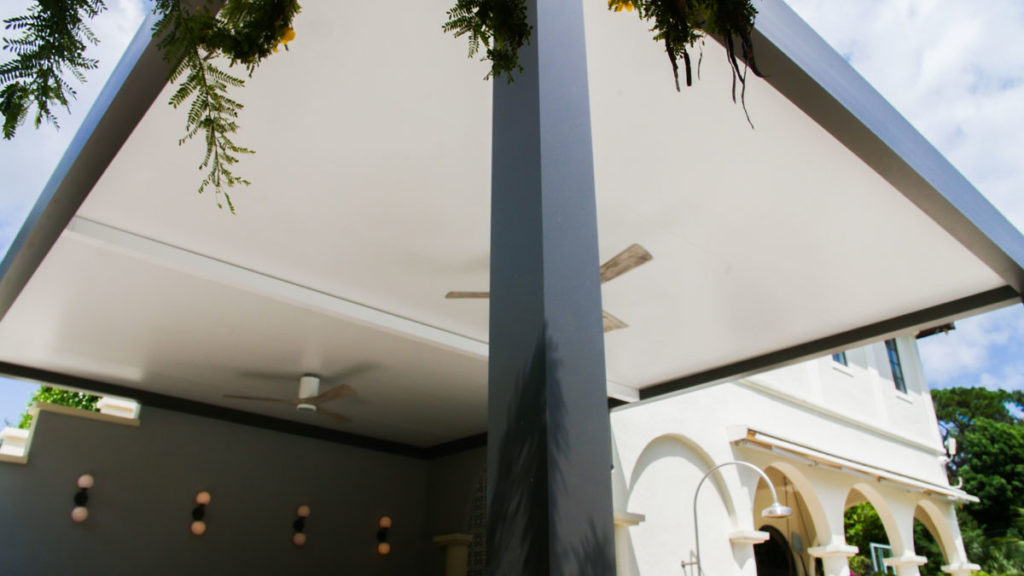 Insulated panels are newly popular as pergola roofing materials due to their:
Protection against the sun and rain
Airtight seals that guide water away from the pergola area
Adaptable design.
Can support soalr panels
The disadvantage of using insulated panels is that you can't control the amount of sunlight you receive when you're under the pergola.
Open/Close Aluminum Louvers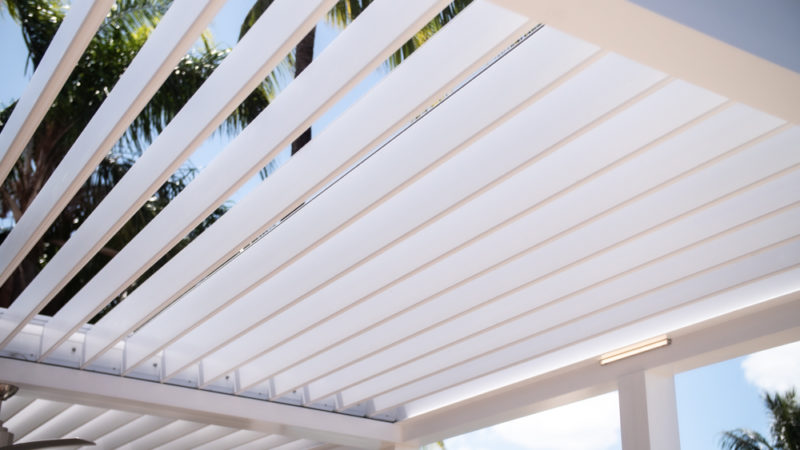 Aluminum louvers are expensive, but offer you:
Wind protection
Durability, thereby ensuring that your roof lasts long
Rain protection
Sun protection
Complete control of the slats
The convenience of no maintenance
Polycarbonate
High-quality polycarbonate roofs are:
Lightweight
Easy to install
UV-resistant
Temperature-resistant
Polycarbonate roofs aren't resistant to dents or scratches, so they deteriorate over the years after withstanding heavy rain, hail, or snow.
---
Pergola Sizes
Manufacturers understand the importance of building customizable pergolas in a range of sizes to suit the user's needs. Whether you want modular, freestanding units or a pergola attached to your roof, a quality outdoor living solutions provider can deliver on all counts.
For instance, the R-BLADE can be free stading with 4 posts or a two-post pergola when attached to the house. The 6.5×6.5 inch posts are the largest among any quality manufacturers' pergolas in the market, thereby equipping the R-BLADE with better resistance. The larger the posts, the greater the space between the posts.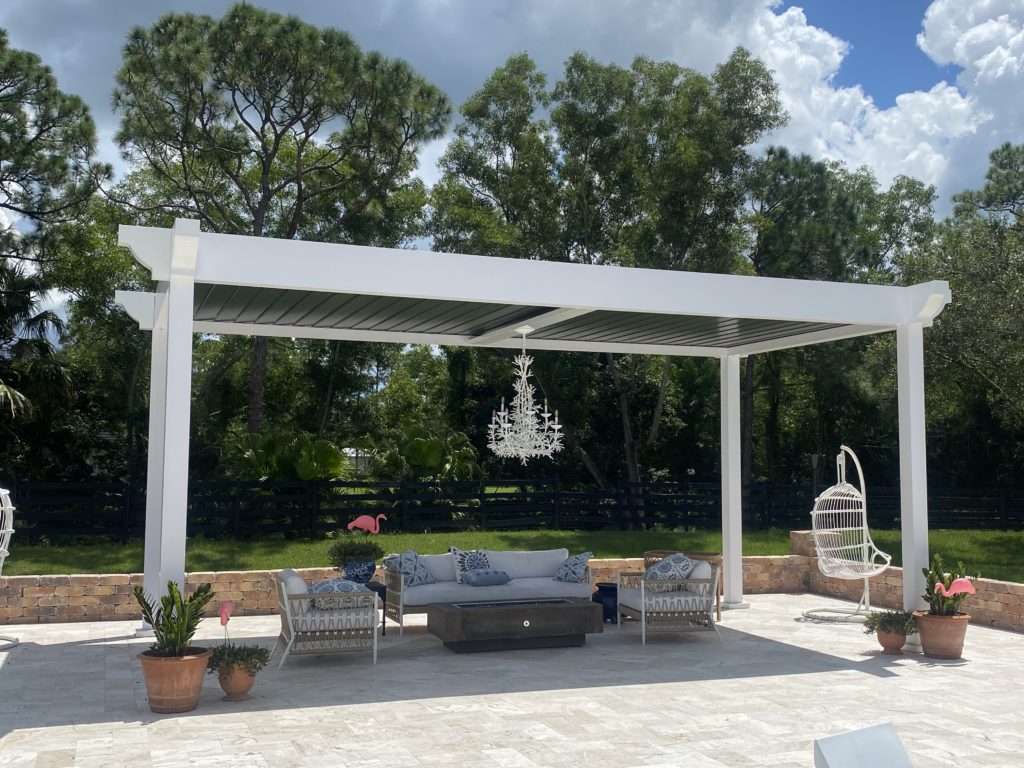 Advantages And Disadvantages Of Standard-Size Vs. Custom-Made Pergolas
It is a beautiful patio cover that you and your family can enjoy anytime. It's best to weigh the pros and cons of standard-size and custom-made pergolas so you can make an informed choice.
A standard-size pergola is typically low-cost than a custom-built project. If you want a movable terrace shelter, you can get modular units and combine them to build a pergola.
Standard-size movable pergolas are ideal if you're living in a rental space or don't have room for a large structure. However, a custom-made pergola is perfect if you want to accentuate your home with a patio cover that's perfect for it.
Custom-made pergolas are more expensive, but they enable you to utilize the amount of space you want. Whether you're getting a small or large pergola with an insulated roof or a louvered one, there's nothing better than a structure that's designed just for you.
Minimum And Maximum Dimensions
While getting a custom-sized pergola built, you'll have to keep the manufacturer's minimum and maximum dimensions in mind. The R-BLADE, for instance, has a maximum span of 23×15 ft. Its louver width is 8.54 inches, and the horizontal beams are 7.09 inches wide. You can of course combine structures for a large covered area.
Soil
You may believe that it's not possible to get a pergola installed without digging deep into the soil for footings. Azenco's modular solutions make it easy to install a stable, durable pergola without having to pour cement.
Some pergolas do require deep footings, however. Here's what you need to know about soil and outdoor flooring when it comes to your pergola.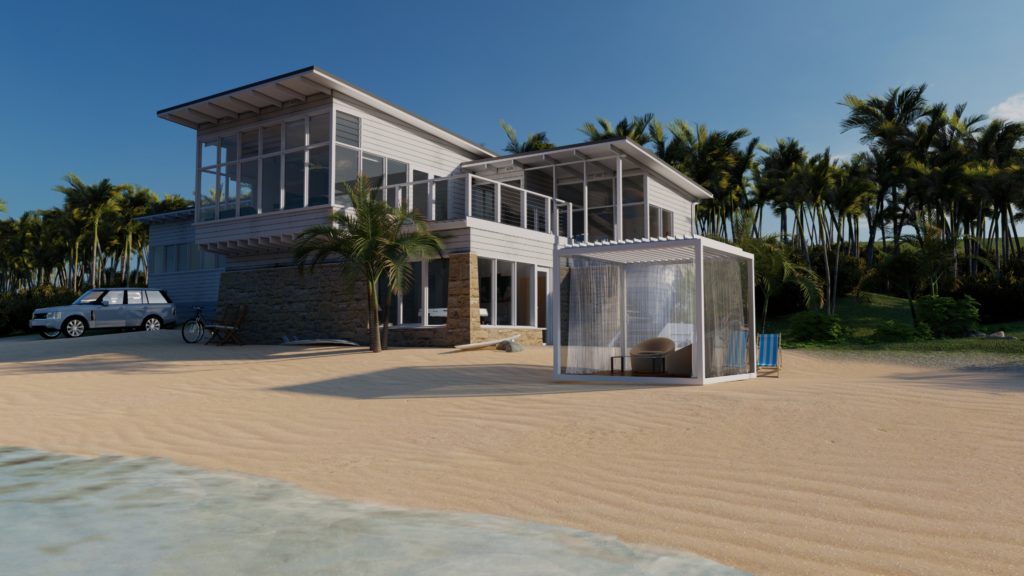 How To Anchor Your Pergola To The Ground
The majority of pergolas require a concrete slab foundation that's at least 4 inches thick with an added depth of 1 foot on the edge outside. If you don't have a slab foundation, you'll need the installer to dig holes into the soil to affix your posts and attach concrete footings.
The dealers will inform you of the appropriate depth that will anchor your deck cover. Once the installer has dug the holes, they'll fill them with concrete. They will then attach the structure using concrete-bolted anchor brackets.
Outdoor Flooring Under A Pergola
Tiles, laminate, and wood flooring go well with pergolas, so invest in these if you want a distinctive look.
Contemporary aluminum pergolas are built to match any type of flooring. Outdoor seating pergolas for restaurants usually use laminated flooring to achieve a high-end appearance.
Cabanas offer you a pergola and flooring solution in one. They're ideal for spaces with uneven flooring or outdoor areas where you can't dig deep under the soil.
---
Type Of Project
Pergolas have caught the eyes of many DIY enthusiasts. However, there are some disadvantages to undertaking such a massive project all on your own. We're going to discuss the pros and cons of different types of pergola projects.
Build And Install A Wood Pergola Yourself

By building a wooden pergola yourself, you enjoy the following benefits:
Cost reduction in terms of labor
Customized size and space
The satisfaction from building an outdoor living structure.
However, you also risk:
Choosing the wrong materials
Installing it improperly, leading to a more significant expense
Being unaware of building regulations provided by your local Homeowner's Association
Getting the wrong permit.
Louvered Pergola Kits
Installing a pergola through a kit enables you to:
Cut down costs due to the elimination of labor
Enjoy automated, temperature-controlled comfort
Build an outdoor overhead structure with your own hands.
Adjustable pergola installation requires a lot of skill. By installing a louvered pergola yourself, you:
Risk installing it improperly, leading to greater expense when an expert corrects it
Have to research and apply for relevant permits yourself.
Enlisting The Services Of An Installer, Architect, Or Contractor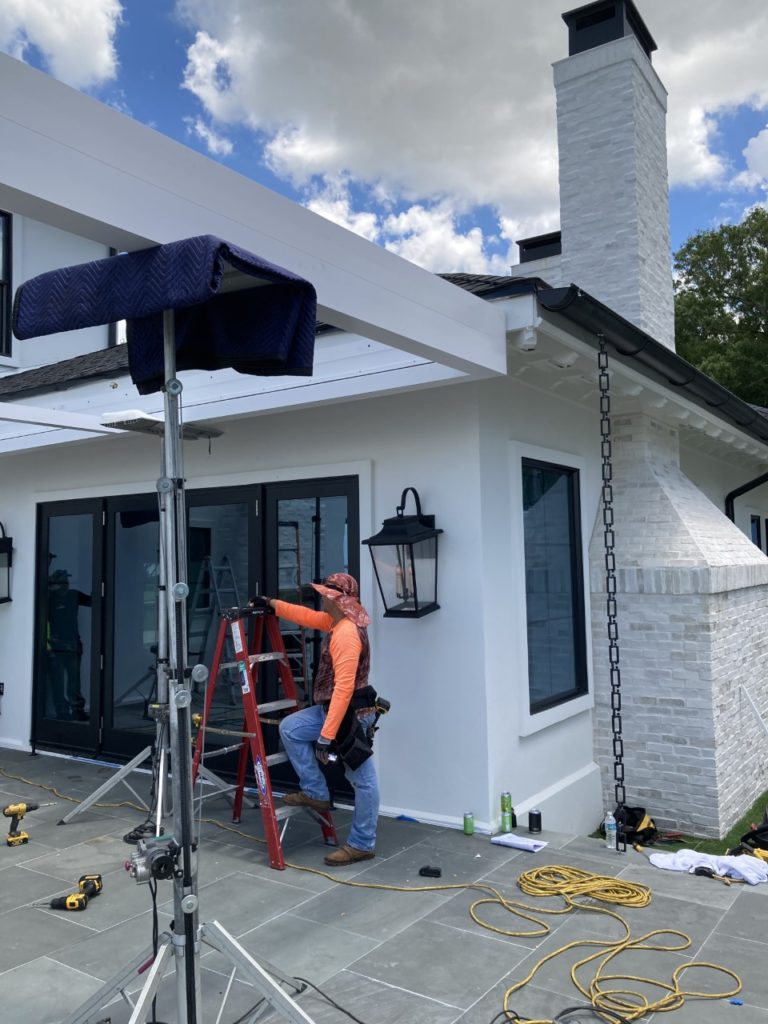 It's best to rely on the expert services of professionals. Getting an outdoor living solution installed by a professional enables you to:
Rest free knowing that your project is being taken care of through contractors that have been through strident installation training procedures
Obtain the proper permits for the project through the professional
Claim warranty services if anything goes wrong.
Differences Between Patio Covers
Why should you get a solid pergola installed instead of another patio cover solution? What makes a pergola any different from a gazebo, trellis, or canopy? Here's how a modern pergola is different from a: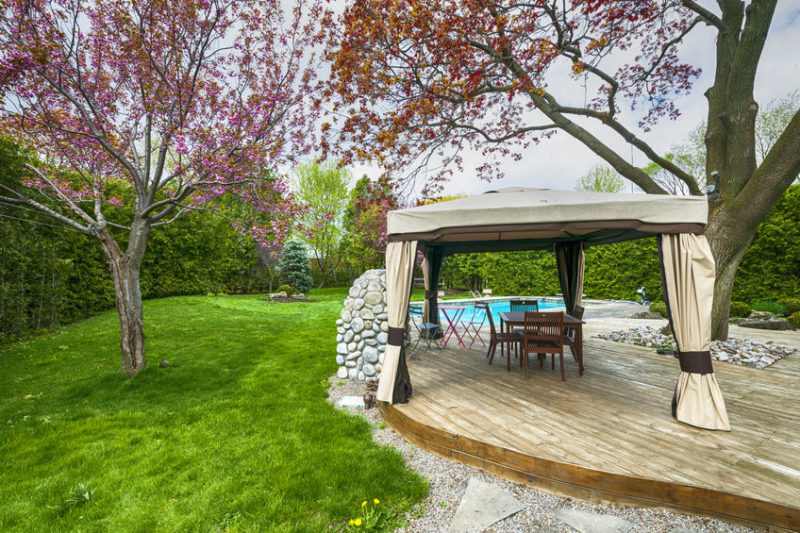 Canopy
A canopy is a covering made of fabric that requires the support of poles to stay up. It's often used as protection against the sun. Since it's made of cloth, it doesn't usually provide much protection against the wind or rain. Canopies fray and fade over time, so they require regular replacements.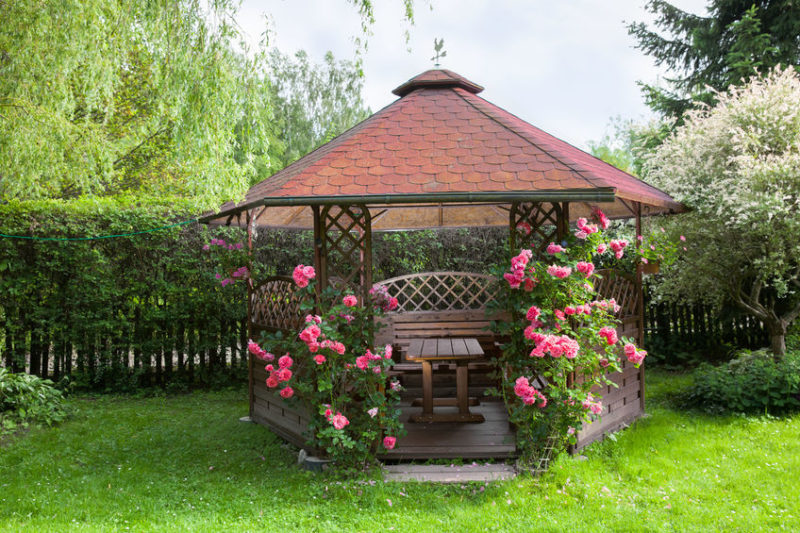 Gazebo
A gazebo is a pillared pavilion structure that's closed from the top. Gazebos always have a round base and are sometimes turret-shaped or octagonal. The closed covering provides protection against sun and rain. Unlike pergolas, they don't let any sunlight through the roof.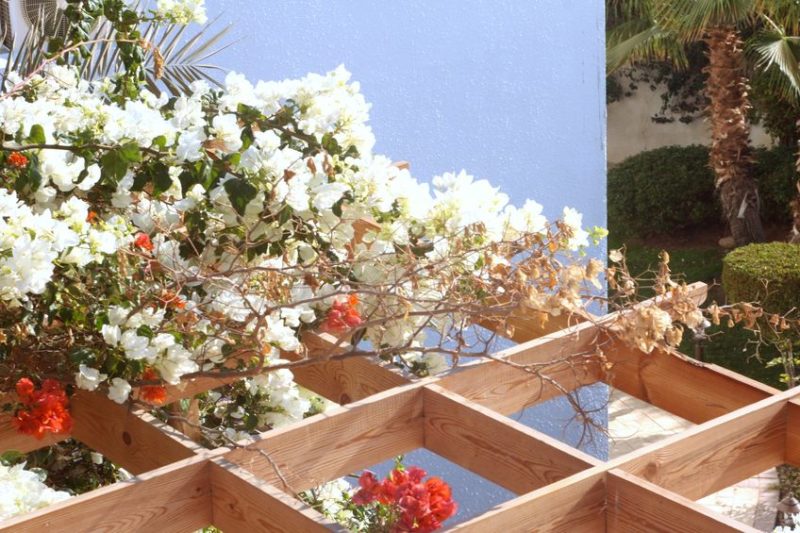 Trellis
A trellis is a garden structure made of a lattice formed by interwoven strips of metal, bamboo, or wood. Most people use them to display and support climbing or creeping plants. Traditional pergolas often incorporated a trellis structure into the roof. Contemporary pergolas have replaced trellises with louvers for greater control.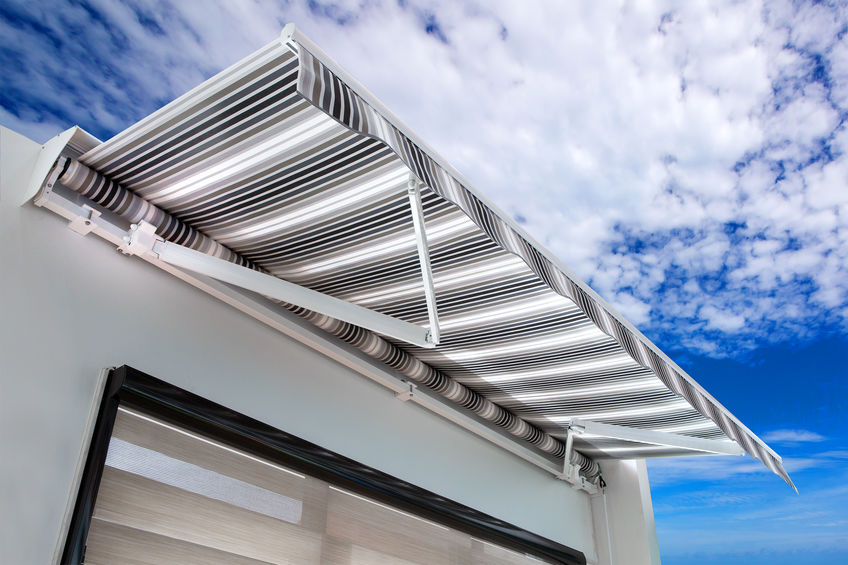 Patio Retractable Awning
Patio retractable awnings are attached to a wall and provide shade through fabric coverings. Shops and restaurants usually use them to give any waiting customers shelter. Unlike solid pergolas, these awnings are not typically permanent structures and require frequent replacement.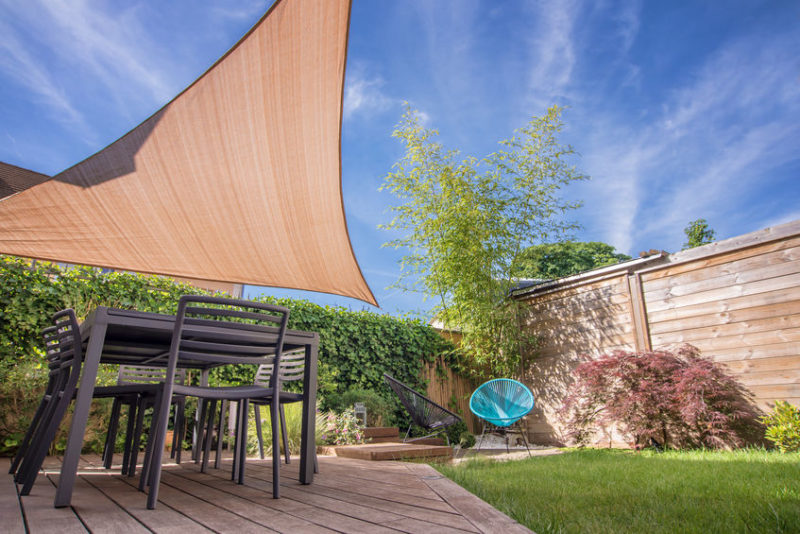 Square Or Triangular Shade Sails
Shade sails are impermanent structures that provide users with shade. They're usually made of plastic or fabric and propped on top of at least three posts. Shade sails are prone to fraying and need to be replaced often.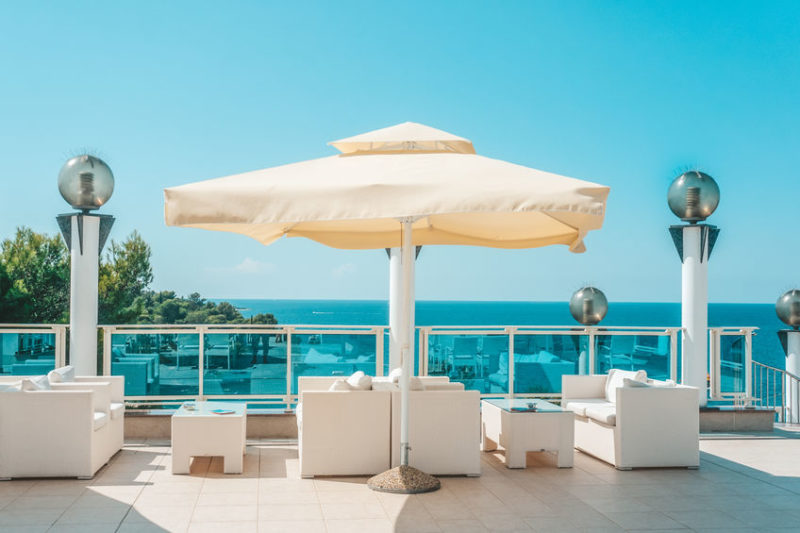 Patio Umbrella
Patio umbrellas are large pieces of fabric or plastic attached to a central pole that supports them. They have no walls or floors. They're usually used to supplement outdoor living structures so people can enjoy the shade as they sit outside.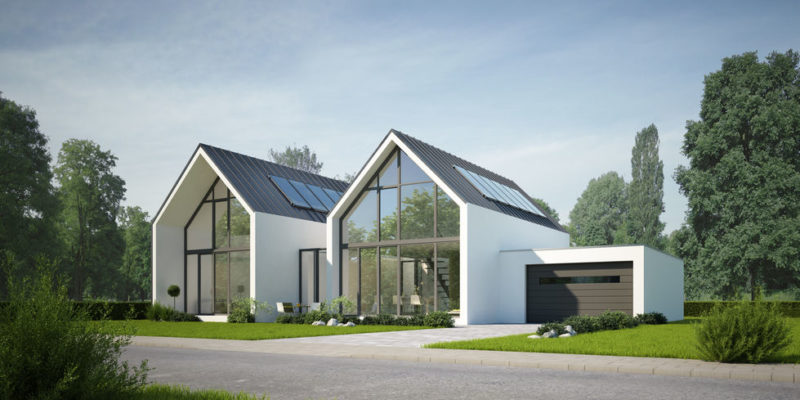 Garage
Rooms that house cars are called garages. Constructing a garage requires detailed planning permits and is often quite expensive. On the other hand, carports are easy to install in a parking lot or driveway and keep your cars safe from the elements.
---
Market Prices
You're probably wondering what the costs of all these outdoor overhead structures are. We've provided a table of market prices for the most popular outdoor living products.
| | |
| --- | --- |
| Product | Price |
| Canopy | Average: $2663 $2000 to $3500 for retractable awnings. |
| Gazebo | Average: $6336 Standard-size range: $1500 to $7000 Custom-built range: $5000 to $10000 |
| Tent | $35 to $1000 depending on size, features, and weight |
| Custom-built louvered pergola attached to the house or standalone | There are no average prices for these types of structures. It all depends on the quality of aluminum, the type of louvers and protection provided, the specific features offered by the manufacturer, the precision of the manufacturing process, the technology behind the motorization, the finishing and options used, and the size of the project. |
| Insulated roof pergola | $50 to $90 per square foot for pre-made products. The cost for custom structures depends on the quality of aluminum, the type of roof, the manufacturing process, the finishing and options used, and the size of the project. |
| Wood pergola | $2500 to $6000 |
| Steel pergola | $30 to $60 per square foot |
---
Do I Need A Permit?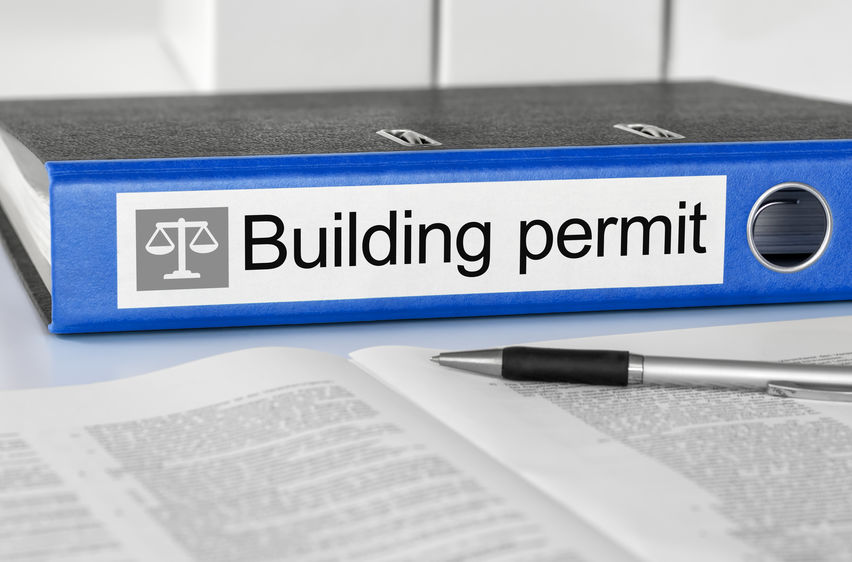 Whether or not you need a permit depends largely on where you live. However, most authorities do not require you to obtain a permit for pergolas that measure 215 square feet or less and have a height lower than 12 feet. These regulations pertain to traditional pergolas that don't have attached roofs.
Bigger pergolas or those with louvered roof systems require permits. You'll also need a permit to get a wall-mounted pergola installed. However, buying and installing a cabana requires no permits. These modular units are regarded as furniture due to their minimal installation procedures.
There are two kinds of permits you'll encounter: planning and building. Planning permits ensure that you're not violating boundary codes or crossing over into neighboring territory that doesn't belong to you.
Building permits are required for any construction work you get done. The average cost of obtaining a building permit is $1091, but this number varies across cities and states.
When you work with a professional contractor, they'll inform you of the permits you need to obtain before installing the pergola. Some contractors even apply for planning and building permits on your behalf.
You require a building permit to get a pergola installed so the authorities can ensure that:
The housing documentation—such as ownership papers and title deeds—are all valid
The construction work being carried out is legal and safe
The structure you're getting built fulfills its function
All safety procedures are being followed to minimize risks
---
Louvered Pergola Options And Accessories For Azenco's R-BLADE
The R-BLADE is an adjustable pergola that offers you comfort and control. Its natural ventilation and bioclimatic nature enable heat to penetrate your outdoor living space in the winter and shield you from harsh sunlight during the summer. Here are all the accessories and pergola options Azenco offers for the customizable R-BLADE.
Colors
The R-BLADE's powder-coated color ensures durability for years. The structure itself comes in two colors: RAL 7016 (anthracite gray) or RAL 9010 (white). The slats come in RAL 9010 (white).
These neutral colors enable the R-BLADE to match any house's architecture, whether it's classic or contemporary.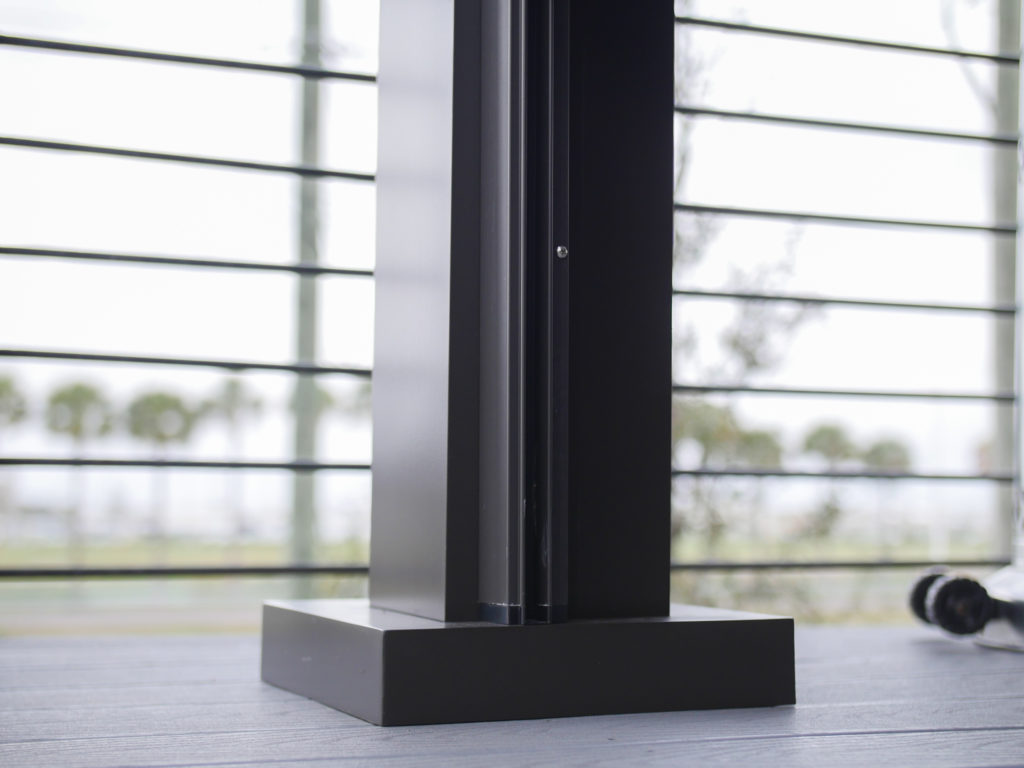 Automation
The R-BLADE offers you multiple automation features, including:
A motorized louvered roof that automatically opens and closes depending on the temperature and weather conditions
A rain sensor that closes the louvers when it detects water.
A wind sensor that opens the louvers for natural ventilation.
A temperature sensor that opens or closes the louvers depending on how hot or cold it is.
Remote control through which you can manually adjust the louver angle and opening.
A mist sprayer for particularly hot, arid days.
LED Lighting
You can customize your pergola with low-voltage LED lighting that offers you energy efficiency benefits. These lights are a beautiful addition to a pergola on the deck of your swimming pool. LED lights are dimmable and elevate the nighttime atmosphere that your pergola provides.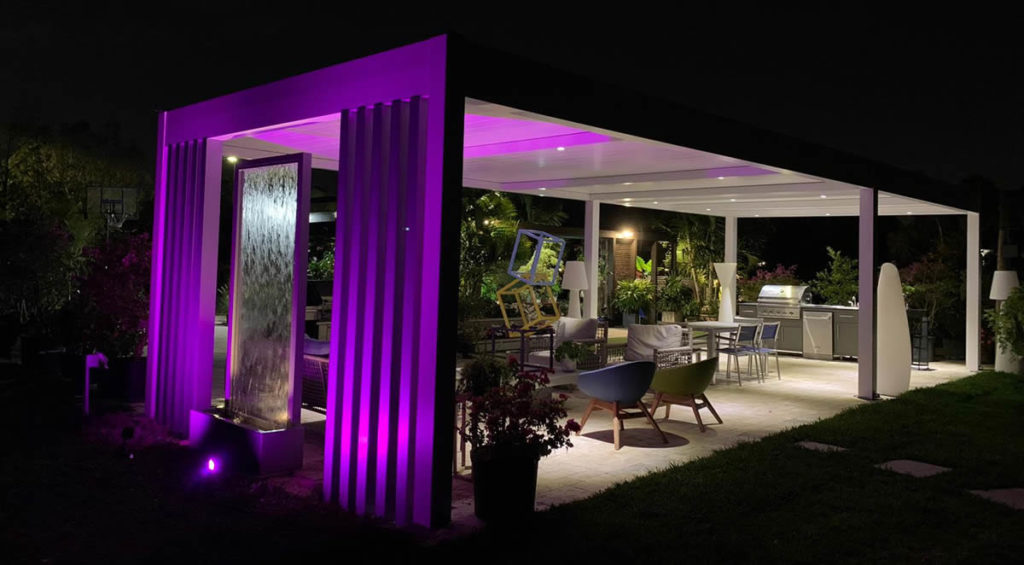 Decorations
You can attach corbels to the end of your Azenco R-BLADE to add more of your personality to the pergola. Corbels come in many designs, finishes, and sizes. These subtle elements often draw the eye towards themselves and give your deck cover a sophisticated look.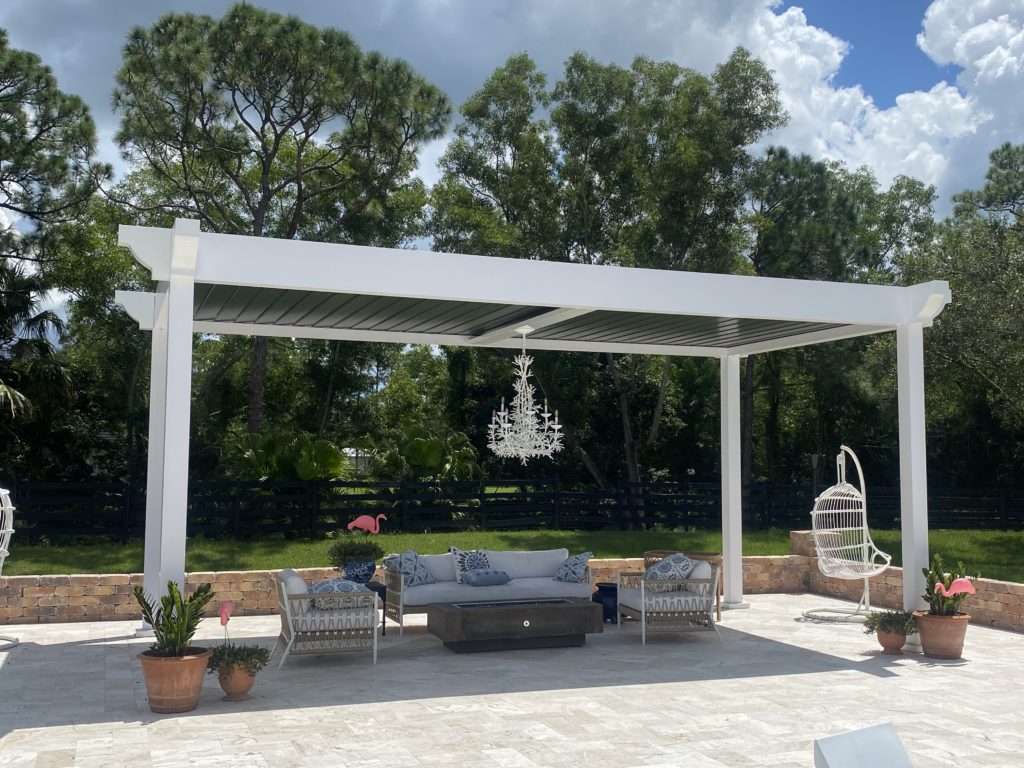 If you want to add some pizzazz to your posts, you can opt for a post base. These are practical, beautiful structures that support the posts and add a unique design to your pergola.
Curtains And Screens
The most attractive feature that pergolas offer is undeniably their openness. They give users a chance to appreciate nature. However, you can add curtains or automated patio screens to your pergola to make it a more private space for you and your family.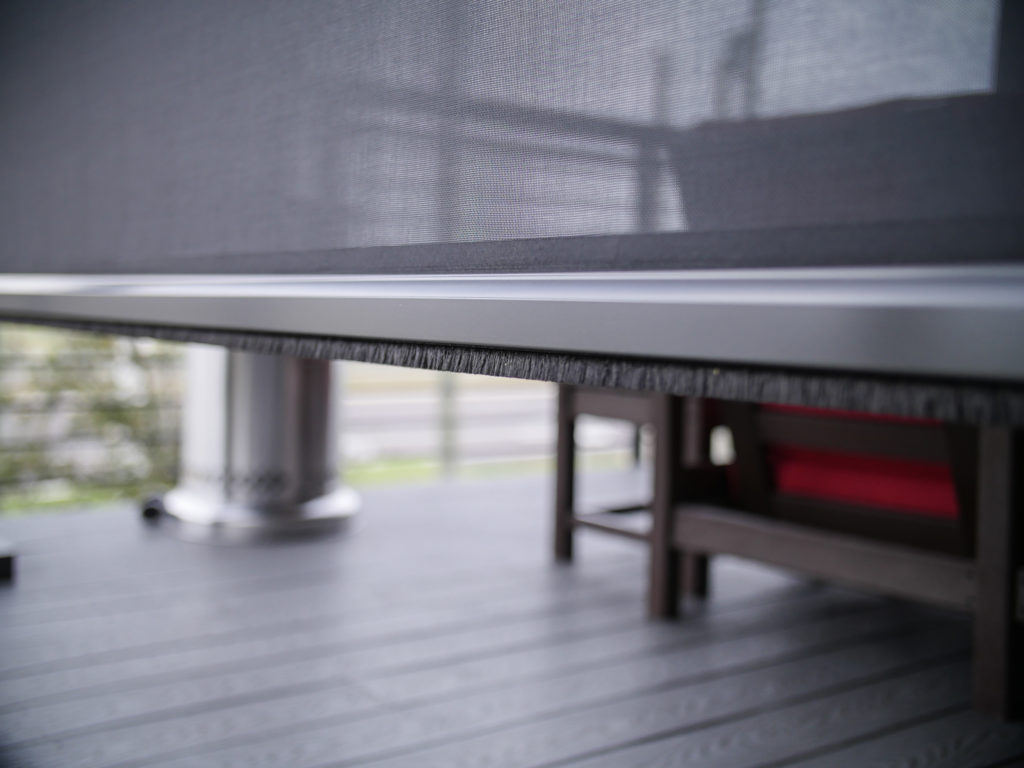 Plants
Climbing plants add shade to your pergola and enhance your outdoor living space. Landscapers and gardeners have long since used creepers and climbing plants to accentuate their pergolas.
Here are some plants that are sure to add natural beauty to your pergola:
Roses. These flowers are a classic favorite for their vibrant colors and one-of-a-kind fragrance.
Clematis. Clematis flowers bloom in spring on a creeping vine.
Honeysuckle. Honeysuckle vines add their distinctive scent to your pergola.
Jasmine. If you live in a humid, warm region, you can grow jasmine year-round.
Grapevine. Not only are grapevines beautiful, but they also give fruit.
Wisteria. These lavender-colored flowers are ideal for temperate climates.
Ivy. These creepers are ideal for you if you don't want to do a lot of gardening due to their low-maintenance nature.
---
How To Clean Your Pergola
Modern aluminum pergolas are easy to maintain and come with invisible gutter systems that control rainwater flow, guiding it away from the outdoor living space. Here's how you can ensure that your outdoor structure is as good as new.
Gutter Cleaning
When the leaves fall in autumn, or you experience heavy rain, you'll need to clean the gutter to prevent it from clogging. The gutters should be cleaned at least once every six months.
You can clean the gutters by using a leaf blower to get rid of fallen leaves and other debris. After this, you'll need to clean any dirt or mold using clean water from a hose, a soft brush, and an eco-friendly detergent.
Pressure Washing
Over time, your pergola may require pressure washing to get rid of dirt on the surface. Pressure washing is often far more effective than garden hoses.
Modern pergola manufacturers recommend using water between 1500 to 2000 psi. These pressures are safe for cars and will protect your powder-coated pergola.
Getting Rid Of Mold
Mold and mildew thrive in humid, warm climates. Your pergola requires regular cleaning to prevent them from setting in.
To clean your pergola combine 1/3 cup of laundry detergent, 2/3 cup of TSP (tri-sodium phosphate powder that's available at most hardware stores), 1/4 gallons of 5% bleach solution, and 3/4 gallons of water. Use this mixture to clean the structure and wash it off with clean water immediately.
Prevent And Clean Black Streaks
You can prevent black streaks by cleaning your gutters regularly, as mentioned previously. If you notice black streaks, use gutter cleaner concentrate such as undiluted vinegar, baking soda, or diluted hydrogen peroxide to clean them.
How To Clean The Caulking Compounds
If you're using hydrogen peroxide, you can apply it on the caulk with a spray bottle until it's completely soaked. Leave it be for 10 minutes or more and scrub off with a brush or sponge before you dry the caulking compounds.
If you're using baking soda, make a thick paste with water and apply it to the caulk. Leave it be for 20 minutes or more and then scrub and rinse using water.
If you're using undiluted vinegar, you can apply it to the caulk with a spray bottle. Leave it be for one hour and then scrub and rinse using water.
---
How To Maintain Your Pergola
Modern pergolas direct rainwater falling on the louvers through invisible gutter systems. However, some rainwater may remain on the louvers after it's rained. Open the louvers at a slight angle (around 10°) to allow this water to drain.
If your pergola has a rain sensor, it will automatically close the louvers upon detecting water droplets.
While your pergola's louvers can bear heavy gusts of wind, it's good practice to open the louvers at an angle of 60° or 120° to prevent the wind load effect from occurring. If you decided to add a wind sensor option, the opening roof systems will detect wind and open automatically.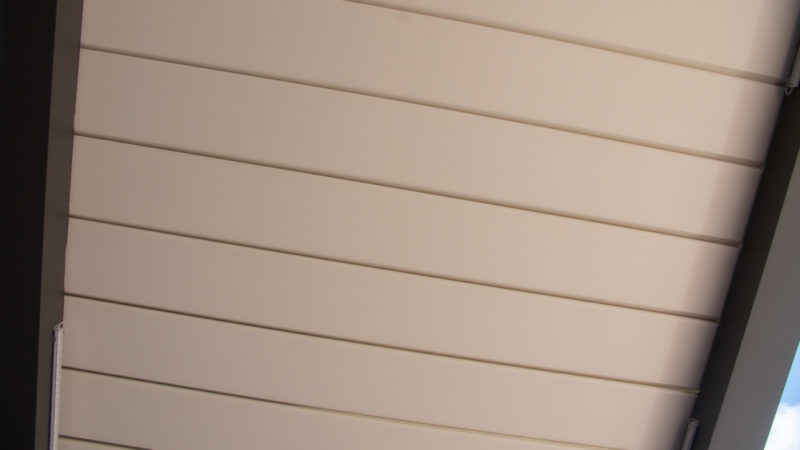 It's imperative that you don't operate the pergola when the temperature falls below 37° F. Heavy snowfall can hamper your louvers' function. Ensure that your louvers are open during snowfall to let it all pass through without accumulating on the roof.
To ensure safe operation, follow these guidelines:
Keep children away from your carport or pergola
Ensure that no one walks on the roof of the carport or pergola
Insure your outdoor living asset against standard risks such as natural disasters, fires, and hail
Check the locks regularly to ensure they're working properly
Open the pergola after ensuring that the wind speed is lesser than 20 mph.
Applicable Warranties
Most contemporary pergola manufacturers will offer you a warranty that begins from the day you get it installed. Here are all the different types of warranty you can take advantage of:
Structure. This warranty covers all the structural components of your pergola, including the posts, beam, louvers, and gutter. It's typically valid for 15 years from the date of installation.
Powder coating. Since powder coating procedures are expensive and offer high-quality finishes, they usually receive a warranty that's valid for 15 years.
Motorization. Your pergola's louvers will withstand constant opening and closing. To ensure their smooth working, pergola manufacturers offer 5-year warranties for motorization.
Electric options. The lighting panels and electric fixtures in your pergola will usually have a warranty of up to 3 years.
When you're ready to cover your patio with a pergola: