Today's modern aluminum pergolas that open and close offer dynamic functionality that fixed-roof alternatives like gazebos and pavilions do not. Modern pergolas can often cost a bit more than these traditional alternatives, so scaling your pergola design to fit your unique outdoor lifestyle and your budget will be important to ensure you get the most from your investment.
While custom pergolas can take on any size and shape, the sizes of patio covers that we craft most commonly range from smaller 200 square foot structures to expansive 450 square foot shade solutions. So, how do you decide what size patio cover you need for your new or existing patio? Let's explore some of the sizes of patio covers and factors that will impact that decision.
---
Advantages of a Modern Adjustable Louvered Roof Pergola
First, it's important to evaluate the varying shade solution you can consider for your patio. Adjustable louvered roof pergolas deliver great functionality over their static-roof predecessors. With control of the louvers, homeowners can balance the sun/shade on their patio, or close the louvers completely to create full shade and block the rain. Other popular options for residential outdoor living covers include gazebos and pavilions. Pergolas are similar to gazebos and pavilions, but these latter structures employ fixed roofs usually clad in traditional shingles.
Additionally, all three types of structures can be outfitted with amenities like patio fans, TVs, outdoor LED lighting, etc., but the unique design of an aluminum pergola allows the wiring to be hidden inside the hollow support columns and beams. Also, pergolas like the Azenco R-Blade, feature hidden gutter systems. With pavilions or gazebos, these gutters and downspouts would need to be mounted on the exterior of the structure, detracting from the desired clean lines of the patio cover. Ultimately, a similarly-sized modern louvered pergola will deliver far more style and functionality for homeowners considering 15×15 pavilion plans, 15 x 15 gazebo plans, or a 15×20 gazebo.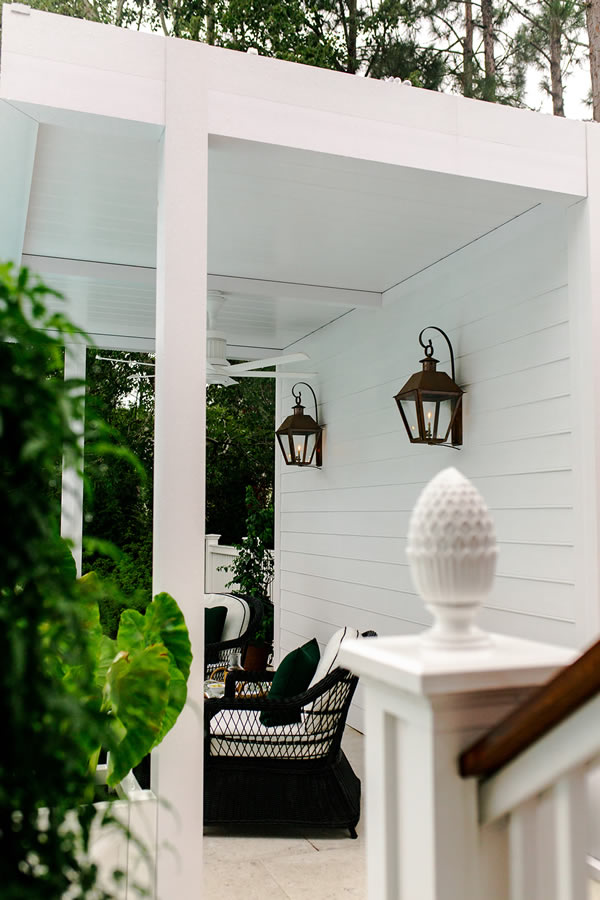 ---
Scaling the Pergola to Accommodate Your Outdoor Lifestyle
How you plan to use your covered outdoor living space will also affect its overall footprint. Sizes of patio covers can scale from smaller 15' x 15' or 10' by 20' footprints ideal for creating a small outdoor dining space or shaded relaxation space in the garden, to larger 12' x 36' or 15' x 30' spaces to encompass dedicated outdoor living, dining and cooking space.
Conversely, for homeowners with previously-existing patios, decks or pool decks, a new pergola can be scaled to provide protection beyond the patio's dimensions. For example, a 15 x 20 paver patio can be outfitted with a 15×30 patio cover, allowing the extended pergola roof to protect pathways between the home and patio. This design allows homeowners access to the patio without exposure to blazing sun and rain.
For entirely new outdoor living spaces where accommodating existing patios are not a factor, there is often a debate between installing a wooden deck with a pergola cover or a shaded hardscape patio. While these floor options behave pretty similarly a standard hardscape patio can often be far more affordable than building a deck. Depending on the material choices, the cost to build a 15×20 deck is usually magnitudes higher than a basic 10 x 20 patio design. By combining a dynamic modern pergola with an affordable patio, homeowners can enjoy a great deal more functionality from their outdoor living space while trimming their budget.
---
What Patio Cover Size Should You Choose?
So, you're likely wondering what sizes of patio covers would fit your home. Again, that will depend on your planned use of the space, whether there is already an existing patio, etc.
Below is a breakdown of the most common sizes of patio covers and what those areas can reasonably accommodate:
DIMENSIONS
APPLICATIONS
10' x 20' (200 sq. ft.)
10×20 patio ideas tend to be a small dining nook,
a bit of shade near the pool, or a relaxation space in the garden.
15' x 15' (225 sq. ft.)
Full coverage for a small 15 by 15 patio is a common request for
the average suburban patio where homeowners want to shade
the entire living space but are also requested for larger decks
where they would like to carve out a delineated shade space
for dining and relaxation.
15' x 20' (300 sq. ft.)
At 300 sq. ft., whether it is a 15×20 patio cover or 20 x 15 patio cover,
these pergolas become large enough to house dedicated dining area
or outdoor living room set up.
12' x 36' (432 sq. ft.)
The extended spans of a 12×36 patio cover are ideal for interior courtyards
to create full shade and rain protection across wider areas, or
covering separated dining and outdoor cooking spaces
15' x 30' (450 sq. ft.)
A 15×30 patio cover offers space for outdoor dining, a complete custom
outdoor kitchen, and bar or counter seating; ideal for a wide open
pool deck, this size pergola can work well on a slightly smaller
15 x 20 concrete patio to leave an exposed portion of the patio to
house a fire pit or wood fired barbecue.
---
Sizes of Patio Covers Conclusion
Ultimately, choosing the covered patio size that is right for you is not a decision you need to make alone. Our nationwide network of expert pergola dealers is ready and waiting to help you navigate the design and installation process. When you choose a contractor for your outdoor project, make sure they have a track record for amazing design, quality installation that is backed up by reviews, and pristine customer satisfaction ratings. If you would like to explore a covered patio project for your home, reach out to us and we will connect you with one of our design/build experts near you.
---