Pergolas are a worthy investment for any homeowner who is looking to boost their home's outdoor living space. These outdoor structures are designed to improve your pre-existing outdoor spaces and provide additional comfort to homeowners who spend extended periods of time on their deck, porch, or patio.
Simultaneously to providing increased ease of use and enjoyment to your outdoor living area, the installation of a pergola can also increase your home's overall value. The value pergolas provide to a particular home depends on three factors. These factors include:
the overall investment the construction of the pergola entailed,
the outdoor living trends in your community,
and the additional features and advantages the pergola provides to your home and property.
Increased Investment
Anytime you invest a large sum of money into your home, it is important to ask if this value will be retained by your property. From a strictly financial perspective, normally, the more money you invest into your home, the more money you can receive back when you decide to sell.
For example, all of these pergola design ideas would add significant financial value to a home because of the investment required to construct them.
However, the financial investment attached to the installation of a pergola is not the only way these outdoor structures can increase your home's value.
A Pergola Add Value to Outdoor Living
Outdoor living spaces are one of the fastest-growing trends in the home design discourse. Every buyer seems to be on the lookout for homes that already have an attractive and trendy outdoor space located on the property. Therefore, the addition of a pergola onto your property could increase your home's attractiveness and value when you decide it is time to sell.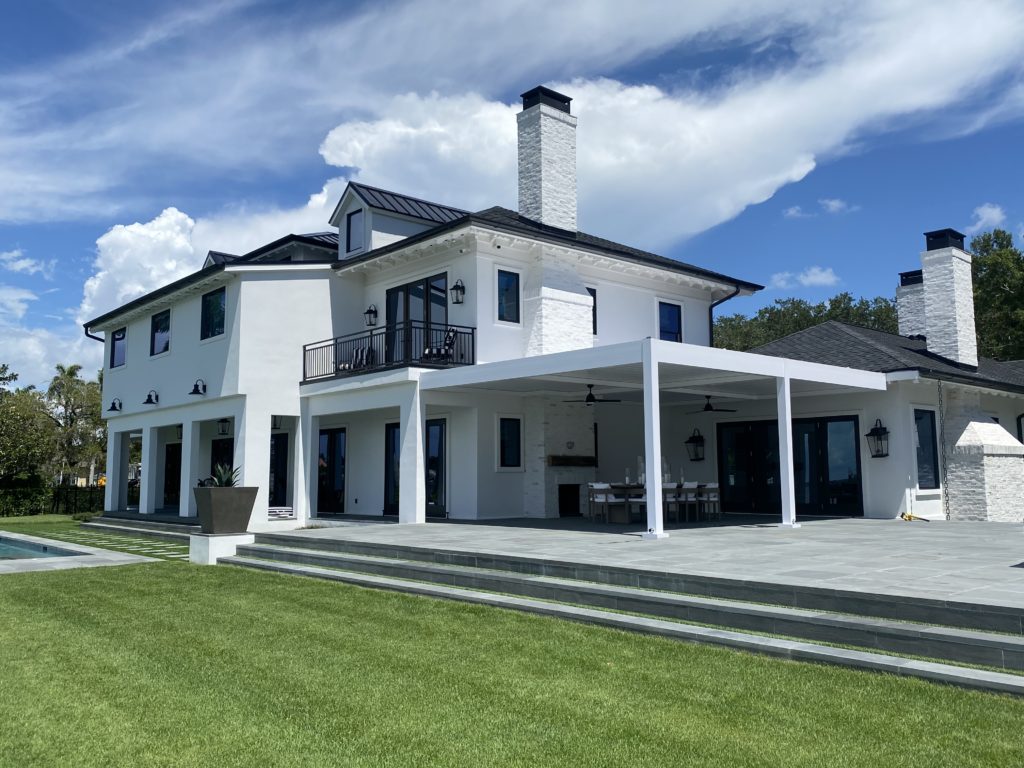 Another way to think about how pergolas can increase your home's value is to think about why you are choosing to install one in the first place. Are you looking to create a comfortable outdoor space where your family can relax, have a barbeque, or spend time together? Buyers searching for a new home are also looking to find an outdoor space where they can relax and spend time with their families. If you have already built the space buyers desire, they will certainly be more attracted to your home than others on the market.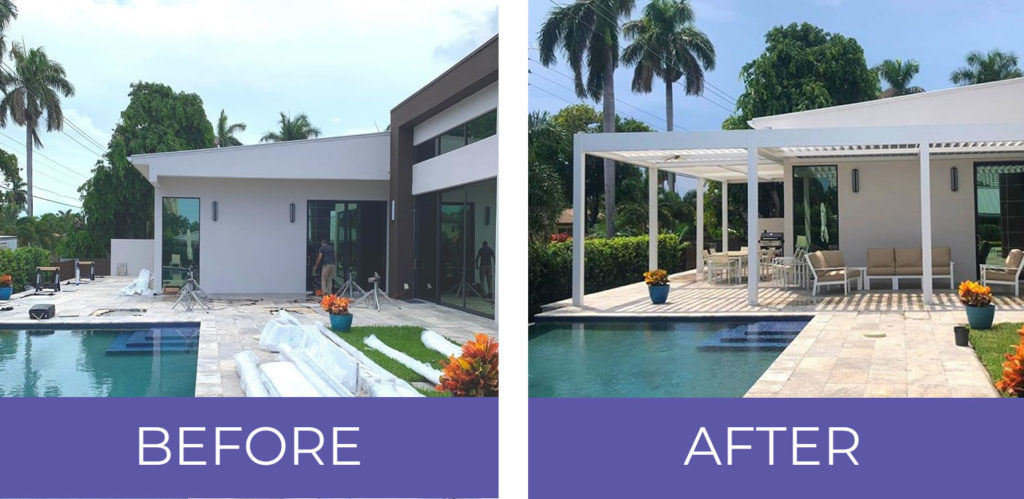 If you are investing in a new pergola as a pathway to raise your property value, it is imperative that you select a long-lasting material for its fabrication. High quality products are fabricated from materials that are also resistant to rotting and oxidation. While a wood pergola may offer some initial savings on material costs, an aluminum pergola that has been coated with durable powder coating will ensure the longevity of your investment. Choosing a modern aluminum pergola also allows you to add numerous modern amenities in its design such as embedded LED lighting, retractable motorized privacy or insect-repelling screens, or embedded sensors that automatically open and close the louvered roof when rain approaches. Azenco's modern aluminum pergolas also feature hidden gutter systems to drain the rain water away from the patio below, and feature invisible assembly hardware to deliver clean exterior lines that fits seamlessly into any architectural style.
The improvement a pergola provides to your outdoor space is mostly dependent on the cover it provides. However, this improvement can also be influenced by the additional advantages certain pergolas may provide.
See also: pergola versus other patio covers
Additional Features
There are a vast number of pergolas on the market. These outdoor structures range from standard models that simply provide overhead shade and cover to more advanced models that can even charge your electric car. Several pergolas that contain advanced features can be found on our website.
The R-Shade pergola can be equipped with one or more solar panels that can allow homeowners to power certain areas of their homes and power their electric vehicles. This pergola can also be used in coordination with the R-Car carport for increased charging power. A variety of retractable screen options can also be installed onto certain pergolas. These screen options include insect screens and solar screens that are manufactured out of a multitude of fabrics.
Enjoy Your Improved Outdoor Space
A well designed and installed pergola can have drastic effects on the levels of enjoyment and comfort you receive from your home's outdoor spaces. Simultaneously, these outdoor structures can also increase your home's value. Buyers are sure to enjoy your home's creative outdoor living area just as much as you will after you install your pergola.
About the author: Skylar Ross is a contributor to the Innovative Materials blog. He is a content writer for the construction and home improvement industries with an interest in landscaping, outdoor remodeling, and interior design. Skylar is focused on educating homeowners, contractors, and architects on innovative materials and methods of construction that increase property value, improve sustainability, and create a warm and welcoming ambiance.