---
Smart home technology is everywhere these days, from home automation that turns lights on and off, to AI driven shopping lists that prompt homeowners when the milk is running low. The ubiquitous digital personal assistants like Apple's Siri, Amazon's Alexa and Google Assistant have become indispensable parts of many people's lives. Here at Azenco, advanced technology is part of our DNA, from the precision robot cutting and extrusion machines on our production line to the intuitive user controls on our motorized pergolas. We are excited to announce that Azenco pergola owners can now control many facets of their outdoor living space with similar voice activated commands.
---
Modern Pergola Construction Enables Flexible Features
Traditional pergolas made of wood provide the basic shade-creating structure that some homeowners desire, but are limited in their ability to adjust to changing light or weather conditions. Modern pergolas crafted from lightweight-yet-strong aluminum provide far greater design flexibility and more dynamic features. Aluminum pergolas are able to feature adjustable louvered roofs that can open to allow full sun to reach the patio, close partially to create shade, or close tightly to completely seal out the rain. The hollow aluminum support columns and pergola frame also provide space in which to conveniently house LED lighting and retractable insect or sun screens.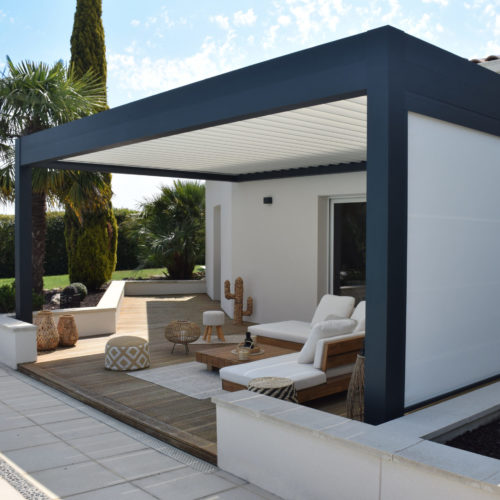 ---
Pergola Technology: Smart Sensors and Automation
Feature-rich modern pergolas provide homeowners with immense flexibility for their outdoor living spaces, and modern pergola technology allows those features to be controlled in numerous ways. Generally, these controls are either manual or automated.
Pergolas outfitted with smart sensor arrays can autonomously adjust the louvered roof based on changing weather conditions. Owners of the Azenco R-Blade pergola have several automated sensor options from which to choose. A rain sensor can monitor for showers, and close the louvers at the first sign of rain. A temperature sensor can track for freezing conditions, and open the louvers to prevent damage from ice or snow load. And, a wind sensor can track wind speeds, and automatically open the louvers to mitigate storm damage from dangerous updrafts.
---
Smart Pergola Controls: Mobile Technology and Voice Activation
For user-activated adjustments to retractable screens, embedded lights or motorized louvers, all elements of the pergola can be controlled with a standard handheld remote. For more flexibility, pergolas with smart integration can also be smartphone controlled, which puts operations at the homeowner's finger tips regardless of where they are.
The most-advanced user control option is to fully-integrate the pergola with a smart home automation system. With virtual digital assistants like Apple's Siri, Google Assistant and Amazon's Alexa, homeowners don't need remotes or smartphones in hand to make adjustments to their outdoor living space.
---
What a Voice Activated Pergola Means for Your Lifestyle
With a voice activated pergola, the immense control owners have over their outdoor space becomes even more intuitive. With a voice activated pergola, homeowners never need to leave the pool to create more privacy for their outdoor space. Instead, they simply say, "Alexa, lower the pergola screens." Voice activation also ramps up the relaxation factor for a pergola-covered patio. Someone enjoying a nap under the pergola as the sun creeps higher doesn't need to get up to adjust the louvers. A simple "Hey Siri, close the pergola louvers," and they are drifting back to sleep. If hosting an evening dinner party, and the sun begins to set, the host can simply say, "Hey Google, turn on the pergola lights."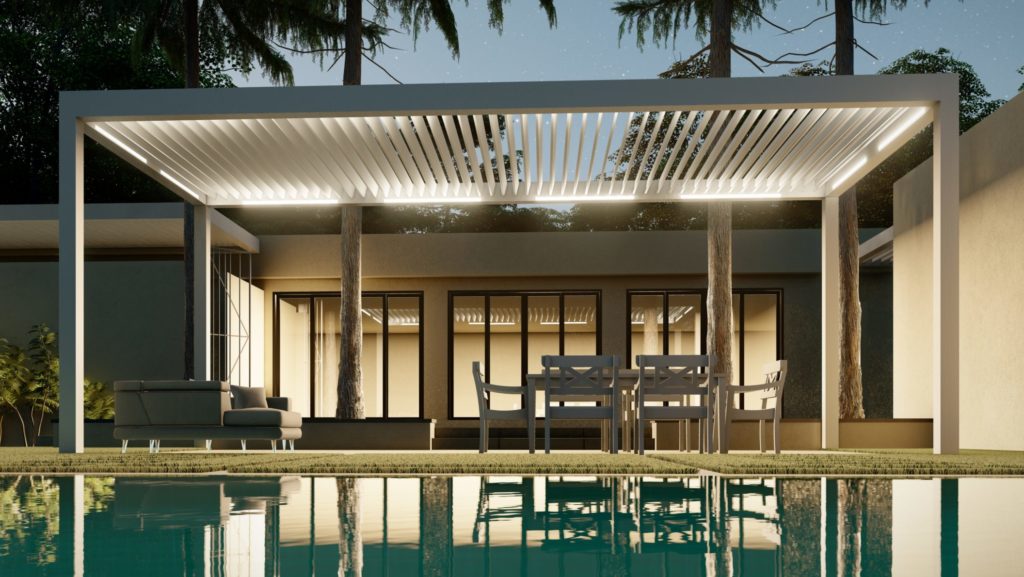 ---
Conclusion
As pergolas have evolved from static wooden shade structures to technologically advanced outdoor living spaces, new user interfaces continue to help homeowners make the absolute best out of their pergola investments. IF you would like to learn more about adding a voice activated pergola to your patio, contact us and we will have one of our expert local dealers reach out to you.