---
There are many louvered-roof pergolas available on the market from DIY kits to fully-custom options.
While overall build quality and material selections are important for your pergola, there are core design aspects that will also impact the overall usability of your pergola. One of the most important is the design of the louvers on your pergola. So, let's answer some common questions about angled pergola slats and explore what makes the Azenco louvers so special.
---
What are pergola with angled slats or louvers?
At their most simplistic, louvers are parallel slats that promote airflow. You've likely seen louvers covering an air vent, like the attic vent in the eaves of your home. The angled slats keep rain and sun from the opening while allowing air to flow through the vent. Well, a pergola with angled slats works in much the same way.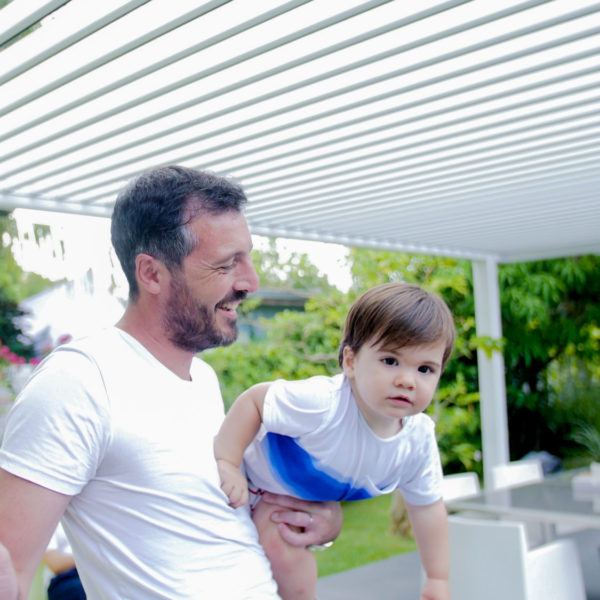 ---
Why do pergolas have louvered roofs?
Incorporating a louvered roof into a pergola promotes air circulation to keep the space below cool, and the slats can create some shade. The amount of shade will depend on the angle of the louvers. Basic pergolas can have a roof of fixed slats that create partial shade as the sun traverses its daily arc. More modern pergolas, like those built by Azenco, feature adjustable louvers that can move throughout the day to block more or less sun. With the right louver design, you can even close the roof to completely block the sun, rain and snow…but more on that shortly.
---
How are angled pergola slats adjusted?
Pergolas with adjustable slatted roofs usually stand between 8 and 12 feet tall. Obviously, you don't want to rattle out the ladder to adjust the louvered roof all day, so most designs incorporate some sort of controls. Luckily for homeowners, the old hand crank has largely been replaced by motorized louver controls. Most high-end residential pergolas will offer a remote control that operates the louvers at the touch of a button. The Azenco R-Blade, our most innovative adjustable angled pergola slats, actually features twin motors on either end of the louver zone. This balances the stress on the louvers to prevent them from warping over time, as can happen with a single motor design, and prevents leaks. To further differentiate the Azenco design, we also offer fully autonomous louver controls. By integrating onboard weather sensors, the R-Blade will monitor for rain and close the roof before you feel the first drop.
---
Can angled pergola slats stand up to high winds?
Not all louvered pergolas are capable of surviving heavy winds, but with the highest quality aluminum constriction and our precision machine craftsmanship, Azenco louvers can resist some truly heavy storms. We engineer our pergolas to meet the strictest wind resistance possible. Often referred to as "Miami-Dade compliance" in the industry, our structures have been tested in winds exceeding hurricane-force without issue. One of the reasons the R-Blade pergola can stand up to these winds is because of its smart sensor array. An onboard wind sensor tracks gusts and, when necessary, opens the louvers to prevent damage from updrafts.
---
Will a louvered roof pergola blend in with my home's exterior?
A louvered roof pergola can be styled to blend into your home's exterior, or create a striking accent that brings an element of architectural style to your outdoor space. For homeowners looking to have their pergola blend in, we usually recommend synching the color of the pergola frame and louvers with the home's exterior. We can even custom color match any color, so the pergola instantly becomes one with your home's architecture. Alternatively, a white pergola can be styled to really pop out from the home. One popular option lately is a two-tone color scheme that matches the pergola frame and columns to the home's existing exterior color, and offsets that with white louvers that create an airiness under the pergola. For more rustic homes like a ski cabin, the powder coating can be covered with a simulated wood grain finish.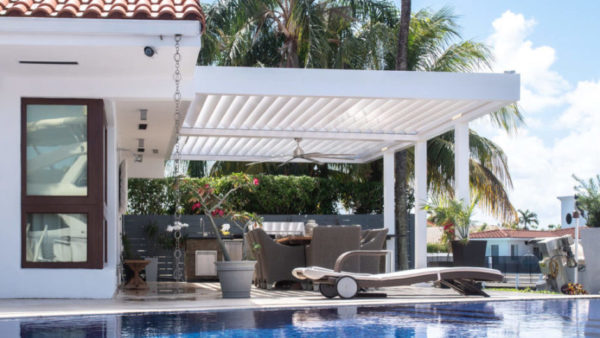 ---
Is a customized pergola worth the investment?
When it comes to motorized louvered roof pergolas, you truly get what you pay for. Your pergola is going to be a permanent part of your home, and it should meet, if not exceed, your expectations. If you are looking to create a truly all-weather outdoor living space to host dinner parties or protect an outdoor kitchen, then you don't want the rain to compromise the use of your space. One of the main reasons Azenco dealers, and their customers, choose the Azenco R-Blade is because it is guaranteed to completely block out the rain. We leverage a unique dual-walled louver design which closes to create a totally gapless seal. This means on sunny days there is no light peeking through the louvers, and when its pours there are no annoying drips on your patio.
---
Conclusion
We hope this brief primer on louvers has answered some of your questions. Obviously, not all louvers are created equal. If you would like to learn more about how our unique louver design and motorized louvered roof pergolas can elevate your outdoor living space, please contact us and we'll have one of our expert local installers contact you immediately.
---