Pergola attached to the house
Installing a pergola is a great way to add beauty and value to your house and create the perfect outdoor space for your unique lifestyle. The structure can enhance how you entertain guests, create a peaceful escape, add definition and ambiance to a backyard, deck or patio, or all of the above.
Choosing a pergola to complement your home comes with questions. One of the most frequent is whether you should attach a wall-mounted pergola to your house or if a freestanding model will better fit your outdoor lifestyle.
Can or should a pergola be attached to the house?
A pergola can be attached to your home. Whether you choose a wall-mounted option or freestanding pergola depends on where you'd like to install the structure and how you will use it. Attaching a pergola to the house can create a seamless transition from the indoor living space to a patio, pool deck or outdoor kitchen, while a freestanding pergola can carve out a tranquil space that lets you separate from the bustle of the home. This article will break down the differences between the two types of pergolas, noting the top uses for each.
Here's your guide to choosing between a pergola attached to the house versus freestanding.
Pergola Attached To The House
Attached or wall-mounted pergolas are exactly as their name implies. They are anchored to a wall of your home or another structure, such as a pool house. Since the wall provides support for the pergola, this type of structure will have two posts or columns to anchor it to your deck, patio, or porch.
How Do You Attach a Pergola To a House?
Builders connect a pergola to a building via joist hangers or ledger board, depending on the type of home (i.e., wood, brick, stucco, etc.). There are structural considerations when choosing to attach a pergola to a building. The connection needs to be secure to avoid damaging your home. We recommend hiring a licensed contractor with experience attaching pergolas to homes for this type of install.
1 – Defined areas within a larger deck
If you have a large deck area, creating a functional and beautiful defined space may be challenging. Installing a pergola on a deck easily solves the issue. The structure transforms the open, undefined space from boring to breathtaking, adding dimension and giving each area a purpose. Additionally, a pergola offers protection against the elements, such as rain, wind, and sun exposure to make a truly all-weather outdoor living space that can be enjoyed in all seasons, even the cooler winter months.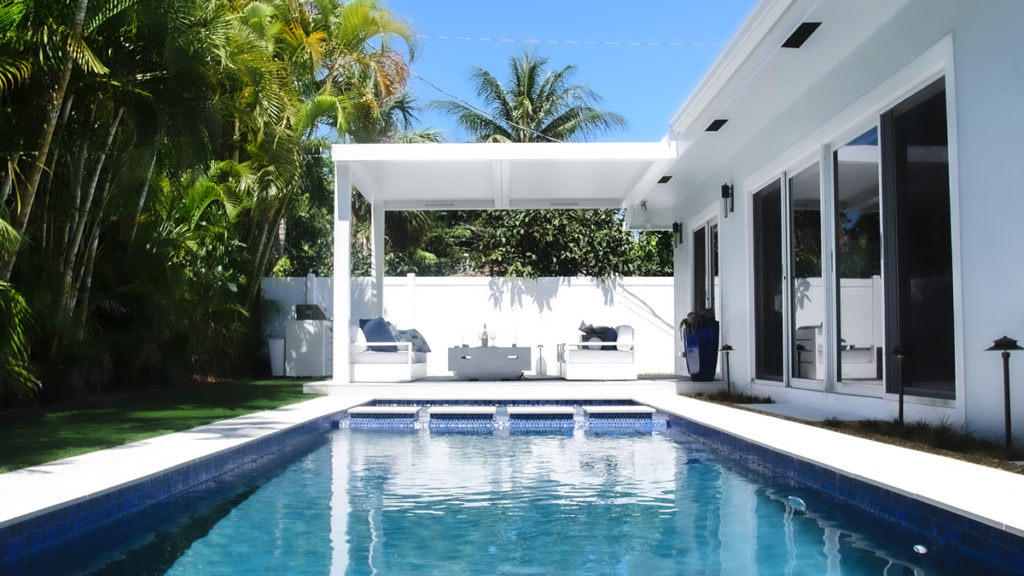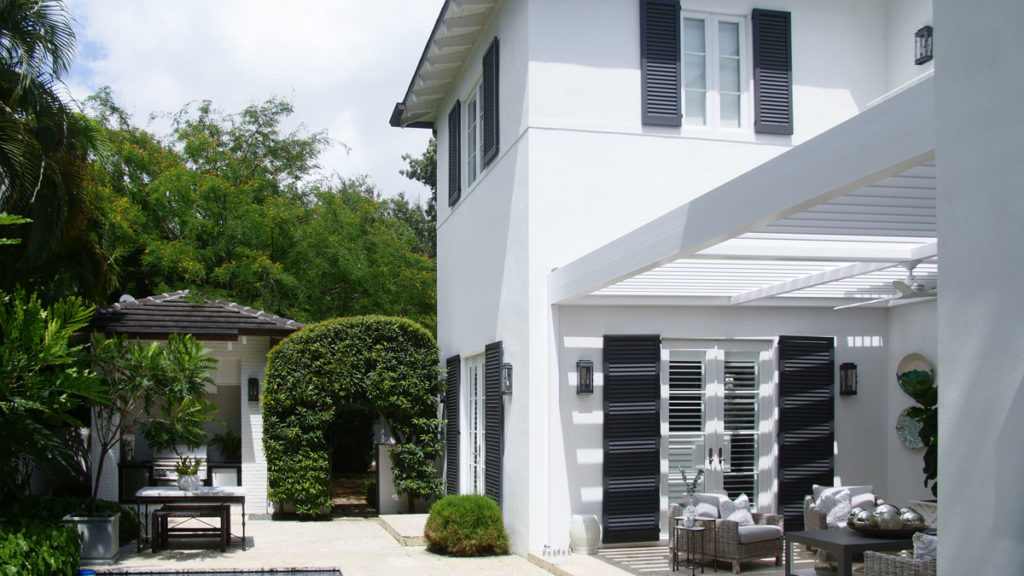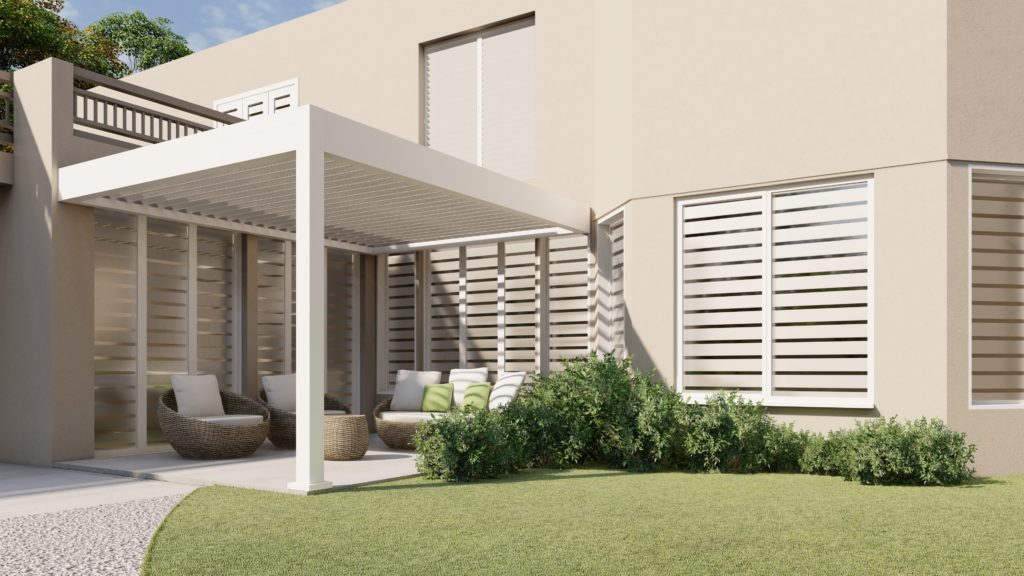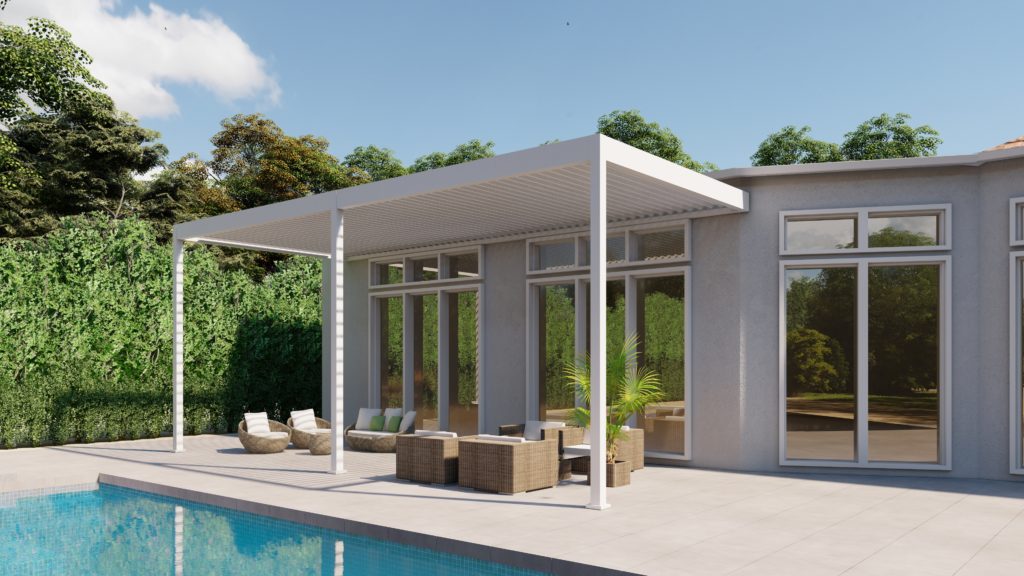 2 – A stylish front porch
Attaching a pergola to the front of your house combines style and function. It can serve as an expanded outdoor living space, create an inviting flow into the home, and a covered porch adds curb appeal that makes a home more welcoming to visitors. Imagine socializing with neighbors passing by, reading a good book, or enjoying a beverage on a pergola-covered porch. With a wide range of designs available, your new porch can fit any architectural look from stylish elegance to farmhouse chic.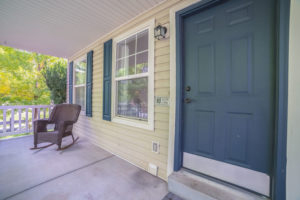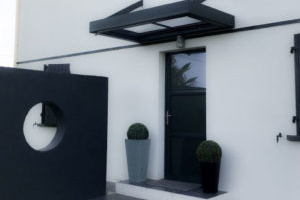 3 – Outdoor dining and entertaining
Building a contemporary pergola is also a great way to add dining and entertaining options to your backyard space. Today's pergolas can feature everything from stylish solar shades to LED spots that deliver just the ideal ambiance for your backyard. And with a pergola attached to the house, you get the true indoor-outdoor living experience from your outdoor kitchen.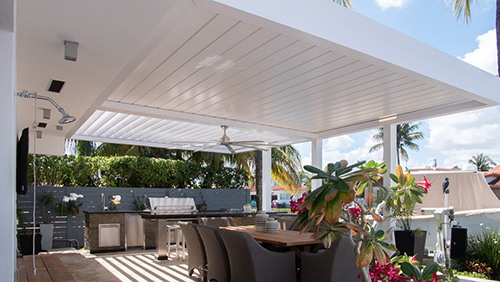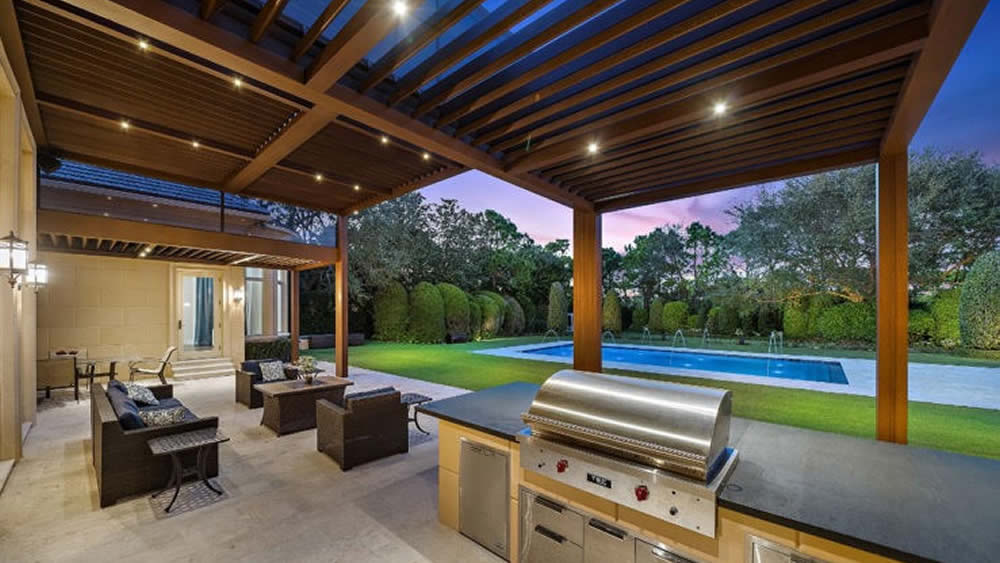 Freestanding pergola pergola attached to the house
Unlike wall-mounted pergolas, freestanding options don't require a connection to your home or other structure. This means that the sky is truly the limit when it comes to your outdoor design.
Many homeowners use a freestanding pergola as:
Nothing adds charm to your backyard better than a gorgeous pergola. A freestanding pergola looks fantastic, whether placed on a flagstone patio, surrounded by elegant landscaping, or anchoring a manicured lawn. A free-standing pergola can help you achieve the comfort and style that's perfect for your home.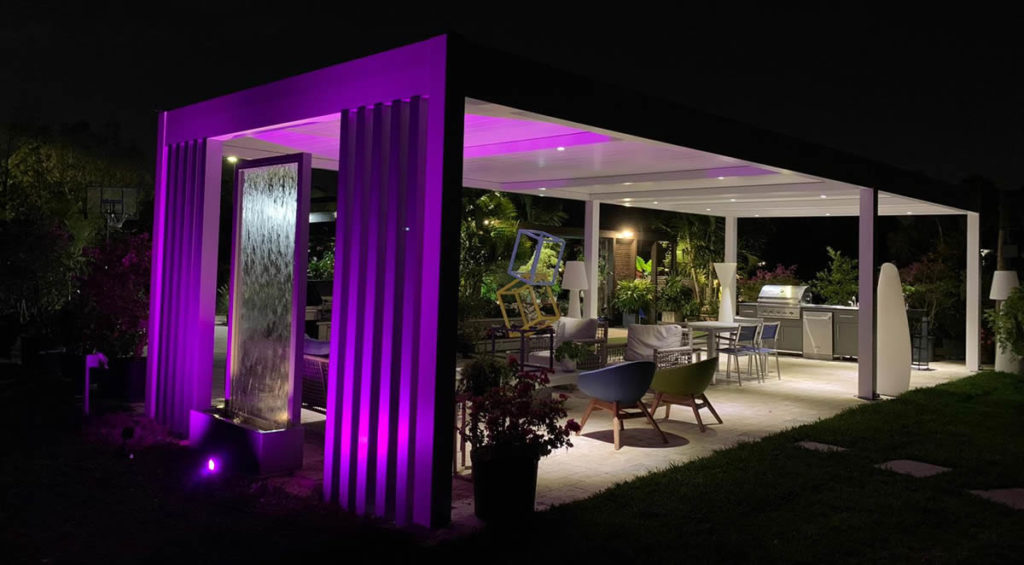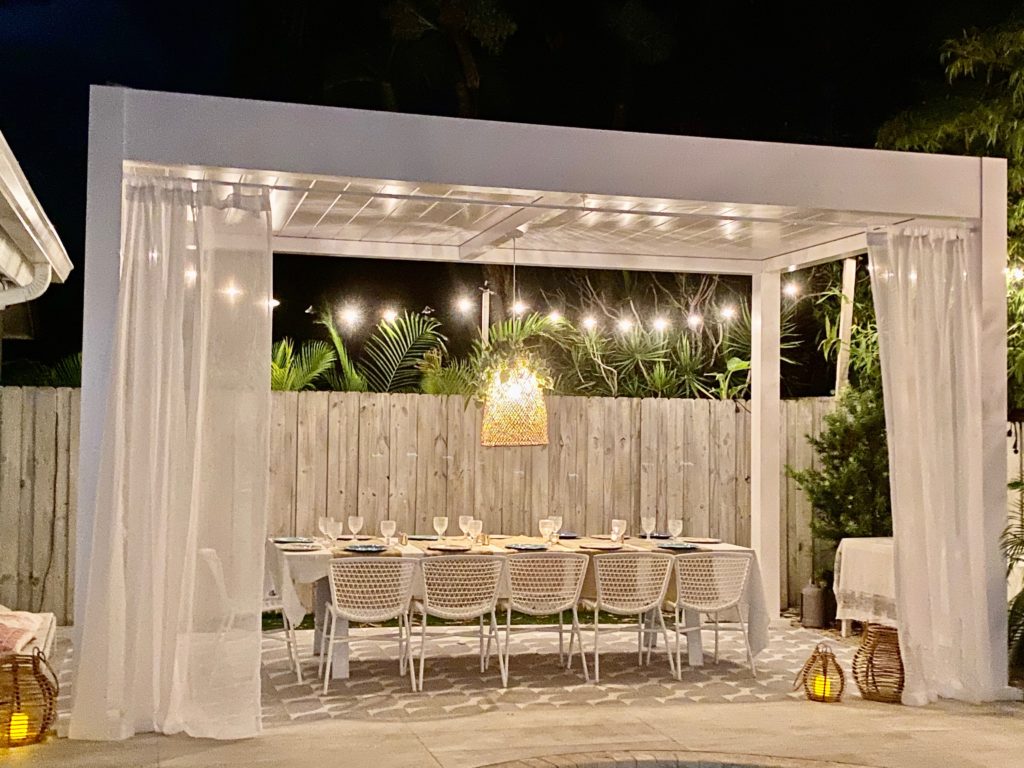 2 – Exclusive haven on the water
A freestanding pergola complements an inground pool. The area transforms from a backyard to a luxury retreat. Since a pergola protects you from the sun and rain, you can enjoy more time relaxing by the pool whether the mid-day sun is blazing or an afternoon shower passes through.
A freestanding pergola can also provide protection for your hot tub, providing shade in the summer heat and fending off snow in the winter. Just imaging being be able to hop into those calming jets without having to clear snow.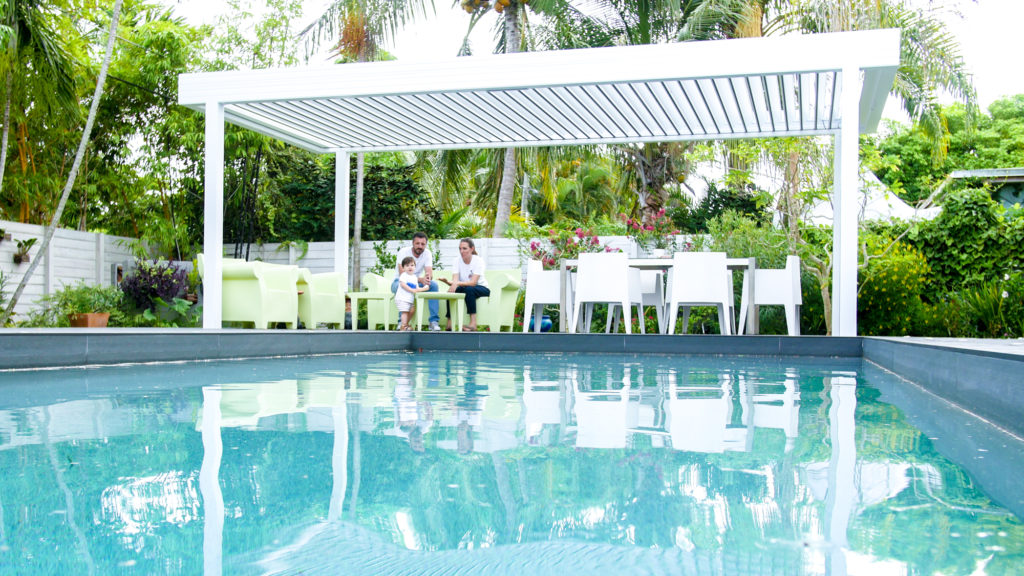 A carport is about more than just shade for your vehicle. In addition to protecting your asset, it needs to match the style and beauty of your home. Modern options, such as standalone pergolas, can also be equipped with solar panels. Just think, your carport could generate the energy to power your electric car.
In the sections above, we described different reasons for choosing a pergola attached to the house versus freestanding. The option you choose depends on your space and how you plan to use your pergola. Now, it's time to answer a couple of questions in regards to installing a pergola.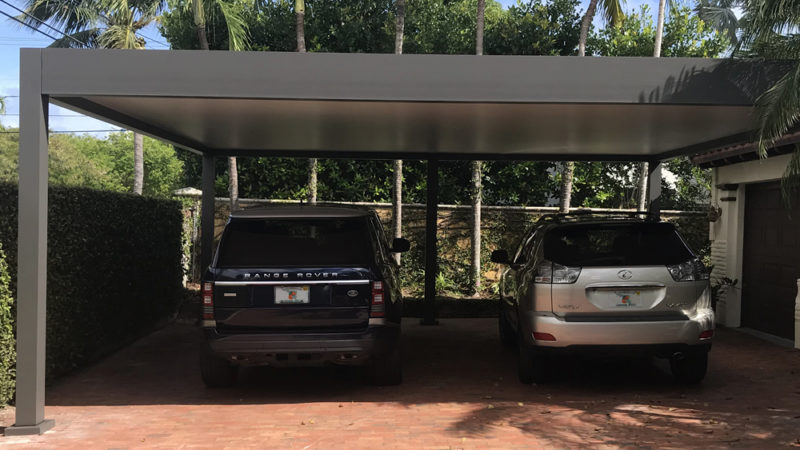 Do I need a building permit for a pergola attached to the house?
Building codes vary by state, county, and city. A reputable licensed contractor will know the requirements for your area and be experienced with the intricacies of obtaining a building permit for the project. Many locales require building permits for structures such as a pergola, and some coastal regions often require outdoor living structures to be hurricane-rated.  
The Azenco K-Bana can be one exception, as it typically does not require a permit. This fully customizable modular cabana can be installed in a few hours. With the K-Bana, you can mix-and-match varying-sized panels to scale the structure to your ideal dimensions before customizing the louvered roof and walls. The K-Bana does not require footings, often a benchmark for permitting requirements, and instead relies on its self-leveling posts to accommodate uneven ground. Fitted with manually-controlled dual-wall louvers the K-Bana allows perfect sunlight control in summer and protects from wind, rain, and snow in winter.
Is it cheaper to build a pergola myself?
Like any home design project, the cost of a pergola varies based on its overall footprint, materials and features. Yes, it may be cheaper to use a pergola kit, but many homeowners find that it takes much longer to install than anticipated. Additionally, there are some instances when hiring a professional makes the most sense. If you have limited experience building large structures, or you would like to attach a pergola to your home as described earlier in this article, hiring a qualified professional is advisable.
You may also desire certain features, which is another reason for hiring a contractor to build your pergola. Take the Azenco R-Blade, for instance. This bioclimatic pergola features a motorized louvered roof that opens and closes at the touch of a button. Offering the market's only weather-sealed, adjustable roof, the R-Blade protects from the sun in summer and allows the light and heat to penetrate in winter.
In addition, the R-Blade can be equipped with an automated louvered roof system, allowing better climate management with natural ventilation thanks to a sensor system. Homeowners appreciate that it automatically closes when it detects rain and opens strong winds to prevent damage. The R-Blade's temperature sensor even signals the roof to open in case of freezing conditions to avoid snow and ice buildup.
So, if you seek a pergola that truly extends your living space in all seasons, like the R-Blade, hiring a qualified contractor is your best bet for accessing these features that necessitate professional installation. With that said, Azenco only collaborates with the best professionals and technicians who receive appropriate training on installing our products. To ensure get the most from your pergola project, we will connect you with one of our qualified local dealers to build the pergola of your dreams.
Find the pergola that's right for you
At Azenco, we've been crafting and installing the most advanced and stylish outdoor covers on the market for more than 20 years. Whether an attached pergola or freestanding option is in your future, we offer sophisticated designs, including infrared heating systems, automatic rain and wind sensors, and climate control that deliver a truly luxurious outdoor space.
To choose the design that perfectly matches your outdoor space and fits your housing style, from modern or contemporary to classic, contact Azenco today.