Patio covers and pergola manufacturer for more than 20 years
Watch the company's video presentation and discover who we are: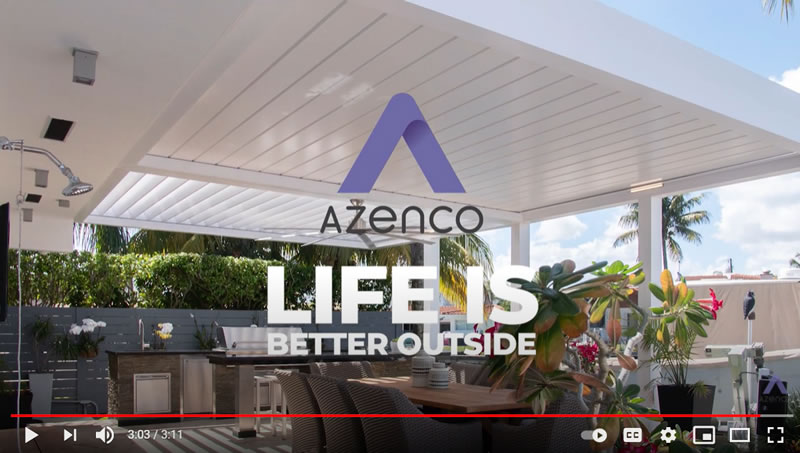 Azenco designs and manufactures an innovative award-winning range of patio covers – from modern pergolas, cabanas, carports to swimming pool covers that elegantly complement any architectural style and optimize every residential or commercial outdoor space. The pergola manufacturer's vision has always been oriented toward outdoor covers innovation and safety by bringing the home automation technology outside with connected devices.
It's a family business that was born out of the CEO's design expertise and his father's construction-industry and manufacturing skills. Initially, the company focused on designing and manufacturing pool covers to meet the lack of safety and reinforce the security around the pool area. Naturally, the company expanded its offering to other patio covers such as high-quality automated pergolas and carports.
One of the best outdoor cover specialists worldwide
Today, the pergola manufacturer has 1000 employees spread over 6 different sites in America and Europe and has built up a strong distribution network in around 30 countries. The company has been operating worldwide for many years now and we have always been striving to:
imagine and design solutions that bring more safety around the garden space
conceive functional and reliable patio covers that have positive impacts on the environment
and create beautiful outdoor spaces that people can really enjoy.
Combining functional durability, precision manufacturing and innovative features imparts elegance to each Azenco product and turns outdoor living spaces into year-round destinations.
Attention to detail is a hallmark of all Azenco products with which feature no visible exterior hardware and concealed and internal drainage for a sleek exterior look, drainage, while robot-cut extrusions to ensure louver roofs are weather-sealed and optional, the incorporation of automated sensors to fit any weather augment manual user controls.
Made in America with European design
Made in America with European design, Azenco patio covers are manufactured in Florida in a state-of-the-art production facility equipped with the latest high-precision tools and machinery. This allows the pergola manufacturer to provide the US and Caribbean customers with competitive prices, unmatched production and delivery timeline, and unparalleled customer service, while the company's 5 facilities throughout France supply European markets.
Whether customers choose from Azenco's line of innovative designs or require a custom-crafted solution, Azenco's localized manufacturing enables it to streamline fabrication, delivery and installation timelines.
For more information on Azenco louvered roofs and how its full range of outdoor covers can transform any outdoor living space, download our free brochure​.