How to Choose the Option That's Right for You
Installing a pergola is one of the easiest ways to upgrade your outdoor space. An outdoor pergola can provide a sophisticated source of shade, serve as a breathable cover, and significantly increase the appeal of your home. It's no wonder then that pergolas have become a popular trend in home improvement.
Yet, many people still struggle with determining which type of pergola to choose in order to reap the most benefits from their investment. That's why we've put together the answers to the most common questions regarding pergolas, from the best ways to leverage a pergola in your space to types of pergolas and their pros and cons, and why choosing a made-to-measure option can save you both time and money in the long run.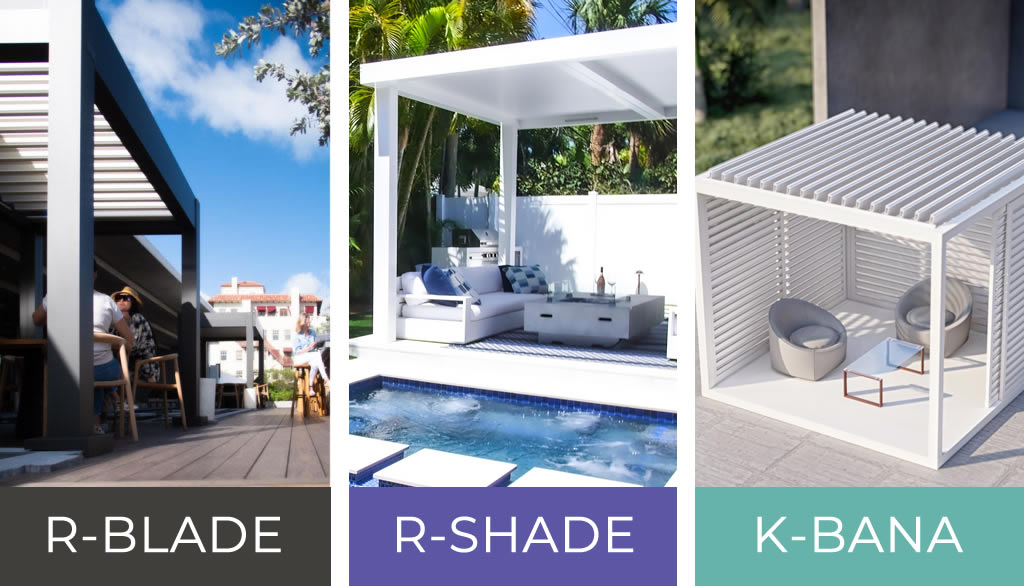 ---
Why Install a Pergola?
You may choose to install a pergola in your outdoor space for a wide variety of reasons. In fact, modern options have expanded on the traditional fixed-louver pergola design immensely and can be customized to fit your unique outdoor needs.
Just a few of the benefits of adding an outdoor pergola to your garden, backyard, or pool area include:
1, Enhancing Your Home's Value
Adding a durable, high-quality pergola to your outdoor space can significantly increase both the appeal and value of your home. Outdoor living is a popular trend which continues to rise year after year with homebuyers searching for a space where they can picture themselves relaxing and enjoying the beauty of nature in a sleek, finished setting. A pergola can even be that undefinable "X-factor" that has buyers scrambling to bid on your house rather than the one across the street, down the block, or around the corner.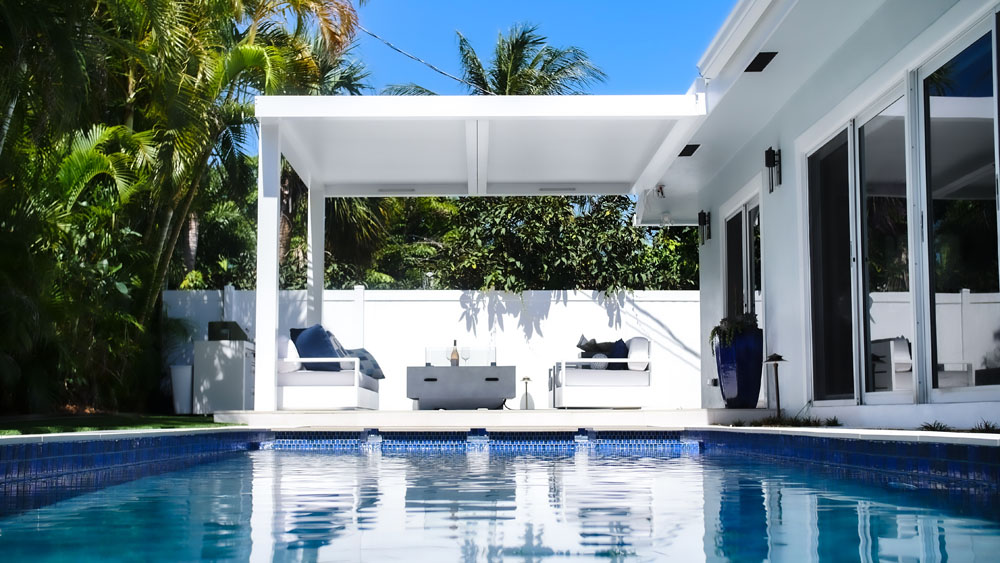 Of course, to ensure a return on that investment that you can count on, it's important to choose a well-designed, long-lasting pergola made from durable, sophisticated materials that blend seamlessly with the style of your home. After all, a poorly designed or executed outdoor structure is sure to damage rather than enhance your home's value.
2. Upgrading Your Outdoor Space
Installing a pergola can help take your outdoor space from drab to the perfect backyard getaway. This hardscape addition can serve as an outdoor living room and is one of the less expensive ways to upgrade your space.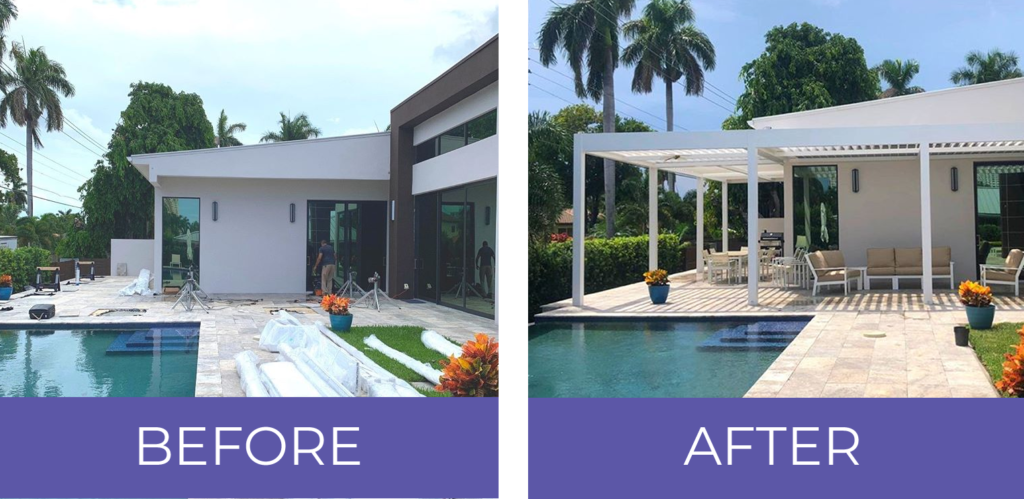 With the latest pergola designs, you can choose from modern, contemporary or classic styles, that are free-standing, or modular, to add exactly the touch you're looking for in order to create the outdoor space of your dreams.
3, Creating an Extension of Your Home
A pergola is also the the perfect way to create an outdoor extension of your home and improve the flow and usability of your living space. You can choose from an attached pergola or free-standing structure to provide a defined space with outdoor privacy that seamlessly transitions to an outdoor entertainment area.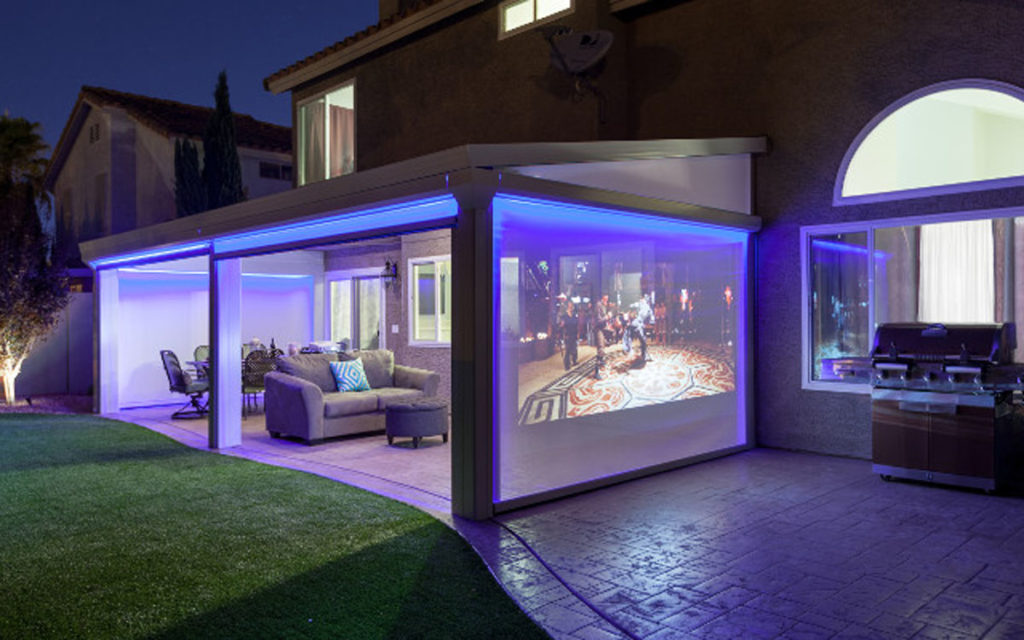 4, Adding Shade, Privacy, and Rain Protection
Some pergolas are even available with roofs leveraging insulated sandwich panels that provide complete sun and rain protection while others offer an elegant cabana-like design for maximum privacy.
---
Pergola Options
Now that we've discussed the benefits adding a pergola can deliver, let's take a look at the materials you have to choose from, since this is your first step in choosing the best structure to complement your outdoor space.
Wood Pergola
Probably the type of pergola that people are most familiar with is the traditional wood pergola. While this type of structure comes with pros like initial beauty after construction and a lower price than pergolas employing higher levels of materials, it can also come with significant drawback.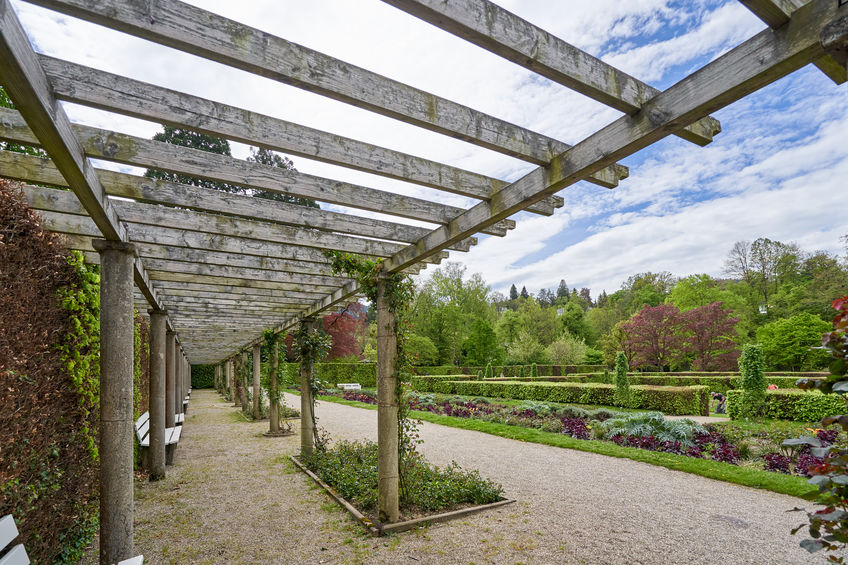 Unfortunately, wood pergolas are not known for their durability because they are simply not waterproof. These types of outdoor covers require regular maintenance to preserve their beauty and this maintenance can detract greatly from their initial cost savings.
Pergola with Fixed Louvers in Aluminum
You will also see the option of choosing an aluminum pergola with fixed louvers. While this can be seen as an upgrade from a wood structure while still seeing some savings, the downsides again can add up on the backend of the installation.
For example, the fixed louvers don't allow for full control and protection to filter light and rain as more modern options provide, making it more difficult to enjoy your outdoor space no matter the weather conditions.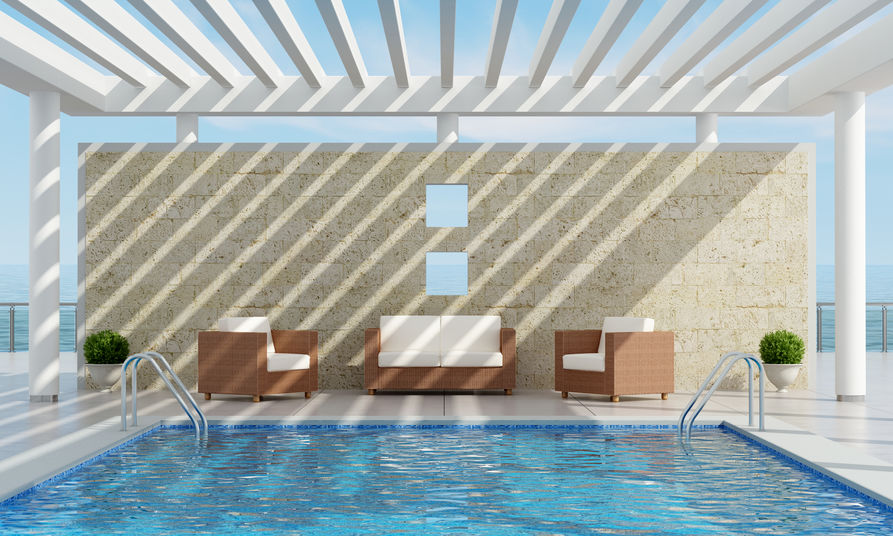 Louvered Pergola
You may also prefer a louvered pergola. This type of pergola not only offers a sophisticated, sleek design but is also durable, requires little to no maintenance and provides insulation to enhance your outdoor living.
Additionally, with a louvered design, you can leverage natural ventilation while allowing the perfect amount of light to come through to meet your needs.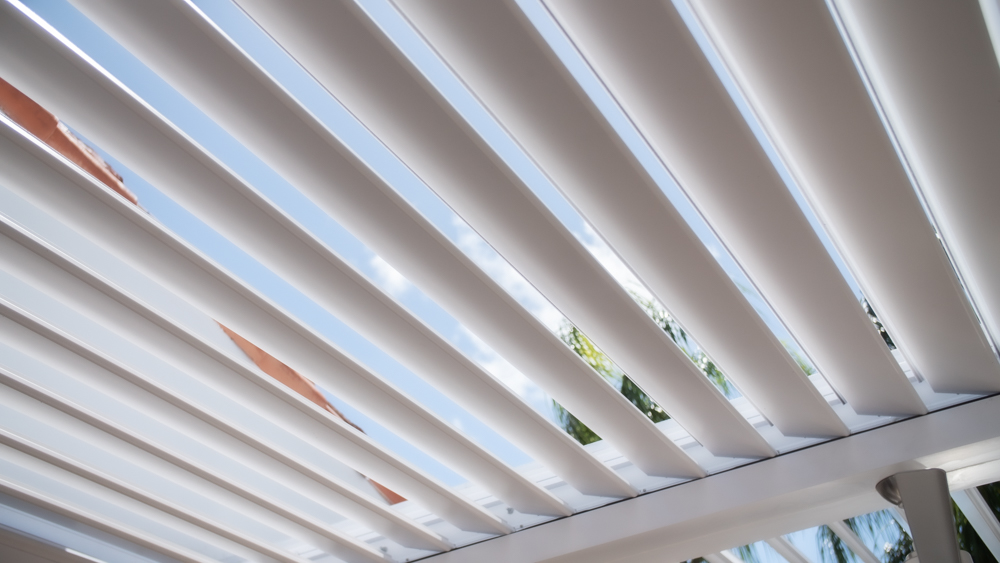 A perfect example of a louvered structure is Azenco's R-Blade. This bioclimatic modern pergola with its motorized, louvered roof is fully adjustable and seamlessly matches any outdoor space to fit all housing styles. With no visible hardware, a hidden gutter system, and fast, safe, and easy assembly, R-Blade is a next-generation pergola for those who are ready for gorgeous outdoor living, and fully-controllable light and ventilation, without maintenance hassles.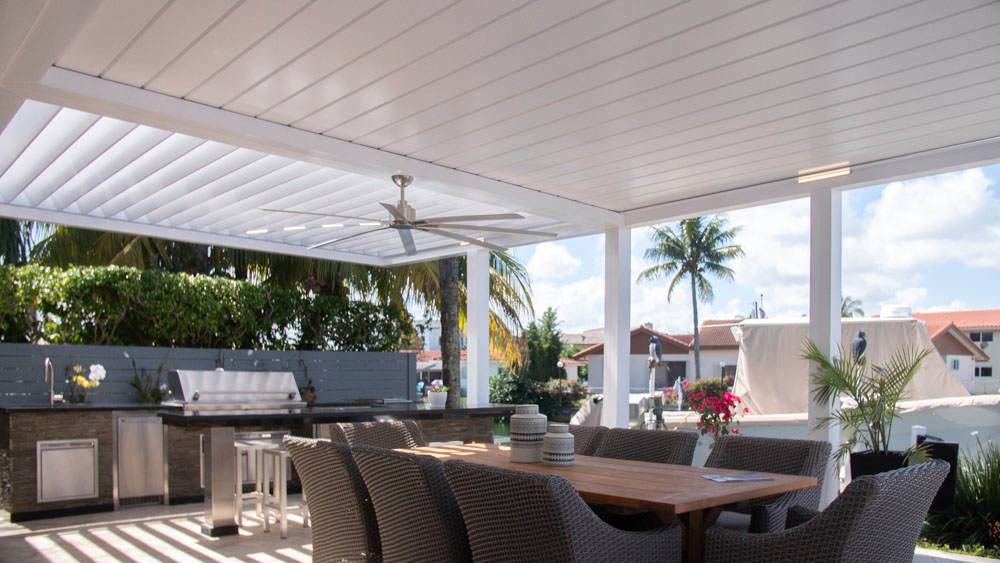 Free-Standing, Modular Pergola
Your final option is a free-standing, modular pergola, like Azenco's K-BANA, a cubic module with sliding louvered panels that you can use singly or combine to create a flexible outdoor space. Fully customizable from roof to floor, K-BANA offers up to nine different sizes and multiple setups, is easy to install and often doesn't require a permit.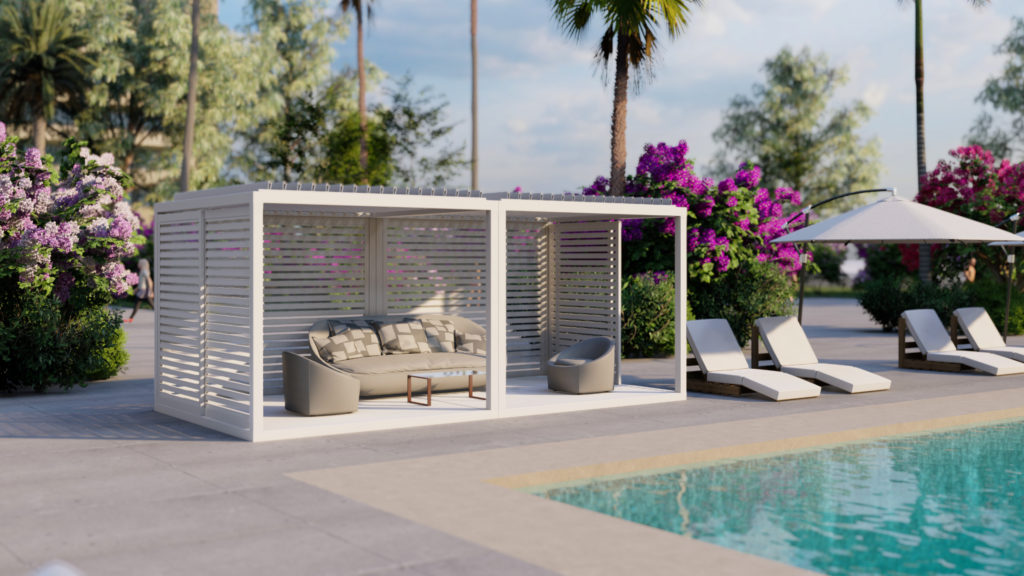 ---
Why Quality and Made-to-Measure Matters
Once you've chosen the type of pergola that can help you reach your outdoor living goals, enhance your home value, and add the shade, privacy, and rain protection you're looking for, it's important to address two other factors – quality and made-to-measure structures.
Construction experts agree that it is better to not install a pergola at all than to compromise your outdoor space with a low-quality structure. Over time, the initial cost savings lower quality provides is eaten away by constant maintenance, lack of usability, and the eventual need to rebuild.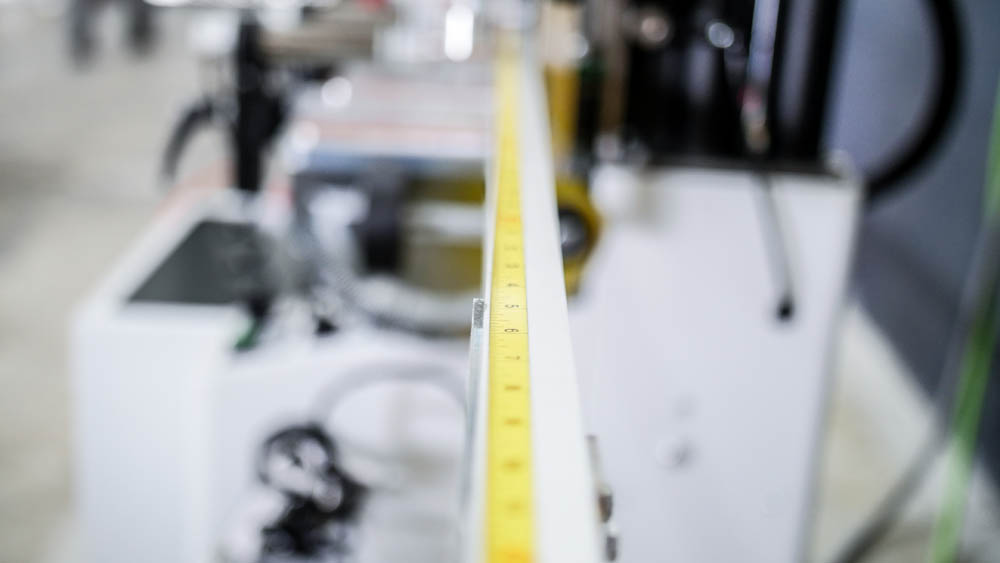 Azenco Outdoor provides a complete range of high-quality pergolas and outdoor covers that fit in any outdoor space. Azenco develops every year new patented designs and exclusives options to bring more pleasure, comfort, and security to your backyard. 2020 Vesta Awards Winner.
---
Average Cost to Install a Pergola
High-quality, made-to-measure pergolas are full custom projects, which means the project cost will vary depending on the overall footprint, accessories you choose, the unique engineering demands of your project, and your geographic location. Obviously, larger projects require more materials resulting in a larger investment. If you choose to include LED lighting, motorized retractable shades, embedded heaters or patio fans, these amenities will be additions to the overall project budget as well. The unique engineering requirements for your project can also impact the overall project budget, and these idiosyncrasies are often overlooked by pergola customers. For example, the mounting hardware to connect your pergola to your home may need to be more robust than a similar-looking project of the same size. The final driver of the overall louvered pergola cost is the variation in regional costs. Azenco works with the best, highly-trained pergola designers and installers throughout the country, and the cost of materials and labor vary greatly as you traverse the nation. So, if you are interested in exploring a pergola project for your backyard, pool deck or patio, it is best to contact us and we can connect you with a skilled pergola contractor in your area to develop a project budget.
---