Pergolas have long been popular additions to outdoor living spaces. Not only do they keep your patio cool, but offer a dynamic architectural accent for any backyard, pool deck or patio. Pergolas can be crafted with innumerable roof styles. A fixed roof will create fulltime shade on the patio, and is often favored for a pergola attached to the house, especially if it is covering an outdoor dining space. To take your patio cover to the next level, operable pergolas that give you control over the opening and closing of the roof are ideal. So, let's explore the top four things you need to know about aluminum pergolas that open and close.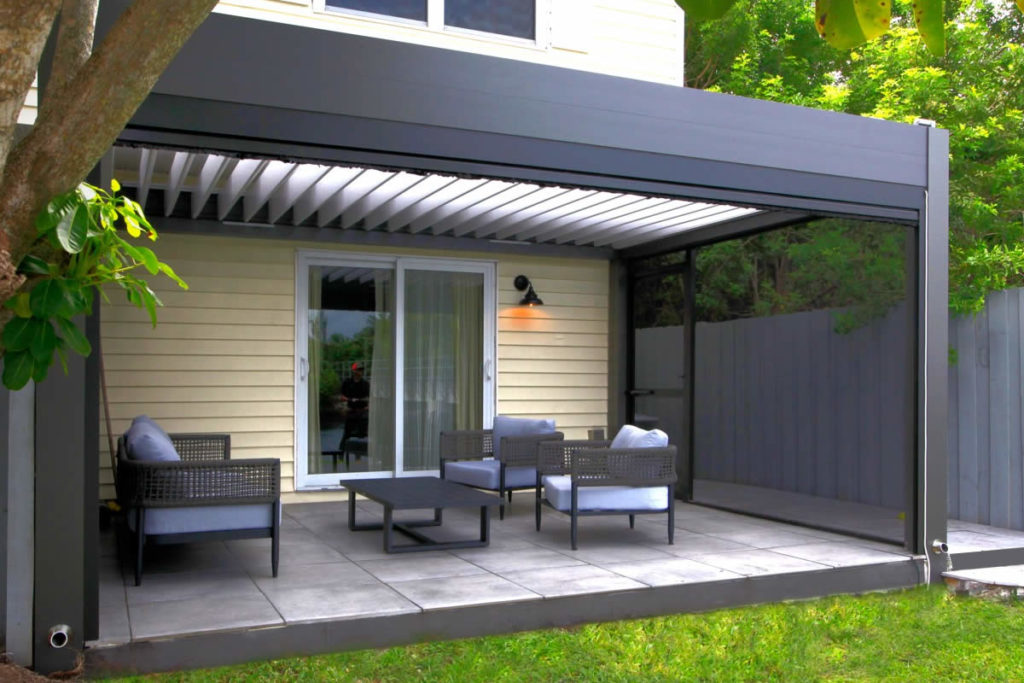 ---
How Do Aluminum Pergolas Open and Close?
Adjustable louvered roof pergolas are relatively modern creations, but technological advancements continue to push the capabilities of these structures at a rapid pace. Pergola louvers can be opened and closed manually with a hand crank, but modern pergolas incorporate a motorized louvered roof that opens and closes at the push of a button. Operated by embedded whisper-quiet motors, the motorized roof can be finely adjusted to control the angle of the louvers.
To take aluminum pergolas that open and close to the next level, you can choose to incorporate smart sensors that autonomously control the roof operation. An embedded rain sensor will monitor for showers and close the roof at the first sign of rain. A wind sensor will track gusting wind, and automatically open the louvers to prevent damage from potentially dangerous updrafts. And a temperature sensor will keep watch for freezing conditions, opening the roof to prevent snow build up.
---
Why Choose a Pergola Roof That Opens and Closes?
The ability to open and close the roof of your pergola offers numerous advantages. Motorized louvered roof pergolas can adjust the angle of their louvers to allow full sun on the patio, close partially to create shade and promote airflow, or close completely to block out the sun. Some louvered roof pergolas, like the Azenco R-Blade, can even seal the roof tightly to block our rain, sleet and snow. With this fine control over the pergola roof you can enjoy your patio in any weather conditions and any season.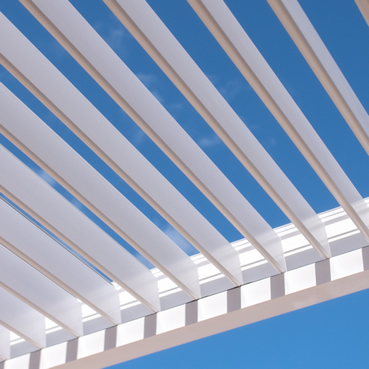 Aluminum pergolas that open and close also up the ante on your home's outdoor style. The architectural structure of a pergola can deliver a stylish accent to any backyard, pool deck or patio, but the shadows that are cast through open louvers can also become an integral aspect of your patio design. Additionally, pergolas fabricated from aluminum carry a protective exterior powder coating which can be color matched to fit your personal style. Options can include a classic all white pergola for a timeless style, or a two-tone pergola with white louvers that create a sense of space paired with a pergola frame and support columns that match your home's exterior.
---
What Should You Look for When Choosing an Adjustable Pergola Roof?
Not all aluminum pergolas that open and close are created equal. So, it is imperative to look for some key design and quality features in your adjustable louvered roof pergola. When shopping for your pergola, pay particular attention to:
Craftsmanship and quality – First and foremost look for a manufacturer using the highest quality aluminum and powder coatings and a manufacturer willing to guarantee the quality of its materials with reliable long-term warranties.
Seamless frame – Look for a pergola roof in which the louvers extend into the pergola frame; this design element ensures rainwater is channeled all the way to the integrated gutter system and will not drip around the edges.
Dual-walled louvers – Simple single layer louvers can easily warp over time; look for dual-walled louvers which provide superior heat insulation and are better designed to capture all the rainwater.
Single extrusion louvers and panels – High-quality custom pergolas are individually crafted for each pergola project and feature single extrusion aluminum panels which eliminate the potential for leaks at joints.
---
What is the Cost of Aluminum Pergolas That Open and Close"
Budgets for modern aluminum pergolas vary greatly based on the overall footprint and the customizations you desire to meet your unique outdoor living lifestyle. Pricing varies greatly depending on the project specifications, local building code requirements, and many other factors, so anyone interested in exploring aluminum pergolas that open and close for their home should contact Azenco to be connected with one of our local expert designers.
---