Creating a pergola with TV connectivity will turn your outdoor living space into a versatile party destination. Whether hosting weekend "tailgates" for the football game, gathering for a karaoke birthday party, or simply spending a quiet day in the garden binging a favorite series, a pergola with TV can really maximize your outdoor living space.
However, it's not just about aesthetics and entertainment – a pergola with TV is also a long-lasting investment in your outdoor space. With durable materials designed to withstand the elements, you can enjoy your pergola and TV for years to come, creating countless memories in the process.
Purpose-Built TVs for Outdoor Use
While you can simply hang a standard indoor TV below your pergola, the elements will ultimately shorten its lifespan. Several manufacturers sell purpose-built outdoor TVs designed to operate in the elements. TVs designed for outdoor use will usually have their internal components weatherized, but models intended for full-sun exposure will also have their exterior casing weatherproofed. Another advantage of choosing a dedicated outdoor TV is it will usually come with a weatherized remote and a TV cover to keep the dust off when not in use. If it works for your style vision, an outdoor TV cabinet will also add extra protection from humidity and freezing moisture damage.
Choosing the Best Outdoor TV for Your Patio
Selecting the best outdoor TV for your covered patio starts with a look at how much direct sun you expect to have on the screen. Manufacturers offer TVs with varying brightness levels. So, a screen that will be in full sun on a routine basis will need a higher brightness capability, but it will also demand a larger investment. So, if your new covered patio will position the TV in full-time or part-time shade, you can likely save a little bit on the unit you select.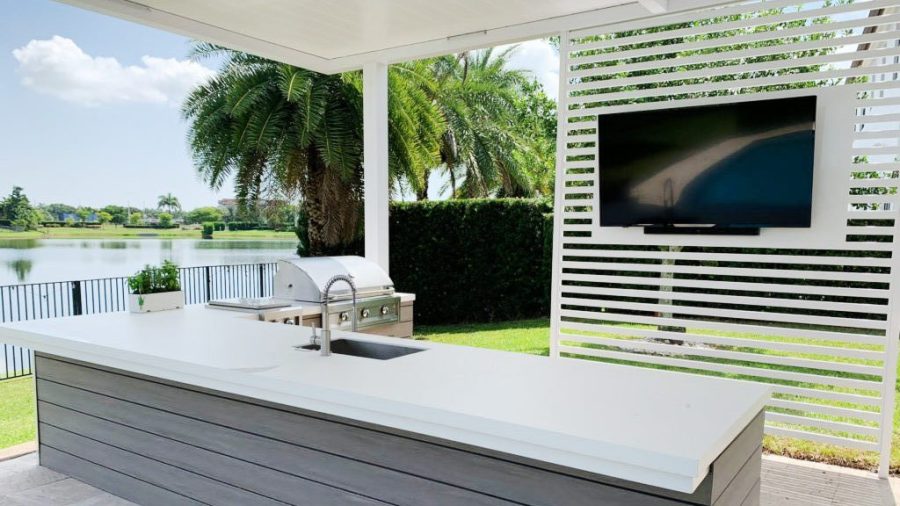 Next, you'll need to consider what you plan to watch on your new outdoor TV. Many modern smart outdoor TVs allow you to stream from an assortment of apps, connect via traditional coaxial cable, and feature several USB ports for your preferred hardware or gaming console. If you currently rely on a Wifi-based cable subscription, or plan to stream movies, football games, etc., make sure your home's Wifi reaches the patio with a strong signal. If not, an outdoor Wifi extender is an affordable addition. If the home's Wifi connections are out of range, for a pergola out in the garden for example, make a plan with your pergola contractor to integrate the needed hardwired connections into your pergola design.
Choosing the Right Pergola Design
When it comes to choosing the pergola style for your outdoor TV-watching space, there are a couple different paths to consider. The first is to select a solid-roofed pergola design. With insulated sandwich panel roofing, like that seen in our R-Shade pergola, you'll create full-time shade and complete rain protection for the entire patio. The full shade option will also allow more flexibility when choosing where to hang your TV.
You likely will not always be watching TV under your pergola, so for more flexibility in your outdoor living space an adjustable louvered roof design is another option. These louvered roof pergolas are able to open and close the roof to control the sun/shade balance. If you select a truly gapless louver design, like our R-Blade pergola, the louvers will even close tightly to completely block out the rain. A louvered roof pergola is also the ideal option if you plan to add an outdoor kitchen to your covered patio space. The louvers can open to vent smoke, ash and heat from the grill or fire pit to protect your investment for that building heat.
Choosing where exactly to hang your pergola TV is another important decision. In an outdoor environment, sunlight can reflect off home windows, vehicles or an adjacent pool. Visualizing where potential glare will hit the screen of your pergola with TV will help ensure you get the best view all day long.
To preserve the integrity of the pergola's powder coated aluminum structure, it is never advisable to mount a TV to the pergola frame or support columns. This can also cause some additional regulatory approvals to kick in, so it's really never advisable. In designing the layout of a pergola with TV, it's always best to mount the TV to a wall. That could be the exterior wall of a home, garage or shed; but it could also be a purpose-built privacy wall that is part of the pergola design.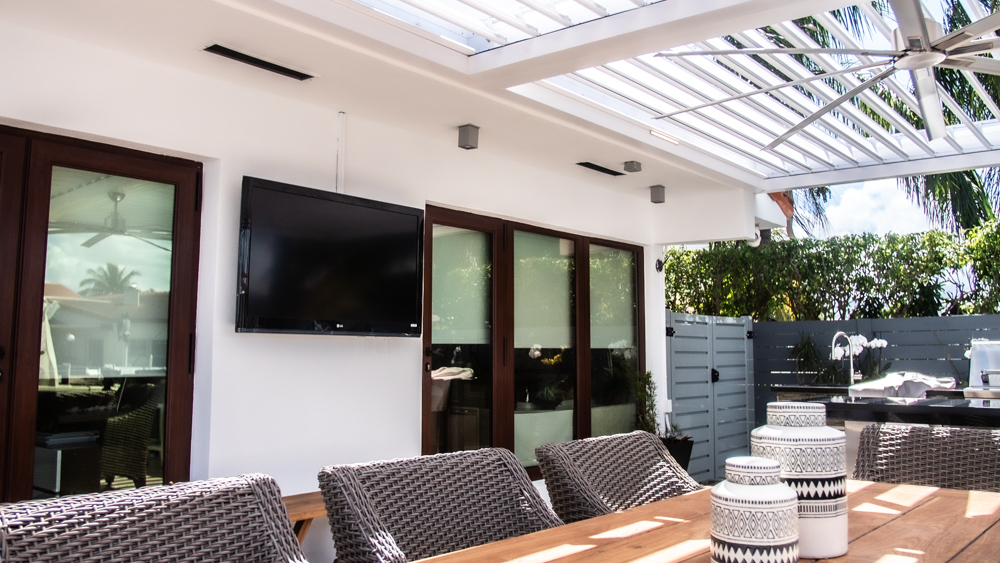 Pergola With TV To Make the Most of Your Outdoor Theater
To take your pergola with TV experience to the next level there are some extra options that you should consider. Our network of expert local dealers will be able to advise on the options that are best suited to your region, but some of those customizations can include:
Insect screens – Enjoying movie nights under your pergola without annoying mosquitos ruining the party. With outdoor patio screens, you can roll down the protection with the push of a button.
Privacy screens – When you want to Netflix and chill you certainly don't want the neighbors prying. Motorized retractable privacy screens can hide away in the pergola's frame until needed.
Sun screens – As the evening sun dips below the pergola roof, integrated sun screens can lower to reduce glare.
Integrated lighting – Pergola lighting is important to prevent trip and fall incidents. With embedded LED lights positioned to cast down light away from the TV screen, you'll be safe without creating glare.
Embedded sound system – Just because you are outside under your pergola with TV doesn't mean you should sacrifice theater-quality sound. We can embed outdoor-rated speakers right into the pergola.
Smart sensors – Our R-Blade pergola can even be equipped with autonomous smart sensors that monitor for rain and automatically close the louvered roof at the first sign of a shower. If you want to ensure rain will never disturb the dramatic plot twist in your favorite movie, an autonomous pergola roof will be an amazing upgrade.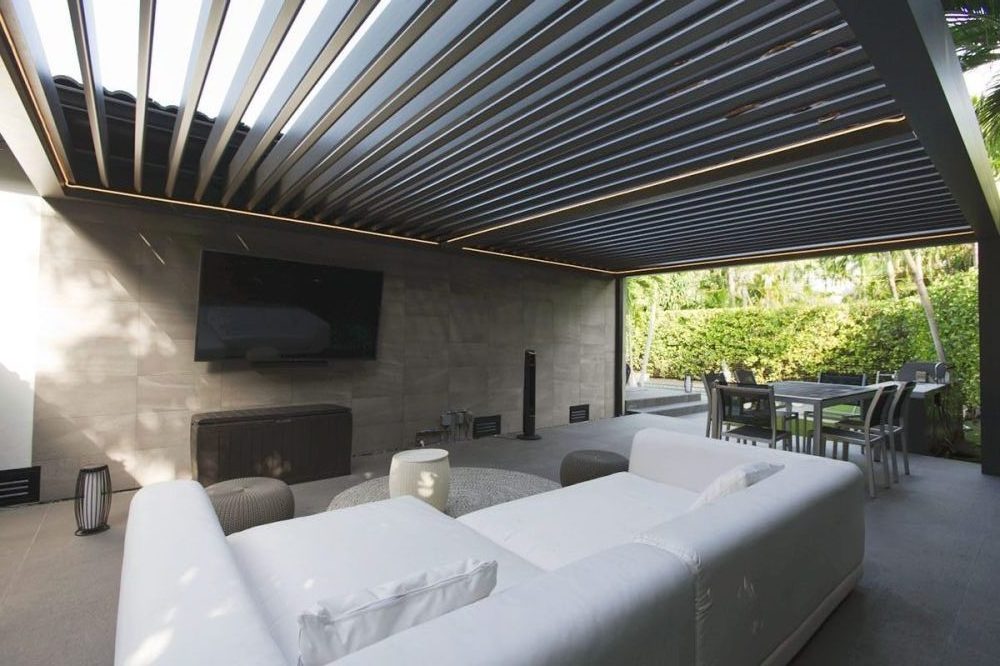 Conclusion
A modern pergola is the most flexible outdoor patio cover on the market today, and turning it into a pergola with TV will ramp up the entertainment value even further. If you would like to bring the joys of an outdoor theater to your home contact us today and we will have one of our local expert installers follow up.