Are you looking to build an outdoor structure for your backyard that fits well with the scheme of your home but can't decide which one? Options are abundant, and each come with their unique benefits.
The right place to start would be determining what purpose your installation would serve. Is it just for looks? Or are you installing it for functionality and practicality? Do you live in a city that gets a lot of bad weather like gusty winds and heavy rains?
If you answered yes to all of the above, it comes down to two very distinct options – either a pergola or a gazebo.
Pergolas and gazebos are similar in a few ways but very different in others. Each adds a distinct ambiance to any home. The only way to figure out which structure you want is to understand the difference between pergola and gazebo.
What Is A Pergola?
Some people believe that the one factor that sets pergolas apart from gazebos is the roof – but there is a lot more than that.
Pergolas were first documented as architectural structures in the 1640s. These have evolved over the years to become more functional and beautiful than ever before.
They can be freestanding structures in your outdoor space or serve as an extension supported by the wall of your home. Made from either reinforced wood, aluminum, vinyl – pergolas provide a sleek finish to complete that 'contemporary look.' Ideal for homeowners looking for an outdoor structure to fit their 'minimalist' aesthetic.
With a pergola, you get a modern, practical, gapless structure that boasts style and functionality.
A motorized louvered pergola is an ideal choice if you're looking for shade and natural ventilation in the summer but warm sunlight in the winters. With a retractable pergola roof, homeowners have the freedom to open and close the panels as they please, thanks to high-tech sensors designed especially for harsh weather conditions.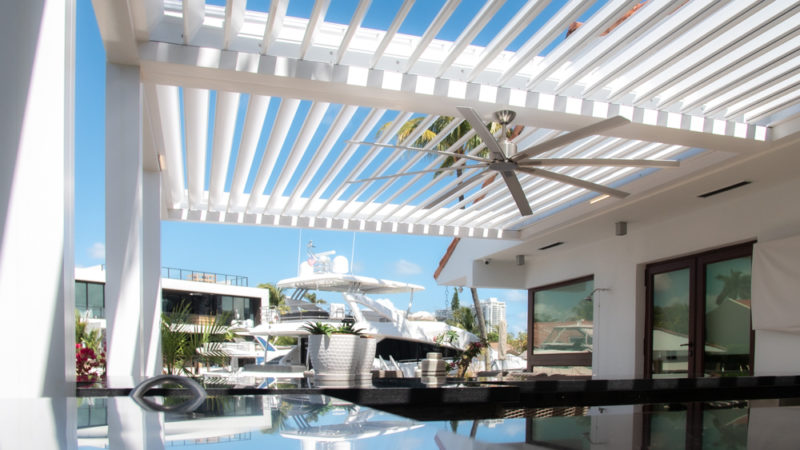 Coupled with the concealed water drainage systems to remove stagnant water from the roof, a modern pergola is well-equipped and ideal to withstand strong winds.
As far as customization goes, if you've ever been on Pinterest and typed the word 'pergola,' it's pergola ideas galore. You can dress your pergola in flowers, leaves, sheer curtains, and much more, depending on the look you're going for. The partially-beamed pergola roof with fixed louvers makes it easy for vines to move through.
What Is A Gazebo?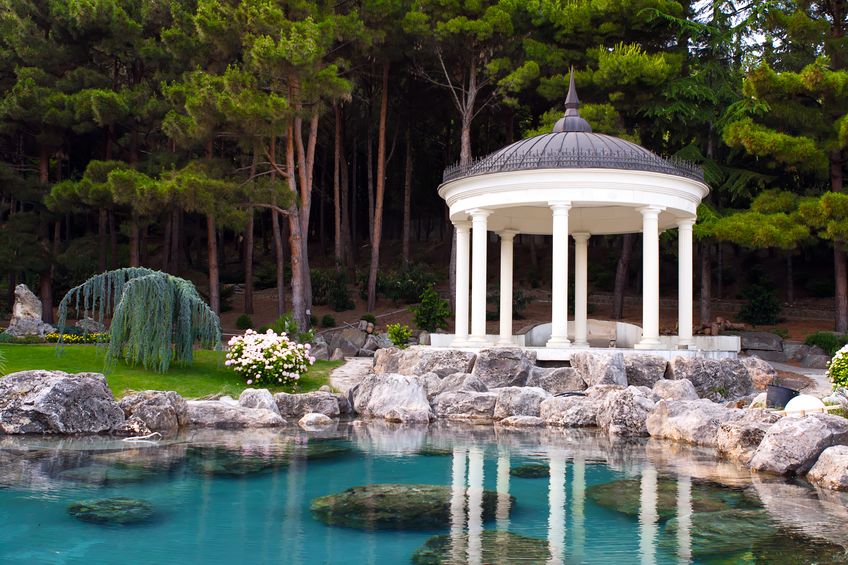 Unlike a pergola, gazebos have a more Victorian-era appeal to them and have been around for much longer.
Gazebos are raised structures, often polygonal in shape. The sides can be open-air with a railing or have walls with windows to enjoy the view.
The raised foundation not only offers a good view of the surrounding space; it also ensures that the surface of the gazebos remains untouched during seasons with heavy rainfall.
Homeowners that opt for gazebos in their gardens can do so much to decorate them. They can cover it in ornate floral arrangements and delicate bushes to add a touch of green to reminisce on the Victorian gardens.
Since gazebo roofs are covered with rafters, the only sunlight that comes through is from the side and filtered in through the slatted roof only at a particular time of the day. This is ideal for homeowners looking for an outdoor structure that completely shades them from the sun and rain.
Should You Get A Pergola Or A Gazebo?
Now that the distinction between the two is clear – which structure do you envision for your backyard space?
While the gazebo adds a touch of elegance and timelessness to the home, the modernity of a pergola better suits the contemporary nature of the homes being built in suburban areas today.
With its sleek finish and ability to withstand harsh weather conditions, a pergola is an ideal choice for most homes.
If you live in an area with a lot of rain, you can have your structure reinforced with a louvered roof. But if you prefer another style of pergola roof that can be adjusted, you can opt for a retractable roof to control how much sun you want.
Get in touch for a free consultation with our installation experts at Azenco. We'll help you determine precisely the kind of pergola your outdoor space needs.
---