Summer is fast approaching, and those who like spending their time outside reading, sitting with friends, playing with their kids, or just soaking up some sun are concerned. What will you do on scorching hot days when the sun is overhead or if it's raining and you can't go outside?
Well, there is a simple yet effective solution. Louvered pergola roofs that can cover outdoor spaces while allowing you the chance to enjoy nature no matter the weather. Let's look at what these are, how to adjust louvered pergolas, and whether you should go for a motorized or manual option.
What Are Louvered Pergolas?
A louvered pergola is a state-of-the-art automated system that acts as a cover for decks or patios.
These louvered pergolas can be erected in the garden, patio, backyard, and around pool areas and outdoor hot tubs. Their best feature is perhaps the ability to change the directions of the rafter on top, to adjust for light and wind direction.
This makes for the perfect ambiance for those sitting underneath a pergola while protecting them from extreme sun and rain. What's even better is that you don't need to adjust the rafters manually because motorized pergolas are readily available in the market.
Can Louvers Be Adjusted Daily?
Yes, you can easily control the angle of the automated louvers several times a day, depending on the sunlight and wind direction. Not only that, you schedule them to automatically move at different times of the day if you need to protect the patio furniture from UV rays or rain.
You can adjust the slats that rotate up to 90 degrees through a remote-controlled button for motorized louvers. Some louvered pergolas have weather sensors installed and can adjust automatically according to the weather.
However, some louvers can be manually adjusted to open or close them so that you can let heat in or keep the rain out.
Are Louvered Pergolas worth it?
The worth of a louvered pergola depends on your specific needs, preferences, and budget. Here are some factors to consider when deciding if a louvered pergola is worth it for you:
Climate: Louvered pergolas are versatile because they allow you to adjust the slats to control sunlight and ventilation. If you live in an area with varying weather conditions, they can be a good investment as they provide shade and protection from rain.
Aesthetic Appeal: They often have a modern and stylish appearance. A modern aluminum model might be worth the investment if you want your outdoor space to look more contemporary and attractive.
Functionality: Louvered patio covers provide more flexibility in your outdoor space. You can open the slats to let in sunlight or close them to create shade. 
Maintenance: While they offer benefits, louvered pergolas are easy to maintain. 
Cost: The pergola cost for an automated structure tends to be higher than standard pergolas due to their added functionality and materials.
Value: If you plan to sell your home, a louvered pergola could add value to your property and make it more appealing to potential buyers.
Choosing The Best Louvered Pergolas: Manual Vs. Motorized Louvers
If you are confused about whether to get a manual or motorized louver, one of the main things to consider is price. Of course, motorized louvers are more expensive than manual ones.
R-BLADE™ motorized louvered pergolas
Consider the R-BLADE™ an automated louver that lets you adjust the rafters at the click of a button. They also have high-tech sensors programmed to work according to the weather. They open or close when it is extremely windy, rainy, or frosty.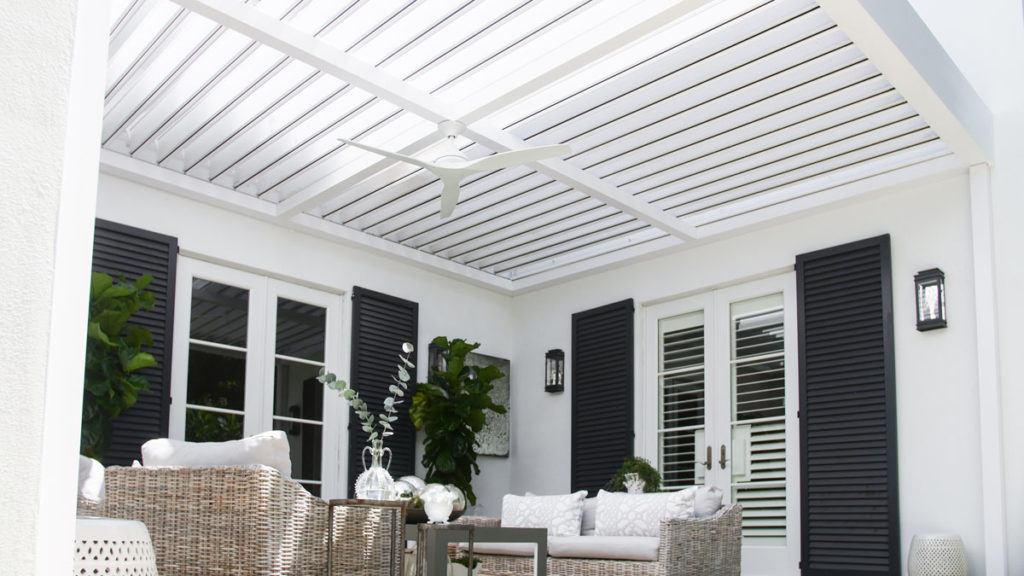 K-BANA™ manual louvered roof
On the other hand, the K-BANA™ is a lot simpler but just as efficient in keeping sunshine and rain out. It is a manual louvered pergola, and you can select different options for partitions or walls that can be easily adjusted or leave it all fixed.
If you live in an area with harsh weather, then the motorized R-Blade louvered roof can protect you from the sun during rough summer months and allow heat and light to come through in the winter. It allows for better climate control and natural ventilation because of its sensor system. A wind and rain sensor is installed on the louvered roof to help it close and open according to the conditions.
It would be best to invest in a manual louvered cabana because it allows for flexible design and fast installation. There is natural ventilation due to the manual system incorporated to enable you to close or open the louvers.
Whether you choose a motorized or a manual louvered pergola, it is an excellent addition for those who like utilizing their outdoor space and spending time within nature. It helps you control how the elements affect you, allowing you to enjoy the outdoors no matter the season.