Outdoor cooking spaces have become must-have amenities for home owners and prospective homebuyers alike. A recent study from the National Kitchen & Bath Association highlights, "outdoor luxury kitchens are a high growth category." It is no wonder that following a surge in demand during the pandemic, the desire to spend time with family and friends, connect with nature, and enjoy the outdoors remains strong throughout the country.
From simple and rustic to true luxury kitchens, the style of your outdoor cooking space will largely depend on how you plan to use the space. Here, we round up some outdoor cooking station ideas to kindle your love of the outdoors.
Choose High-Quality Cooking Equipment
The internet is full of suggestions for homeowners looking to design an outdoor space on a budget. However, selecting the best-quality grills, outdoor ovens, and other kitchen equipment should be a priority. Where affordable gas grills can start as low as $100, these bargain grills will be lucky to survive a full year on your patio. Instead, look for grills fabricated from stainless steel or powder coated heavy-duty steel. While the up-front investment will be slightly elevated, the durability will pay for itself in the long run.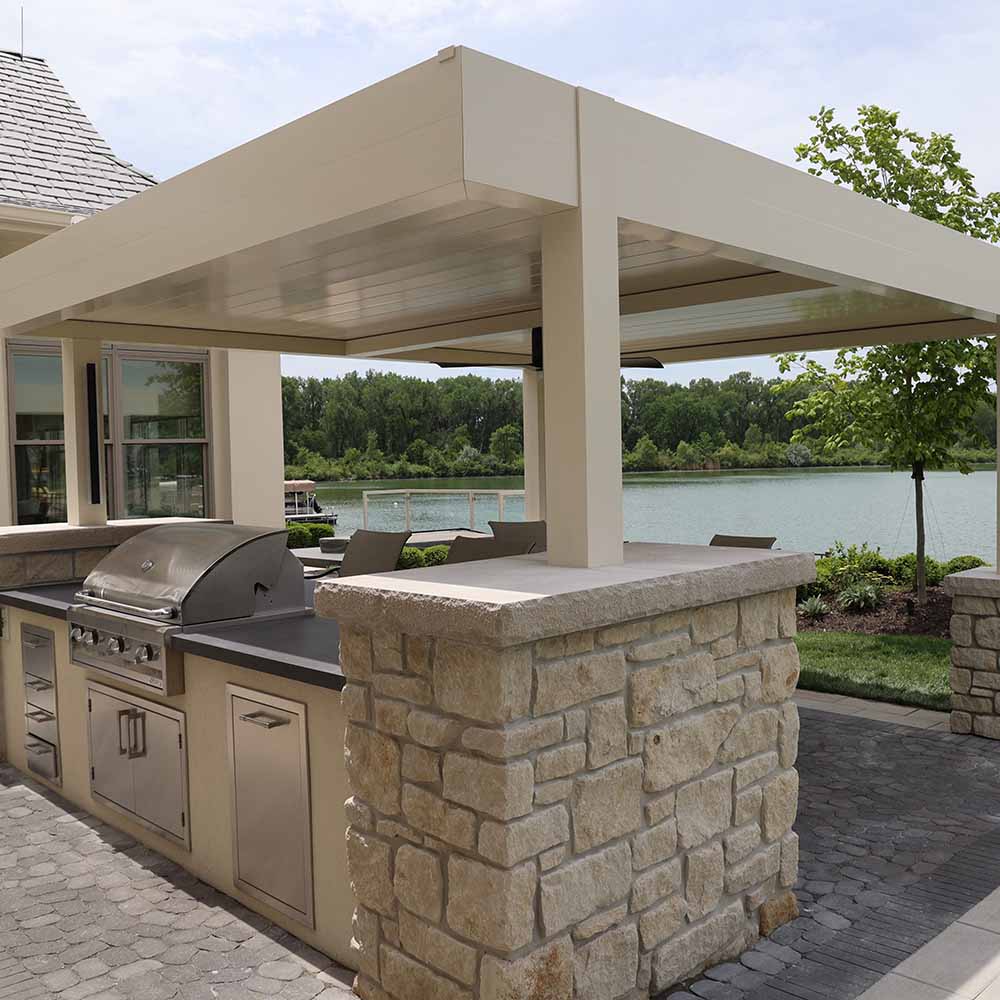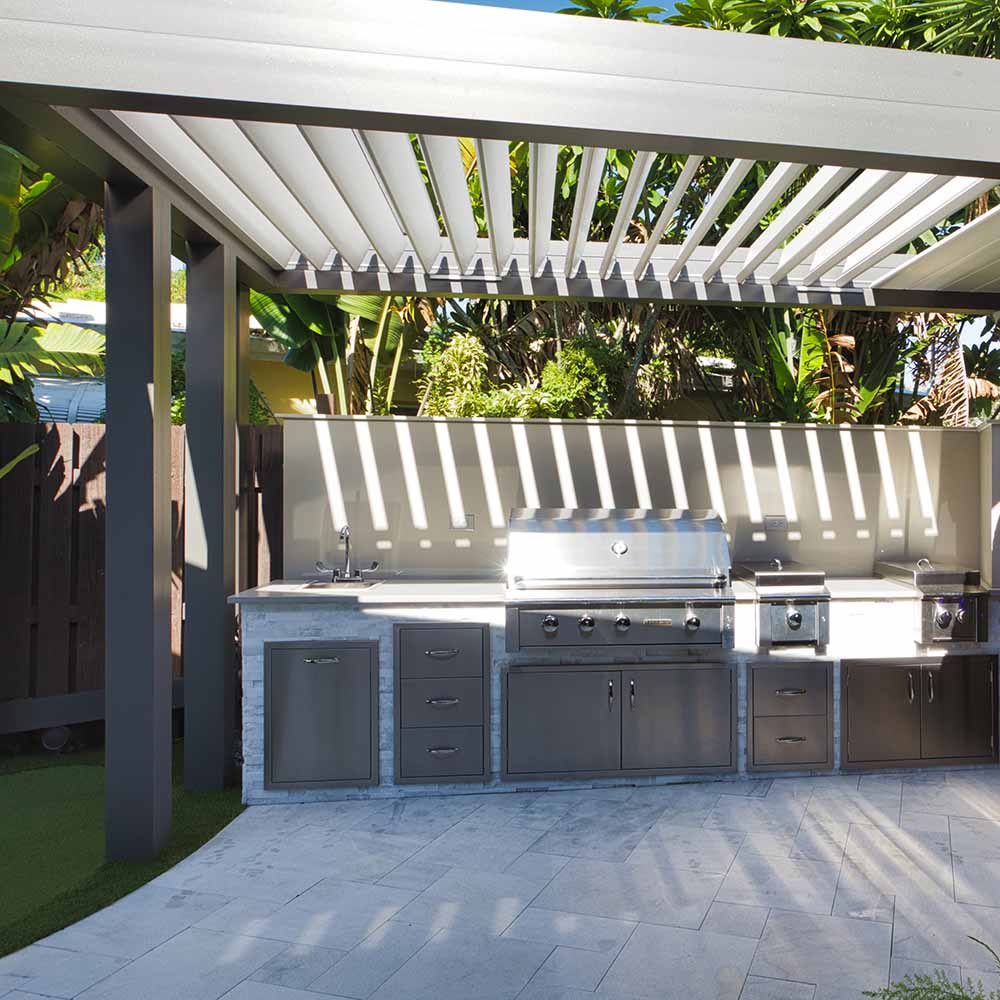 Create a Focal Point with a Pergola-Style Structure
In its 2023 outdoor living trends report, Forbes.com notes, "The latest outdoor living spaces go far beyond great grilling centers to creating true outdoor rooms." To up the luxury level of your outdoor cooking station, opt for a high-quality pergola to cover the patio. The most advanced of these structures are aluminum pergolas that open and close. With motorized adjustable louvered roofs, these innovative pergolas, like our R-BLADE, give you the most flexibility for your outdoor kitchen. The roof can be opened to allow sunshine to reach the kitchen below, closed partially to create shade, or closed completely to block out the sun and the rain. A modern pergola will instantly turn your grilling station into a full-blown outdoor kitchen. The space you design below your pergola can then scale to your heart's content. The pergola itself becomes a design element from its louvered roof, to its frame and support columns, and you will have an array of pergola flooring ideas from which to choose.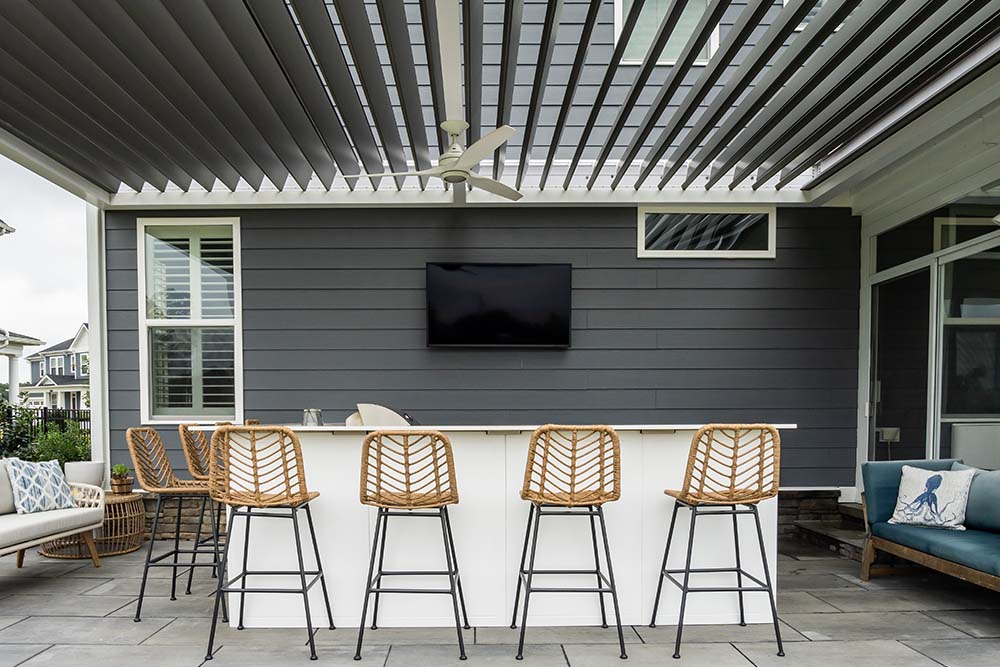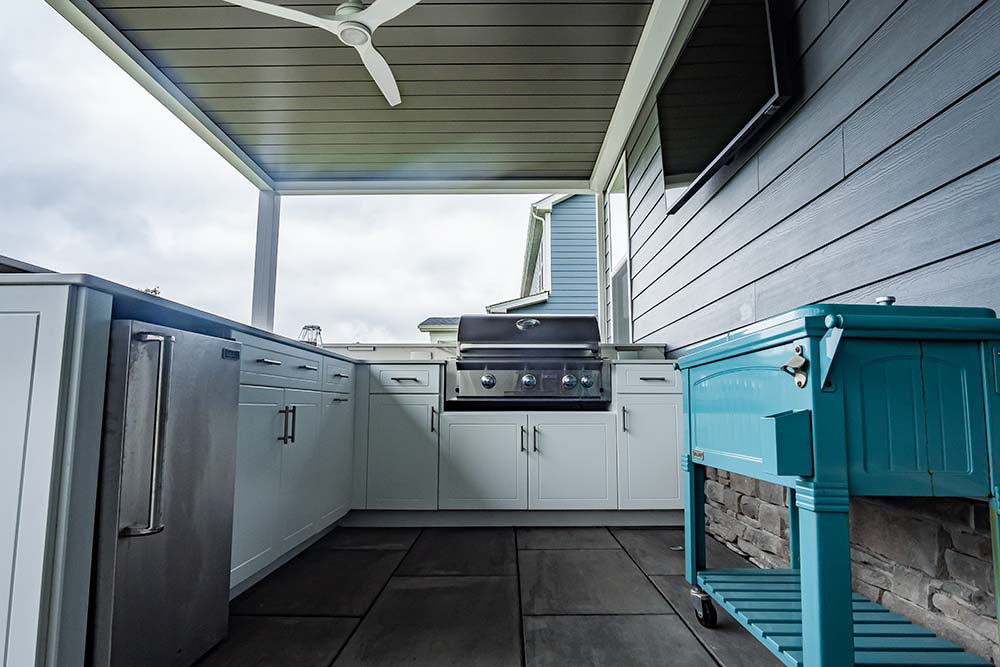 Simple Outdoor Cooking Station Ideas
At their most simplistic, a dedicated outdoor cooking station needs a grill. Opting for a basic gas grill is the most convenient choice. Lit with the push of a button, gas grills heat up quickly for busy weekday dinners. They are also readily available in a myriad of sizes and configurations. High-end options like rotisseries, side burners, and adjustable height grill grates can also be added for those looking to elevate their culinary adventures beyond burgers and steaks. Whatever grill you select, make sure your outdoor grilling station includes some counter space to accommodate food preparation, side dishes, etc.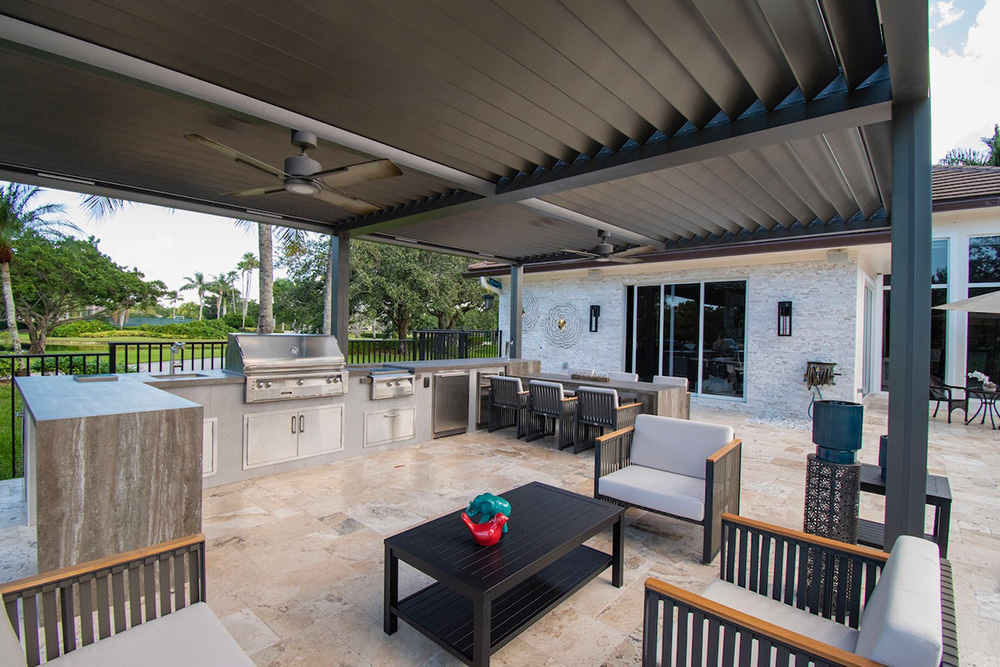 Elevate Your Outdoor Kitchen to Iconic Level
If you love cooking outdoors, then you likely look to challenge yourself in the process. Beyond basic gas grills, you can also opt for next level cooking stations like wood-fired pizza ovens, massive charcoal Santa Maria-style grills with their iconic grate system that adjusts over the coals, or indirect heat smokers for low-and-slow traditional barbecue. Beyond the cooking devices, an iconic outdoor kitchen space will also feature comfortable seating areas, outdoor wet bars, and countertops for guests to watch the culinary displays.
Combine Fire and Light for Function and Ambiance
An often-overlooked element of any outdoor kitchen design is the feel of a well-lit patio. Your outdoor lighting design can be as simple as some string lights surrounding the perimeter of the patio, or you can take a layered approach that combines multiple lighting elements. With more diverse lighting selections, you can better control the ambiance on the patio. Consider adding small landscape lights to illuminate gardens and pathways, outdoor sconces are great for casting up-light to accentuate structures, lanterns are also a wonderful option to deliver both illumination and style. For a truly visceral lighting design consider incorporating fire elements like a fire pit or small tiki torches.
Keep the Outdoor Cooking Space Cool
To ensure your outdoor cooking space is comfortable year-round, it will be imperative to consider some patio cooling options. Simple patio umbrellas, sun shades or awnings can add a splash of color to the outdoor kitchen, but tend to leave the actual grilling station uncovered. The most-ideal way to create shade on the patio and keep your entire family cool in the summer is with a modern pergola. These shade structures can even be outfitted with some high-tech outdoor home automation. Our R-Blade adjustable louvered roof pergola, for example, can be equipped with embedded LED lighting, patio fans, or sensors that monitor the weather and automatically close the louvers when a rain shower approaches.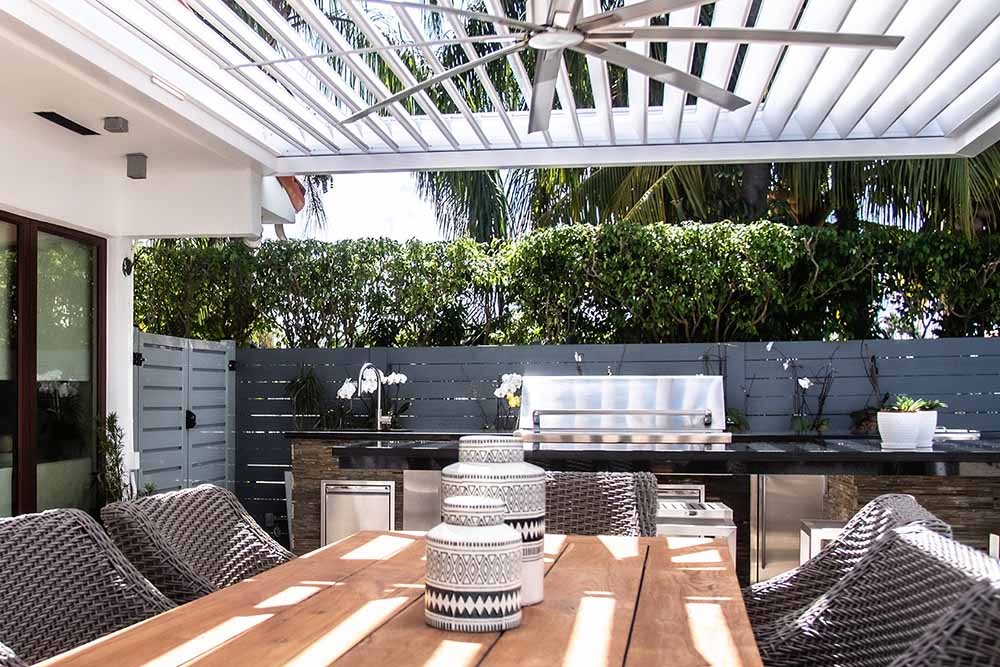 If you love spending time with the family cooking outdoors, we'd encourage you to reach out to us and we can connect you with one of our experienced outdoor designers to share more outdoor cooking station ideas specific to your region.