For homeowners looking to make the most of their year-round outdoor entertaining space, a rain protection pergola can be a jack-of-all-trades solution that keeps the party going regardless of the weather. The right structure can create much-needed shade in the blazing summer months, while protecting from rain, sleet and snow in the cooler months. With some thoughtful planning, creating your own all-weather outdoor party space can be the best investment in your home you've ever made. So, let's take a look at some of the key issues that you'll need to consider when adding a pergola rain cover to your outdoor entertainment space.
As the leaves in northern climates begin to turn golden and amber, the fall is possibly the most eye-popping season for outdoor entertainment whether sipping hot apple cider by the fire pit or hosting outdoor harvest feasts that would make the Pilgrims jealous. In southern climates throughout the United States, the Fall season brings days of lower humidity that drive people from the confines of indoor air-conditioned hideouts to backyard barbecues and home tailgating. While the cooler weather draws people to their outdoor spaces, there's no doubt that rain showers amid these cooler days can be a real party pooper.
---
1. Best Pergola Location for Cool Fall Weather
Choosing where to locate your pergola is the first decision you'll need to make. It's a decision that should be guided by how you plan to use your outdoor space. A pergola can be connected right to the home to provide a seamless extension of your indoor space, or can be erected as a freestanding structure on a deck, patio or in the yard. One benefit of choosing to attach the pergola to the home is it allows the house to act as a wind block which is quite comforting when fall and winter winds start to bite. But, if you are looking to create a secluded space separated from your home, free-standing structures can be constructed with integrated screens and that can be lowered to provide a similar deterrent to rain, wind and sun when desired.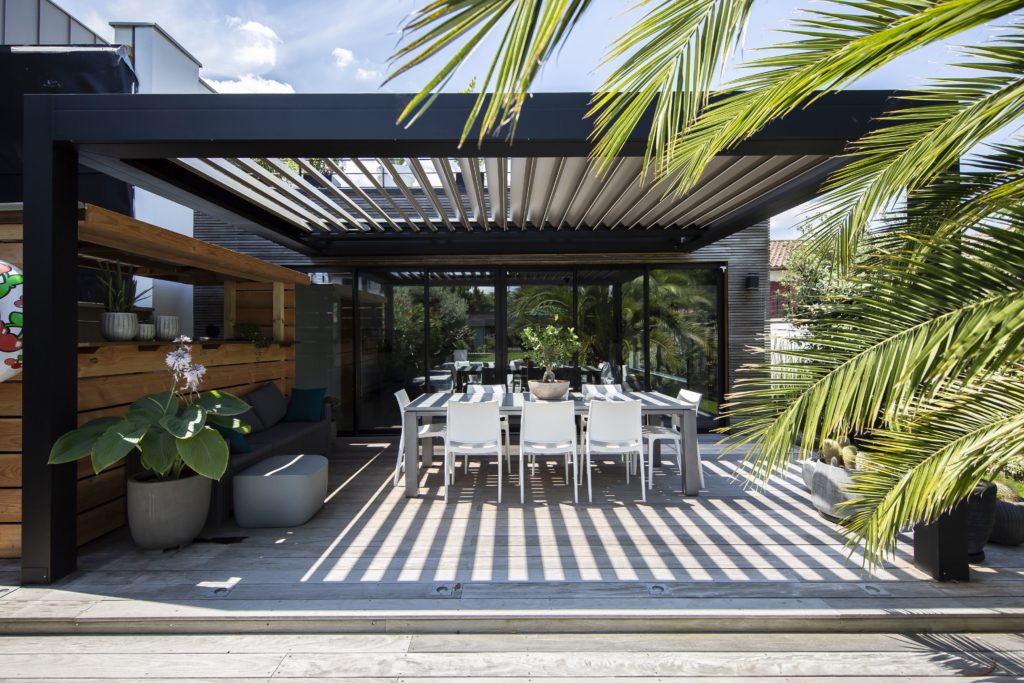 ---
2. Rain Protection Pergola: Material Selection
Pergolas can be fabricated from a litany of materials such as wood, PVC, vinyl, fiberglass or aluminum. When choosing the best material for your rain protection pergola project cost is often a primary factor. With high demand elevating lumber prices and fiberglass pergolas often priced at more than double their competitive rivals, these materials often become cost prohibitive for home pergola projects. Vinyl can be a cost-effective option, but it tends to fade in the sun over the years, it can also warp and sag over time. When investing in a pergola that will stand up to harsh sun and damaging rains, sleet and snow, powder coated aluminum is the ideal solution. Aluminum is strong enough to allow long self-supporting sections, so your pergola will have sleek lines. Powder coatings can also be customized to match just about any exterior home colors, and the coating ensures your pergola will protect from the rain and will not rust over time.
---
3. 100% Rain Protection Pergola: Fixed Roof or Automated Louvered Roof?
The next major decision is what type of roof to install on your pergola. If you are looking to create full-time shade for your outdoor dining space, an insulated fixed-roof pergola is an ideal option. Fixed-roof pergolas are made with insulated sandwich panels which can absorb the sun's heat. With a sandwich panel roof, homeowners can also choose to add patio fans, embedded LED lights or infrared heaters to the support beams that connect the insulated panels.
For a more flexible roofing option, an automated louvered roof can provide a retractable pergola rain cover. The adjustable louvers allow you to open the roof to let in the sun when desired, close down the louvers for partial shade or close the roof completely to seal out the rain, sleet and snow entirely. These innovative roofing systems can be manually-operated or motorized for remote-controlled operations. Some advanced pergolas even integrate a sensor array that can monitor for rain and automatically close as the first drop falls, or track freezing conditions and open the roof to prevent damage from snow buildup, even monitor wind conditions to ensure the pergola roof opens to prevent storm damage to the louvers.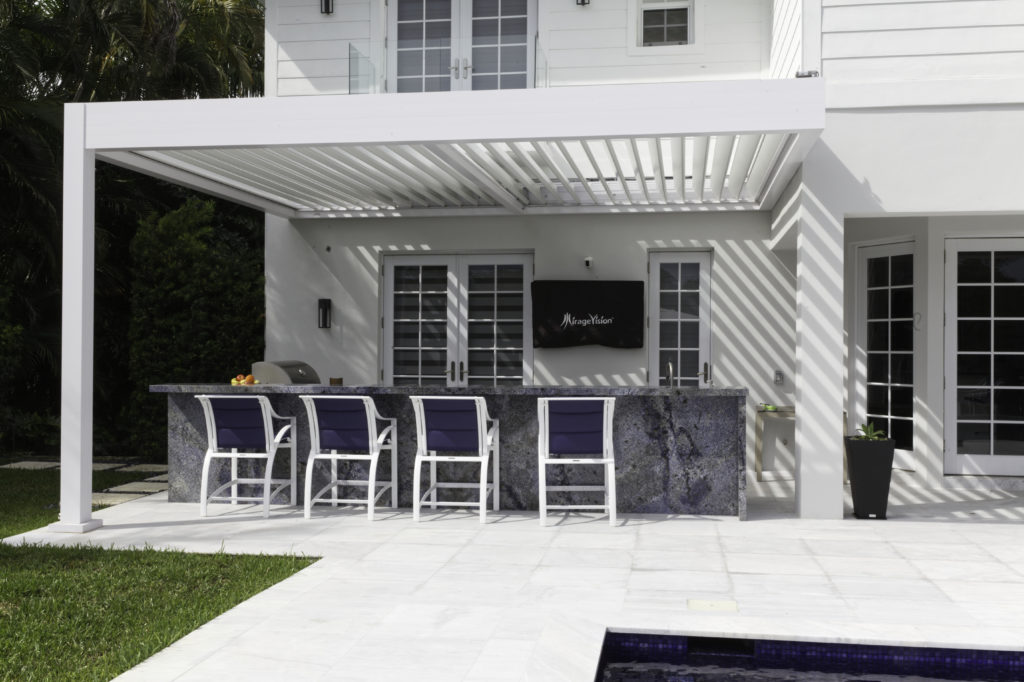 ---
4. Make Sure It's a Gapless Roof Pergola
If you've chosen the more flexible automated louvered roof, there is one absolute necessity to ensure you'll get a rain protection pergola. It's imperative that your louvered roof actually seal out the rain, so ask your pergola vendor if the roof is truly gapless. Many adjustable louvered roof pergolas on the market claim to seal out the rain, but the Azenco R-Blade is the only model available in the US that truly lives up to this promise. The only way to trust that your louvered roof will stop the annoying drips that could disrupt your outdoor entertaining is to test one yourself. Ask your pergola dealer if you can visit one of their louvered roof projects when you're expecting rain.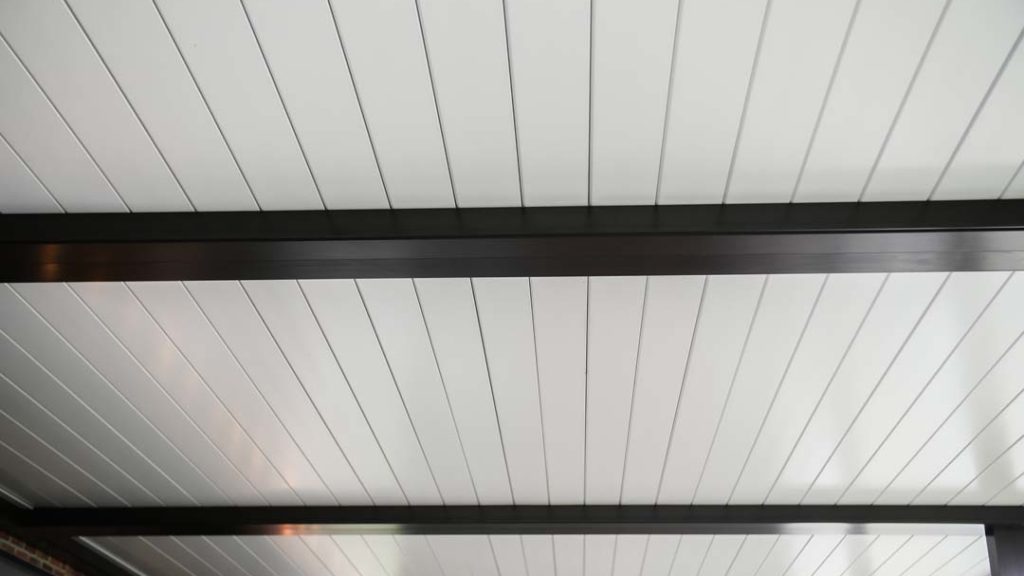 ---
5. It's Got To Have An Integrated Gutter System
To ensure your outdoor entertainment space stays dry when it's raining, make sure your pergola has an integrated drainage system. Once the gapless louvered roof traps the rain, it needs to drain that runoff properly or you'll end up with standing water on the roof…not an ideal situation for the durability of your investment, and likely to give you an unwanted bath when reopened after an afternoon shower. A quality modern pergola will have a self-contained drainage system that allows runoff waters to be directed away from the entertaining space below.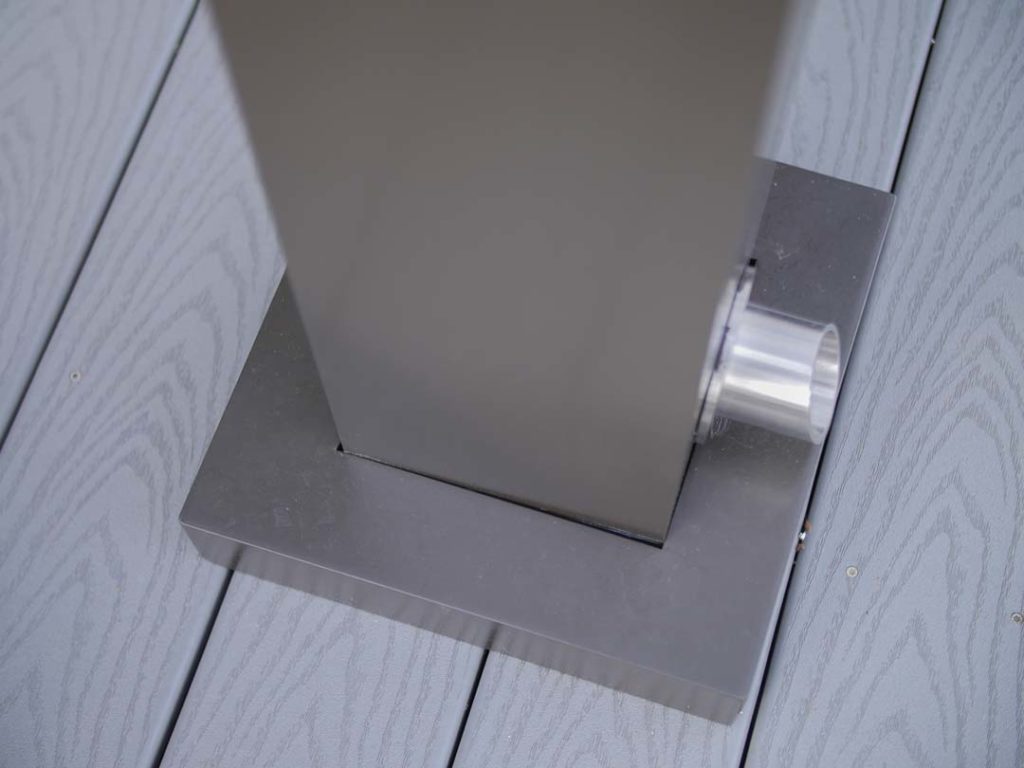 ---
6. Year-Round Privacy and Protection on the Patio
One of the most impactful additions you can bring to your pergola, regardless of its roof style, is some transformative privacy screens that turn the space into a screened-in pergola. These motorized retractable screens roll up into the pergola frame when you want to welcome the sun into the patio, and at the touch of a button roll down to create privacy and block the glare from the setting sun. Privacy screens can be outfitted with sheer material that lets in some sun, or more dense alternatives that completely block the light. Choosing a waterproof material such as canvas also ensures the screens prevent rain from blowing into the patio when closed. For pergolas built near the coast, where prevailing winds are likely to mean one screen will routinely be in the lowered position, homeowners might opt for a solid, fixed privacy wall instead. A privacy wall permanently blocks the view into your pergola, and makes a perfect year-round weather dam. Fixed privacy walls are perfect for properties near public spaces, or with nearby neighbors. They also provide a space for decorative plant displays, artwork, or an outdoor TV.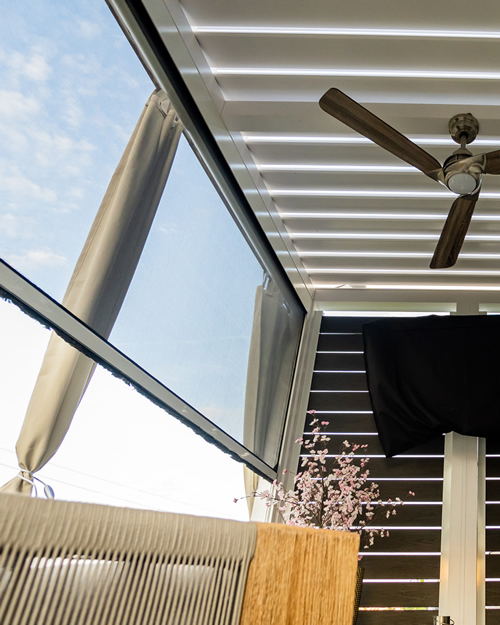 ---
7. To DIY or Not to DIY
While basic pergola kits found at big box stores can be assembled by the homeowner, designing, engineering and properly installing a pergola is really a complex process best left to the professionals. It's important to know that every pergola project, whether attached to the home or freestanding, is still an outdoor structure and needs to be treated as such. That means each project needs to be engineered to meet local building codes which vary based on your municipality. In areas of heavy rain and storm activity, the pergola needs to be engineered to stand up to hurricane force winds. It's important to understand that the strength of the pergola structure itself is only one aspect that affects its longevity, the other is the quality of the installation. If you feel like you are pretty darn handy or are really looking for a custom pergola that you can DIY, there is one option worth considering.
---
Conclusion
As the Fall season descends on the US, it's the ideal time to entertain outside. A pergola is a perfect cover to extend your outdoor time, you can make the most of the turning foliage and cooler temperatures. If you'd like to explore building the ideal all-season outdoor living space for your home, please contact Azenco to be connected with our nationwide network of expert pergola dealers.
---