In this article we explain the following points in detail:
Any outdoor structure like a pergola or cabana has to be able to stand up strong  winds.
For homeowners living in hurricane zones, the term "all-weather" takes on a whole new meaning. If you live in a heavy wind or hurricane-prone area, such as Texas or Florida, will your pergola stay secure in the unpredictable and powerful winds? We get asked that question quite often here at Azenco.
In short, there are two important factors that allow a pergola to withstand strong winds:
First, the pergola structure itself must be of the highest quality. Your pergola has to be fabricated from materials that can stand up to extreme weather, with joints and internal structural engineering that is up to the task.
Second, anchoring your pergola is absolutely critical. If you live in a windy area, the footings for your pergola will need to be engineered to withstand hurricane-force winds. There are also some intuitive design elements that can help your pergola ride out a major storm too!
Can a pergola resist a Category 4 or Category 5 hurricane?
No pergola can be guaranteed to resist a mega-storm like a Category 5 hurricane, but every effort can be taken to ensure it fares as best as possible. Azenco pergolas are fabricated from high-quality, powered-coated aluminum and engineered to be as strong as physically possible. In geographic areas that see extensive high winds, our qualified local dealers work with customers to conduct the site-specific engineering necessary to ensure their pergola will have the best chance to withstand a hurricane. 
There are a couple things you can look for to ensure your pergola is engineered for these types of weather such a Miami-Dade Certification of Acceptance. Florida's Miami-Dade county has some of the highest standards in the country for storm-rated construction. Their local building code requires that structures incorporate lab-tested, wind-resistant design, and its standards have become a nationally recognized bar for most coastal high-wind zones. Azenco pergolas are designed to meet these strict Miami-Dade standards, and have secured a Notice of Certification (NOA) from the county. While these certifications ensure the structure is sound, it is important to remember that the above-ground portions of the pergola are just one part of the overall design that will ultimately safeguard your investment.
What is a hurricane rated pergola?
A "hurricane rated pergola" is actually a bit of a misnomer.
Let us explain. If you live in an area affected by hurricanes, you may be familiar with hurricane-rated windows, also known as "impact windows." Manufacturers are able to subject their windows to lab testing in order to secure the NOA from the county. With proper installation, these NOA-approved windows are expected to withstand hurricane-force winds. Whether installed in a hurricane-rattled coastal area or a calmer inland location, the window is going to perform the same no matter what. Now, if the window is not installed properly, or the framing around the window is of poor quality, the rating on the window quickly becomes irrelevant.
Similar to that NOA-approved window, an outdoor structure like a pergola maybe be rated for hurricane force winds, but the proper engineering of its foundations and attachment points, as well as the skilled installation of that pergola will be critical to its ability to resist a hurricane.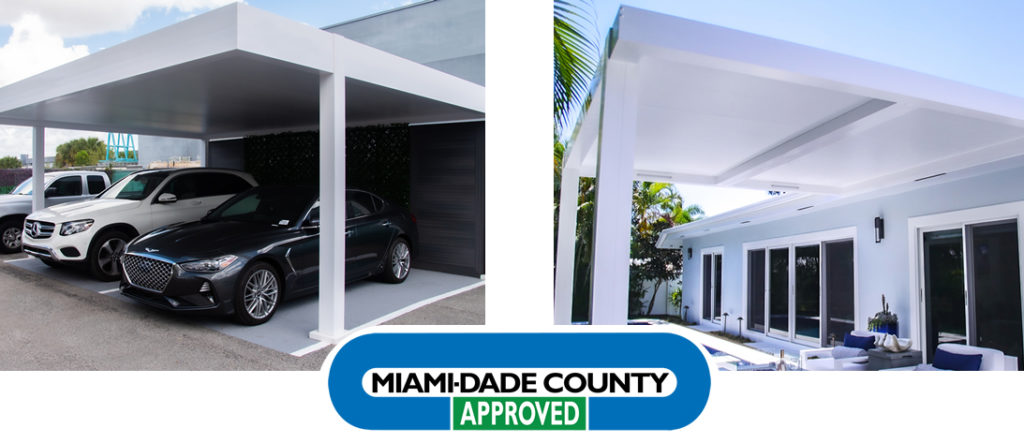 What Pergola Materials Are Needed to Build a Hurricane Rated Pergola
While proper engineering is imperative to give your pergola the best opportunity to withstand a hurricane, so are the materials from which that pergola is fabricated.
Flimsy material such as vinyl is unlikely to withstand mild wind events, let alone a hurricane.
Wood pergolas are pretty durable in their first years, but sun-dried or water-logged rotten wooden pergolas will become structurally unsound.
All Azenco pergolas are crafted from aluminum 6063T6 alloy, ensuring their overall quality and long-term durability. Outdoor products built from this alloy last longer, and stay stronger over the life of the pergola. In addition to this high-quality raw material, the exterior coating on your hurricane rated pergola is a key part of its defense. All Azenco pergolas are coated with a Class 2 powder coating which not only delivers premium color durability, but stands up to atmospheric moisture to safeguard the aluminum below.
Site-Specific Engineering Drives Hurricane Durability
Erecting a pergola intended to sustain the force of hurricane winds requires it to be engineered to meet (and exceed) the anticipated loads on the structure. When designing a pergola and its footings, the structural engineering will vary to meet the unique site conditions of each project. Essentially, you could install the same pergola in both front and back yard, but the engineering will vary to meet the exact location conditions, such as:
Soil conditions
Predominant weather conditions for the area
Geographic location
Flooding considerations
Local building codes and storm-rating requirements
According to Jason Herring, Co-founder and Chief Executive Officer of SYZYGY Global and dealer of the Azenco products in Palm Beach county, "Each pergola project is unique unto itself depending on anticipated wind conditions, soil sampling, and local building requirements. So, the engineering for each and every pergola is site-specific. For example, while six-inch bolts may suffice in one area, the engineering for a high wind zone may demand 12-inch bolts. Footings for the pergola can similarly vary from a mere foot in depth to multiple feet deep, depending on the property's unique conditions."
Wait a minute, a contractor said that they could install a hurricane rated pergola.
What that contractor really means is that they will design your pergola to withstand hurricane winds. No structure can be guaranteed to survive extreme weather, but quality material, precision manufacturing, and a qualified installer can go a long way to ensure durability against extreme weather.
Choosing a pergola from a manufacturer using the highest-grade materials will ensure your pergola is of the highest quality and less likely to be weakened by wear and tear. 
Selecting a locally-knowledgeable installer brings a wealth of localized experience to your pergola project, and helps ensure attachment points and footings are robustly engineered for your unique site conditions.
Making sure your pergola project is properly installed will also go a long way to its durability and storm resistance. So, make sure to choose the right contractor.
Freestanding or attached to the house?
Some homeowners assume that a pergola attached to their home will better withstand storms compared to a freestanding structure. In some cases, the house may buffer a storm's impact on a pergola, but its ability to do that depends on the condition of the home, its design and build-quality. No matter if your pergola is attached or freestanding, our network of qualified dealers will ensure every NOA-rated Azenco pergola is properly engineered and installed to meet the necessary local building codes. The combination of which will go a long way to safeguard your investment during a hurricane.
Which can better withstand hurricane winds—fixed roof or louvered roof?
In short, both roof types can certainly be safely engineered for the forces anticipated in hurricane-prone areas.
Engineering requirements will be more demanding on a fixed-panel pergola because of the potential forces a storm-induced updraft could create.
A louvered roof pergola, on the other hand, can open during high wind conditions. By repositioning the louvers, the open roof essentially eliminates the force that could damage the structure.
One of the unique features in our mechanized adjustable louvered roof R-Blade Pergolas is an intuitive sensor array that will open the louvers in these high wind conditions. With the wind sensor always on watch for a gale, homeowners can enjoy an extra level of peace of mind, even in stormy coastal areas.
Hire a trusted contractor to install your pergola
Here at Azenco, we pride ourselves on manufacturing the highest quality outdoor structures, but their storm resistance also depends on proper installation. Azenco only partners with the best local dealers that meet our high standards. We also provide in-depth training for our installers on how to properly assemble and secure our products. The expertise that goes into properly installing a pergola is what will ultimately drive its hurricane resistance, so choose wisely.
While a truly "hurricane proof pergola" is a bit of a misnomer, a pergola can be engineered to withstand hurricane winds. The design considerations for a wind-resistant pergola vary by location. No matter what type of structure you want to build on your property, your plans will need to consider the unique site conditions, including weather impacts from high winds, and factor those into engineering approvals from your local building department. Azenco pergolas are engineered to meet the highest hurricane standards. So, if you live in a hurricane-prone area such as Florida or Texas, consider one of our high-quality structures and choose a qualified contractor from our trained dealer network to ensure extreme weather durability.
Azenco has a pergola to meet your lifestyle and budget. Contact us today for more information.