A pergola on a deck can be a beautiful extension to your home, yet without a pergola, it could be missing something. That's because an outdoor cover has the power to transform a deck into a true indoor-outdoor space that can be enjoyed all year round. In fact, building a pergola on a deck is one of the easiest ways to upgrade your outdoor space.
Pergolas can offer partial to full sun coverage, protection from flying and biting bugs, upscale lighting and air circulation options, and of course deliver a sophisticated, upscale look to any deck. It's no wonder that they are considered an important investment to enhance the value of your home.
Yet, to get that pergola on deck, it takes more than saying, "Batter up!"
You have to know which questions to ask yourself in order to choose the pergola that will work best for your deck and your lifestyle.
Here are the most important things to consider when picking out the perfect pergola:
How do you plan to use your pergola?
You may decide on a pergola for a number of different reasons. Maybe you plan to cover your bbq grill, increase the amount of comfortable seating area or create a shelter from the elements could be your plan. You may even be planning to create an elegant outdoor dining space.
1. Do you look for a pergola on deck attached to the house or a free-standing one?
You should also consider whether a pergola attached to the house on deck is best, or if you prefer a free-standing version. Since each has their own benefits, you'll easily find one that suits your needs.
Free-standing options allow you to choose where to build your pergola, while a pergola attached to your home can help increase the volume of your indoor living space.

2. Choosing the right material when building a pergola on a deck?
When it comes to building a pergola on a deck, choosing the right material is vital. Old style pergolas were often built with wood. However, these versions have significant drawbacks. Their lack of durability, increased expense for maintenance. Also, the fact that wood is less durable makes them cheaper in the short-term but often far more expensive over time.
That's why more and more homeowners are turning to next-generation aluminum pergolas designed to match every outdoor space and fit in all housing styles: modern, contemporary, or classic.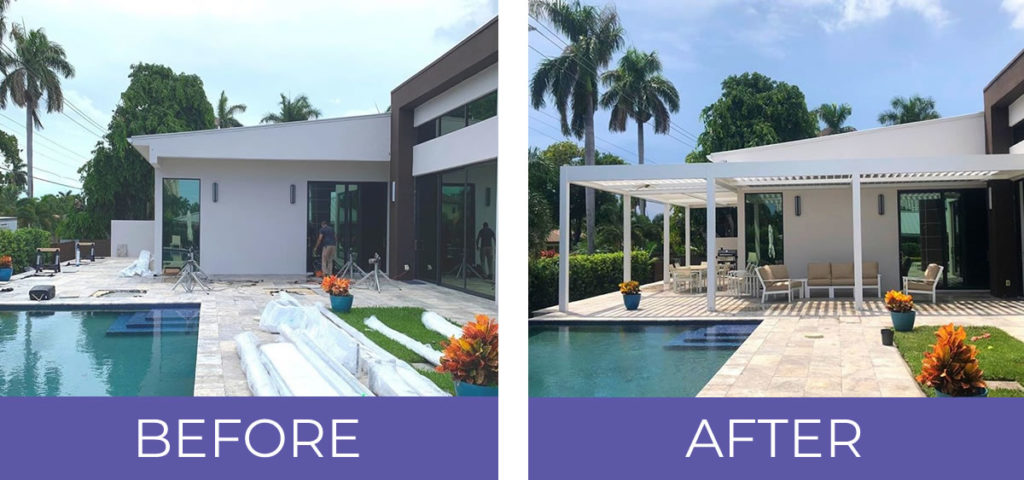 3. Which extras would make you love your pergola on deck?
Finally, when you're building a pergola on your outdoor deck, you should consider the little extras that can take it from a simple shelter from the sun to a truly incredible outdoor space you'll want to use year round.
A pergola on deck can include:
Fixed sandwich panels to deliver sun and rain protection and are both waterproof and wind-resistant.
Bioclimatic louvers that let you leverage natural ventilation while allowing the perfect amount of light to come through to meet your needs. These can even feature a rain sensor for automatic closing, a wind sensor for automatic opening in case of strong wind, and a temperature sensor integrated into the automatic opening in case of snow or frost conditions.
LED lighting via spots or on the railings to create that perfect atmosphere for entertaining.
Solar and/or insect screens so that you can enjoy your deck every season.
The truth is that these little extras can be the difference between a deck you use and one that sits empty.
An investment that will pay off for years to come
So when it comes time to choose the pergola to build on your deck, remember, the investment you make now will not only be enjoyed in the present, but also increase your home's value for years to come. Use the tips above to choose the perfect pergola for your outdoor deck.
And when you are ready to design the deck of your dreams and install the highest quality, made to measure pergola to create a seamless, optimized outdoor living, contact Azenco.