Adding a modern pergola to your deck, patio or pool area can transform your backyard into an outdoor living space you will enjoy for years to come. However, before construction on your new pergola begins, you have to select the right pergola builder to ensure you get the best team on your side. After all, you want it to turn out to be everything you've dreamed of for your outdoor space.
Because you're making a big decision when choosing to install a pergola, we're going to delve into some easy tips that can help you pick the right contractor. We will also talk about what a pergola is, the history behind the structure and why building a pergola has become such a popular option for homeowners.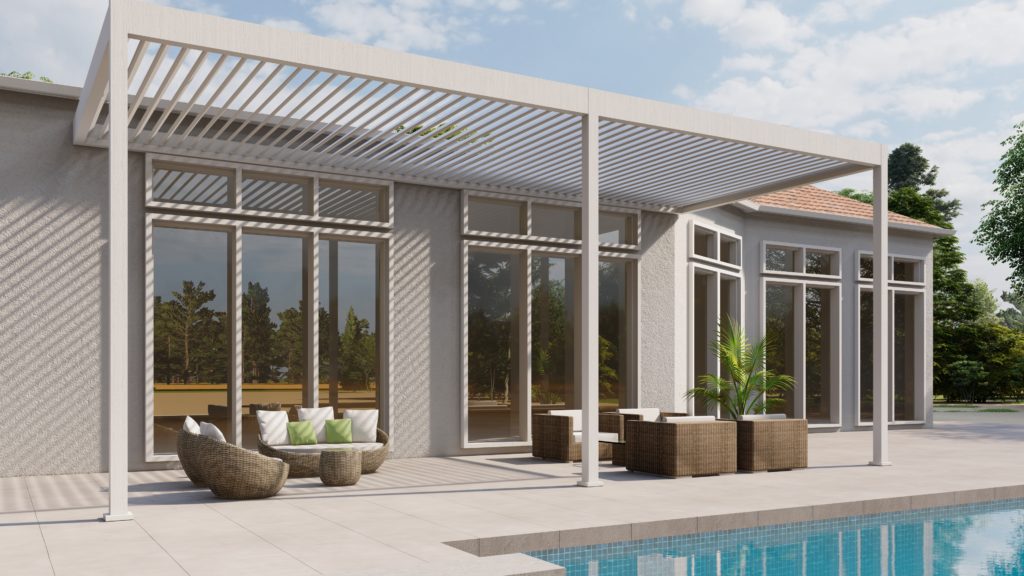 ---
What is a pergola?
Pergolas are outdoor structures with a wide-open design that can serve as a shade structure and provide protection from the weather. Pergolas can vary in design and features to be constructed as free-standing four-post structures supporting a roof, or as two-post structures attached directly to the home for a seamless connection between indoor and outdoor living spaces. Pergolas can be outfitted with an insulated fixed roof, or an automated louvered roof that can open to allow the sun through or close to seal out the rain and snow.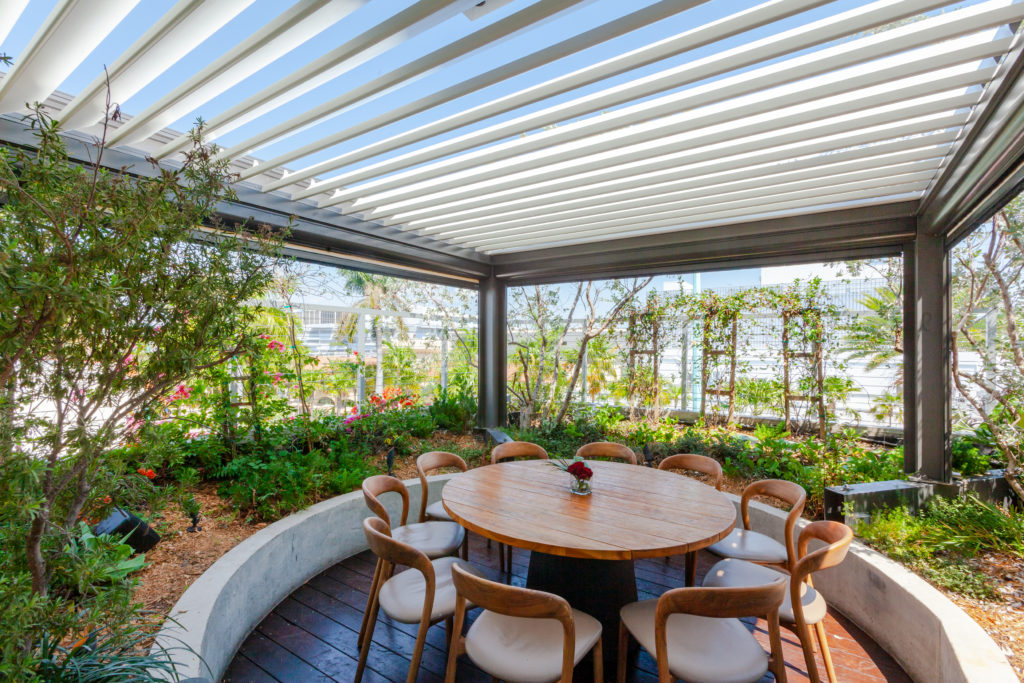 ---
History of the pergola
Pergolas date back to ancient Egypt and Rome. Historical reports show them going way back to 1400 B.C., but they were used purely to provide shade back then. In the 1700s, pergolas were popular in the gardens of Italy. Made from strong vines, they complemented nature with a woodsy appearance. Today, pergolas decorate outdoor areas around the world, from homes to public spaces, such as museums and gardens, and have become truly high-tech structures used in both residential outdoor spaces and in commercial settings.
---
Pergolas – Trends in modern pergola design
According to global statistic aggregations by Statista, the global market for outdoor living spaces has increased significantly in the last decade. In 2010, 39 million homeowners reported purchasing outdoor living products, and by 2016, that figure had grown to 53 million households. By 2020, that growth trend has exploded the outdoor furniture market to $17.1 billion annually!
While 2020 has been a banner year for the outdoor industry, the outlook for 2021 is equally as bullish. The International Casual Furnishings Association found in an early 2021 survey that 58% of its respondents plan to buy new furniture or accessories for their outdoor living spaces this year. The ICFA pointed to two main drivers of consumer demand for outdoor living spaces. Reactively, changes in how homeowners are using their outdoor space through the pandemic continues to drive demand for outdoor living space. Structurally, the continued growth of new Millennial-aged homeowners is bringing new desires for outdoor spaces with a full 32% of new Millennial homeowners saying they want to renovate their outdoor living spaces to add value to their homes.
The skyrocketed popularity in modern pergolas since the pandemic began is expected as people were forced to stay home, often working from home for much of the year. Seeking ways to expand their outdoor living spaces as a respite from the indoors, today's homeowners want outdoor living spaces to feel inviting for their families and guests while also protecting them from elements, such as wind, rain and intense sun.
---
What is considered modern pergola design?
You've likely seen pergola designs evolve over the past decades. They may have had a rustic appearance or an old garden vibe, but modern pergolas have become key design features for outdoor spaces complete with integrated technology that makes these structures truly smart. Modern pergola design is sleek and sculpted with clean lines, as people are treating the structures as an extension of their homes and favor a contemporary look. Additionally, thanks to hidden assembly hardware and integrated technology, modern pergolas can still complement older homes while offering modern features.
A pergola can also be completely customized to ensure its overall footprint fits seamlessly into existing architectural designs. Often starting as small as 8'x8', pergolas can scale to cover hundreds of square feet to encompass just a small patio or provide shade for an expansive outdoor kitchen or pool deck. Most pergolas will range from 8 to 12 feet tall depending on how you plan to use the space, how it will flow with the surrounding architecture, and which accessories you choose to have built into the structure. For example, if you plan to incorporate patio fans into the pergola beams, the posts will need to be tall enough to still provide sufficient headroom.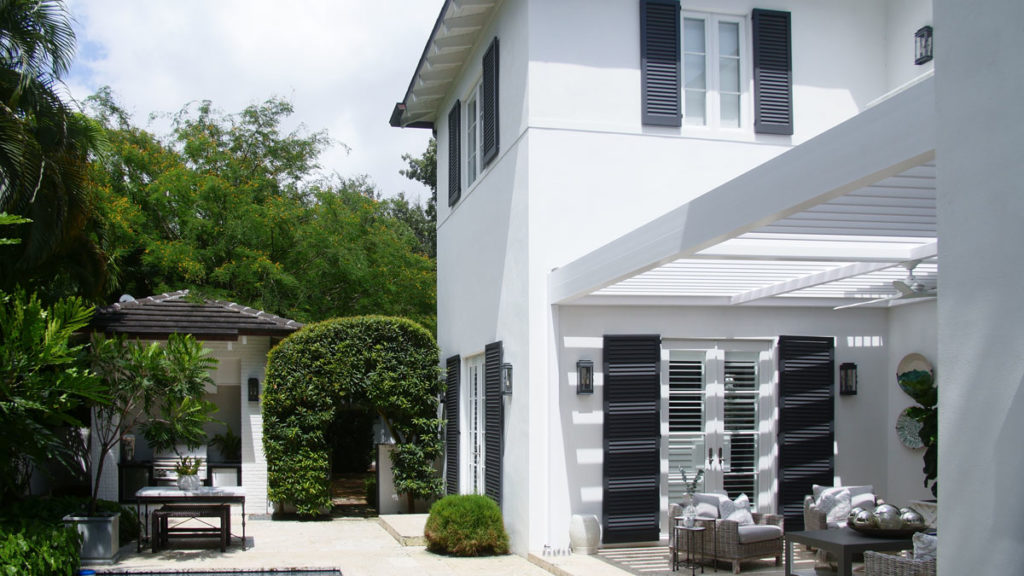 ---
What materials are pergolas made from?
Today's pergolas are made with sturdy materials such as wood, vinyl, fiberglass and aluminum—some feature a combination of materials. When contemplating the anatomy of modern pergolas, there are benefits to selecting the right building material for your outdoor structure.
While wood construction may seem appealing for a "natural look," aluminum pergolas provide the best durability and easier maintenance over the life of the structure. One aspect to look for in purchasing an aluminum pergola is the highest quality material, some manufacturers utilize recycled aluminum which will not last as long as new material; you will get the most out of your investment if you insist on new aluminum rather than recycled materials. Once the aluminum extrusions are powder-coated they will last quite a long time, and this exterior coating can be color-matched to the home exterior or to fit with surrounding natural wood elements.
Azenco pergolas are made from high-quality aluminum to ensure life-long durability, resistance to heavy winds and enable intuitive integrated features. Both the Azenco structures and powder coatings carry a 15-year warranty.
---
What you should know about pergola materials
Constructing a pergola is an important decision, and you'll want to make sure your structure withstands the elements regardless of where you live. Azenco relies on high-quality materials and designs that work in areas with varying weather conditions. What does that mean exactly? While we can't speak for other manufacturers, we can share that our aluminum pergolas feature robust materials that are precision machined with our robot cutting tools to ensure the sleek look homeowners demand and a weather-tight seal in our louvered roof designs.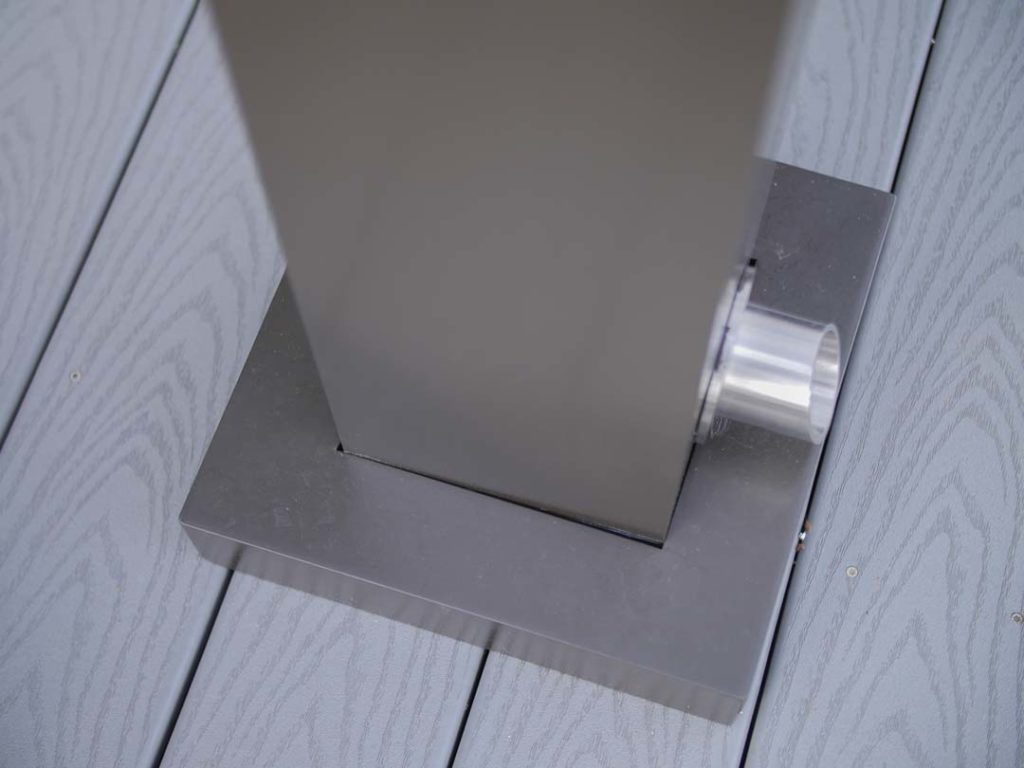 ---
Modern pergola benefits
Installing a pergola for your house can pay off big dividends. Advantages of pergolas include:
Added privacy – A pergola allows you to enjoy time in the great outdoors without feeling like you're under a microscope, with your neighbors able to watch every little move you make.
Defined space – Choosing a pergola for your backyard deck or patio also allows you to create a true outdoor living space that you can use for relaxation, cooking and dining or entertaining.
Protection from the elements – A pergola also transforms your open deck or patio into an outdoor living space that can be used in all kinds of weather, providing protection against rain, wind and sun exposure.
Gorgeous design – Modern pergola design ideas also allow you to choose a structure that perfectly fits your home, complementing its architecture and satisfying your requirements.
Enhanced value – Building a pergola also means adding to the value of your home, making them a great investment for when it comes time to sell.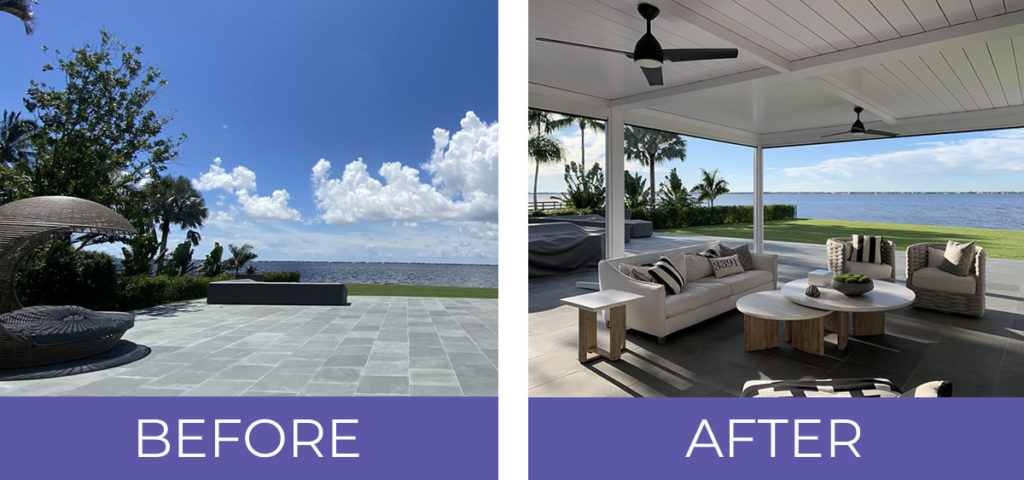 ---
Modern pergola design features
Azenco offers pergolas with modern features. As you consider exactly how you will use your outdoor living space, there are several pergola features that you should consider, including:
Bioclimatic pergolas
Even in colder climates, homeowners want to enjoy their outdoor spaces during the winter. The Azenco bioclimatic pergola protects from the sun in summer while allowing the light and heat to penetrate in winter. You can also choose to equip your pergola with automated systems that allow hands-off climate management with an integrated sensor array. Rain sensors can automatically close louvered roofs, wind sensors can automatically open in case of strong winds, and temperature sensors can react when conditions could cause ice or snow buildup on the pergola roof.
An insulated roof for full-time shade
The Azenco R-Shade is an insulated, fixed-roof pergola, protecting from sun, rain, and snow. It fits into any outdoor space and suits all styles of architecture, including modern, contemporary or traditional homes. The R-Shade amps up the comfort level, as it is waterproof and wind-resistant, and its hidden integrated gutter system channels rain waters away from your outdoor space. You can choose to add additional features, such as solar panels, a solar screen, dimmable LED lights, or a ceiling fan.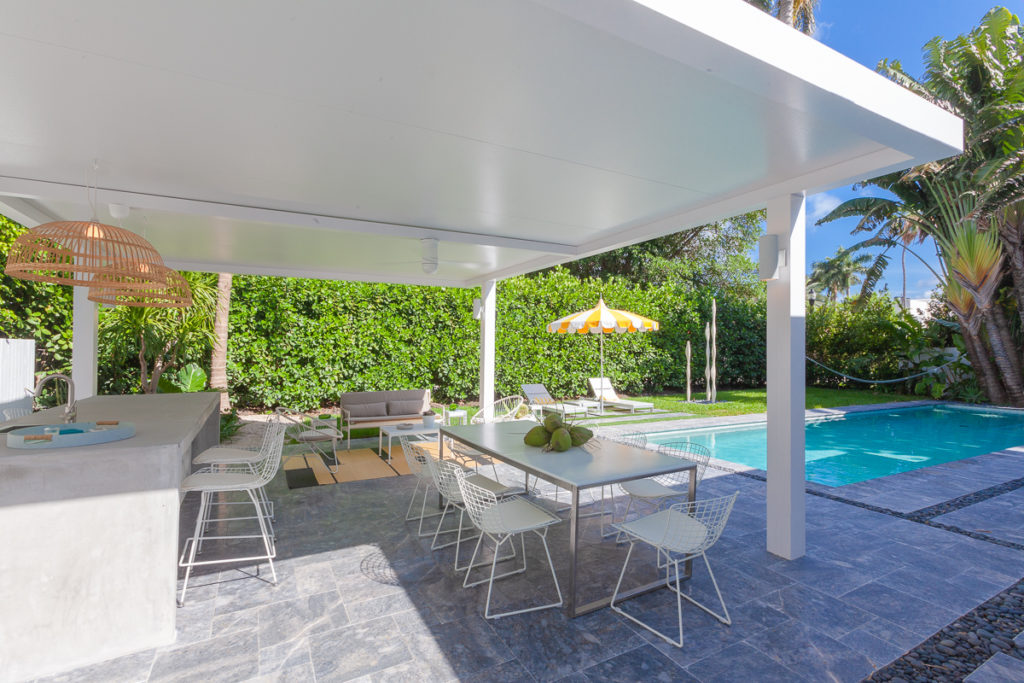 A modern pergola roofs switch between sun and shade
Azenco's R-Blade Pergola features the market's only weather-sealed, adjustable louvered roof. This unique design is made with dual-wall aluminum louvers that ensure a perfect weather seal when closed and opens at the touch of a button to allow the sun in when desired. Additionally, an invisible gutter system is built into the posts to drain rainwater and keep the pergola area dry.
A freestanding modern cabana option
Azenco's K-Bana is a fully customizable, modular freestanding cabana. You can choose a setup that meets your needs by mixing and matching various sized panels for a truly custom design. What's also great about the K-Bana is that it can be installed in just a few hours. This unique spin on a pergola features dual-wall louvers that provide natural ventilation with its manual control louvers. It allows shade control and also protects from wind, rain and snow. The K-Bana can even be installed on uneven ground thanks to thoughtfully design self-leveling footings.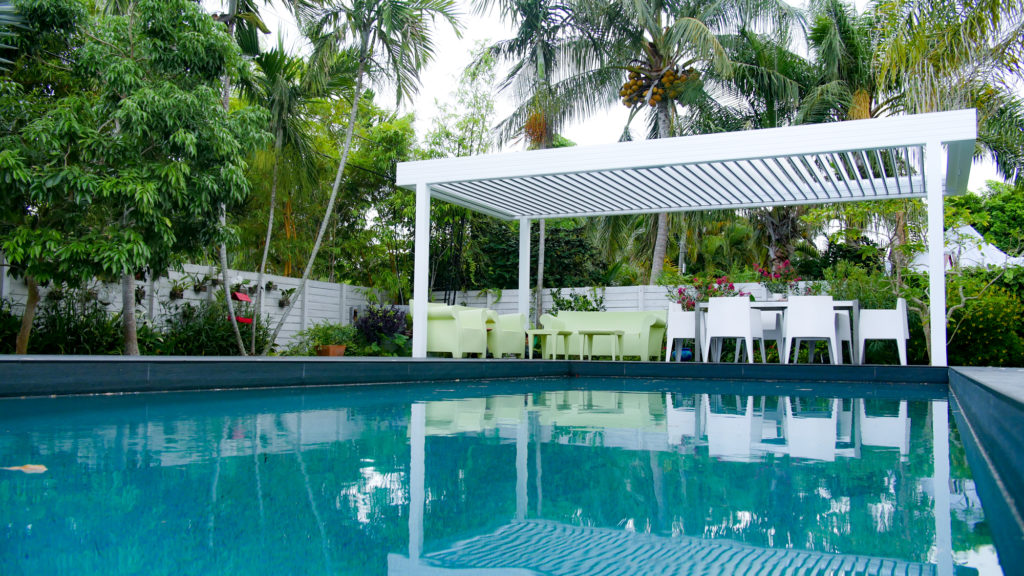 ---
Tips for contracting the right builder
Now that you know just how much a pergola can do for your home and your lifestyle, here are the tips you need to decide on the best contractor.
1 – Think of the future
First, when considering which contractor is right to deliver your perfect pergola, it's a good idea to think ahead. Consider how you plan to use your pergola since your needs will affect your choice of pergola design. Will you want an outdoor kitchen? Do you plan to entertain? Will you want a pergola that allows you a choice of lighting options to extend its use in the evening hours?
Communicating what you want out of your modern pergola choice helps your contractor deliver a contemporary structure that meets and even exceeds your needs.
2 – Check references
Whenever you plan to hire a contractor, expertise is vital. After all, while anyone can say they'll build your pergola, the reality of whether or not it gets done and whether you're happy with the results both now and years from now, can be drastically different. That's why it's important to ask for references and read testimonials from previous clients, so that you're able to choose a contractor with the expertise and professionalism to deliver on their promises.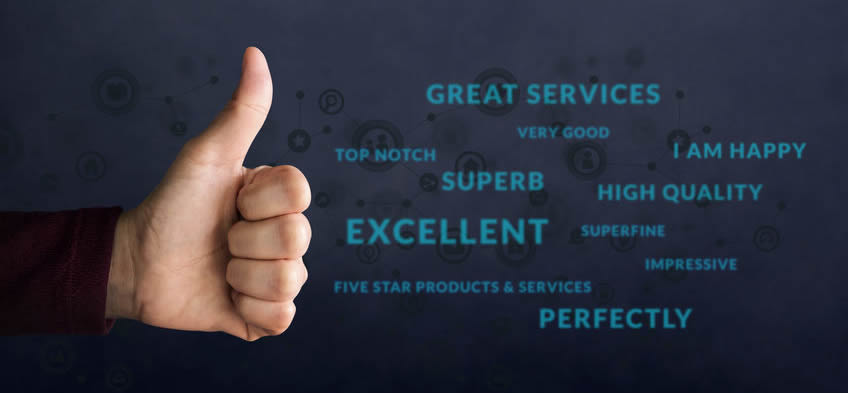 3 – Don't be fooled by low quotes
One of the most important pieces of advice in choosing your pergola contractor is to not allow yourself to be taken in by unreasonable quotes. Many people get fooled into going with a contractor that offers the lowest bid, only to be asked to pay more as the job progresses or end up left with a poorly built pergola from substandard materials.
A reputable builder will give you a quote at fair market value for the advanced materials and add-ons that define today's modern pergola options and the expertise it takes to do the job right.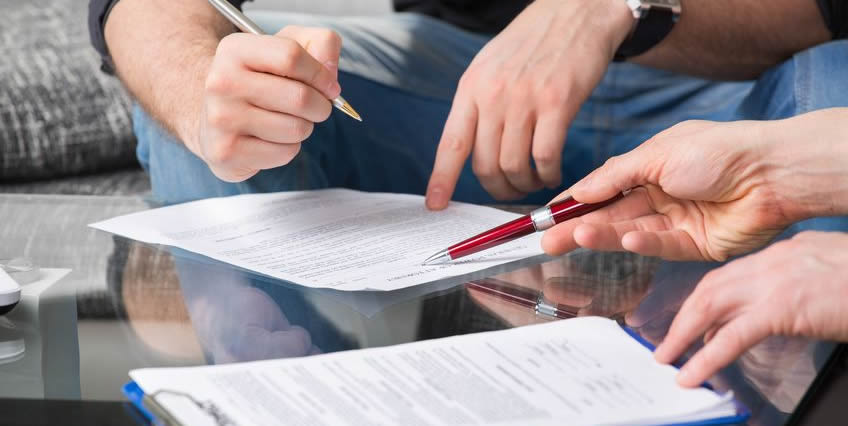 4 – Look for the options you need
A contractor that specializes in pergola should have a range of designs and options to choose from that allow you to create a structure that fits your home and your lifestyle. From LED spots that add ambiance to automatic louvers with rain and wind sensors to keep you and your family protected from the elements, a true pergola expert can help you design your pergola your way.
Azenco works with trusted contractors and is pleased to work on your next construction project. Get a quote today by filling out the form in the upper right.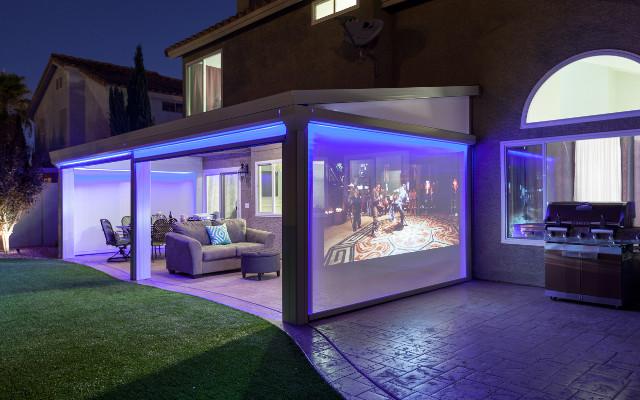 ---
Checklist of questions to ask a contractor
In summary of the above, here is a quick rundown of what you should request when interviewing a contractor for your modern pergola project:
Photos of their previous pergola construction projects
Names and contact information for references
Proof of insurance
Proof of contractor's license
Payment terms
What is their schedule and timeline?
How will they handle cleanup each day?
Where will they store materials and tools while working on your project?
The right contractor will help you create your ideal outdoor space. Make sure you do your research before hiring a contractor, ask questions about their experience and how they can design the perfect modern pergola for your needs. One option for making your contractor selection easier is to hire someone that works directly with a pergola manufacturer. Contact Azenco today to find a contractor you can count on to bring your pergola dreams to life.
---
Rely on Azenco for your modern pergola project
Azenco has designed and manufactured outdoor living structures for more than 20 years. With its 6 factories in Europe and America, the company is the foremost outdoor living specialist. When you rely on Azenco's extensive expertise and network of distributors, contractors and retailers to create the backyard of your dreams, you get the professionalism you need to ensure your project is done on time, on budget and on your terms.
Better Design, Better Quality, Better Experience.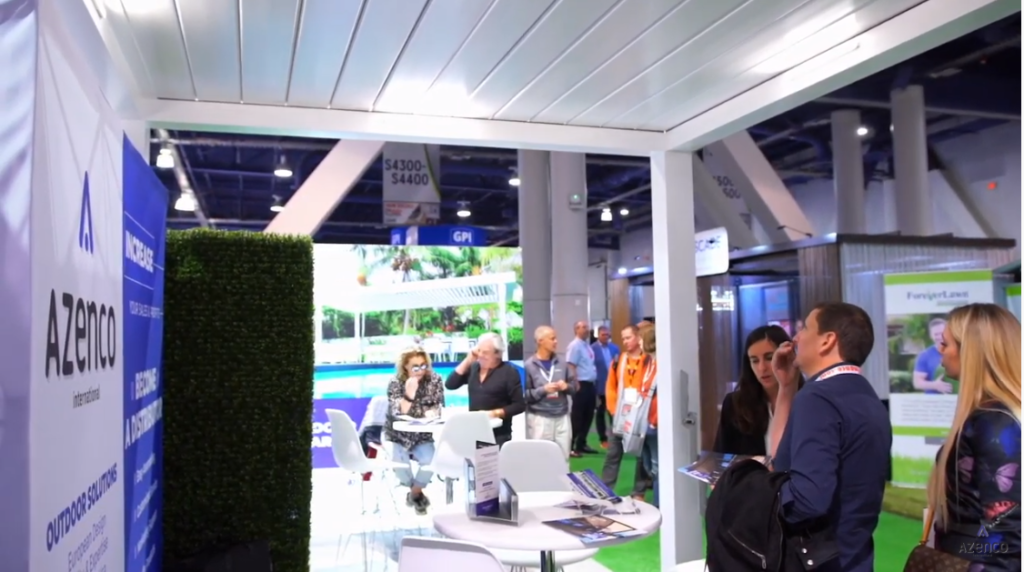 Better Design, Better Quality, Better Experience.
Contact Azenco today to find a contractor you can count on to bring your pergola dreams to life.
---