Two full years into pandemic living many offices are still allowing, even requesting, staff to work from home and it looks like this trend is here to stay. If working from home is going to be your reality for the foreseeable future, maybe it's time to consider an upgrade to your home working environment. One way to improve your work-life balance by creating your own outdoor office at home.
---
Benefits of Creating an Outdoor Office Space
Whether you build a dedicated outdoor living space to use as an outdoor office at home or simply spruce up a modern backyard shed, there are innumerable benefits to getting out of your routine work-from-home setting during the workday, including:
Fresh air and sun: Sun exposure makes your body manufacture its own vitamin D, which plays an important role in boosting immune responses and can even help improve nervous system health.
Boost your home's value: There are many sources, such as Homes & Gardens, that highlight the boost to your real estate value from adding an outdoor living space or shaded structure.
It might be a write-off: If you are self-employed, you might be able to even write-off the construction costs on your tax return!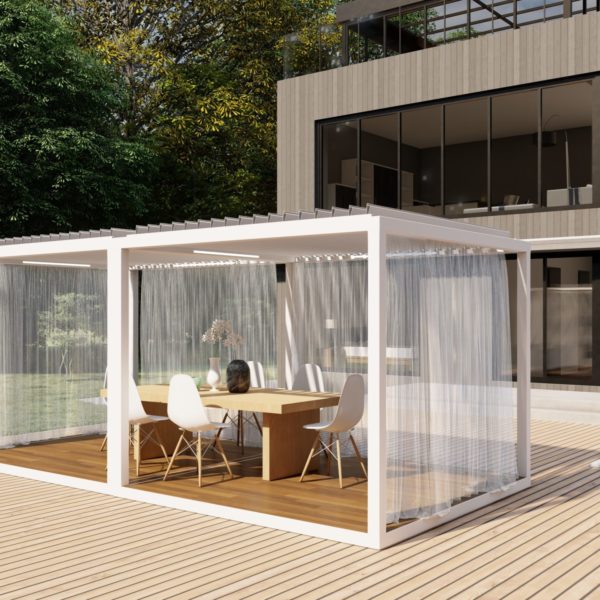 ---
Considerations When Designing Your Outdoor Office Space
When creating your outdoor office at home there are plenty of style and function factors to consider. Afterall, the possibility of a job change or eventual retirement, means you'll want your outdoor office space to provide plenty of flexibility. If you have an existing shed in your backyard, that space can certainly be upgraded to a modern backyard shed workspace. If you are starting from scratch, consider a dynamic adjustable louvered roof pergola as an option for your outdoor office.
Let's take a look at some of the design elements that you should consider when building out your outdoor office at home, and why a modern pergola is the ideal location for it, such as:
Plan for privacy: You'll certainly want to be able to close off your outdoor office from the rest of the backyard from time to time. Some smart plantings around your office pergola can combine with integrated retractable shade or privacy curtains that can close at the touch of a button.
Control shade and sun: While you certainly don't want to bake in the sun all-day, getting that vitamin D boost will require some partial sun exposure. With an adjustable louvered roof pergola overhead, you can control that sun and shade balance to keep the glare off your laptop monitor while making the space bright and cheerful.
You'll need power: Your laptop, iPad, smartphone, Wifi booster, etc. will all need electricity to keep you productive in your outdoor office. With our patio covers, you can integrate hardwired AC power or opt for roof-top solar panels to take your home outdoor office off the grid.
Plan for rainy days: Once you've fallen in love with your new outdoor office space, you certainly won't want to abandon it during afternoon showers. Our R-Blade adjustable louvered roof pergola features our unique dual-walled louver design that closes to completely seal out the rain without the annoying drips seen in other products.
Bring on the comfort: Just because you are working outside doesn't mean you need to rough it. Bring some of the comfort of the indoors into your outdoor office. Comfortable furniture or an outdoor rug will help, but the frame of your office pergola is the ideal place to embed infrared heaters or patio fans.
Lighting for evening work sessions: When you're burning the midnight oil, your outdoor office space will obviously need some lighting. Embedding eco-friendly LED lights into your office pergola allows you to control them from your handheld remote.
Location, Location, Location: Where to build your outdoor office space is just as important as what shape that space takes. If you really want your outdoor office to be a respite from the hectic activity of home, then creating a standalone outdoor space is ideal. But, if the patio abutting your kitchen is preferable (maybe you like to be within reaching distance of the fridge when working) then your office pergola can be attached right to the house.
Make it a double duty space for entertaining: The most important design aspect of your new outdoor office is to ensure it can be used for your own fun and relaxation outside of the work day. A customized office pergola can easily transition from buttoned up daytime office setting to an evening with family around the fire pit.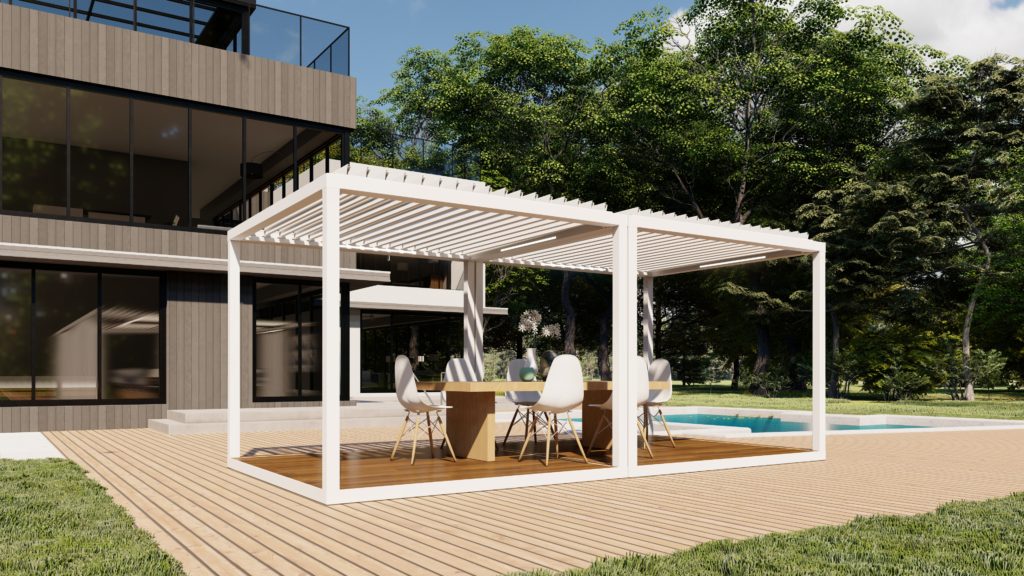 ---
Conclusion
If you are looking forward to another year of working from home in 2022, then now is the ideal time to start planning your new outdoor office space. Contact us today to be connected with one of our local pergola experts that can help you navigate this project.
---