A covered outdoor kitchen is hands-down one of the most trending and popular features for outside spaces. Modern outdoor kitchens are far more elaborate than the simple built-in grill and barbecues of the past. In fact, the outdoor kitchens of today often feature everything from granite or soapstone countertops and top-of-the-line gourmet appliances, to wood-fired pizza ovens, oversized grills, and upscale wine and cocktail bars. Plumbing and electrical lines provide the same level of convenience of an indoor kitchen including sinks, high-end lighting options, ceiling fans, and all of the outlets necessary to power an array of appliances, such as blenders and even patio heaters.
It's easy to see then why while they were once used only in warmer regions when temperatures were perfect, more and more outdoor kitchen enthusiasts are looking for options that allow them to enjoy them year-round, no matter the weather. Fortunately, choosing a covered outdoor kitchen allows you to do just that. That's why if you're thinking about adding an outdoor kitchen to your backyard, we've put together everything you need to know about these spaces, from the biggest advantages these investments bring to the best way to protect the expensive furniture and appliances you choose so that you can enjoy your kitchen for years to come.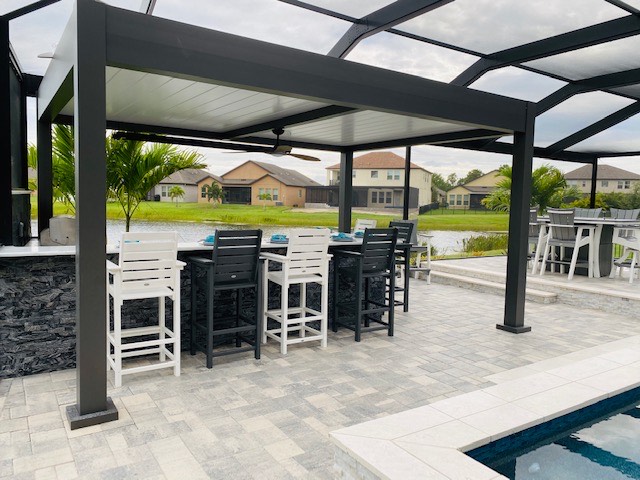 Why Install a Covered Outdoor Kitchen?
You may choose to install a covered outdoor kitchen for a wide variety of reasons. Some of the biggest benefits these additions provide include:
1. Increase the resale value
Nothing screams luxury like a beautiful gourmet outdoor kitchen – an upgrade that makes your home significantly more marketable should you decide to sell. In fact, according to CNN Money, About.com and Remodeling Magazine outdoor kitchens can offer an average 100 to 200% return on your investment.
Additionally, The Responsive Home research, Millennial Report, found that "Outdoor living space is the number-one must-have for 59 percent of Millennial homebuyers." And, it also reported that a study by Garden Media Group found that 85 percent of 18-to-35-year-olds rated Outdoor Rooms with areas for cooking and relaxing as "very important".
Things to keep in mind when you're considering the design and build of your outdoor kitchen is the size of the kitchen compared to your backyard, and your home's value and location.
2. Provides Convenience and Flexibility
Outdoor kitchens give you the flexibility to cook where you want and enjoy the beauty of your backyard. They also allow for fun, adventurous cooking, letting you try out new dishes and recipes without the worry of cooking grease, odors, and smoke in your indoor space. This is especially valuable during the humid, often sweltering days of summer, when smells can linger indoors for days.


3. Offers Excellent Entertaining Space
If it seems like there's never enough room to fit all of your family and friends when it comes time to entertain, an outdoor kitchen can easily solve your problem and provide a beautiful space to host larger groups and spill out into the great outdoors. The relaxed, tranquil nature of your backyard is the perfect setting for people to spread out and prep, cook, and eat your meals alfresco-style.
Depending on the outdoor kitchen layout you choose, your guests can gather round to socialize, help you work your culinary magic, and turn food preparation into a group activity. This way no one is stuck inside handling all of the cooking, while the rest of the group is outdoors. With an outdoor kitchen, everything from lively parties to intimate dinners becomes easier and more enjoyable for all in your entertainment oasis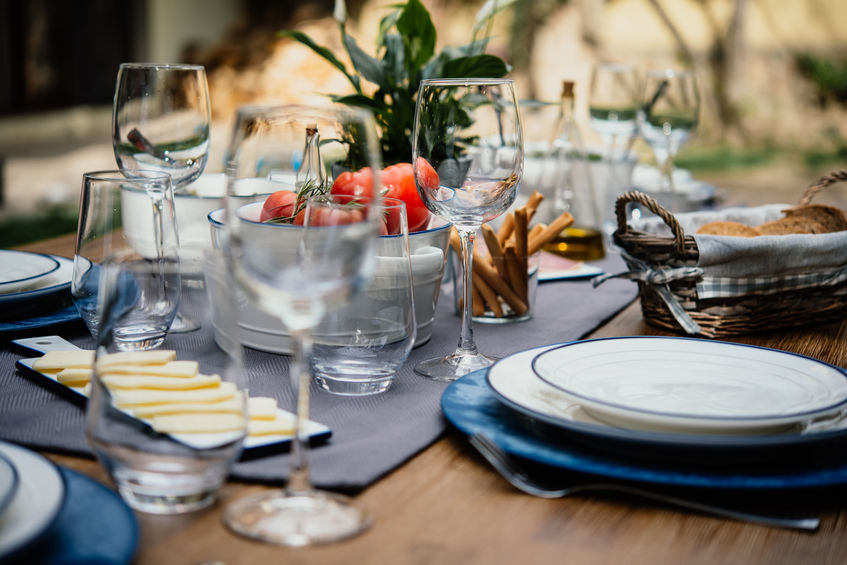 4. Expands the Living Space
The design of your outdoor kitchen can even mirror your indoor space, providing a seamless transition from inside to out and repurposing a previously unused or underused outdoor space. While you may only want an outdoor grill or barbeque island, you can also choose to significantly expand the scope, purpose and functionality of your space by adding other cooking appliances such as a pizza oven, flat-top grill, and a smoker.
Beautiful cabinets that provide storage, accommodate kitchen appliances and hide trash, take your outdoor kitchen to the next level. And an outdoor dishwasher helps to centralize culinary activity for easy cleanup, without endless trips inside. Altogether, this creates a highly functional additional living space for your home.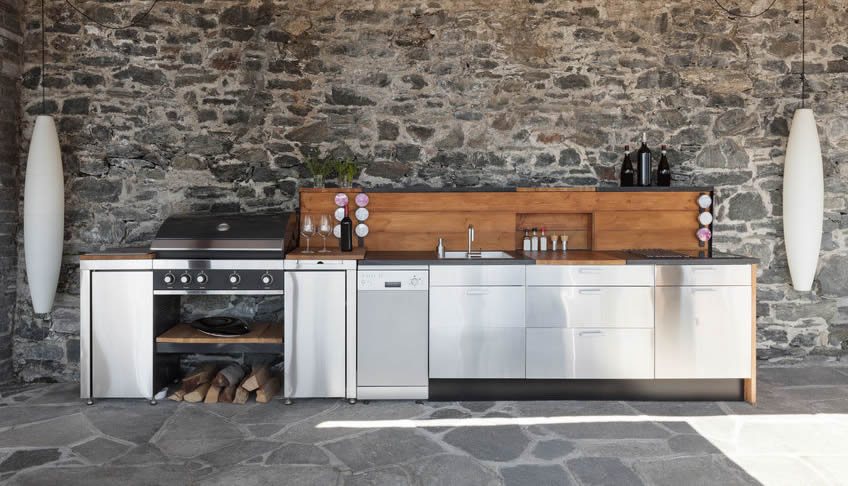 Why Choose a Covered Outdoor Kitchen?
Of course, a large part of the functionality and benefits you can achieve with your kitchen depends on one important factor – whether you choose a covered outdoor kitchen or an uncovered/partial coverage option.
While kitchens without coverage or ones with partial coverage such as an open pergola design can still offer a beautiful space to enjoy when the weather is at its best, when the elements turn sour whether, with high levels of heat, rain, or snow, these options quickly lose their appeal.
On the other hand, a covered outdoor kitchen addresses those issues. It is a higher return on investment and the ability to use the outdoor the kitchen provides all year long.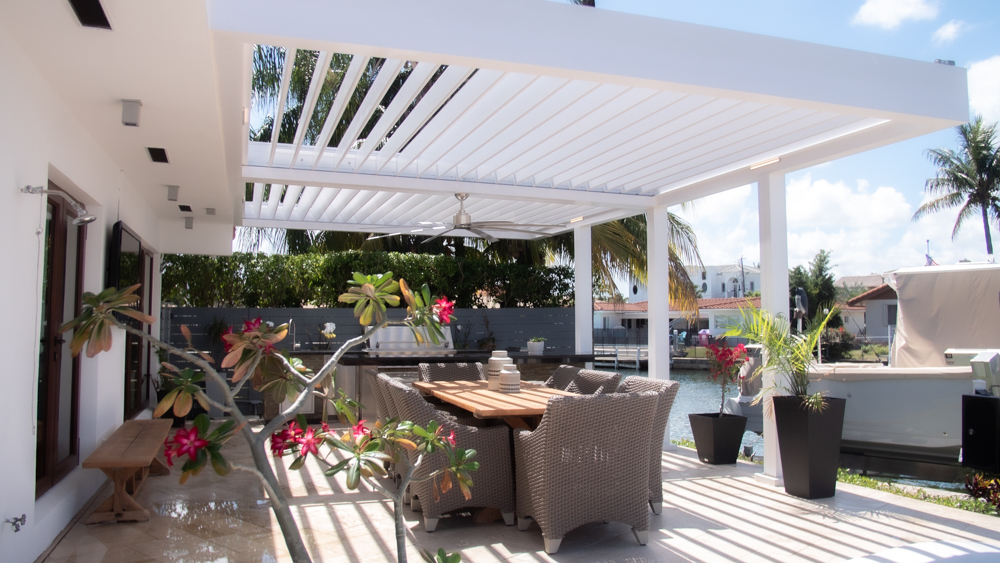 Of equal importance, a covered kitchen also allows for the protection of the appliances and furniture you've chosen. This is of the highest significance because even when items are designed for outdoor use, they can suffer due to extreme heat and unrelenting sun, which leads to fading and permanent discoloration, as well as rain and snow and the corrosion they can bring.
Going with a covered outdoor kitchen also allows for more options when it comes to comfort, lighting and, fans. Even screens can make your outdoor cooking and dining even more enjoyable for you, your family, and your guests.
Optimize Your Covered Outdoor Kitchen with R-BLADE
All of those reasons and more is why the R-BLADE Bioclimatic pergola by Azenco has become one of the most recommended choices. Ideal to create a high-end outdoor kitchen experience in all weather, protect investment, and create a comfortable dining oasis.
The louvered pergola fits any outdoor space and suits all styles of architecture from modern or contemporary to classic and provides perfect protection from the sun in summer yet allows the light to penetrate in winter.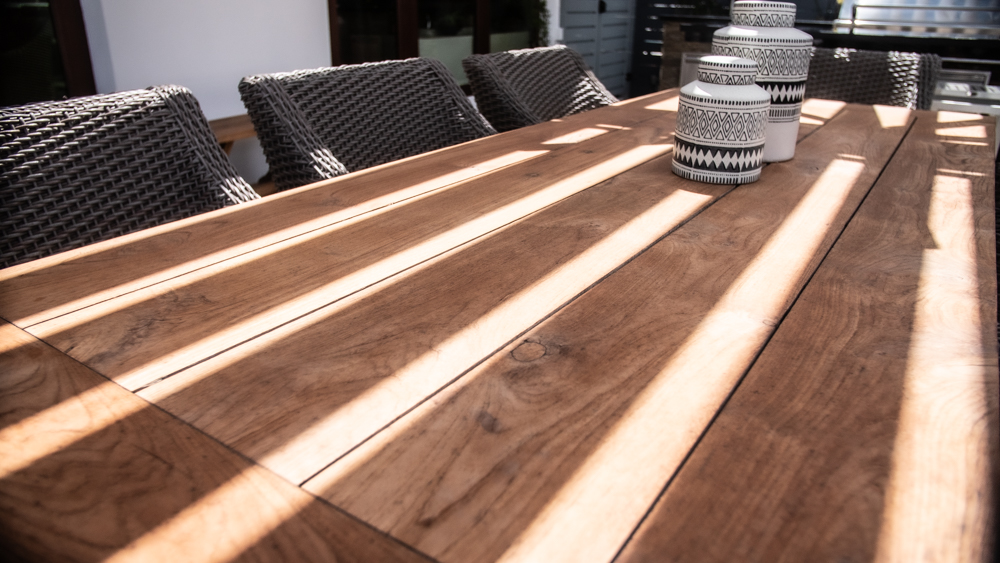 With its easy-to-use remote control and motorized, louvered roof, R-BLADE is fully adjustable, offering you a choice to relax in the shade or let the sun shines in. R-BLADE provides natural ventilation and is both waterproof and wind-resistant, seamlessly matching any outdoor space to fit all housing styles.
With no apparent hardware, an invisible gutter system, and fast, safe, and easy assembly, R-BLADE is unique in the market. The perfect outdoor option for creating a serene, seamless outdoor space, and gorgeous outdoor living.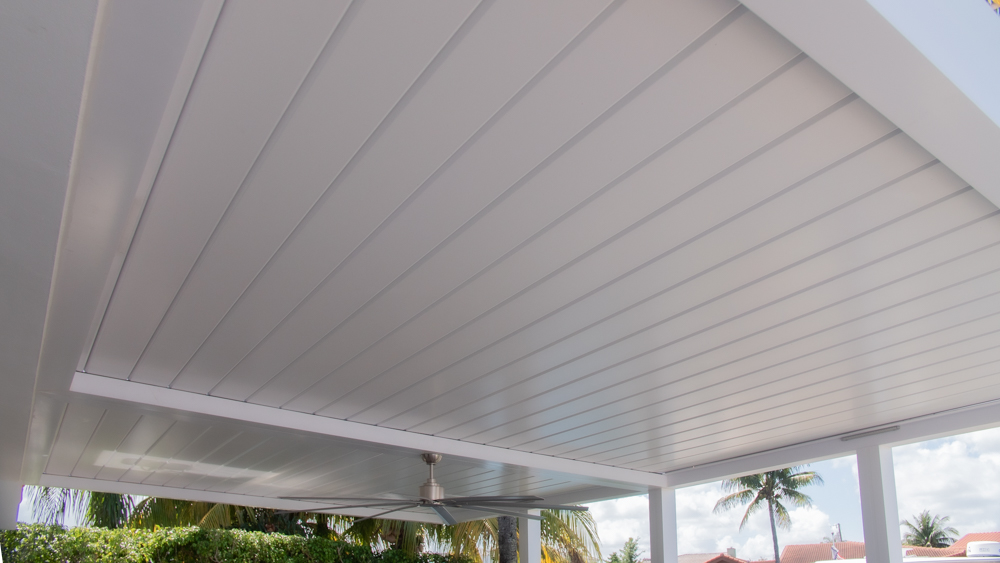 Just a few of the things that set R-BLADE and the louvered outdoor cover apart
Twin Wall Louvers – Unique in the market, R-BLADE's dual-wall louvers provide better sealing, no leaking, and improved wind-resistance. In fact, Azenco is so confident in their pergolas performance that the company provides a 100% waterproof guarantee.
Fully Modular, Free-Standing or Wall-Mounted – You can choose the option that works to create your perfect outdoor space with no visible hardware.
Made in Florida – R-Blade is crafted in Florida by one of the most trusted high-wind manufacturers in the marketplace. As the experts say, "If it works in Florida, it will work anywhere!"
Cutting Edge Production – Azenco, the creator of R-BLADE uses a cutting edge production facility with precision machinery and patented designs. You'll find nowhere else to create the covered outdoor kitchen of your dreams.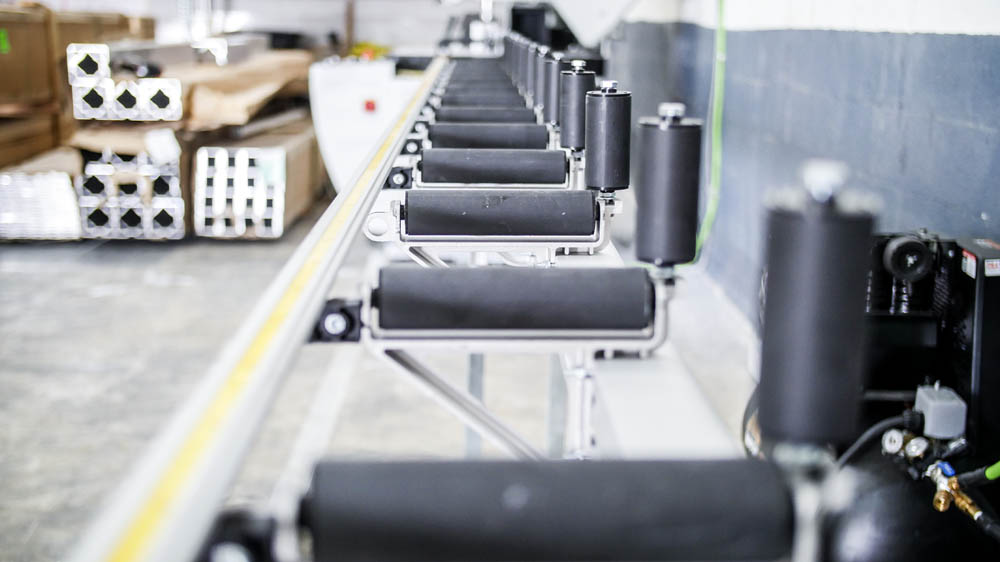 R-BLADE comes with a host of options to choose from to customize your outdoor space and enhance your comfort
Infrared heating system – Stay toasty warm all year round with R-BLADE's infrared heating option. The system provides warmth on the coldest day so that you can love your outdoor throughout the fall and winter.
Rain and/or wind sensors for automatic closing – Protection for the outdoor kitchen with sensors that automatically close the louvered roof in response to rain or wind.
LED spot beam – The LED Spot Beam option complements R-BLADE's already existing lighting offer. Light your perfect outdoor scene with either a low voltage LED Spot Beam or LED Rail options. Whether you want a direct glow or an ambient light, you can achieve perfect customization of the light pattern in your outdoor kitchen.
Fascia ends – Your home and outdoor spaces are unique. That's why R-BLADE is now offered with new decorative rafter tail design options. It frames your outdoor structure and achieves your desired look and feel.
Insect and solar screens – Motorized or manual exterior Solar and Insect Screen Systems are available in several colors. R-BLADE's retractable outdoor screen options provide energy-efficient sun shading and protection from insects. The screens allow for improved climate control so that you can enjoy every moment in your covered outdoor kitchen.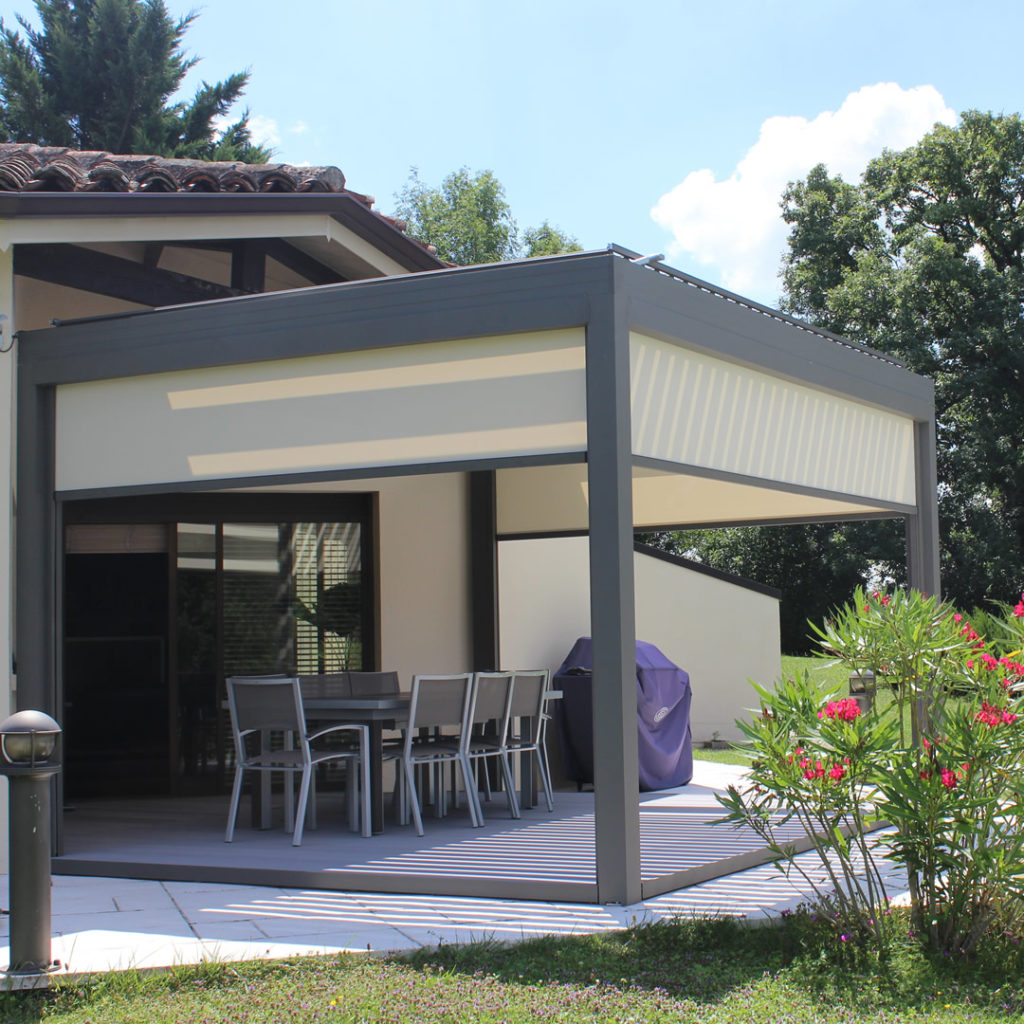 Azenco for the Covered Outdoor Kitchen You've Been Dreaming Of
If you're ready to create a gorgeous, comfortable outdoor kitchen that is protected from the elements and provides an oasis for your outdoor cooking and dining, R-BLADE from Azenco will help you reach your goal.
Azenco is one of the most reliable manufacturers in the market today. R-BLADE's twin-wall louvers provide optimal sealing and resistance, and a high-tech motorized system. The patented louvered pergola lets you enjoy the best your backyard has to offer in indoor/outdoor living.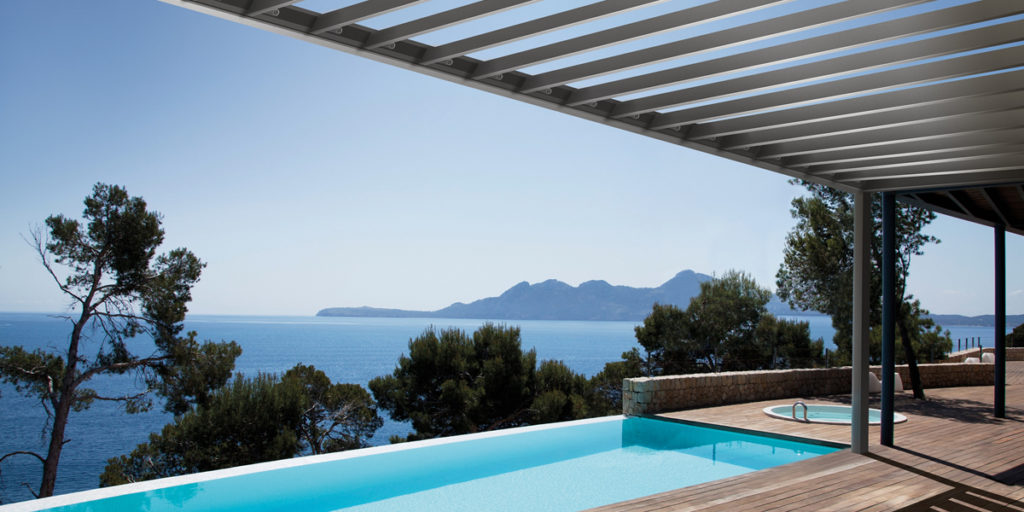 When you are ready to design the covered outdoor kitchen of your dreams using European design, quality, and expertise with products made in the U.S.A., contact Azenco and optimize your outdoor living.