When you think about it, pergolas are better than arbors and gazebos because of their unique roofing systems.
Why would you need a roofed pergola?
Well, for starters, because it is uniquely designed to let some sunlight shine through while also providing partial shelter and shade in a garden or patio. It's the perfect addition to the outdoors as it allows you to enjoy nature while dealing with changing weather conditions.
Popularity of Pergola Roofs Throughout the Centuries
Pergolas have been a popular shade solution since the dawn of ancient Egypt. The Romans made pergolas a quintessential aspect their public and private bathhouses. The ornate pergolas of the Renaissance built of marble and stone, still stand today.
While pergola designs have changed over the centuries, the one very consistent design element has been the slatted pergola roof. The partial shade of an open louvered pergola roof instantly brings an Old World feel to any outdoor space. Modern pergolas, with advanced powder coatings and customizable designs, can also compliment any type of architecture from country relaxed, to nouveau contemporary. So, it's no wonder that homeowners love pergolas with their slatted roofs.
And that's just the start. Talk to a reliable pergola builder, and they'll introduce you to a world of options. For example, did you know that you can build a pergola with a mechanized roof that automatically adjusts to provide optimum sunlight and ventilation? You can even add dimmable lighting systems and remote-controlled retractable paneling. In short, your pergola can have it all.
What Material Should Your Pergola Roof Be Made Of?
Roofed pergolas have a certain elegance to them. But more importantly, they provide functionality and durability –this depends significantly on what material the roof is made of.
Choose what's right for you depending on the weather conditions in your locale. Imagine having a fabric roof that isn't waterproof in a city where it rains all week. No one wants to deal with the aftermath of that!
So let's explore your options:
Wood is a very traditional material from which to fabricate pergola roofs. Most contractors will be able to design and install a wooden pergola for your home readily easily. While a wooden pergola roof may seem like an accessible option, wooden roofs have some serious drawbacks.
First, wood tends to rot over time, especially when exposed to excessive sun and routine rains.
Wooden roofs will also need to be clad in shingles, which require regular maintenance.
A metal pergola roof, on the other hand, will deliver a lifetime of durability with minimal maintenance. Our aluminum pergolas are treated with an exterior powder coating that protects against damaging heat and seals out rain and atmospheric moisture. Most impressively, an aluminum pergola roof is strong-yet-lightweight so it can uniquely accommodate integrated amenities such as embedded LED lighting, motorized retractable curtains and motorized louvered roofs.
For homeowners looking to bring the rustic style of a wooden pergola roof to their patio, pool deck or garden, our modern aluminum pergolas can be coated with several wood grain powder coatings. This offers the modern advantages of an aluminum pergola with the natural look of a wooden roof. These wood grain powder coatings can cover the entire pergola, including the roof, frame and support columns, or can be added as an accent to more standard pergola colors like white, black, grey and bronze. With wood grain roof panels and a dark solid-color frame and column design, a pergola takes on a look of relaxed refinement.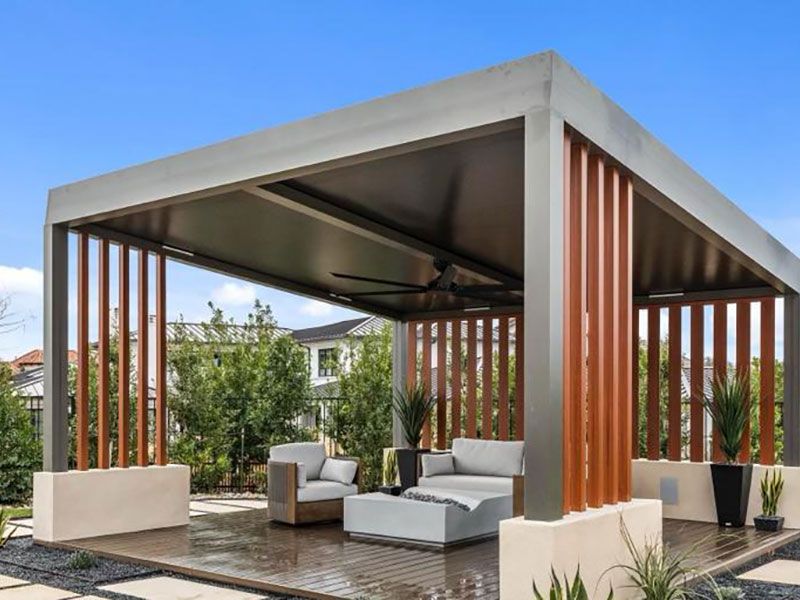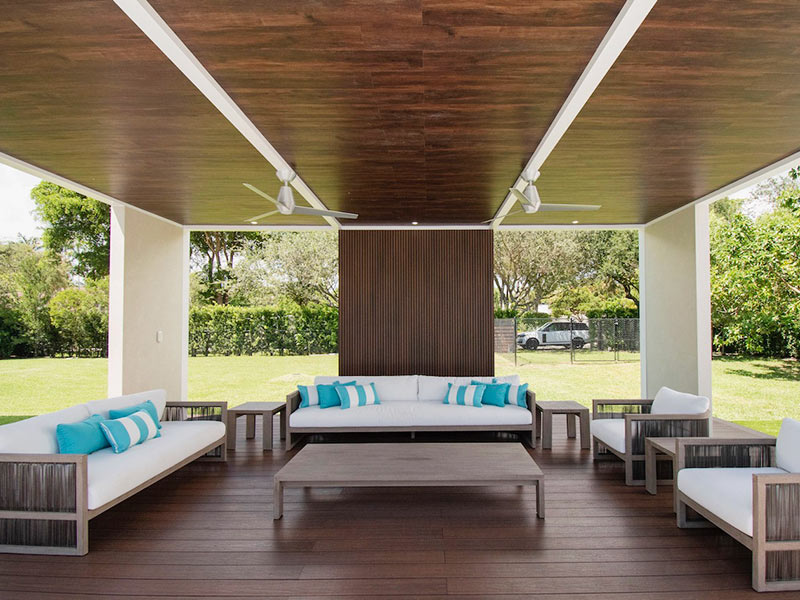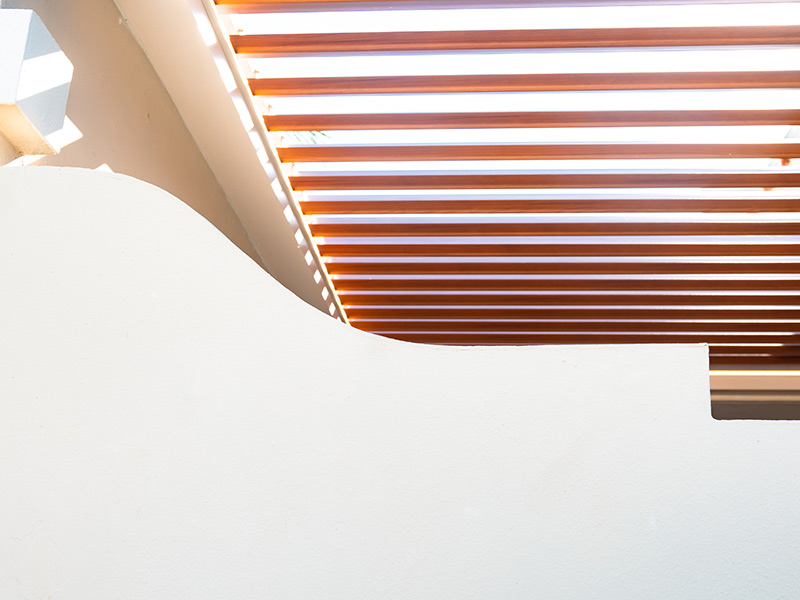 This one is basically a pergola with an aluminum alloy roof, meant to protect from extreme sunlight and winds. Although they are non-retractable, they can still be adjusted for optimum airflow and sunlight penetration. All you need to do is tilt the rafters or louvers so they open at the correct angle, or you could close them all the way.
As mentioned earlier, you can even automate the pergola to close, open or adjust automatically.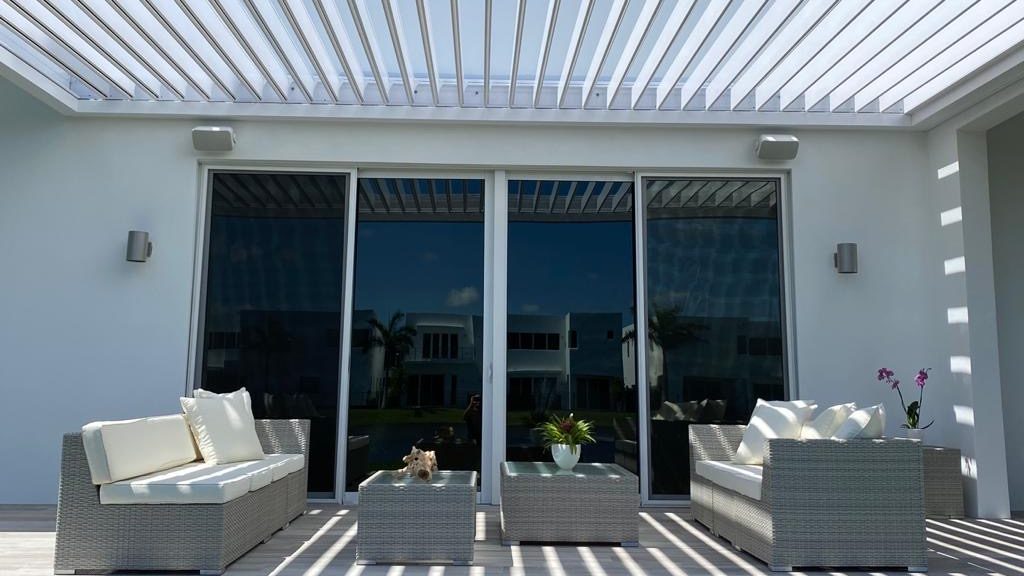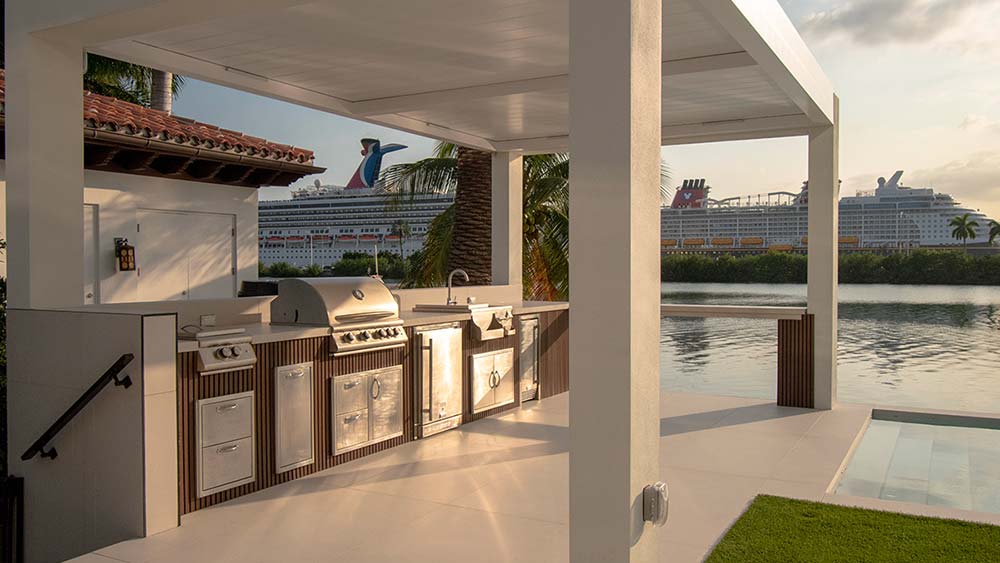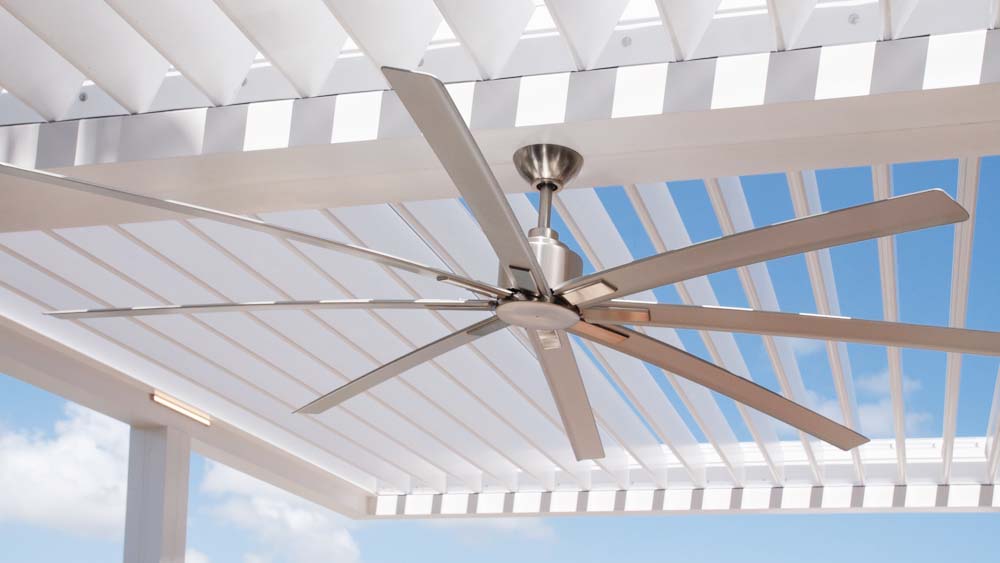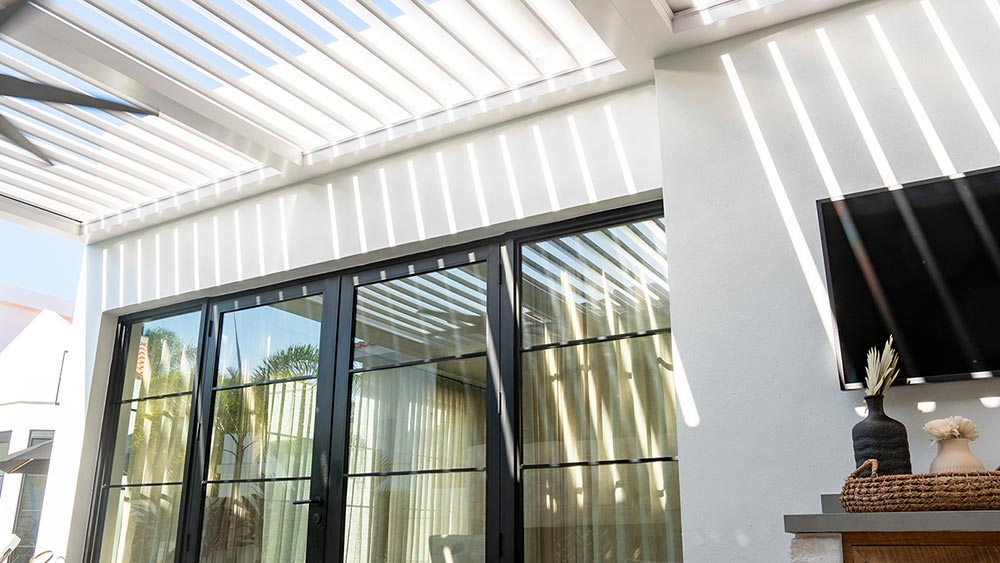 Metal Louvers Are Best for a Pergola Roof
Whether choosing mechanized or manually adjusted louvers, the material the roof is made from is an important consideration. Marble and stone are best left to the ancients. Wood can impart a rustic or Old-World feel, but is prone to rotting over time. Vinyl or plastic will look great at first, but will eventually fade and distort. Metal louvers, like aluminum, are the ideal material for a pergola roof. Aluminum is strong and lightweight, making it possible to automate their controls with quiet electric motors. Protected with high-quality powder coating, a metal roof will seal out the corrosion-inducing rain, ice and snow to last a lifetime.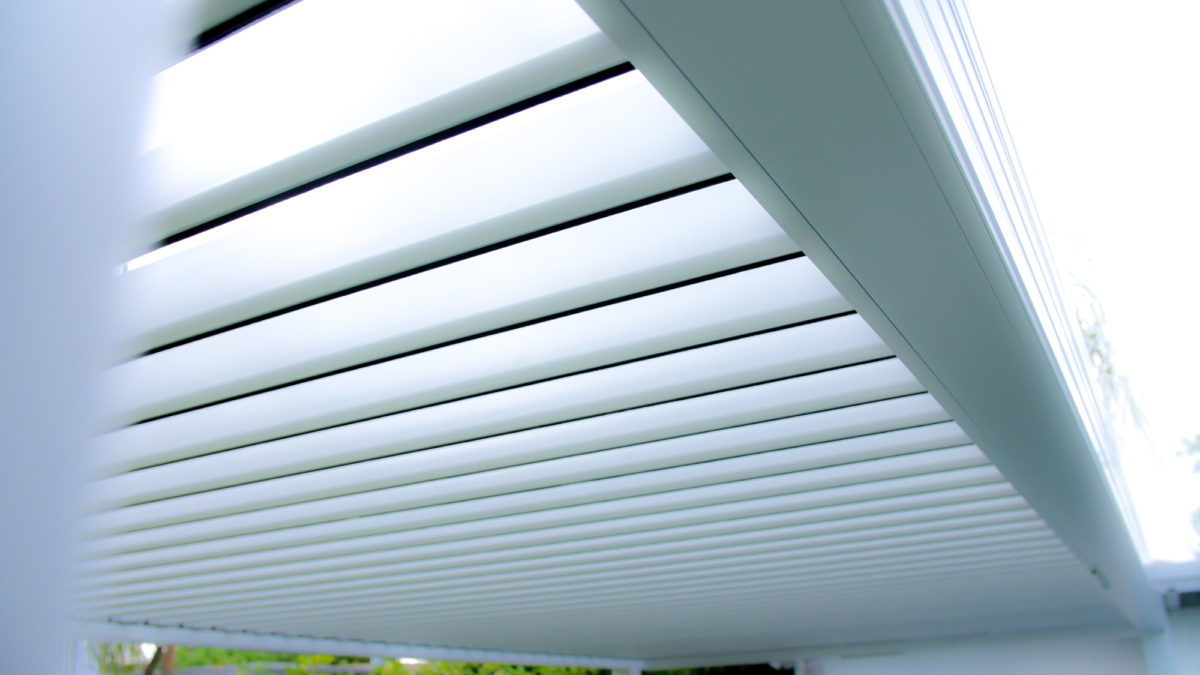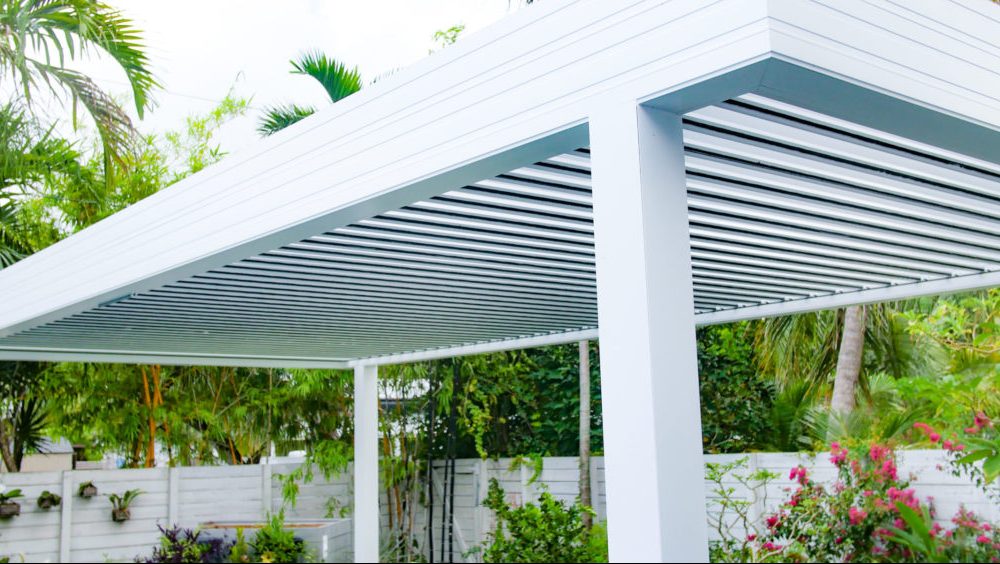 Louver Design is Important
Not all metal louvers are created the same. Some are simple single-layered wood or steel. This basic design is fine for blocking the sun, but leaves the shaded space below the pergola susceptible to annoying drips when it rains. Azenco uses a unique dual-walled louver design that channels water into an integrated drainage system and away from the outdoor living space below. Homeowners researching a louvered pergola roof for their home should make sure to ask their dealer how the louvers will handle rain water. Even better, ask them to demonstrate the drainage system first-hand.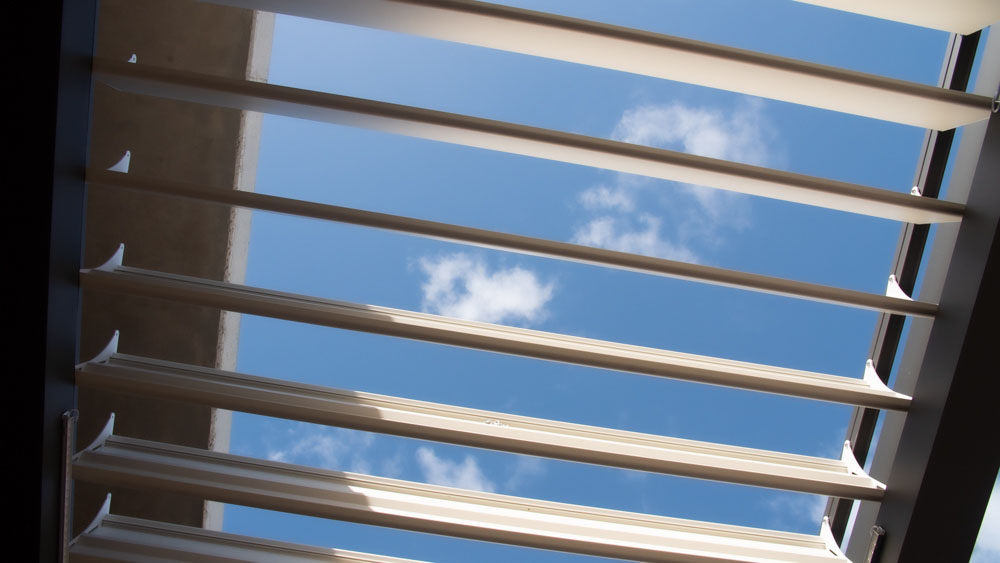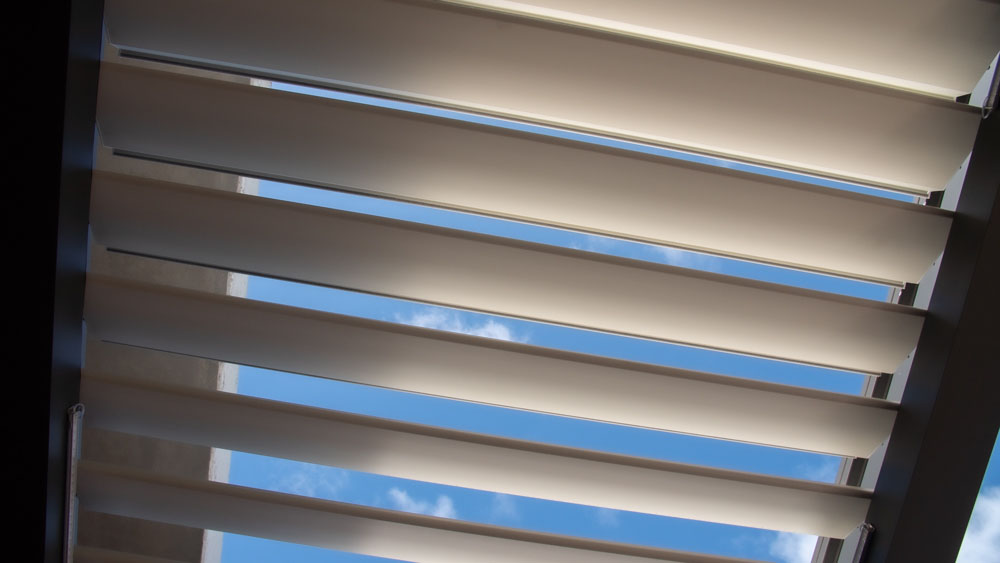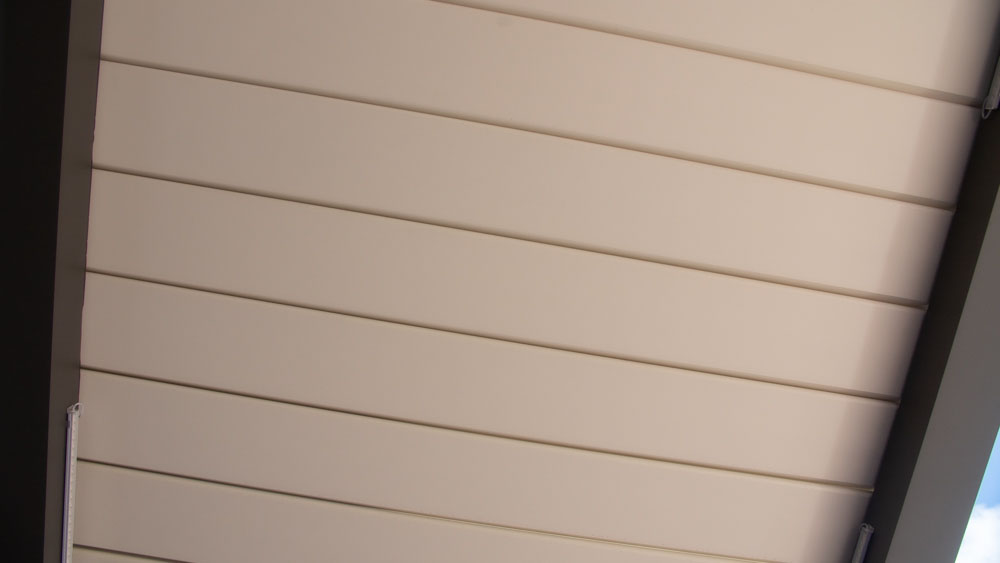 Motorized Adjustable Louvered Roof Pergolas
The most flexible pergola roof design available is a motorized adjustable louvered roof. With the right type of louver, even an adjustable louvered roof can provide the sun and rain protection of a gazebo with the flexibility of a retractable canopy. If you want to be free to enjoy full sun exposure by day, open the pergola roof to see the stars at night, and still ensure full rain protection for your outdoor living area, then a motorized adjustable louvered roof is the ideal solution.
Insulated dual-walled louvers are a must
When selecting an adjustable louvered roof pergola look for insulated dual walled louvers that will repel the sun's heat. Also look for louver panels that extend all the way into the surrounding pergola frame. This overlap will create a tight seal that ensures all the rainwater flows across the louvers and into the internal drainage system. If the pergola you are considering allows sunlight to creep through the gaps at the edge where the louvers and frame meet, you can expect water to drip down there as well.
Prefer an automated vs. hand crank mechanism
While many adjustable louvered roof pergolas on the market offer manual hand crank mechanisms to angle the louvers, our Azenco R-BLADE puts an easy-to-use remote control at your fingertips so you can control the perfect angle of the louver yourself. If you are looking for even more intuitive control of the louvered roof, the pergola can be integrated with your preferred digital home assistant like Apple's Siri or Google's Alexa. With simple voice commands, you will be able to adjust the louvered roof, dim embedded LEDs, open and close retractable privacy curtains, and more.
Rain, wind and thermal sensors for additional comfort
A modern motorized adjustable louvered roof pergola can also be turned into a smart pergola with the addition of a weather-monitoring sensor array. A rain sensor will watch for rain showers, and automatically close the louvers when a shower is detected. This allows you to enjoy an uninterrupted dinner party without having to scramble to close the roof when the rain begins. For areas that see regular wind storms, a wind sensor can be included in the pergola design to track wind gusts. When potentially damaging winds are detected, the smart pergola will automatically open the louvered roof to protect itself from damage. For homes in colder climates, a thermal sensor can be embedded to monitor for freezing temperatures. If extended cold spikes are detected, the pergola can be programed to open its louvers to reduce snow loads and prevent damage from freezing ice.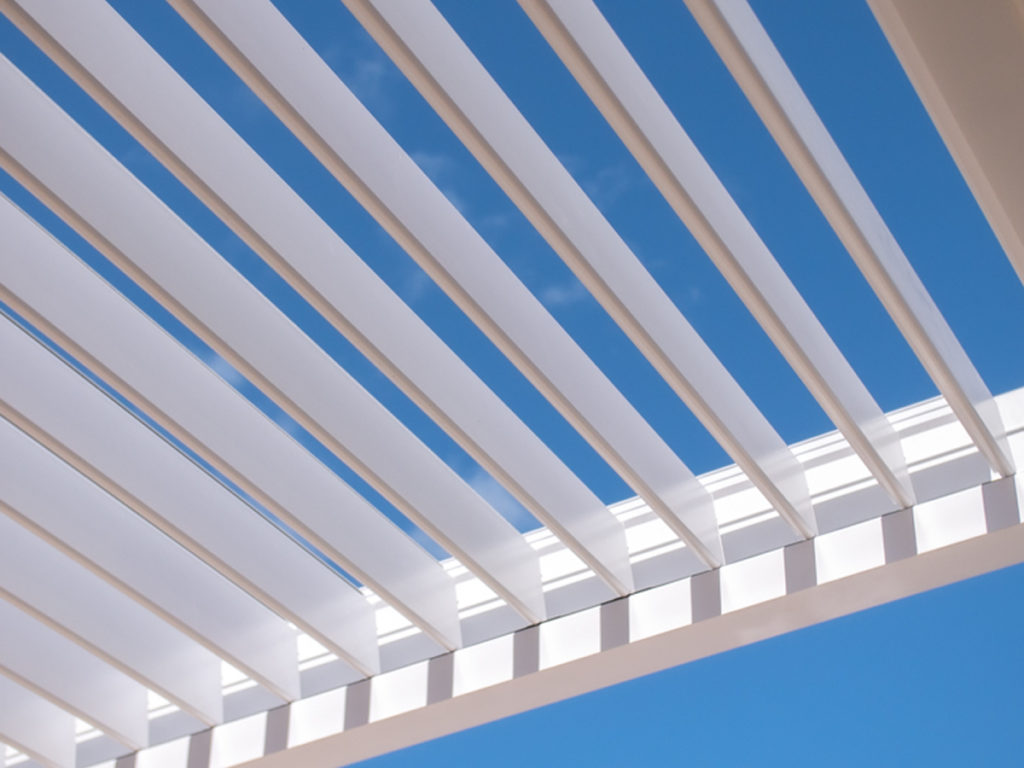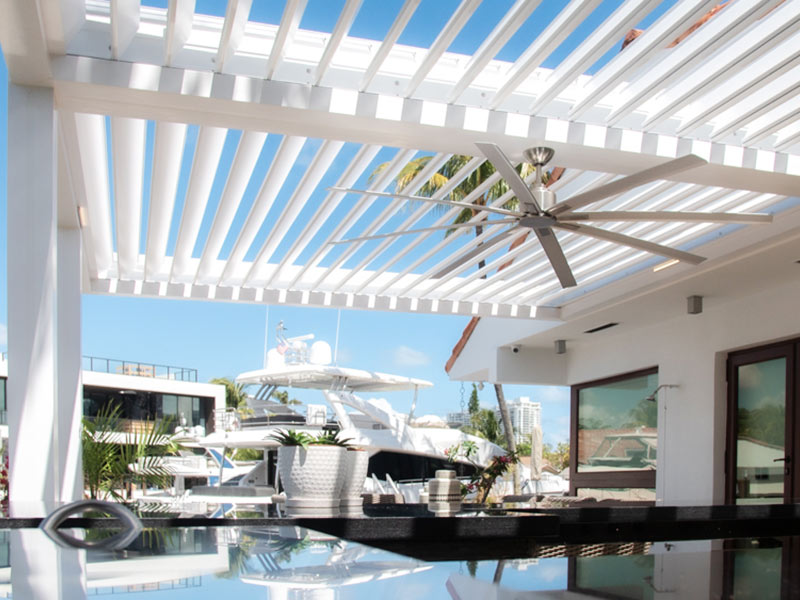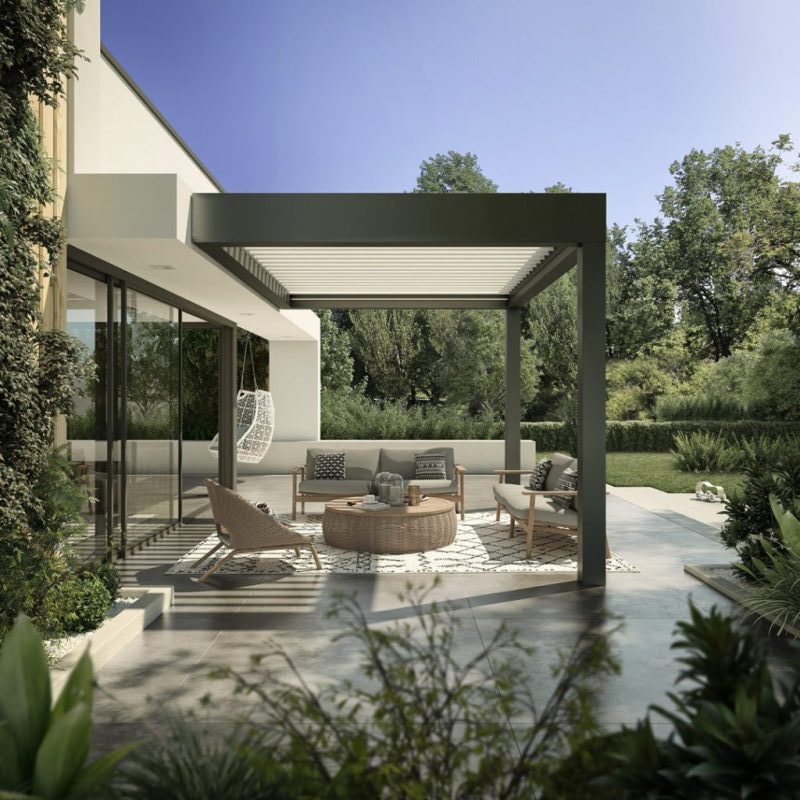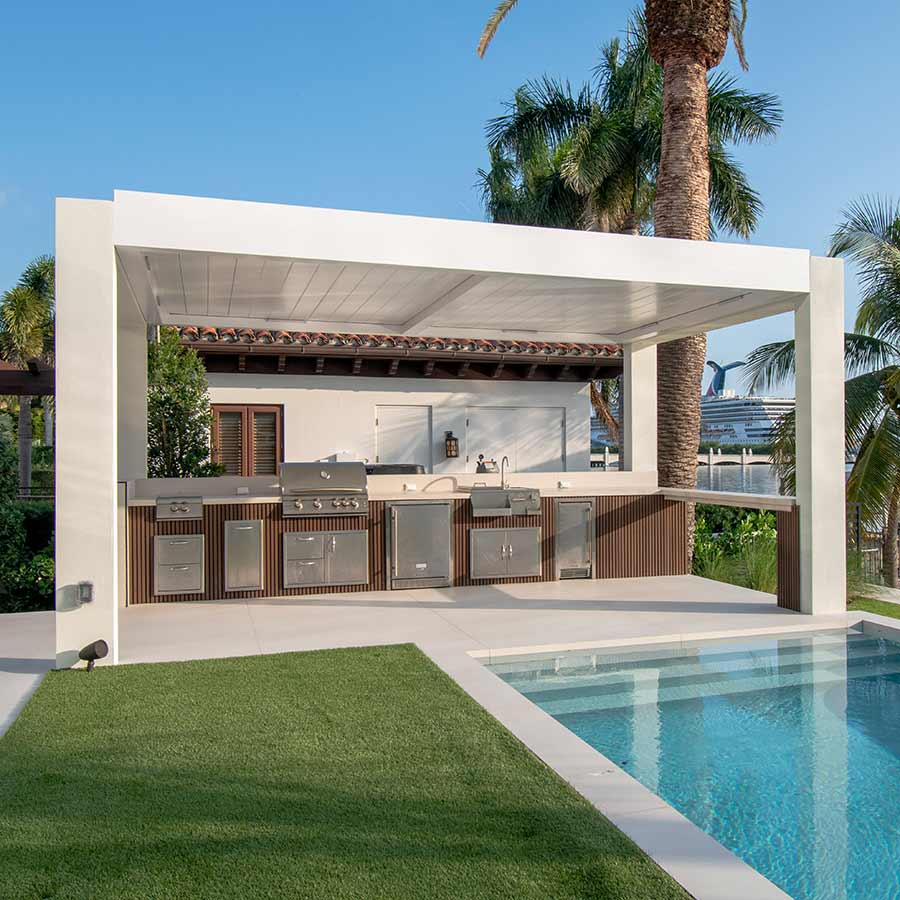 This is a growing trend in the pergola community. Homeowners are drawn to this style of outdoor pergola roof because of its contemporary visual appeal. It involves building the pergola roof from a transparent plastic material that's either plexiglass or acrylic.
A pergola with a polycarbonate roof provides a semi-shaded experience where you can still enjoy the sunlight.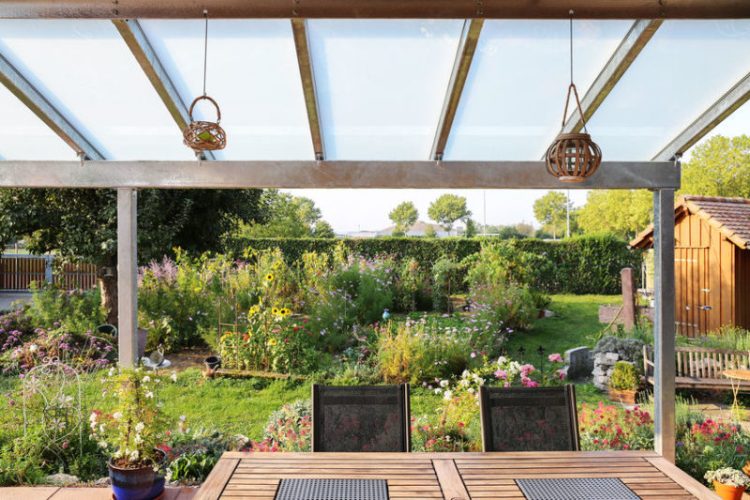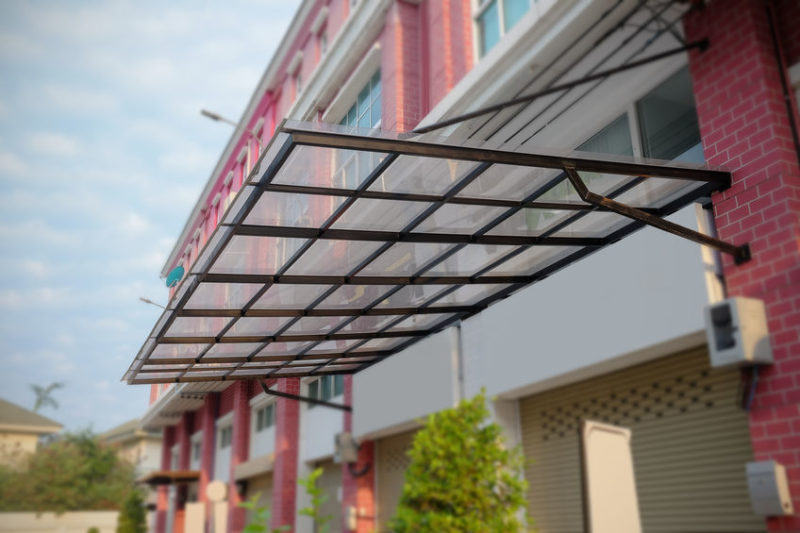 Insulated Sandwich Panels
An alternative to transparent static roof panels that allow the sunlight through, insulated sandwich panels are an upgraded option for patio covers intended for full-time shade. The dual-wall design of these roof panels better reflects the sun's heat away from the outdoor living space below to keep it cool on sunny days. For colder weather climates, the insulated roof panels can help retain warmth under the pergola as well. Combined with motorized retractable curtains, this roof type allows residents in snow country to enjoy their outdoor spaces year-round. Additionally, while many aluminum featuring single-walled roofs will look suitable when first installed, over time, they can present issues as the material wears. Thin single-walled roof panels can warp over time under the stresses of extreme heat and shocking cold.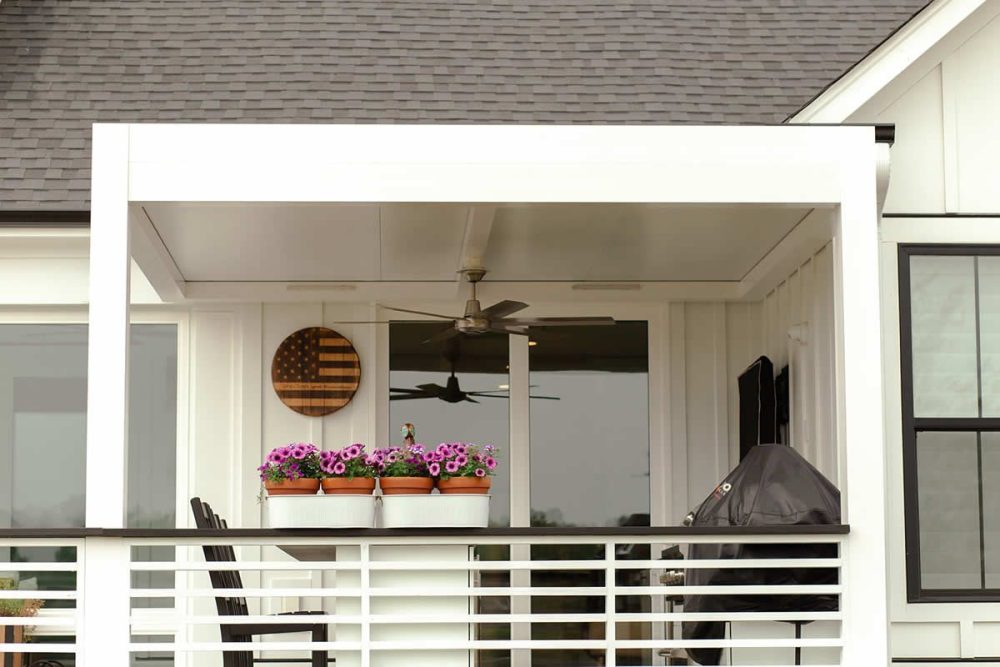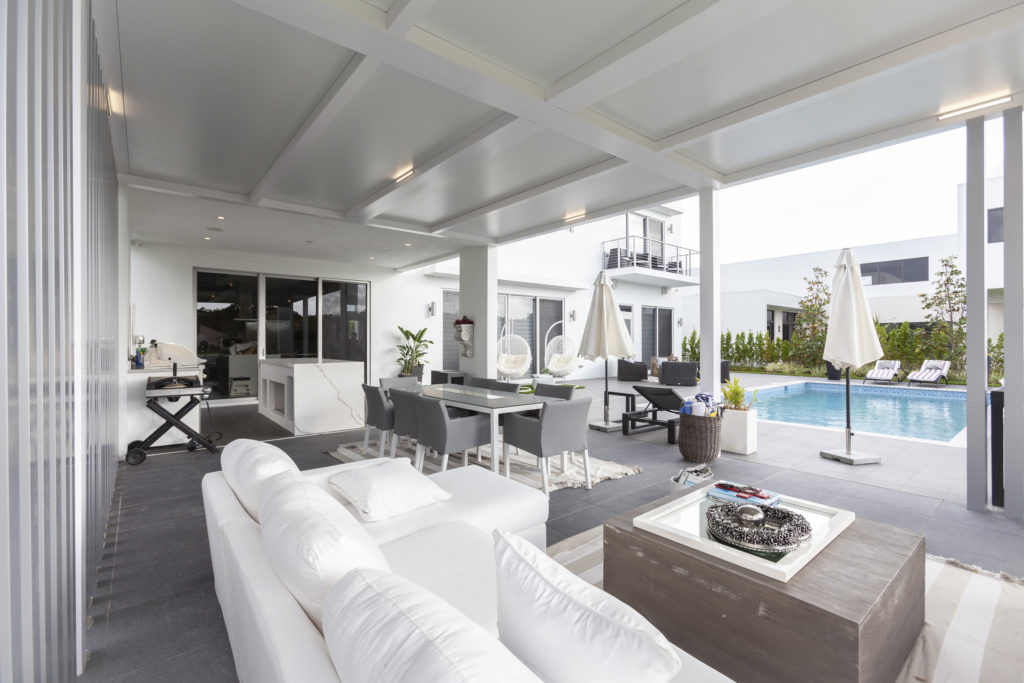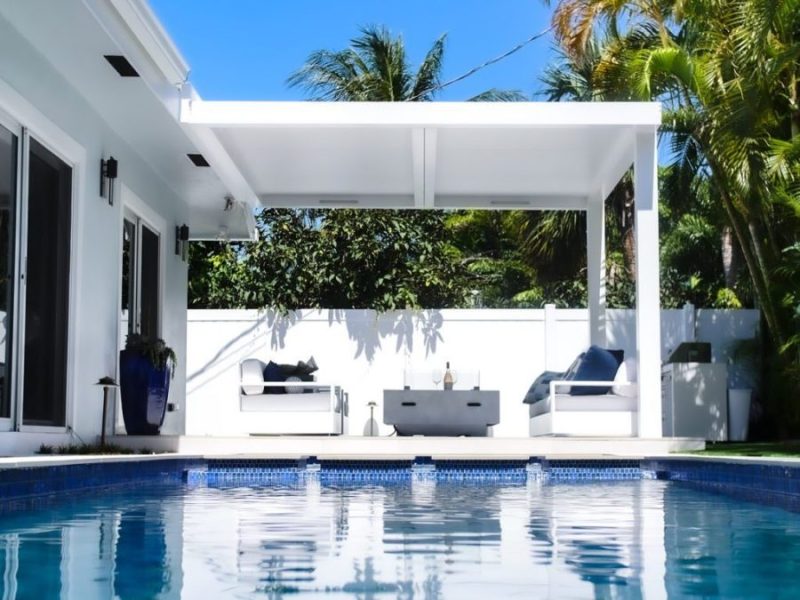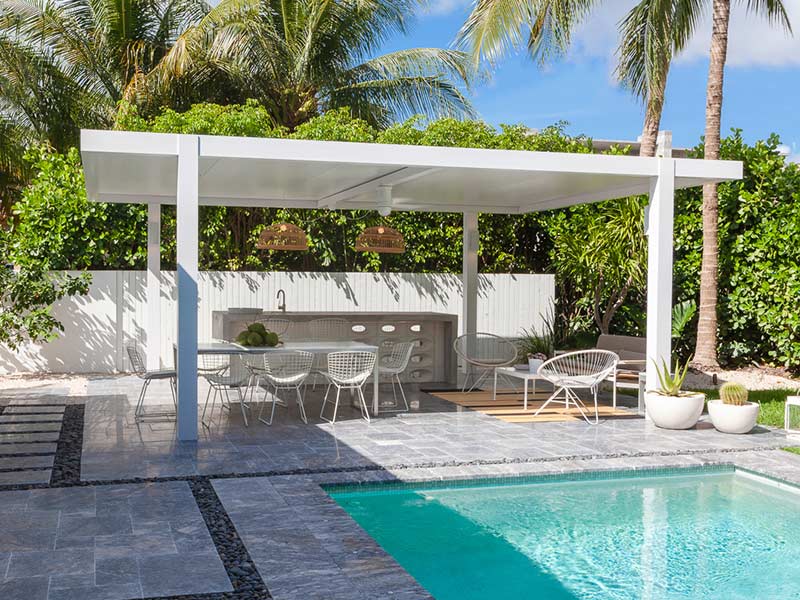 A solar pergola not only generates electricity, but creates a comfortable full-time shade space in the yard for entertaining. Building off the insulated sandwich panel roof, homeowners looking to reduce their reliance on the electric grid can adopt a fixed-roof pergola affixed with solar panels to generate their own energy. Installing a pergola with solar panels also keeps the sometimes-unsightly panels off the roof of the home where they can detract from the home's curb appeal. Additionally, a solar pergola can be positioned anywhere on the property to maximize direct sun on the panels to optimize energy generation.
A solar pergola is a great option for homeowners looking to power the built-in pergola amenities like motorized retractable privacy curtains or embedded LED lights without having to hardwire their pergola to their home's electrical infrastructure. For electric vehicle owners, a solar panel-equipped pergola roof can even generate enough electricity to keep a daily driver charged up.
Another non-retractable option for a pergola roof is fabric. For this type of roofing, the material is stretched over the rafters and pulled straight.
Fabric protects from sunny and rainy weather, but only if you use a water-resistant material. Ordinary fabric will serve no real purpose other than adding to the visual appeal, but it would not be durable.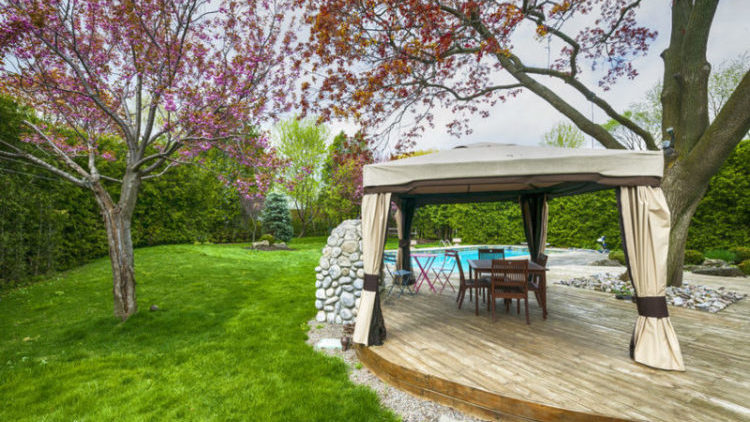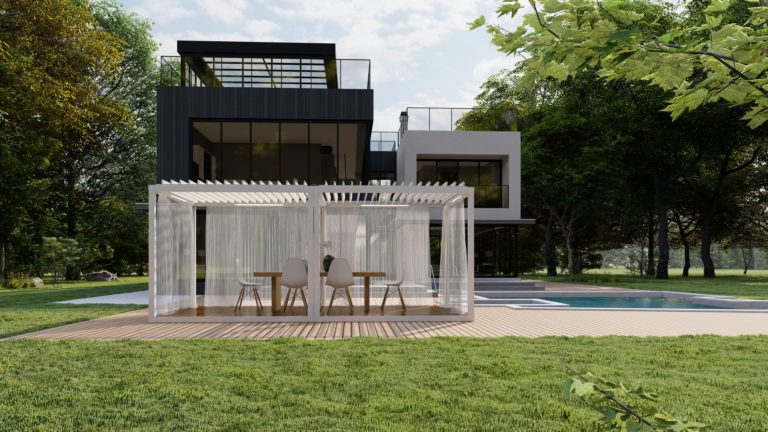 Retractable roofing is considered a practical option because you get the full pergola experience but with the option to completely retract the roof like it was never there.
It starts as a full roof pergola, protecting larger areas from inclement weather. The good news is that this option also has motorized versions, so you don't have to put in manual labor every time you decide to soak in some sun in your pergola.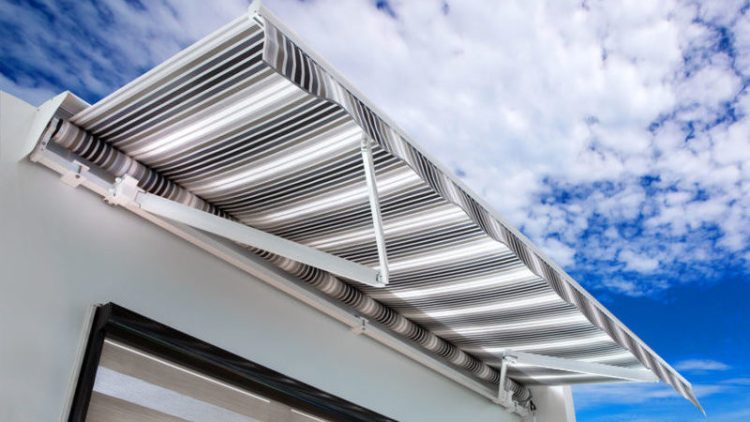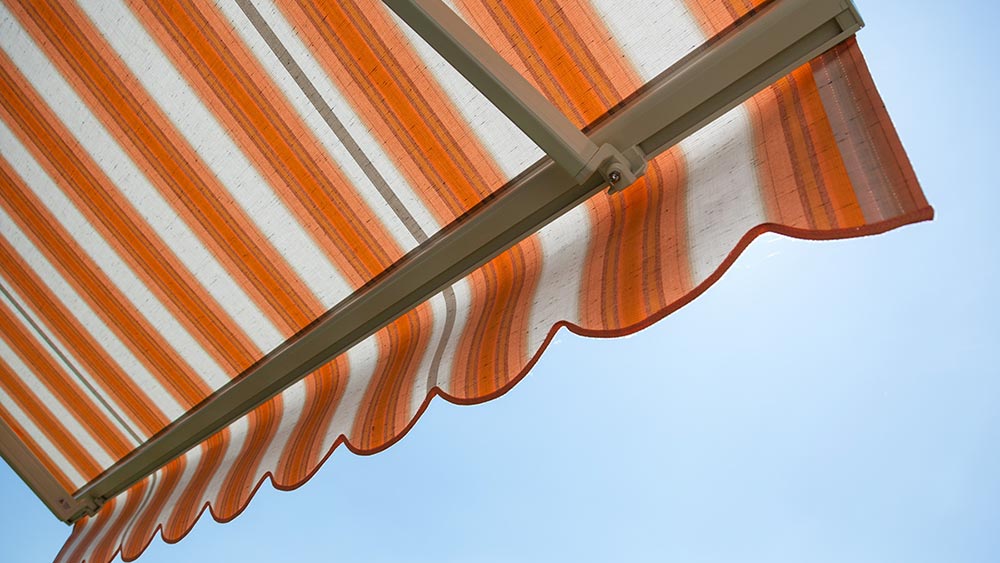 Select the Right Pergola Roof
Good design is not just about creativity but also common sense. When selecting a roof for your pergola, think about how often you'll be using it and what times of the year. The right choice depends on your personal design aesthetics for your home, as well as what you need to ensure maximum functionality.
Remember, we've only mentioned some of the top-selling options here. You could also opt for fabric, straw, plants, wood slats, bamboo, and a range of other materials for your pergola cover. It's best to consult with a professional to help you explore these pergola ideas with a roof.
Also, make sure you are working with a qualified pergola contractor. Here at Azenco, we have built a nationwide network of qualified expert pergola contractors. Each has been trained by our team to perfect their pergola installations. This not only means your high-tech pergola will stand the test of time, but it also means you can always expect timely delivery and the right sale price.
Please reach out to the pergola roof experts at Azenco Outdoor for significant quality installations and unique designs.