Whether you are looking to create a relaxing space to sip your morning coffee or an expanded entertainment space to host larger festivities, a covered and screened outdoor room can be a great way for homeowners to make the best use of their backyard space. The addition of a screened-porch is often the first thought homeowners have as they consider such a home renovation project. The screened-in porch certainly holds a nostalgic feel, but it's static roof also limits the potential of the renovation compared to a more flexible solution like a screened-in pergola. Let's explore some of the advantages of choosing a flexible adjustable louvered roof pergola for this outdoor space.
1. Control Sun and Shade with a Pergola Porch
If you are designing for the classic stylings of a Southern farmhouse or scenic lake home in the Adirondacks, then maybe the screened-in porch is worth considering but know that the static roof means your outdoor space will be permanently shaded. Alternatively, choosing a pergola to cover an elevated porch or a ground-level patio, gives you multiple roofing options. One great option is an adjustable louvered roof that allows you to open and close the louvers to control the amount of sun reaching the porch or patio. Additionally, modern pergolas can be customized to fit any architectural style, so they can fit the rustic look of your lake home exterior or provide a sleek accent to more contemporary homes.
---
2. Blocking Out the Rain
Obviously, the primary reason to cover a porch, deck or patio is to provide protection from the rain, and in some climates, falling snow. On a screened-in porch the roof will be clad in shingles or tile to match the rest of the home. This type of roofing will certainly block the rain, but so can an all-weather pergola…if you choose the right one. Roofing options for today's powder coated aluminum pergolas can include fixed insulated sandwich panels that provide full-time shade or the aforementioned adjustable louvered roofs that open to let in the sun.  With the latter option, it's imperative that you choose a pergola with a dual-walled louver designed to totally seal out the rain, and collect any annoying drips into an integrated drainage system.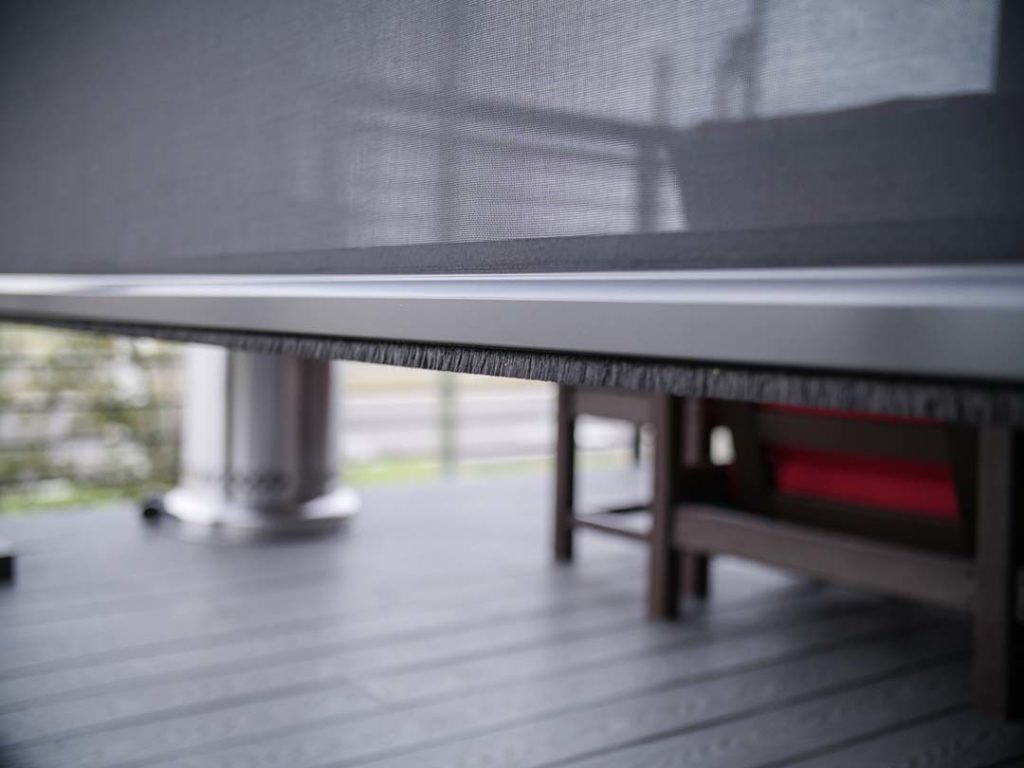 ---
3. Screened-In Pergola On Deck
For homeowners that already have a deck attached to their home, enclosing that space may seem like the easiest option. Adding a permanent roof to turn the deck into a more traditional screened-in pergola will still require more extensive renovations to properly attach the roof to the home. This often necessitates removing siding, adding flashing, and then sculpting the exterior to make a seamless connection. Of course, that roof addition eventually becomes a common point for leaks. Alternatively, a pergola porch can often be easily anchored to the existing decking, which can save on reinforcing concrete footings and trying to get the new roof to match the existing home.
---
4. The Right Screened in Porch with Pergola Still Ensures Bug Control
When keeping pesky bugs out of the screened-in area is of prime concern, most homeowners would think a screened-in pergola would be a more fitting option. Afterall, that's the point of all the screens, right? Well, so long as you choose a truly gapless louvered roof design, and the retractable screens extending all the way to the ground, the pergola will block the buzzing invaders just as it does the rain. The Azenco R-Blade motorized louvered roof pergola is one of the few models on the market capable of both sealing out the rain and the bugs.
---
5. Smart Pergolas Make for Intuitive Outdoor Enjoyment
One of the coolest benefits of choosing an automated roof pergola is the option to integrate motorized controls to open and close the roof, and the side curtain screens, at the touch of a button. Obviously, no traditional-roofed porch can completely transition from full sun to full water-tight shade space. To make the entire experience totally intuitive, Azenco even offers embedded sensor arrays that monitor the weather to automatically open and close the louvers as the weather changes. With an integrated rain sensor, the louvers will close at the first sign of rain, a wind sensor will open the louvers to protect from storm damage, and a thermo sensor will open the louvers in extreme freezing conditions to prevent damage from ice and snow buildup.
6. Bring the Indoor Amenities Outside
Creating an elegant outdoor living space will undoubtedly draw homeowners to spend more time on the patio, but what keeps them coming back is access to the same indoor amenities that make living easy. Modern aluminum pergolas are built with hollow support columns and roof frames which can be leverage to hide wiring for outdoor electronics like embedded LED lights, electrical outlets, etc. With special attention from the fabricator, TVs can be mounted to the frame, patio fans can be hung from roof beams, and fans can be mounted to add some extra airflow. Choosing an automated louvered roof pergola also opens the space to hosting real wood fire pits, charcoal grills or full-blown outdoor kitchens appointed with outdoor sinks, cabinets, and wet bars. Additionally, motorized retractable outdoor patio screens can be embedded in the pergola frame allowing them to roll down at the push of a button to block the wind, sun or view of nosy neighbors.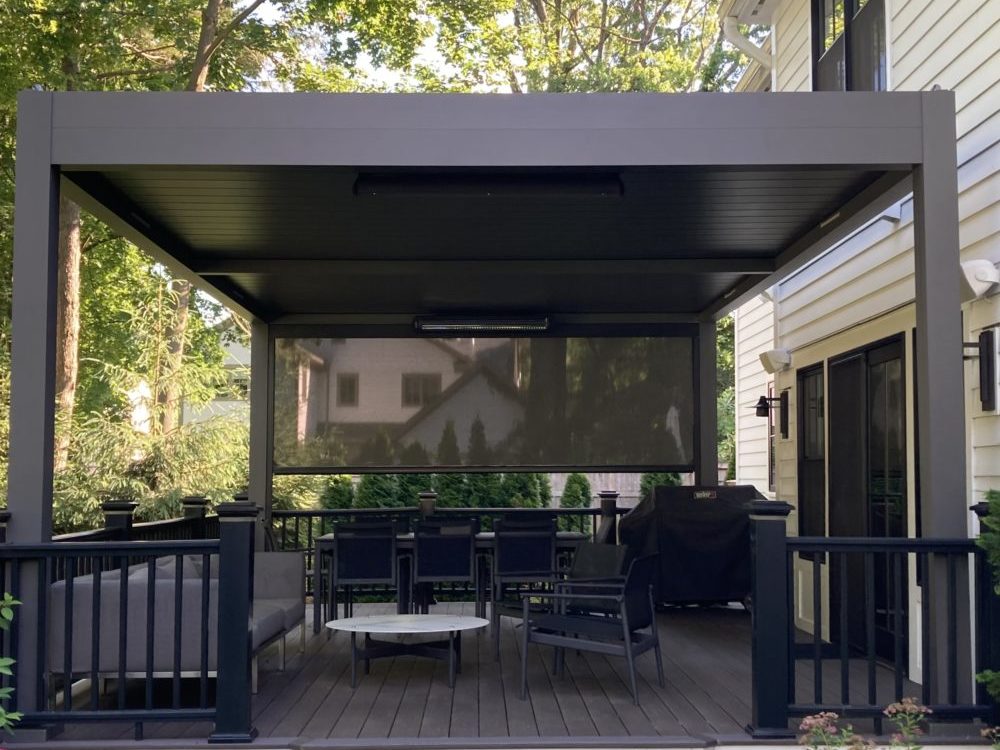 Conclusion
If you're considering adding a new screened-in pergola to your home, it's well worth your time to explore some more modern variations on that theme. Whether you are looking to create permanent shade for your outdoor space, or would prefer a more flexible roofing solution, there is a pergola ready to meet your design objectives.
---