Today's modern pergolas are designed to improve airflow throughout your covered patio. With adjustable louvered roof pergolas, a gentle natural vortex is created when they are opened. This keeps fresh air moving through the space, keeping you and your guests cool. But, for areas where simply circulating the dry heat or heavy humid air isn't enough to keep you cool, you can opt for some added power with a ceiling fan for your pergola. Outdoor fans for pergolas offer more control over the temperature in your outdoor living space, and they can provide some added style along the way. There are some key hardware features to look for when choosing a pergola ceiling fan, so let's take a look at some of the available options when evaluating pergola fan ideas.
Pergola Design for Patio Covers with Ceiling Fans
For homeowners or businesses looking to add outdoor living, or dining, spaces featuring a ceiling fan, there are some key design considerations to keep in mind. The first is pergola height. While a standard roofline for a pergola is about 10 feet, some extra clearance might be ideal to accommodate a fan for your pergola. Another core structural element of patio covers with ceiling fans is the need for a fan beam. This hollow aluminum channel supports the added weight of the fan, and provides space to hide the wiring from view. In solid fixed-roof pergolas, this hollow fan beam can easily be hidden in the sandwich panel roof, while a louvered roof pergola may need to be designed with split louver zones with a fan beam separating them. The final design element to consider is how the pergola will accommodate the fan's controls. Options can range from a hardwired speed-controlling dimmer dial to a handheld remote control. The fan controls can be totally hands free with smart home voice controls.
Hardware Features of a Fan for Pergola
With the pergola structure designed to accept a pergola ceiling fan, the next step is to select the fan itself. There are some important hardware features necessary for the fan for your pergola. First, the unit needs to be wet rated. Even though your fan will be protected from rain by the overhead pergola roof, this rating will help protect the unit from atmospheric corrosion. Second, make sure to look at fans fabricated from materials best suited to the outdoors, such as aluminum, stainless steel or plastic. Third, the overall size of the fan (usually measured by the diameter of the blades) is important to consider too. Larger fans spin at slower RPM, so they move more air but at slower wind speeds. Larger fans can also increase a "strobing effect" in any embedded LED lights. If you want to create a stiff breeze, then smaller fan units might be better. Fourth, it's imperative to make sure the fan has an AC (alternating current) motor, rather than the DC (direct current) motor seen in most home appliances. The main reason for this is to accommodate common building code requirements for appliances in outdoor use (DC appliances require extensive permitting). AC models are often more compact and quieter too. One final note on hardware selection: No matter the rating on the appliance, it will be living outside. So, its lifecycle is going to be limited. Expect to replace outdoor fans for pergolas roughly every three years.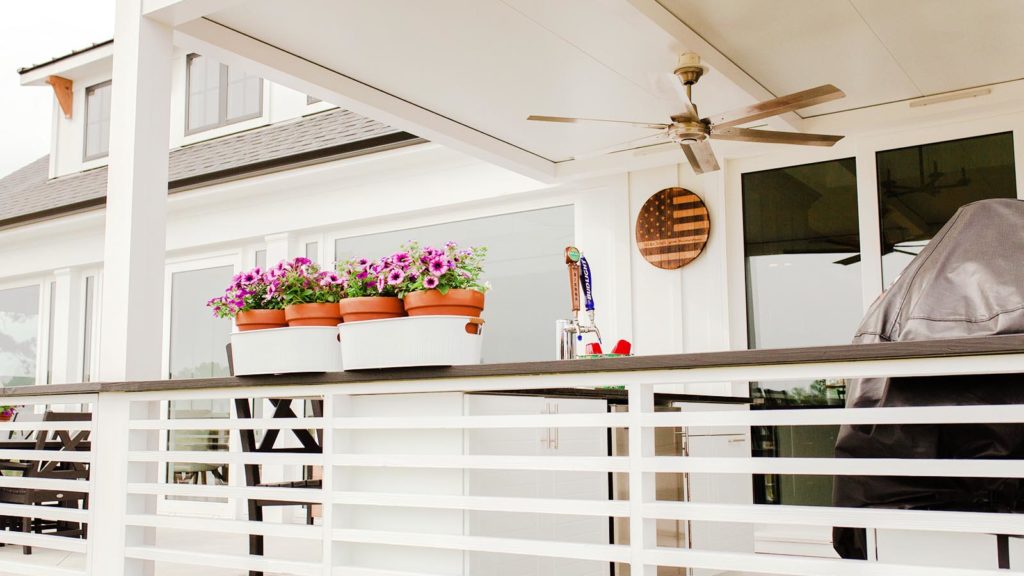 Fan Styles to Fit Your Outdoor Space
The fan for your pergola should not only cool the space but provide some style to the overall look of your outdoor space. Sufficiently weatherized ceiling fans for use in a pergola can be found in many styles, from wood grain exteriors to modern industrial brushed steel. They can feature anywhere from three to 10 blades too. Some manufacturers even offer units that house two mini fans for more directional control. 
When it comes to choosing the right fan for your pergola, our network of experienced dealers and installers will be able to help you navigate the selection process. Most often, we will recommend a couple of major brands. As its brand name indicates, Modern Forms offers numerous outdoor wet-rated fan models that bring a modern look to a covered patio. Also, Minka Aire is a renowned lighting and fan brand that has a massive selection of outdoor wet-rated fans. Our dealer in Palm Beach, Florida, SYZYGY Global, recently incorporated fans from minkaAire into an amazing covered outdoor dining space for the legendary Boca West Country Club.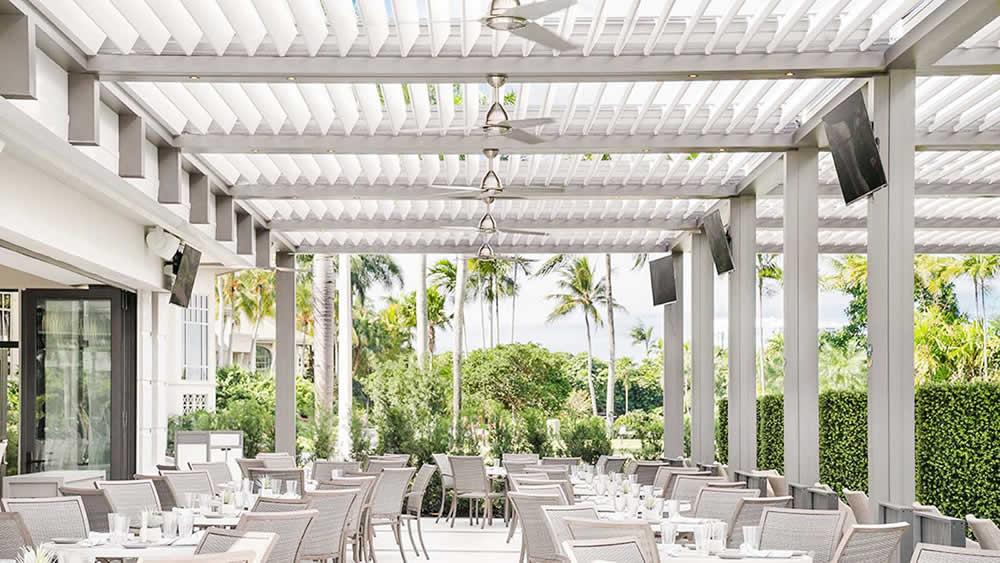 If you are envisioning cooler days in your backyard, patio or pool deck, a pergola will create the shade you need to spend all day comfortably relaxing. If you want more control over the cooling effects under your pergola, you should also consider adding a fan for your pergola. Contact us today if you'd like some assistance from our expert local dealers in designing your dream yard.