As the winter chill begins to descend on northern states, those who love spending time outside are looking for ways to extend their outdoor entertainment season. Whether you are looking to enjoy outdoor afternoons at your lake house in the New York Adirondacks, a picturesque beach home in New Jersey, or an Illinois backyard battered by lake effect snow, choosing the right pergola covers for winter can make all the difference in how long you get to use your outdoor living space each year.
Blocking Wind, Sleet and Snow is Primary
In northern climates where the freezing temperatures turn the slightest breeze into skin-chapping misery, the primary consideration for any winter-ready outdoor living structure is protection from the biting wind. Obviously, sealing out the chilling rain, sleet and snow are a priority as well. While enclosing an entire patio or deck with a permanent roof and walls would accomplish the goal, this type of outdoor room leaves little flexibility when the spring finally blooms again. The most dynamic option is a high-quality pergola with the right combination of winter-fighting comforts built into the structure and the decor below.
---
Characteristics of Pergola Covers for Winter
Pergolas can be fabricated from a lot of materials from wood to vinyl to aluminum. There are pros and cons to wood and vinyl structures (as we have discussed previously), but a high-quality aluminum structure is the ideal material when considering pergola covers for winter outdoor living.
Aluminum pergolas will carry a durable exterior powder coating that is designed to stand up to the ripping frozen rain and snow of winter. The powder coating can be fully customized to seamlessly accent any home exterior and fit in with any architectural style.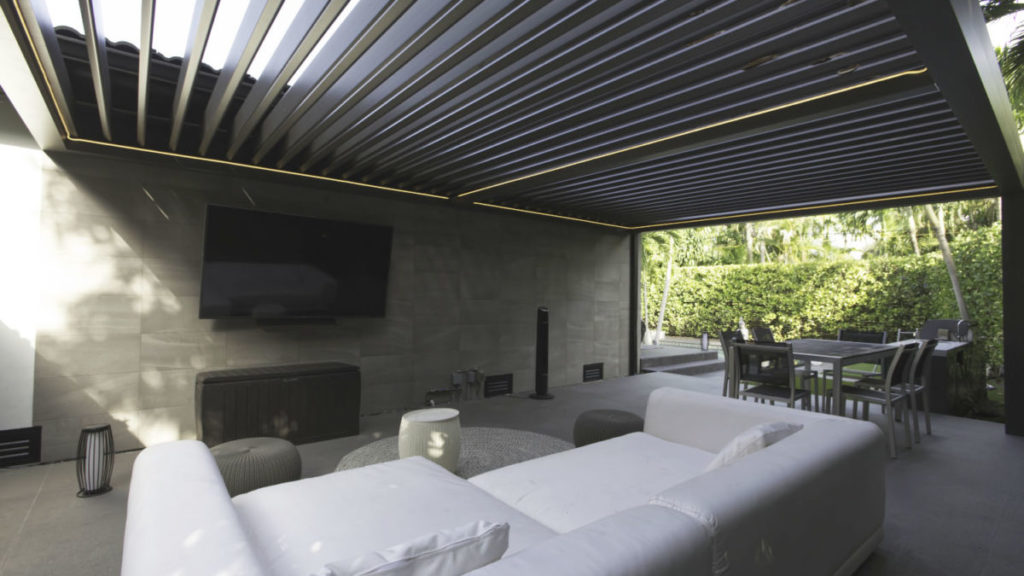 High-quality aluminum pergolas also feature hidden gutter systems that will collect melting sleet and snow, channeling the flow down through the upright supports and away from the living space beneath. Keeping runoff from pooling in the living space not only keeps feet dry but ensures lingering water does not freeze into dangerous ice patches. When evaluating the best aluminum pergola for your family's needs, there are two main roof options that are winter-ready.
---
Benefits of a Fixed-Roof Pergola
The first option is an insulated fixed roof pergola, like the Azenco R-Shade. This style of pergola leverages a sandwich-panel design to retain heat below the structure. The elegant lines and clean exterior look of our fixed-roof R-Shade makes it deceptively functional. The insulated roof provides space to incorporate embedded heaters, can support solar panels to power the heaters and other accessories.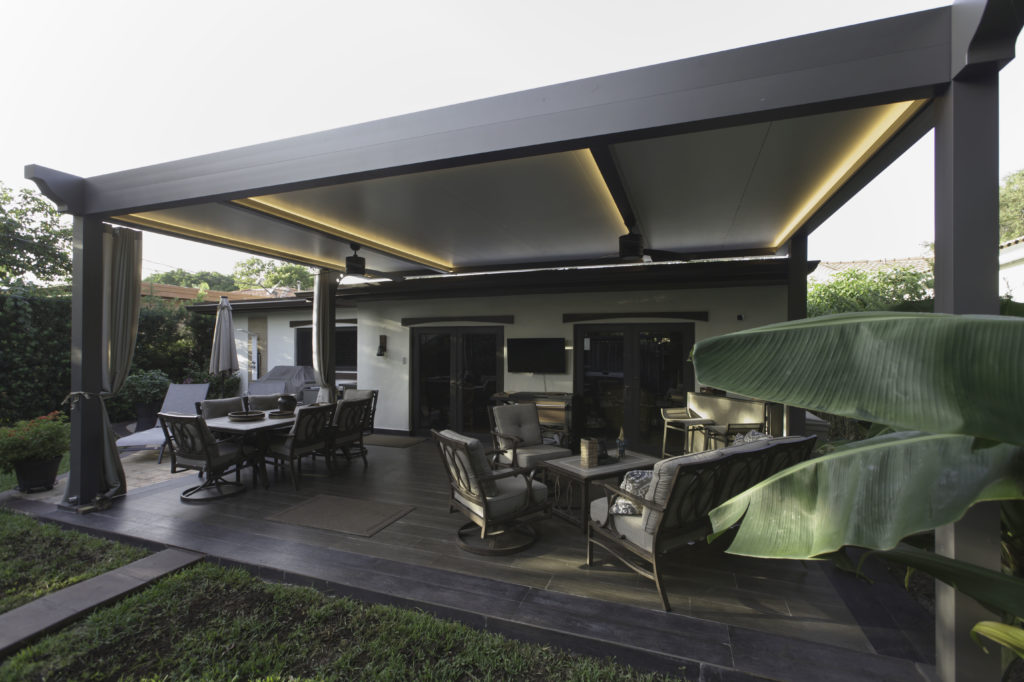 ---
Adjustable Louvered Roofs Don't Sacrifice Weather-Sealing
The alternative to a fixed-roof pergola is an automated adjustable louvered roof. Our unique Azenco R-Blade also delivers great heat retention with the added benefit of being able to open and close the roof depending on the weather. Featuring dual-walled louvers, the R-Blade is one of the most snow-capable pergolas of its kind. Its gapless louver design makes the R-Blade the only adjustable louvered roof pergola available in the US that can totally prevent melting snow from dripping on the living space below.
To make your R-Blade Pergola the most intuitive winter destination possible, you can even opt for an embedded sensor array to automatically close the roof at the first falling snowflake, or a temperature sensor that monitors for extreme freezing conditions and automatically opens the louvers to prevent frost damage.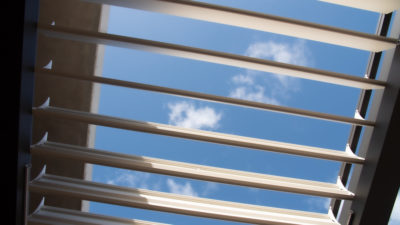 ---
Pergola Covers for Winter: Add The Right Options
Regardless of the roof design, some optional features can keep your outdoor living space warm during the winter months. Azenco offers embedded infrared heaters that can keep the pergola space bathed in warmth during long family activities in the snow-blanketed winter months, and heat-retaining integrated retractable screens can lower to trap all that warmth inside your pergola space.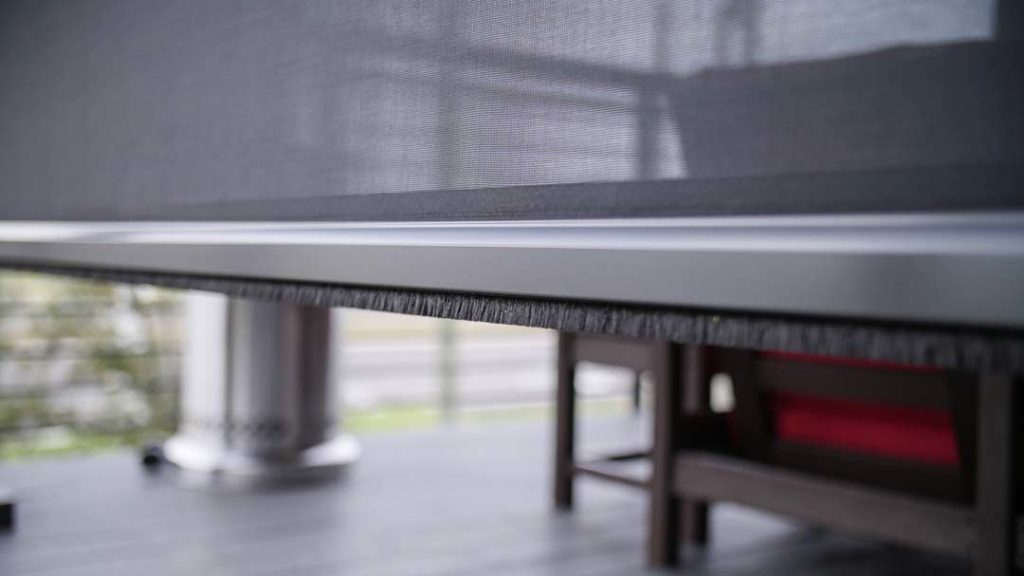 ---
Retractable Screens and Privacy Walls Also Block Wind and Snow
Motorized retractable privacy screens, or fixed solid privacy walls, are invaluable additions to a pergola year-round. The privacy screens roll up at the push of a button to let in the sun and maintain sightlines throughout the yard. Then, with the push of a button, they can be lowered to create instant privacy. By selecting the right material for these privacy screens, the pergola-covered patio can easily become an all-weather outdoor space. While sheer materials create some wonderful light play when closed, choosing a more robust martial like canvas or heavy-duty fabric will turn these curtains into wind-blocking barriers that also help retain heat from outdoor heaters during the winter. Similarly, fixed solid privacy walls are perfect for blocking the view into the patio. These are ideal if the property abuts a busy public space, road, beach, etc. In colder climates, an all-aluminum privacy wall acts as a true wind stop and will keep blowing snow from piling into drifts on the patio.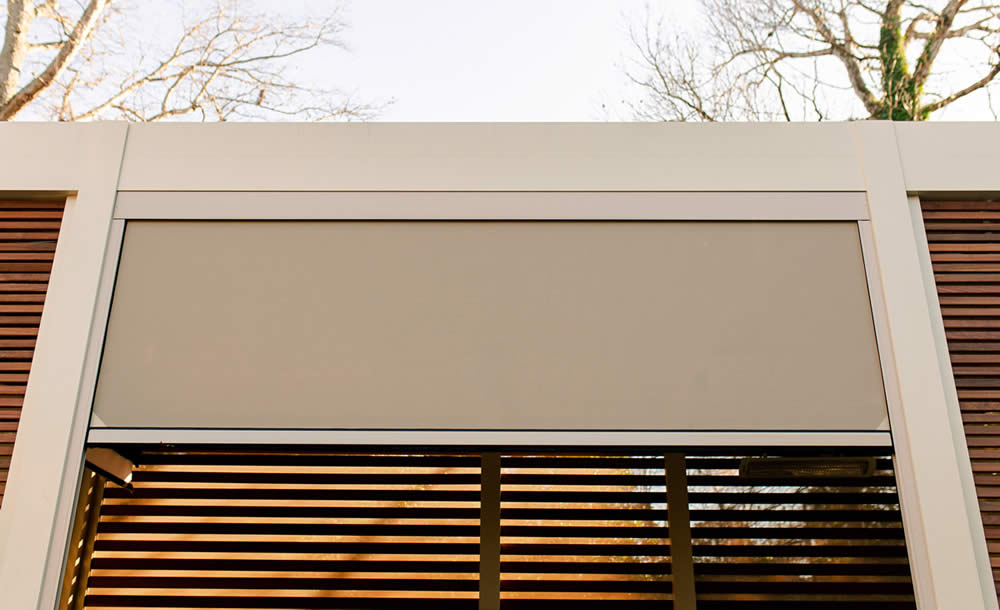 ---
Furniture and Outdoor Décor to Keep Warm By
While choosing any of these pergola covers for winter will make your outdoor living structure snow-party-ready, the décor you select can also reinforce the cozy atmosphere. Bringing a touch of flame with a gas fire pit or wood-fired oven can be a nice addition. Additionally, cushioned furniture and outdoor carpets can keep any ground chill at bay, and a stash of warm blankets is always a nice option to offer guests.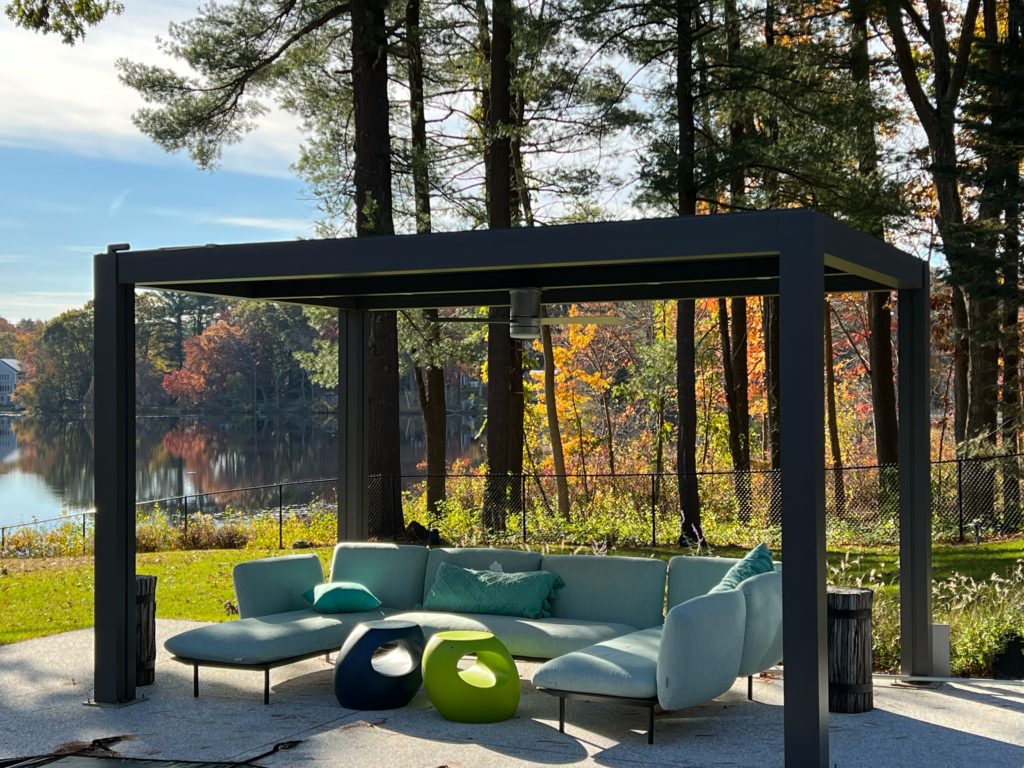 ---
Pergola Covers Are for Winter and Summer
Though you may envision your pergola as a purely summer escape, with the right pergola covers for winter, the right combination of pergola options and some inspired décor, any outdoor living space can become a year-round entertainment destination. If you would like to learn how you can take your fall and winter entertaining out to the patio, please browse our complete pergola buyer's guide and contact us to be connected to one of the local experts from our nationwide dealer network.
---