Here at Azenco, we pride ourselves on working with only the most-qualified and most-experienced contractors to help you create the outdoor living space of your dreams. One of the hallmarks of our dealer network is their ability to help translate some of the technical jargon associated with planning, designing and installing your pergola, carport or pool enclosure. That said, having a shared understanding of some core terminology will certainly help you more easily navigate your outdoor living project. So, here we present a pergola glossary of terms that will help ensure you and your contractor are speaking the same language.
---
Pergola
An outdoor living structure made up of support columns and a roof with sides open to the surrounding environment. Pergolas are designed to provide shade and protection from the elements. Pergolas can be built as standalone structures, or attached to a structure to create a seamless indoor/outdoor living space. Pergola roofs can be seen in solid fixed-panel styles that create full-time shade, or constructed of louvers. Louvered roof pergolas can feature either fixed louvers or adjustable louvers, the latter allows the roof to open to allow some sun to reach the living space below or close completely to provide shade and seal out the rain, sleet and snow.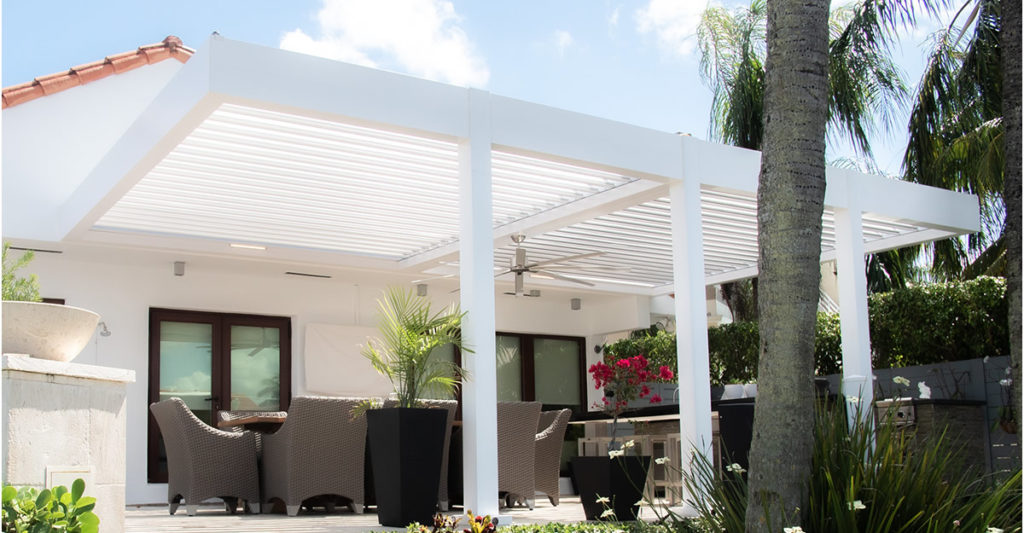 ---
Patio
The term patio is adopted from the Spanish word for courtyard, but traditionally a courtyard features surrounding walls while a patio is simply a flat paved outdoor area. Patios are often accented with surrounding landscaping and plantings that can further define the outdoor space from the rest of the yard. A patio can be built directly abutting a home to create a seamless indoor/outdoor living space, or be completely detached from the residence. Patios are always paved in some sort of hardscaping material such as pavers, concrete, brick, crushed stone or gravel.
---
Deck
An elevated platform often fabricated from wood, though modern vinyl materials have grown in popularity due to their increased durability over wood which tends to decay over time. Similar to a patio, decks can be attached to the home as an extended indoor/outdoor living space, or detached as a surround for a pool or as part of garden design. Elevated decks will require proper footings and safety railings to meet local building codes. Decks can be simplistic wood platforms or fully-customed with built-in seating, incorporated fire pits, or fully equipped outdoor kitchens. Shade structures are often incorporated into deck designs to ensure comfortable use of the space in all weather.
---
Canopy
A minimalist shade option, a canopy is simply a cloth or canvass section suspended on support poles. A canopy can be erected as a standalone shade option with four individual support posts, or attached to a home on one side. Canopies can be temporary collapsible structures such as a pop-up sun shade seen on the beach or erected for a barbecue, or more permanent structures like a slatted pergola with a canopy layer over the roof. While canopies can provide some sun protection and ward off light rain, they offer little in all-weather protection.
---
Gazebo
Gazebos are permanent structures with fixed roofs clad in traditional shingles, tiles, etc. and open on the sides. A standalone structure, gazebos are often constructed to create a shaded respite on a pool deck or in a garden, and larger versions are commonly seen in the town square to host events, bands, speeches, etc. A gazebo will provide full-time shade while blocking out the rain and snow, but lack the flexible roof options of an adjustable louvered roof pergola.
---
Louver
A louver is a panel of parallel slats that can open and close to allow airflow and light penetration. Incorporated into today's modern pergolas, louvers can allow the homeowner to control the amount of sun and shade reaching their outdoor living space, and even close to block out rain, sleet and snow. Azenco's louvered roof products leverage a unique gapless dual-walled louver design to make them the only louvered roofs on the market capable of completely blocking out both sun and rain. Modern pergolas often feature motorized louvers that can be manually controlled with the push of a button, and even augmented with intuitive sensors that will close the louvers in rain showers.

---
Bioclimatic
The term bioclimatic refers to the relation between climate and any living matter. In the case of bioclimatic pergolas, the living matter is you, your family and guests. Our bioclimatic pergolas create the most flexible outdoor living spaces on your patio, deck, pool deck or backyard. By opening or closing the louvered roof pergola, you can regulate the climate in your outdoor living space by allowing more sunlight in, partially closing the roof to create more shade while maintaining gentle ventilation, or even closing the louvers completely to block out the rain and snow.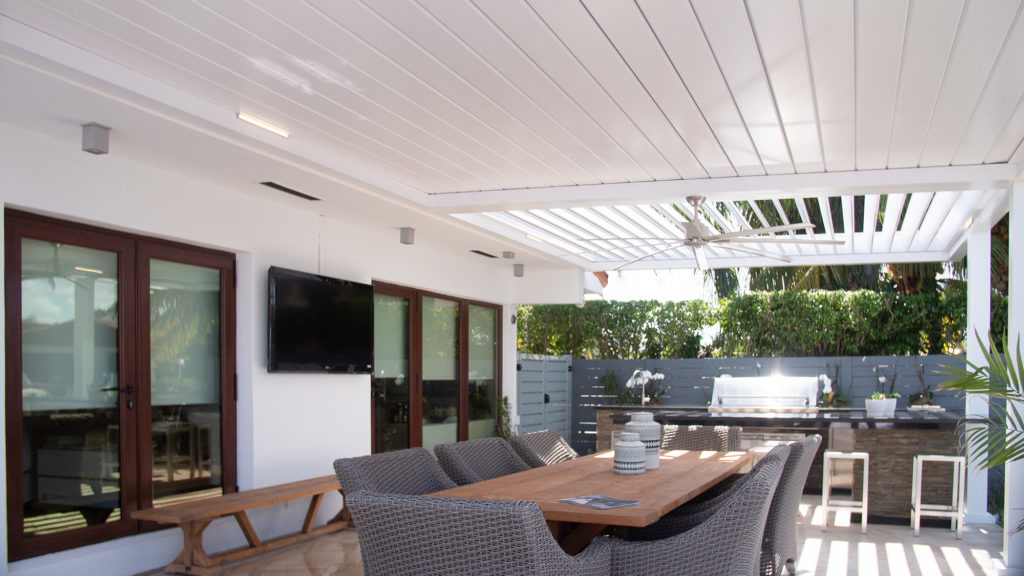 ---
Slat
A slat is a thin, narrow piece of wood or metal, usually combined in series to overlap or fit into each other, as seen on a slatted fence, a Venetian blind, or in a pergola roof. Often seen in traditional pergolas, the slatted roof is fixed in place at a slight angle to create shade as the sun travels throughout the day. A slatted roof pergola can provide a nice architectural punch to an outdoor design or serve as a trellis for climbing plants to grow upon. Unlike a modern adjustable roof pergola, these angled slat roof pergolas are limited in the shade that they create based on the direction of the sun, and provide no protection from rain.
---
Rafters
The rafters are the central support structure for a roof. The rafter framing creates the peak in a roof, and requires precision construction to ensure the ideal distribution of the roof's weight. In traditional fixed-slat wooden pergola roofs, the slats are sometimes referred to as rafters because they are creating structural stability for the pergola. Modern pergolas forgo these traditional rafters and instead rely on the pergola frame to create the necessary structural integrity. With each pergola zone able to support sandwich panel fixed roofs or a motorized louvered roof, multiple pergola zones can be connected to scale the overall size of the covered outdoor living space.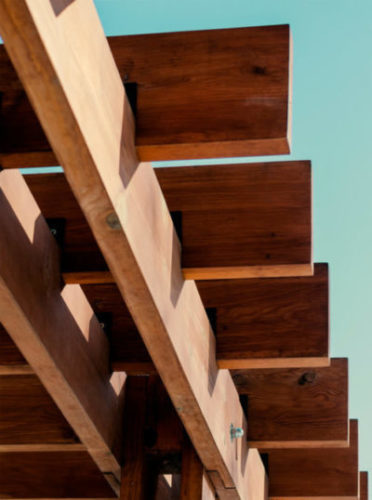 ---
Gutter
A gutter is a shallow trough affixed to the edge of roofline to capture rainwater and snowmelt, and direct it away from the structure. On our modern structures, the pergola gutter system is completely invisible, hidden inside the hollow aluminum frame and columns of the structure to maintain clean exterior lines. To mitigate leaks, we fabricate the internal gutter system with the same fully-extruded precision as the exterior of our pergolas, and we install the gutter system in the factory rather than have installers hand-cut segments in the field. The internal gutter system on a pergola also allows the runoff to be channeled away from the living space below into a grassy area or into a garden.
---
Cantilever
A cantilever is any structure that extends beyond its vertical support structure. In pergola design cantilever roofs can be leveraged to create unique architectural impacts. Cantilevered sections of a pergola roof can be short segments that simply create a unique look or longer segments that provide functionality as well. For pergolas constructed next to a pool, the roof can be cantilevered out over the pool to create a shaded area for swimmers. Cantilevered pergola roofs are also ideal when trying to maintain sweeping views uninterrupted by support columns.
---
Attached
In the field of pergola design, an attached pergola is one connected to a home or other structure. Most often attached on one of the long sides, the pergola is directly anchored to the building and the outside edge is supported by columns. An attached pergola is ideal for creating a seamless indoor/outdoor flow between interior entertainment spaces or a kitchen, and an outdoor living space. An attached pergola can also be used to define an area on a larger deck or patio, or provide sun and rain protection for an outdoor dining space or outdoor kitchen.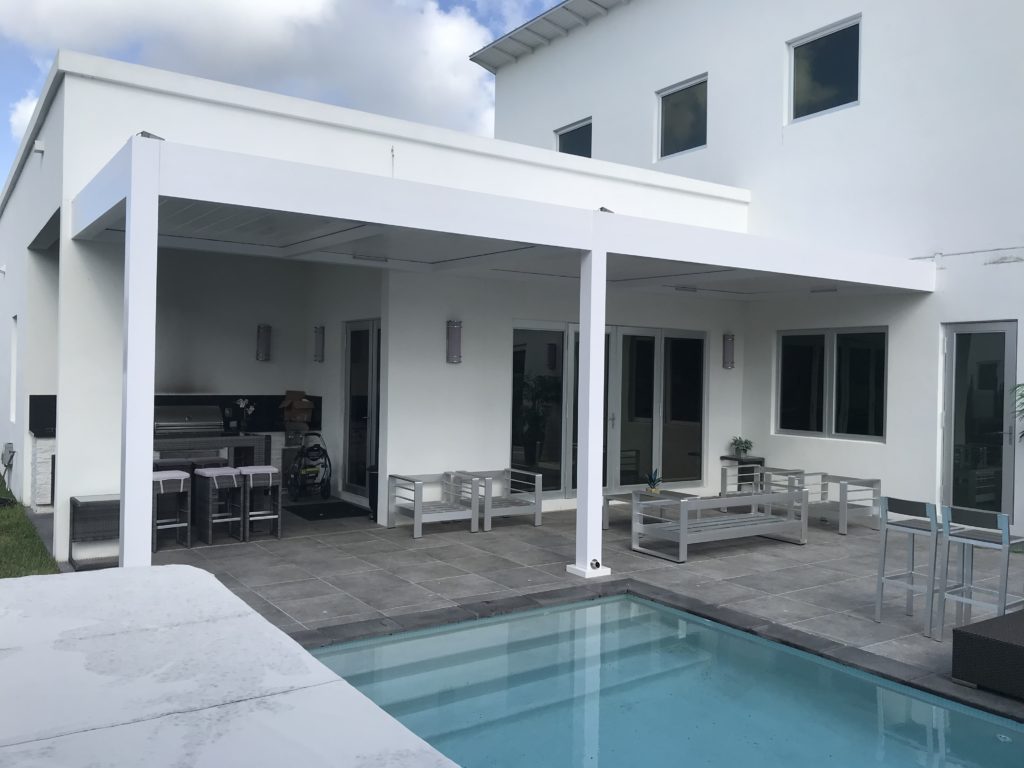 ---
Freestanding
Any outdoor structure that is not attached directly to another building is considered freestanding. Freestanding pergola designs are supported by four posts or columns allowing them to be placed in the middle of deck, patio, pool deck, garden or yard. While freestanding pergolas can be open on all four sides to ensure sweeping views throughout the yard, they can also incorporate privacy screens or louvered privacy walls. Additionally, freestanding carports can offer drive-through accessibility that is ideal for storing a boat or RV, and freestanding cabanas can create a quiet respite in the middle of the pool deck.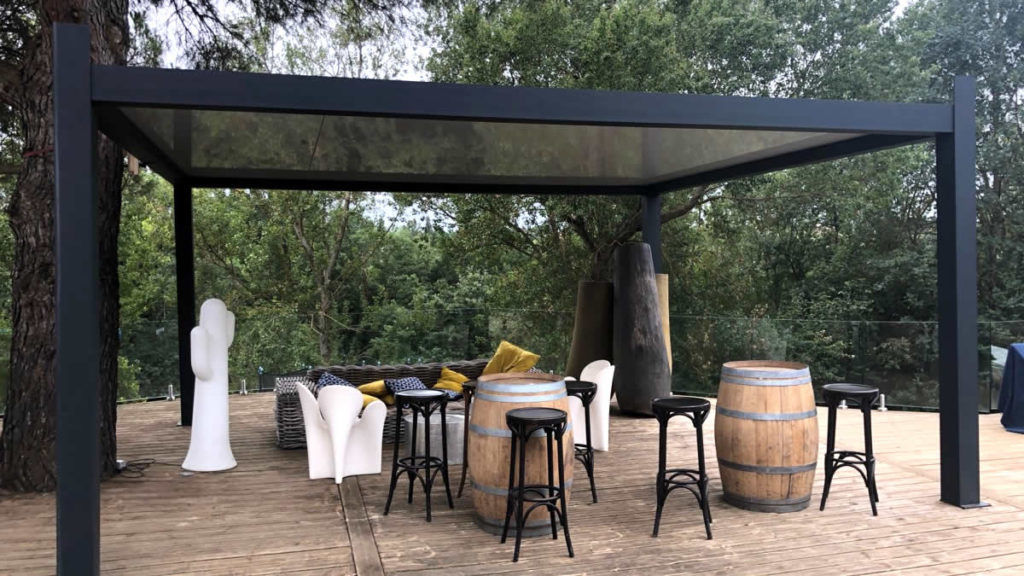 ---
Post
A post is the support column that holds up a pergola, carport or cabana. The post attaches to the pergola's footings anchored in the ground. In our pergolas, the support posts are fabricated from high-quality aluminum, a lightweight-yet-strong material. Unlike wooden pergola posts, aluminum posts are hollow, which creates space to hide an internal gutter system, electrical wiring for embedded LED lights, onboard sensors, etc. With our custom-extruded aluminum support posts we are able to vary the height of the posts to deliver a carport with the clearance for tall vehicles like an RV or boat, or a pergola that can seamlessly match a home's roofline.
---
Wind load
Wind load is the force exerted on a structure by the wind. Usually measured in pounds per square foot, the wind load on a structure will depend on the wind angle and the shape of the structure. Excessive wind load can deform or damage an outdoor structure such as a pergola, so it is important that they be engineered to sustain anticipated wind loads. Most local building regulations will prescribe the anticipated wind load for a specific area and require engineering certification to meet those codes. All Azenco outdoor structures are designed to meet, if not exceed, the most stringent wind ratings throughout the country, and our pergola for windy areas can even leverage onboard sensors to monitor for high winds and automatically open the louvers to prevent damage from dangerous updrafts.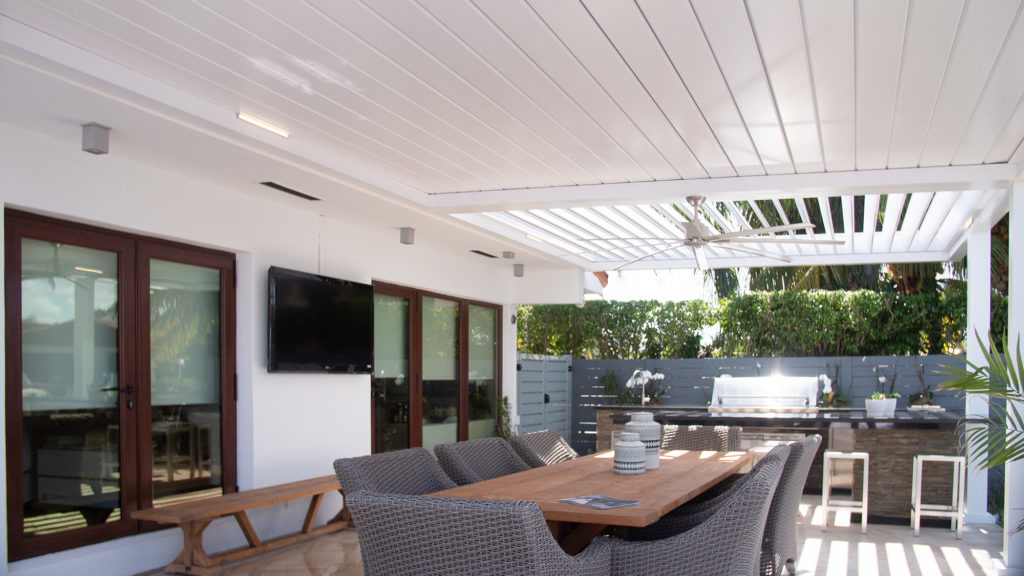 ---
Snow load
Snow load is the downforce exerted on a structure by the weight of accumulating snow or ice. As the heavy snow collects atop an outdoor structure such as a pergola, cabana, carport or pool enclosure, it is important that the structure's roof is engineered to withstand the accumulating weight. Local building codes will usually require roofs to be engineered to support the area's most extreme snow events, and often vary based on the area's elevation, general weather and moisture patterns, and other variables. For our louvered roof pergolas designed for snowy areas, Azenco often recommends adding an onboard temperature sensor that can monitor for freezing conditions and automatically open the louvers to prevent heavy snow build-up.
---
Hurricane rated
The term hurricane rated is an oft-used descriptor for products that have been tested to withstand hurricane force winds. To be considered hurricane rated pergola, an outdoor structure such as a pergola or carport needs to be fabricated from the highest-quality materials, and properly installed to meet local building regulations. No pergola can be guaranteed to resist a mega-storm like a Category 5 hurricane, but every effort can be taken to ensure it fares as best as possible. All Azenco structures carry a Miami-Dade Certification of Acceptance, this certification is authorized by the Miami-Dade building department and denotes products that have met some of the strictest storm-resistance ratings in the country.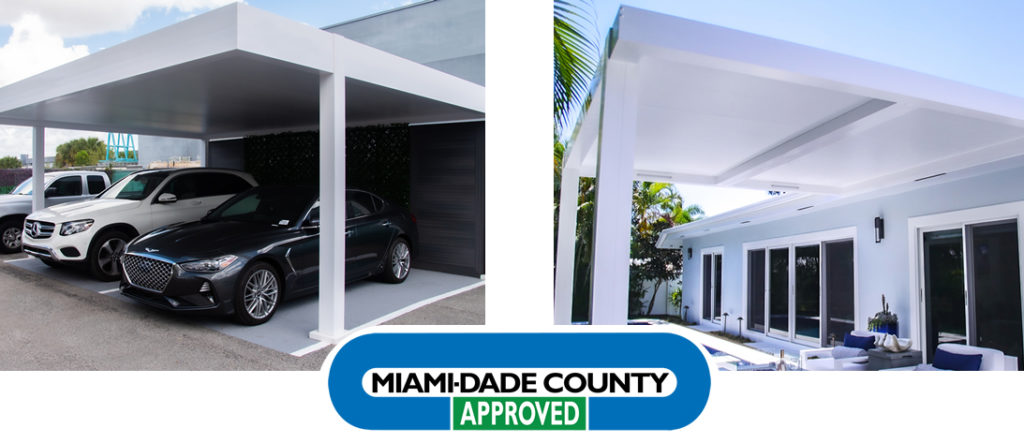 ---
Aluminum T6
Aluminum comes in varying grades from soft and pliable to durable and rigid grades suited to structural demands. T6 aluminum refers to the temper or degree of hardness of the metal. T6 grade carries an ultimate tensile strength of at least 42,000 psi, which ensures a high strength-to-weight ratio and allows the aluminum to be heat treated. Azenco leverages this high-quality aluminum in all of our outdoor structures to ensure durability for the life of the structure.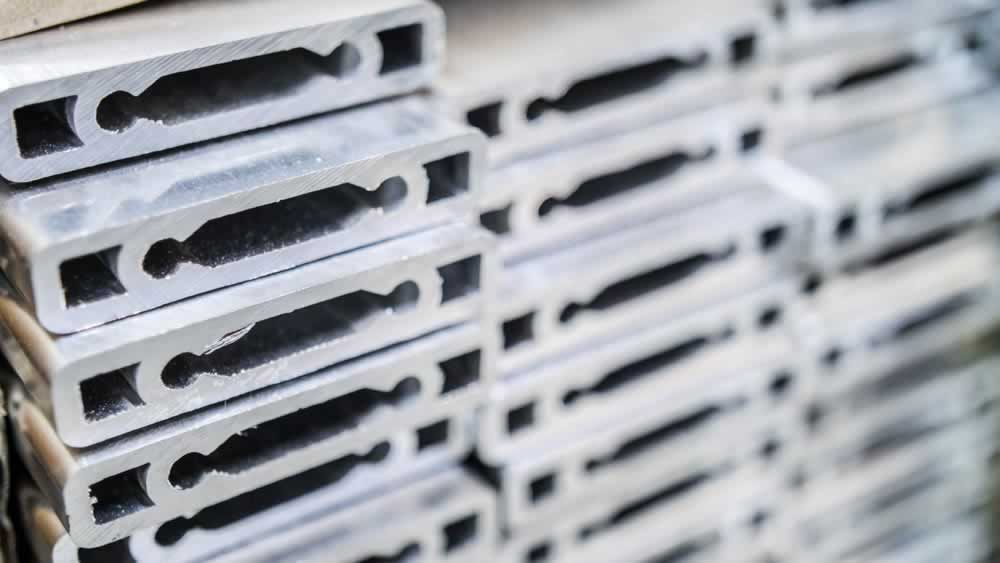 ---
Insect Screen
Insect screens are most often seen on home windows and doors. The mesh material is sometimes called flyscreen, mosquito net, insect net, or window mesh. The screen material is intended to keep mosquitos, flies, bees, and other insects out of the living space, while allowing fresh air circulation. Custom pergolas can be outfitted with remote-controlled retractable insect screens that can roll down to seal out bugs. These insect screens are particularly convenient for outdoor relaxation during the evenings events such as dinner parties.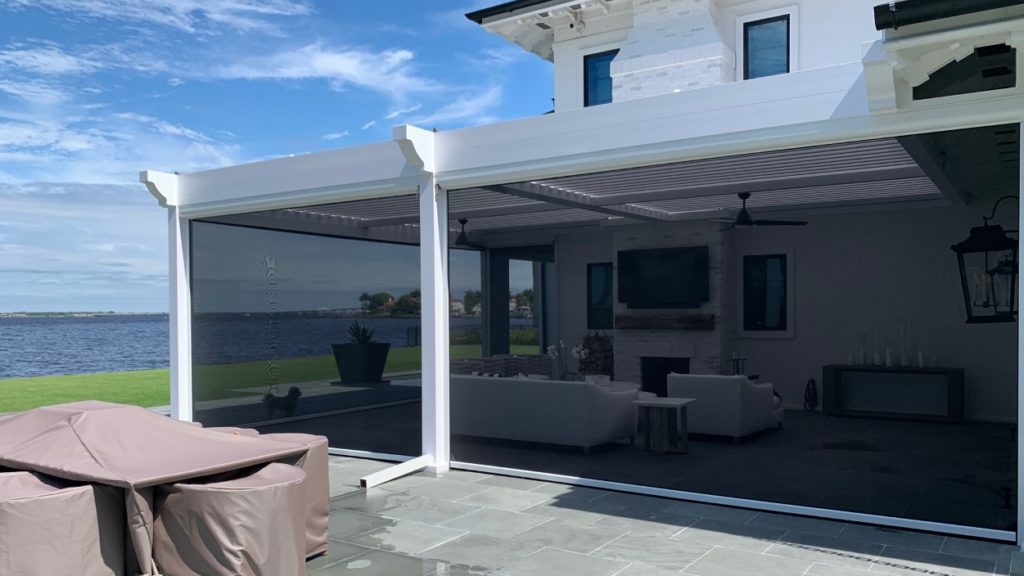 ---
Fan Beam
In pergola design, a fan beam is a hollow aluminum beam embedded in the roof design. The beam can be used to support lighting fixtures, patio fans, infrared heaters, etc. Patio fans are one of the most-popular options added to pergola designs because they can help create air circulation and provide a cooling effect for the patio area. The hollow beam also creates space to conceal lighting or outlet receptacles, and provides a track through which to run wiring.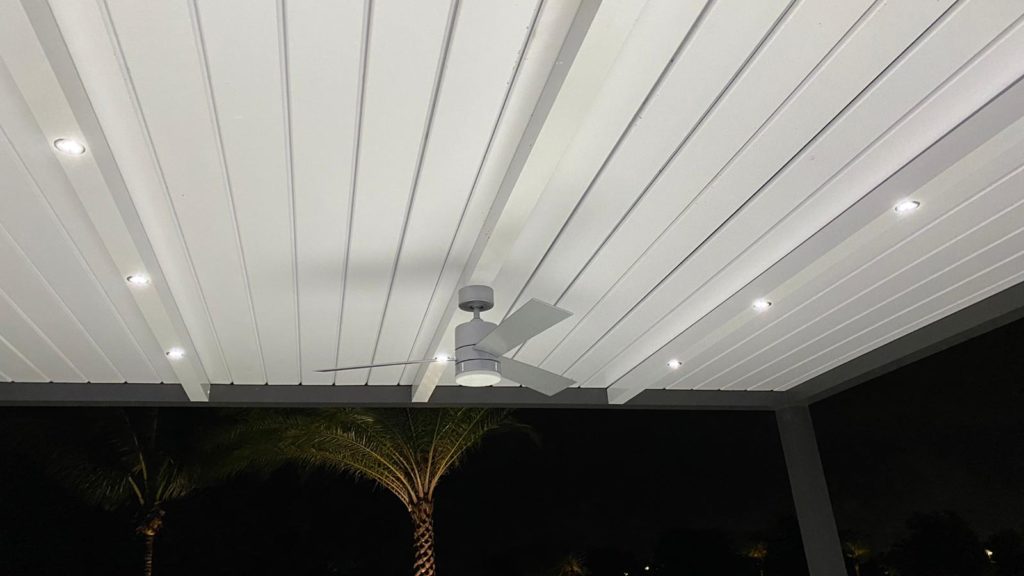 ---
Fascia Ends
A flat piece of material that covers the end of a roofline, fascia ends are the exposed horizontal bands visible on the end of roof rafters. In pergola design, fascia ends can be made from wood. However, in modern aluminum pergolas fascia ends (also called corbell ends) are made of the same high-grade aluminum. The fascia ends have both a structural aesthetic purpose. First, the strip of material helps support the edge of the roof. Second, the material can be used to add a flair of architectural design on the roofline.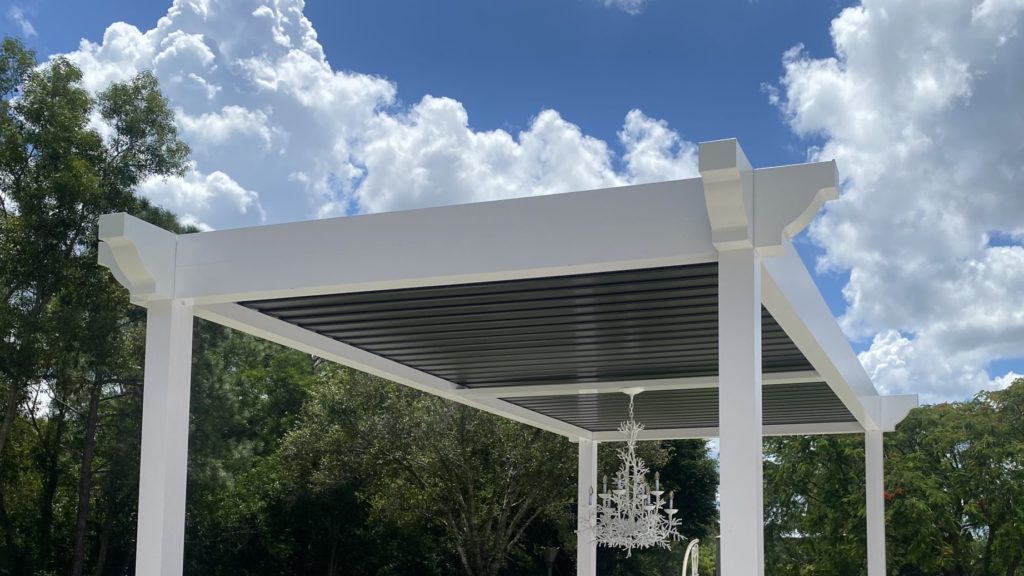 ---
Automated Roof
Modern pergolas are truly flexible outdoor living solutions. These products leverage motorized aluminum louvers that can open to allow the sun to reach the patio, be adjusted to create shade, or close completely to seal out the rain. The most-advanced adjustable louvered roof designs feature automated roof capabilities. Products like the Azenco R-Blade adjustable louvered roof pergola can be fully automated by adding embedded sensors that control the louvers. A rain sensor will monitor for showers, and close the roof at the first sign of rain. A temperature sensor tracks freezing conditions, and opens the louvers to prevent damage from frost or snow build up. Additionally, a wind sensor automatically opens the louvers in high wind conditions to prevent damage from updrafts.
---
Insulated Roof
A pergola with an insulated roof can help keep the patio space below cool during the hottest points of the day, and help retain heat during colder conditions. In the Azenco R-Shade fixed-roof pergola, the roof is designed with insulated sandwich panels to optimize these effects. Adjustable louvered roof pergolas, like the Azenco R-Blade, can also come insulated. In the R-Blade design, the individual dual wall louvers are insulated. Combined with the gapless design of the louvered roof, the insulated roof helps reflect the heat of the sun when closed.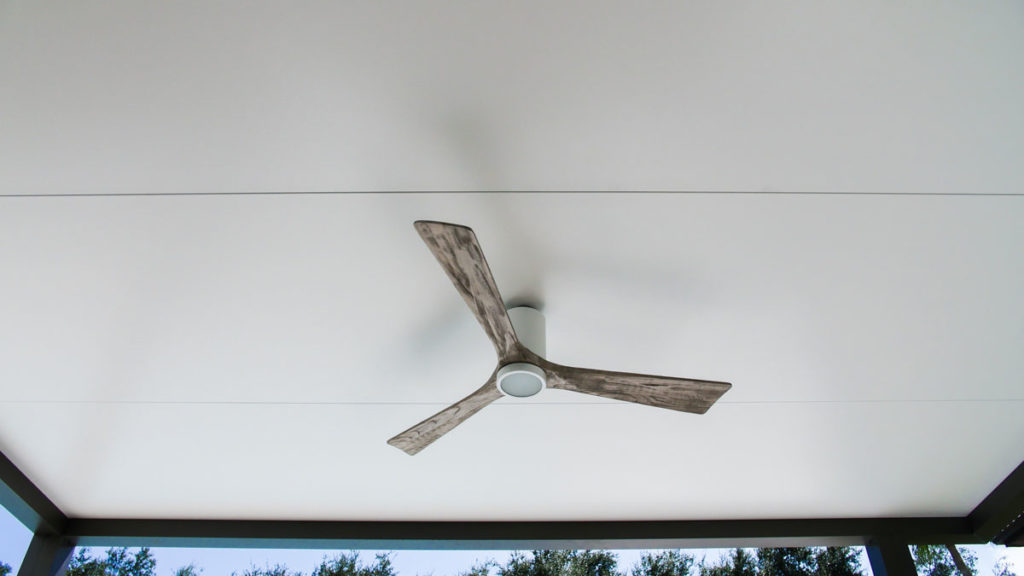 ---
Rain Sensor
As part of an automated pergola roof, the rain sensor monitors for showers and automatically closes the motorized louvered roof when rain is detected. An integrated rain sensor is the pinnacle of modern smart pergola design, and it enables next-level relaxation for pergola owners. With the rain sensor monitoring downpours, an Azenco pergola owner can plan outdoor parties or evening soirées without concern for potential inclement weather. Combined with the unique Azenco gapless louver design, the rain sensor ensures events are uninterrupted by rain showers.
---