When designing your outdoor living space, your patio cover will ultimately be a defining element of the overall look and usability of your backyard. Patio cover options can range from simple umbrellas to permanent gazebos. For home owners looking for true flexibility in their shade cover, retractable pergolas offer some partial shade. Automated louvered pergolas, though, deliver far more protection in all types of weather and environmental conditions. Let's review how these two structures differ, and the unique advantages of an automated louvered roof pergola.
What is a retractable pergola?
All pergolas feature support columns and a roof frame. They can be four-column designs that are freestanding in the yard or attach directly to the home with just two support columns. It is the roof design that separates a retractable pergola from an adjustable louvered roof pergola. The former includes cloth or canvas segments as a roof. These bolts of material can be static or retractable. The static version usually weaves the long cloth segments through fixed roof slats. The retractable pergola will attach the segments to a rail system. They can be operated with either manual hand cranks or motorized.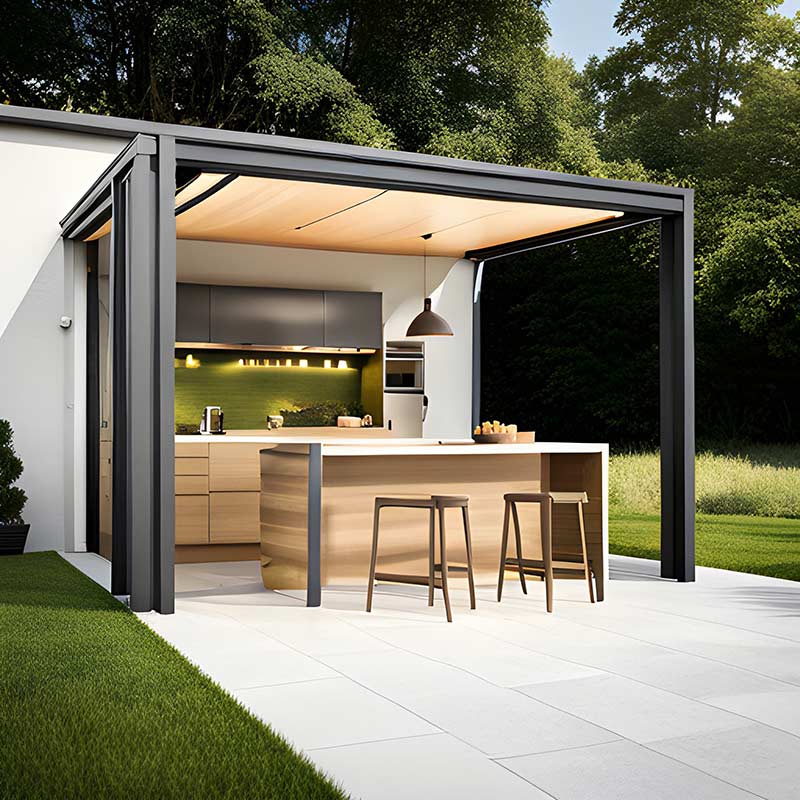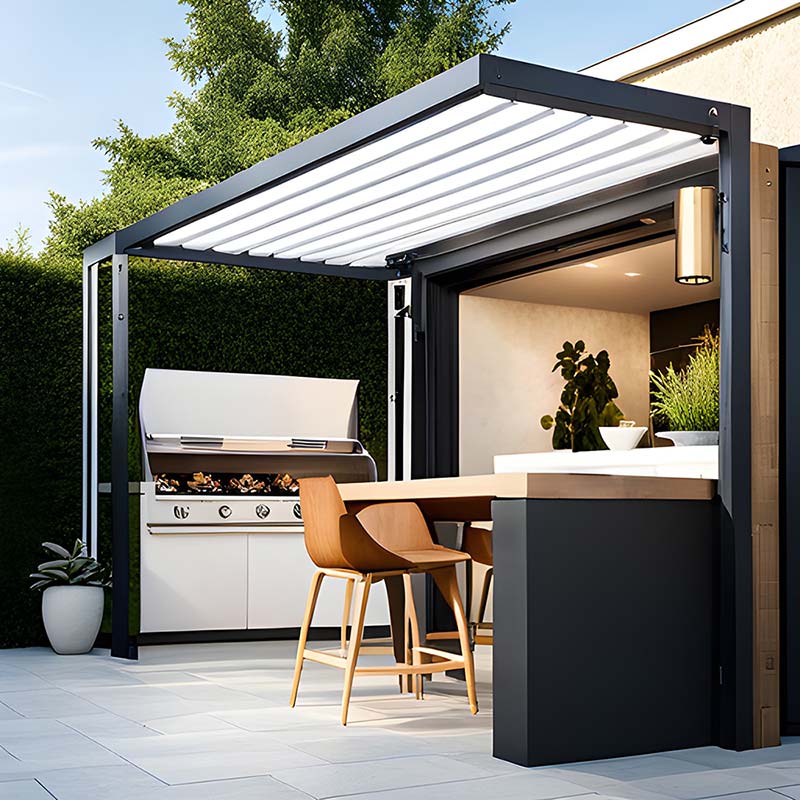 What is an automated louvered pergola?
An automated louvered pergola is a more advanced structure than a retractable pergola. This pergola roof is fabricated with solid roof slats that can angle to control the sun/shade balance on the patio. The most refined models are crafted from high-quality aluminum, and are powder coated to protect against rust and better reflect heat. Our adjustable louvered roof pergola, the R-Blade, is unique among these models. It is designed with our innovative dual-walled louvers that extend all the way into the surrounding roof frame. This ingenious design means the louvered roof completely blocks the rain, and prevents drips on the patio below. Rainwater is instead diverted to a hidden internal gutter system, and drained away from the patio.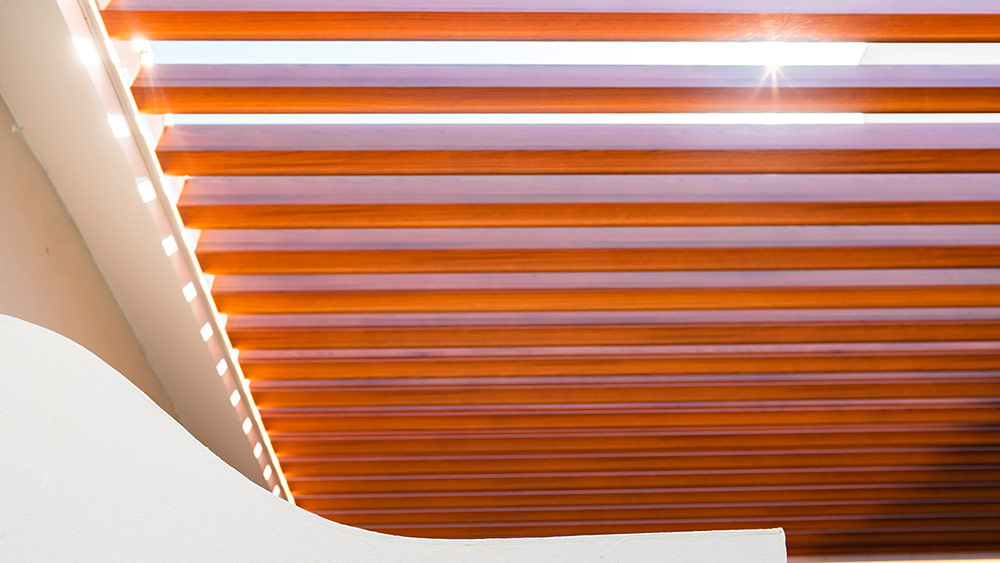 What are the advantages of an automated louvered roof over a retractable pergola?
The more advanced roof design seen in our R-Blade delivers some unique advantages over the cloth or canvas roofing seen in a retractable pergola, including:
As with any home renovation, it is imperative that you choose a pergola model that is as durable as possible. This will safeguard your investment. The roof material you choose to include with your pergola also needs to be as durable as possible. When it comes to pergola roof selection, an aluminum louvered roof will far outlast less durable cloth or canvas roofs. These cloth materials not only tend to fade under prolonged sun exposure, but can easily tear in sustained winds.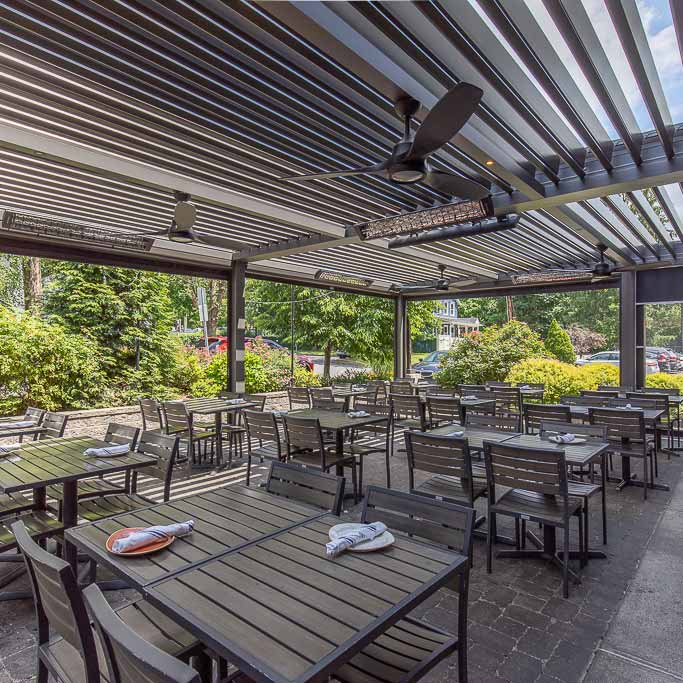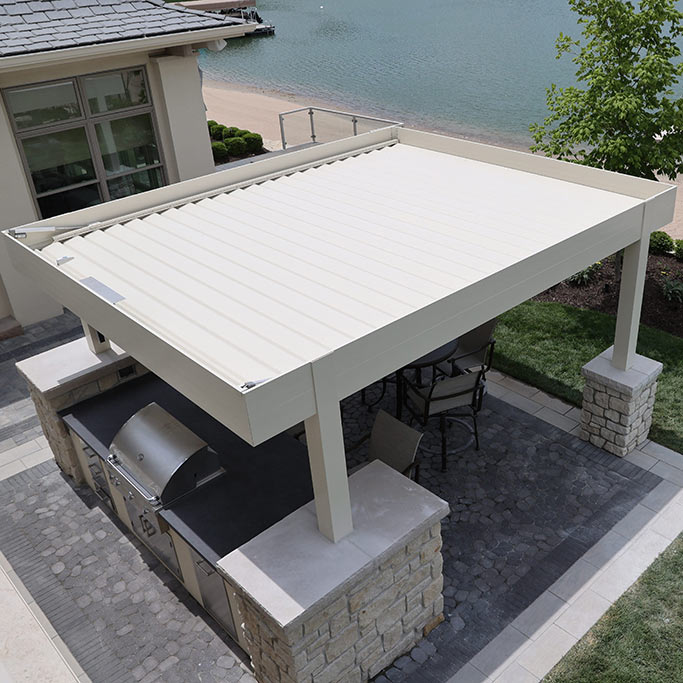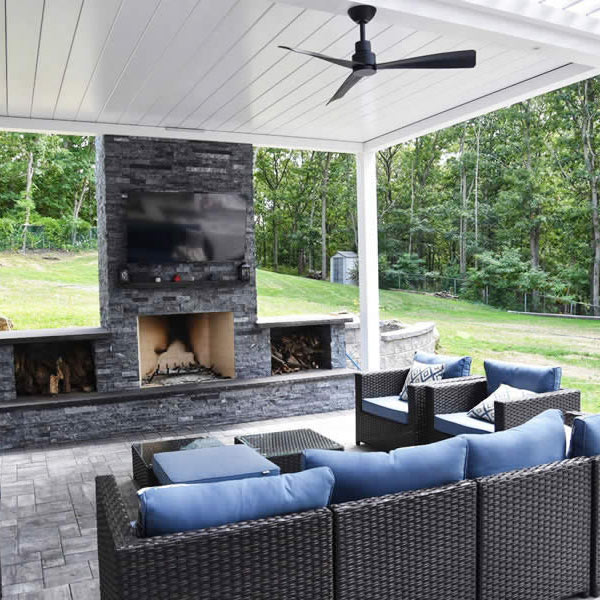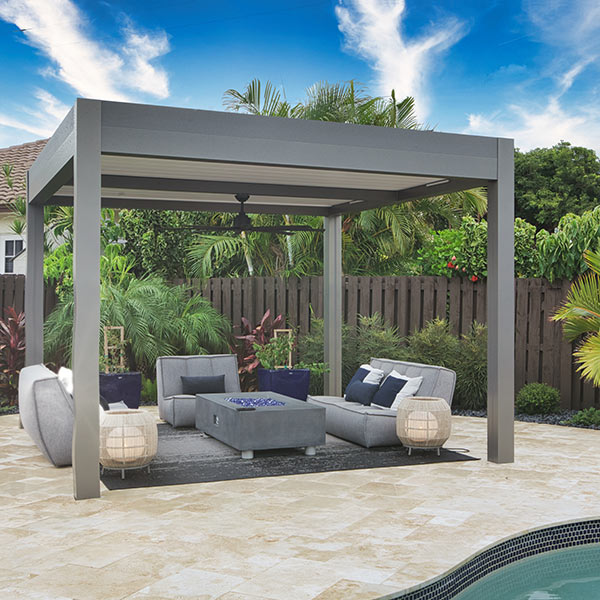 There is no doubt that the look of the fabric roof of a retractable pergola can bring some added style to an outdoor living space. A myriad of materials, patterns, and colors are at your disposal to elevate the space. A custom adjustable louvered roof pergola also brings its own style to a patio. Our pergolas are designed with no visible assembly hardware, so the external lines are clean throughout the structure. The architectural nature of the louvered roof also adds its own modern look to an outdoor space. Also, giving you the utmost design flexibility, we can customize the external powder coating to any color you can imagine, including natural-looking wood grain. Many designers choose to combine base colors like white, black, gray or bronze, on the pergola columns and frame with an accent color or wood grain in the louvers.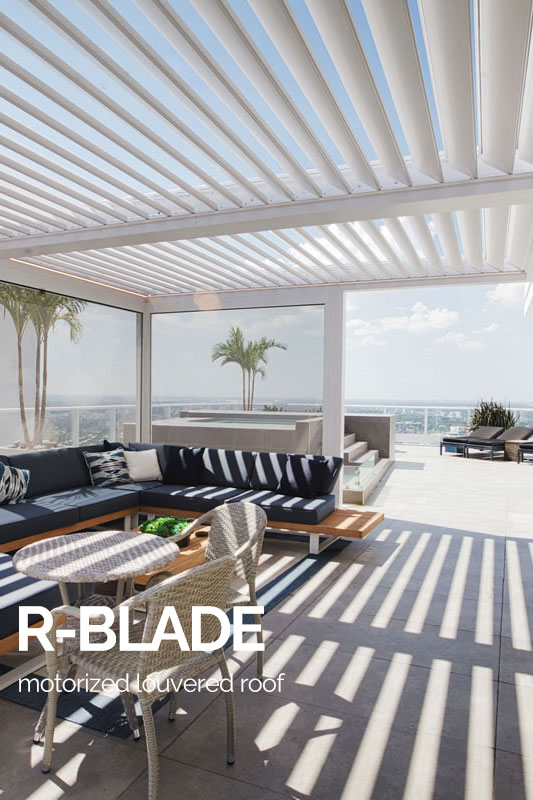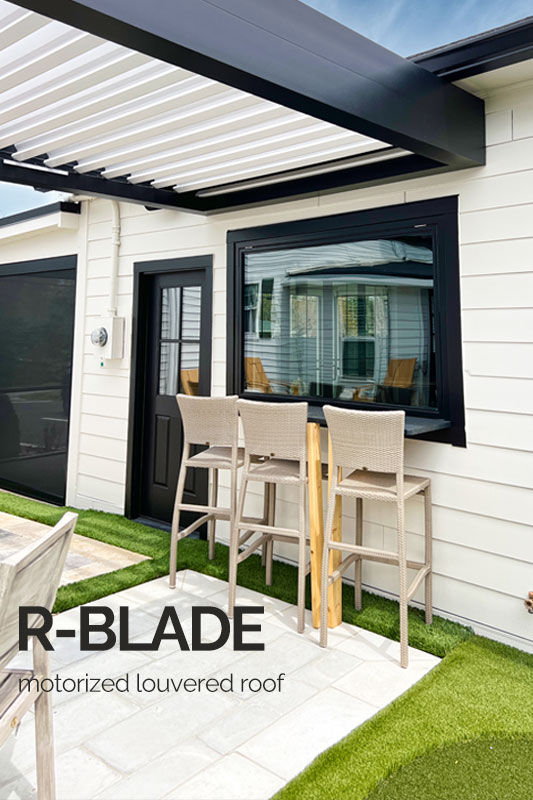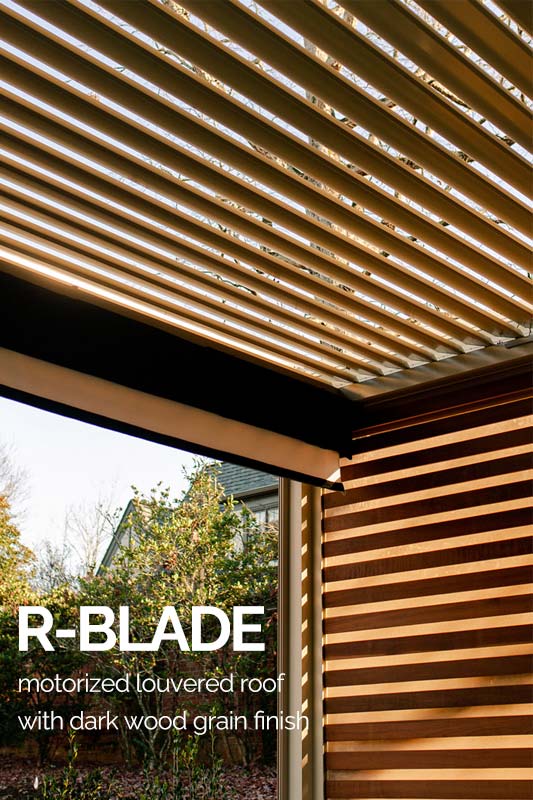 Shade and Rain Protection
One of the most glaring differences between a retractable pergola and a modern adjustable louvered pergola is the latter's ability to block out the rain and give you total control over the sun/shade balance on your patio. As mentioned earlier, our R-Blade motorized louvered roof pergola employs a one-of-a-kind design to totally seal out the rain when closed. This means your dinner party or afternoon of relaxation will never be interrupted by passing rain showers. The louvers can also be angled to manage the amount of shade on the patio. With them opened fully, you enjoy full sun on the patio, or you can close the lovers partially to create shade while still promoting airflow. The cloth roof of a retractable model is unable to stop the rain. The gaps between fabric panels will also allow some sun to reach the patio.
The final great advantage of a louvered pergola design is its ability to withstand the wind. If you live in a coastal area that is susceptible to hurricane winds, a retractable pergola will need to be tended to for every approaching storm. On the other hand, our hurricane resistant R-Blade louvered pergola is certified with a Miami-Dade Certification of Acceptance. This stamp of approval ensures your pergola has the best chance to survive massive winds. We can also incorporate an autonomous sensor system that monitors for potentially-damaging wind gusts. When these winds are detected, the system will automatically open the louvers to eliminate the pressure on the roof that can cause damage.
If you are looking to add a new shade solution to your patio, an adjustable louvered roof pergola is the cream of the crop. The structure offers many advantages over other models like a retractable pergola, and will elevate the look and usability of your new outdoor living space.
If you'd like to explore a louvered pergola for your renovation, please reach out to us today and we will put you in touch with one of our expert local dealers.