Bioclimatic architecture is an ancient practice that has seen a massive resurgence in recent years. The central elements of bioclimatic architecture put climate and environmental conditions of a building site at the forefront of design considerations. The main objective of this architectural technique is to create buildings that are well-integrated with the surrounding environment.
Bioclimatic design can be found in commercial and residential architecture, but here at Azenco, we have brought the principles of bioclimatic architecture to the world of outdoor living spaces as well. 
What is bioclimatic architecture?
Standard building practices are extremely energy dependent. Buildings and the construction industry consume 36% of the planet's energy and produce 39% of our carbon emissions, according to the International Energy Agency. 
Every effort that can be made to mitigate this consumption and emissions can make huge strides toward a more sustainable world and limit the impacts of climate change.
Bioclimatic architecture leverages modern design techniques to ensure thermal comfort powered by environmental resources. The practice aims to create homes that are comfortable for homeowners while also respecting the environment. This begins with the use of sustainable building materials but also extends to the size, shape, location, and functionality of structures.
History of Bioclimatic Architecture
Bioclimatic design has been in use for most of modern human history. Until the 20th century, traditional architectural practices were often defined by the local environment. Builders throughout the world developed differing bioclimatic designs to meet their local demands.
In Spain, hacienda-style construction leveraged thick walls to retain heat, and small windows to limit airflow, all in an effort to regulate the temperature inside the home. Architects in Japan and China created high-peaked, curving roofs to better drain rainwater and snow melt. Also, high in the mountains of Pakistan, designers developed a bioclimatic roof that captured winds and channeled the airflow for natural ventilation.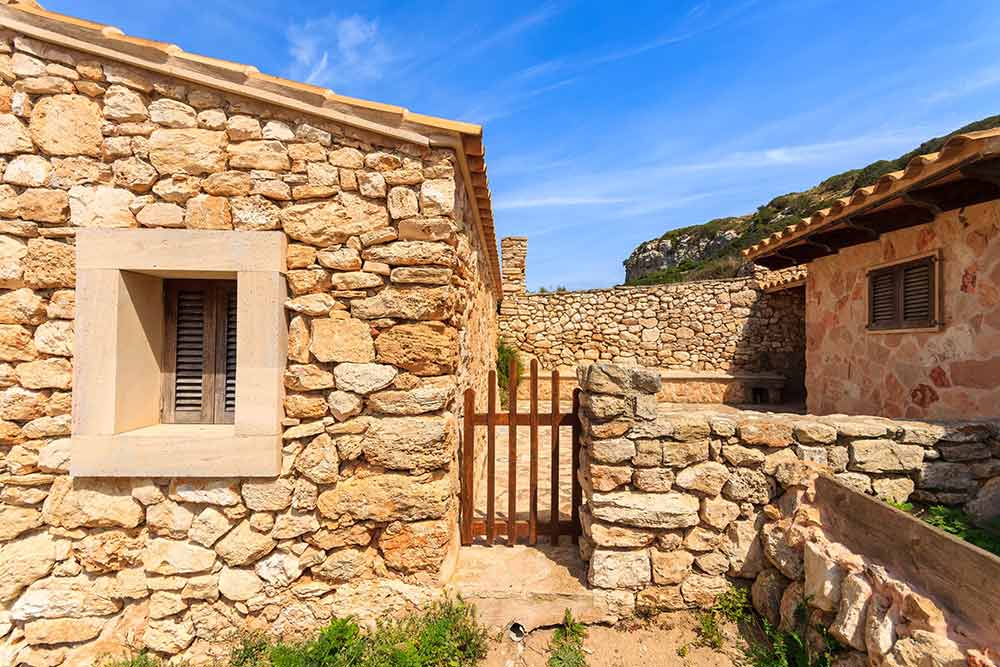 It wasn't until the 20th century advent of electricity that these environment-embracing building techniques began to fade away. Contemporary design moved towards sealing out the elements and using modern techniques to overcome outdoor conditions. While this direction certainly created new and amazing building practices that enabled the spread of mankind to previously unlivable regions, modern day concerns over climate change and sustainability have thrown green building practices back into the light.
Key Design Principles of Modern Bioclimatic Architecture
Historically, bioclimatic architecture was born out of necessity. Today, architects and designers are using advanced technologies and cutting-edge building practices to reintroduce these environmentally conscious techniques into the field once again. Some of the key design principles seen in current day bioclimatic architecture include:
1. Energy Efficient Design
Limiting energy consumption of a home starts with selecting energy efficient materials, appliances, windows, doors, etc. Not only does this save energy, but it saves the homeowner money on their heating and electric bills.
2. Leveraging Renewable Energy
Energy obtained through renewable pathways like solar, wind, hydropower, geothermal energy, etc., significantly mitigate carbon emissions compared to petroleum-based energy sources. Home solarization has seen massive adoption throughout the US recently as homeowners look to limit their personal carbon footprints.
Outdoor shade structures can limit the amount of sun exposure for windows which minimizes solar gain in the home. Creating shade for outdoor gathering places provides comfortable spaces to relax and entertain, while also balancing heat and humidity. Properly designed shade structures also allow sufficient light into the home to reduce the need for energy-dependent artificial lighting.
Natural vegetation and landscape designs can be leveraged to keep the interior of a home shaded and cool. Large trees help reduce the external temperature of a home making the job of home heating and cooling systems easier and less energy hungry. Smart landscaping can also capture rain water and snow melt making the resource available for reuse.
Modern technology also plays a prominent role in modern bioclimatic designs. For example, solar roof tiles, solar pergola systems and automatically darkening window panes are responsive technology that limit a home's carbon footprint, and smart outdoor sprinklers that monitor rain forecasts and automatically adjust watering patterns.
Modern Bioclimatic Pergola Design
Innovative outdoor designers are also embracing bioclimatic architecture. Here at Azenco, we have developed a line of bioclimatic pergola designs that leverage these eco-conscious approaches. With both insulated solid roof pergolas, and motorized adjustable louvered roof designs, our pergolas keep your patio, deck or pool deck cool under the blazing sun, and dry when rain and snow approach. Not only are they beautiful resort-caliber structures, but our customized designs ensure our pergolas will seamlessly fit with the surrounding architecture.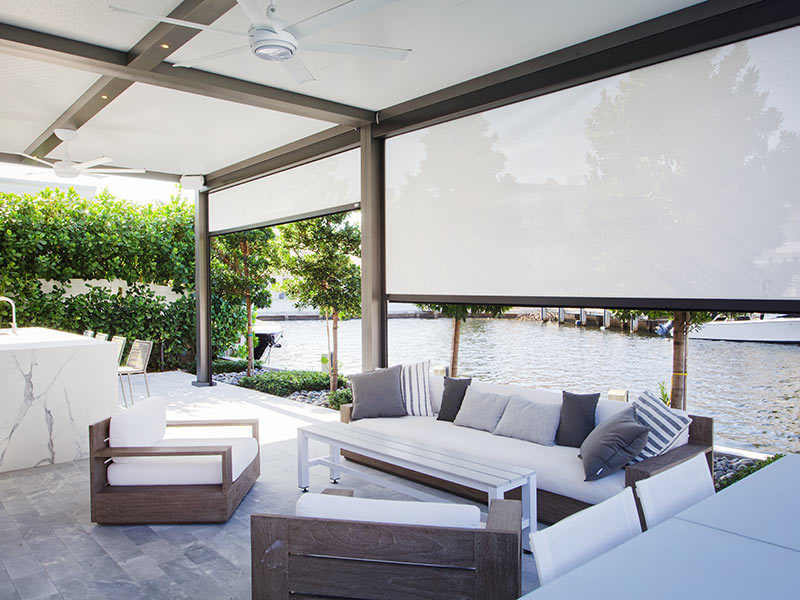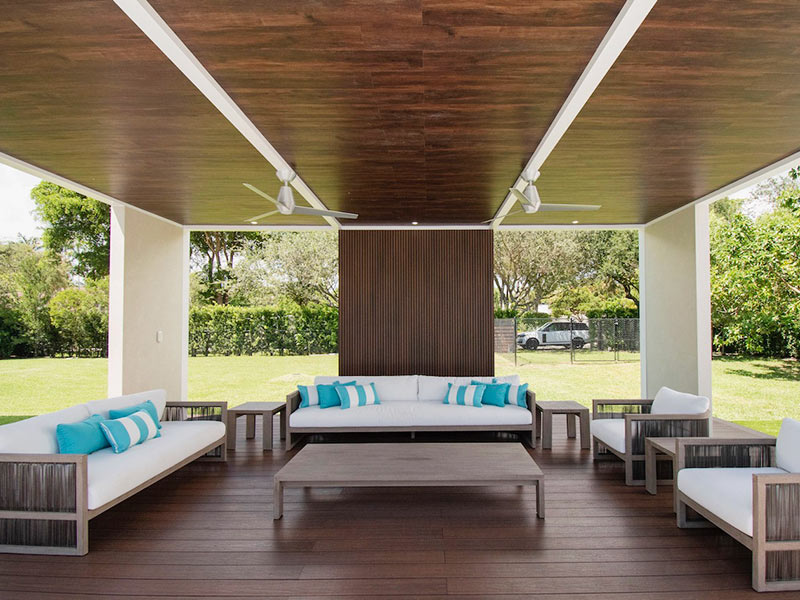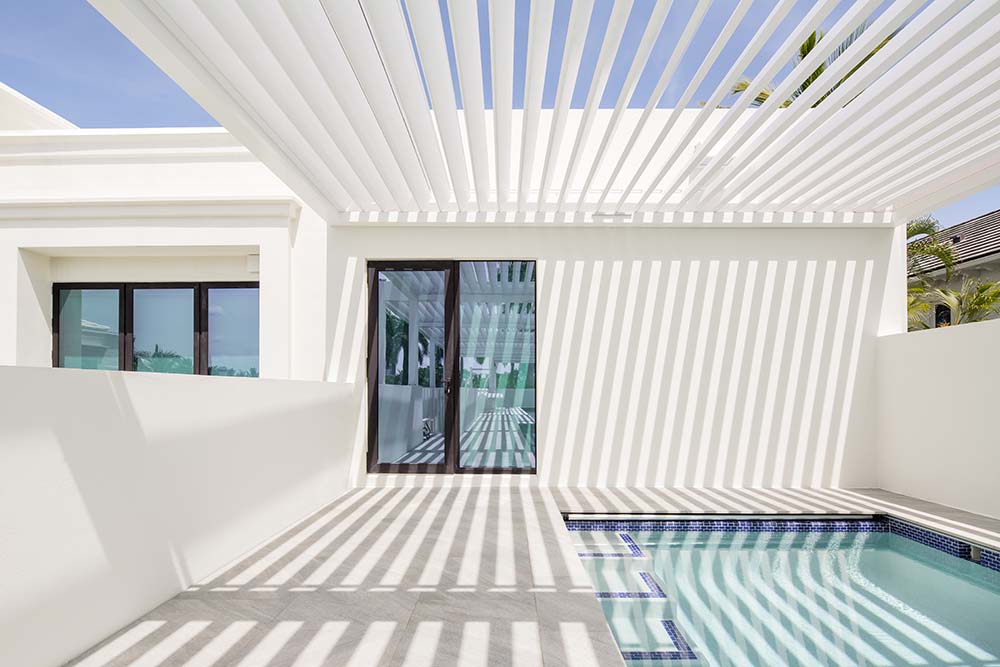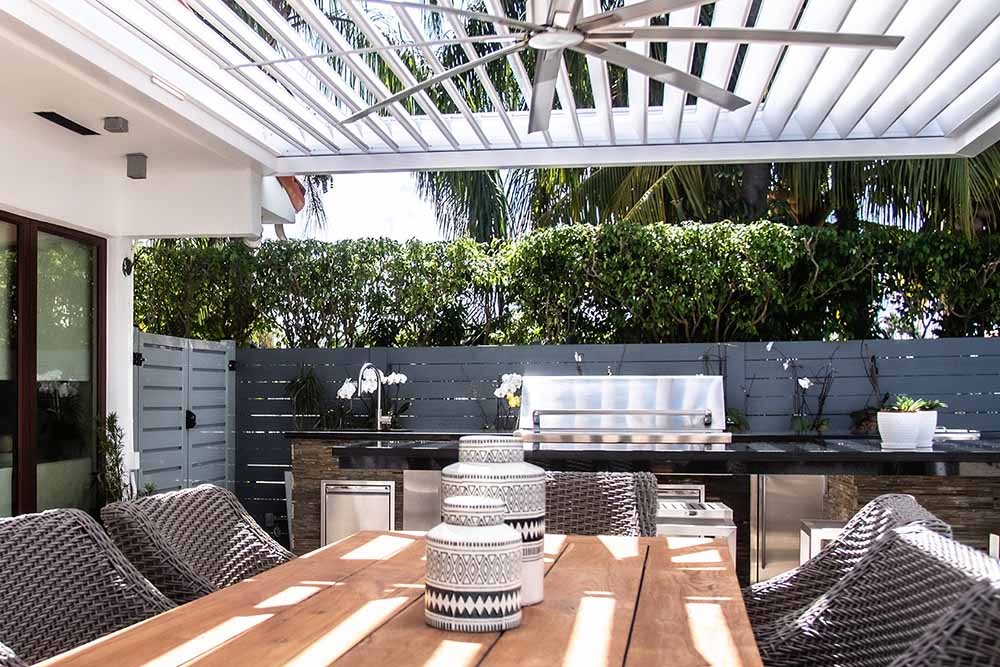 Our shade solutions are also fabricated with sustainable high-quality aluminum, and coated with high-quality powder coatings to protect your investment for a lifetime. When one of our pergolas does eventually reach its end of use, the entire structure can be recycled and reused. Our solid roof pergolas can also be equipped with solar arrays to power integrated functionality of the pergola, like embedded LED lights or motorized retractable shade screens, or return that energy to a home storage solution.
Here at Azenco, we take sustainability seriously, from the products we produce to the way in which we manufacture them. We leverage energy-efficient manufacturing machines, minimize raw material excess, and recycle aluminum scraps. We also offset our carbon footprint by powering our manufacturing facility with solar arrays.
Bioclimatic architecture is an ancient practice that has seen a massive revival as the world strives to improve sustainable living practices to combat climate change. If you are considering adding a luxurious outdoor living space to your home, and want to take your local environment into consideration when doing so, please reach out to us and we will have one of our local expert bioclimatic pergola dealers contact you.