Last Updated on
The unpredictability of Florida weather requires special consideration when designing and building a pergola structure. While most days are filled with sunshine and blue skies, other days are overtaken by gusty winds with the inevitable potential for full-blown hurricanes. If you are looking to make the most out of your outdoor space, pool or outdoor entertainment area throughout the year with a sheltered space for you and your guests, its imperative to look into pergolas for windy areas.
| | |
| --- | --- |
| Location | Miami, FL |
| Type | Residential |
| Date | February 2021 |
The owners of this beautifully constructed mid-century Florida home wanted to take an already-gorgeous backyard space and make it a functional all-weather entertainment hub with a comfortable, shaded area that could withstand that unpredictable Florida weather. Installing a pergola offered the perfect blend of style and function to meet their needs.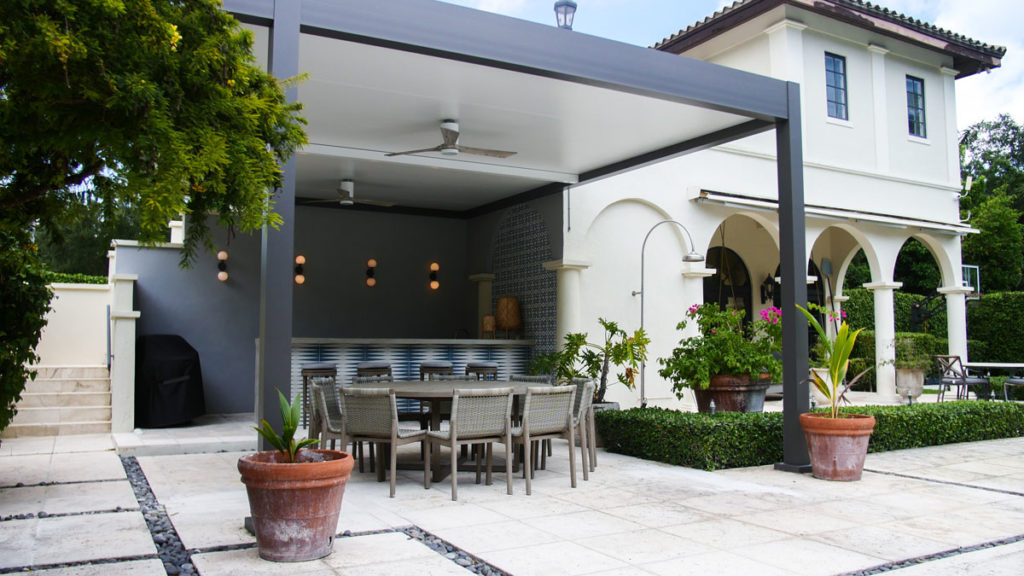 ---
Outdoor Project: Remarkable Functionality And Elegance
This 22' x 16' installation had to cover three distinct spaces of the outdoor living space – the bar, the outdoor dining area and a seating area. Our R-Shade wall-mounted pergola was the ideal solution to shade all three zones while perfectly complimenting the mid-century Mediterranean aesthetic of the home.
Product Choice: Pergolas for windy areas
With the bar area set into a comfortable nook abutting the home, we customized the footprint of this solid roof structure to provide plenty of shaded space for the dining and cooking areas while maintaining sufficient spacing to navigate the pool deck and enjoy the sun within arm's reach party.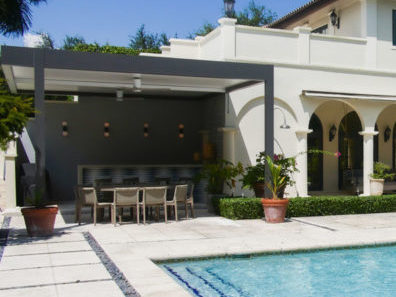 | | |
| --- | --- |
| Product | Fixed roof Pergola |
| Model | R-SHADE |
| Type | Wall-mounted |
| Size | 22' x 16' |
| Options | Fan beam |
| Color | Grey Bronze / White insulated roof |
| Benefits | Elegant outdoor dining space |
| | |
Combining functionality and elegance, this outdoor structure features grey bronze cantilever beams and posts that are offset by a white ceiling interior and accented with a pair of integrated patio fans. The slight offset of the pergola's cantilever was integral to achieving a light and graceful appearance that fit the mid-century finish and perfectly aligned with the client's vision.
The clients also wanted to ensure the shaded space provided plenty of room to entertain friends and family. Given the span of the project footprint, and its location abutting the home, our R-Shade pergola with its high strength-to-weight ratio was the ideal solution. Its insulated sandwich panels provide ample protection from the sun and rain and ensure the shaded area under the pergola stays cool even as the Florida heat climbs.
---
The Challenges: Designing and Building a Hurricane-Rated Structure
Florida rains can be heavy at times, but they can also be a magical time to pause and enjoy the tranquility of a nice soaking shower. Our clients wanted ensure they could enjoy the rainy weather, just without getting wet. Also, with the pergola roof visible from the second floor of the home, we wanted to guarantee rainwater did not collect to distract from the view. So, we built an almost imperceptible pitch into this pergola roof to guarantee rain waters smoothly flowed to the integrated drainage system and were funneled away from the outdoor dining space.
---
While all projects are subject to some unique local code compliance and permitting, we've designed the R-shade sandwich panels to help streamline that process by making them NOA compliant to meet all the outdoor installation permit requirements of the State of Florida.
Understanding our client's vision for this exquisite pool-side space, we transformed it into an elegant entertainment area that reflected the mid-century aesthetic of the home while ensuring it would weather all of Florida's seasons.
We understood our client's vision for this superficial pool-side space. We transformed it into an elegant entertainment area that reflected the mid-century aesthetic of our client's home that could weather through all of Florida's seasons.
---
Turnaround time
Manufacturing: delivery in 1 week.
Mounting On Site: 4 days.
Are you looking to turn your backyard into a chic and functional entertainment area, but worried about unpredictable weather conditions?
Get in touch with us, and we'll design a beautiful and functional pergola that balances your personal style with the structural demands to stand up to the heaviest winds and shelter your family from the storm.
---