The unpredictability of Florida weather requires special consideration when designing and building a pergola structure. While most days are filled with sunshine and blue skies, other days are overtaken by gusty winds with the inevitable potential for full-blown hurricanes. If you are considering a pergola for a windy area to make the most out of your outdoor space, pool or outdoor entertainment area then you will need to consider several design and engineering challenges. A storm-beating pergola wind rating necessitates a harmony of design, engineering and skilled installation.
---
A Luxury Entertainment Outdoor Space in South Florida
| | |
| --- | --- |
| Location | Miami, FL |
| Type | Residential |
| Date | February 2021 |
The owners of this beautifully constructed mid-century Florida home wanted to take an already-gorgeous backyard space and make it a functional all-weather entertainment hub with a comfortable, shaded area that could withstand that unpredictable Florida weather. Installing a pergola offered the perfect blend of style and function to meet their needs.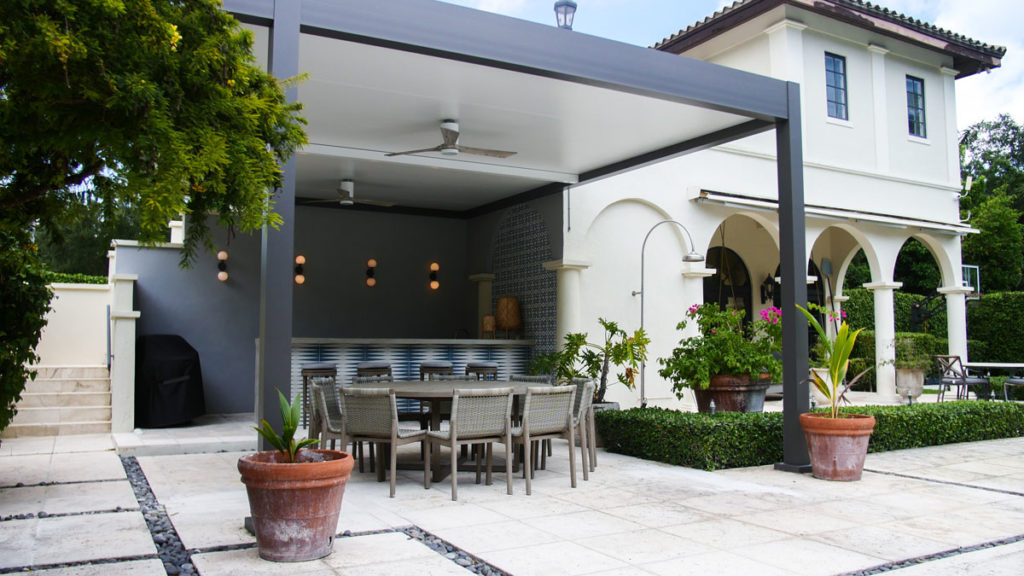 ---
Outdoor Project: Remarkable Functionality And Elegance
This 22' x 16' installation had to cover three distinct spaces of the outdoor living space – the bar, the outdoor dining area and a seating area. Our R-Shade wall-mounted pergola was the ideal solution to shade all three zones while perfectly complimenting the mid-century Mediterranean aesthetic of the home.
Product Choice: Pergolas for windy areas
With the bar area set into a comfortable nook abutting the home, we customized the footprint of this solid roof structure to provide plenty of shaded space for the dining and cooking areas while maintaining sufficient spacing to navigate the pool deck and enjoy the sun from within arm's reach of the bar and grill.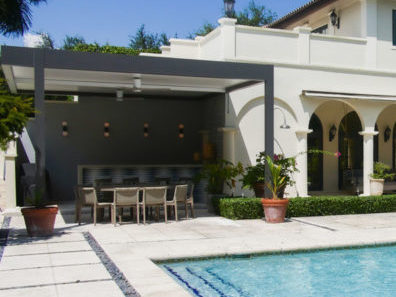 | | |
| --- | --- |
| Product | Fixed roof Pergola |
| Model | R-SHADE |
| Type | Wall-mounted |
| Size | 22' x 16' |
| Options | Fan beam |
| Color | Grey Bronze / White insulated roof |
| Benefits | Elegant outdoor dining space |
| | |
Combining functionality and elegance, this outdoor structure features grey bronze cantilever beams and posts that are offset by a white ceiling interior and accented with a pair of integrated patio fans. The slight offset of the pergola's cantilever was integral to achieving a light and graceful appearance that fit the mid-century finish and perfectly aligned with the client's vision.
The clients also wanted to ensure the shaded space provided plenty of room to entertain friends and family. Given the span of the project footprint, and its location abutting the home, our R-Shade pergola with its high strength-to-weight ratio was the ideal solution. Its insulated sandwich panels provide ample protection from the sun and rain and ensure the shaded area under the pergola stays cool even as the Florida heat climbs.
---
The Challenges: Designing and Building a Hurricane-Rated Structure
Florida rains can be heavy at times, but they can also be a magical time to pause and enjoy the tranquility of a nice soaking shower. Our clients wanted to ensure they could enjoy the rainy weather, just without getting wet. Also, with the pergola roof visible from the second floor of the home, we wanted to guarantee rainwater did not collect to distract from the view. So, we built an almost imperceptible pitch into this pergola roof to guarantee rain waters smoothly flowed to the integrated drainage system and were funneled away from the outdoor dining space.
---
Understanding our client's vision for this exquisite pool-side space, we transformed it into an elegant entertainment area that reflected the mid-century aesthetic of the home while ensuring it would weather all of Florida's seasons.
While all projects are subject to some unique local code compliance and permitting, we've designed the R-shade sandwich panels to help streamline that process by making them NOA compliant to meet all the outdoor installation permit requirements of the State of Florida. Often referred to as "Miami-Dade compliance" in the industry, this NOA certification means our pergolas have been tested in winds exceeding hurricane-force without issue. If you are looking to add a hurricane-rated pergola to your home, the wind rating will be one primary consideration.
---
Can Pergolas for Windy Areas Really Withstand Heavy Wind?
In short, absolutely! Pergolas are a favorite addition to outdoor living spaces throughout high-wind coastal areas such as Miami, Florida. With the prevalence of high winds and monster storms, Miami-Dade County has actually set the bar for hurricane-rating outdoor structures such as gazebos and pergolas for windy areas. Anyone considering adding a shade covering to their outdoor living space has many options at their disposal, but when it comes to sustaining high winds, the viable options are limited. Lightweight pop-up gazebos kits might be easy to break down and store when inclement weather is rolling in, but these small temporary structures don't really elevate a home's décor. Wooden structures can be a little more durable, but tend to be static structures that cannot respond to changing weather. A permanent pergola structure, on the other hand, can be engineered to resist damage from storms and high winds. In fact, some pergola designs can essentially eliminate the forces being exerted on the structure by extreme winds.
---
How Much Wind Can a Pergola Withstand?
A pergola can be engineered to withstand up to Category 4 hurricanes. For a pergola to stand up to the forces exerted by such a storm, its imperative that the structure be manufactured from the highest-quality materials, and for its foundations and footings to be properly engineered to meet these hurricane extremes. Just how much wind a pergola can withstand will be decided by the combination of the build-quality of the structure itself and the level of engineering included in the project.
We understood our client's vision for this superficial pool-side space. We transformed it into an elegant entertainment area that reflected the mid-century aesthetic of our client's home that could weather through all of Florida's seasons.
---
Turnaround Time
Manufacturing: delivery in 1 week.
Mounting On Site: 4 days.
Are you looking to turn your backyard into a chic and functional entertainment area, but worried about unpredictable weather conditions?
Get in touch with us, and we'll design a beautiful and functional pergola that balances your personal style with the structural demands to stand up to the heaviest winds and shelter your family from the storm.
---
What To Know About Pergolas Wind Rating
In this Florida project, as with many coastal pergola installations, the most important aspect of the product selection and design was to ensure the new pergola would be resilient to ever-present hurricanes. Understanding just what it means for a pergola to be "hurricane resistant," is often the first thing our dealers will address with a new client. There are a few details that are important to understand.
First, when any manufacturer presents any sort of "wind rating for a pergola," it's important to understand that this rating only applies to the pergola structure itself. Reputable pergola manufacturers offering up pergola wind ratings will back up their claims with the aforementioned Miami-Dade NOA certification. This certification is issued by Florida's Miami-Dade County, which has some of the highest standards in the country for storm-rated construction. If a pergola has secured the Miami-Dade NOA, it will easily surpass the regulatory requirements of other municipals. But, it's important to remember that the certification only applies to the structure itself. And, the structure is only half of what ensures a pergola can stand up to hurricane-force winds. The material the pergola is made from will be a driving force in its longevity and storm durability as well.
Materials Empower Design for Pergolas for Windy Areas
A qualified contractor or pergola installer will help advise on the best materials for any specific pergola project. Here at Azenco we manufacture all of our pergolas from high-quality aluminum because of its proven durability (especially when properly powered coated), as well as the unique design capabilities the material allows.
Does a Pergola Have to Be Attached to the Home to Be Hurricane-Rated?
Manufacturers employing less-durable materials like wood or even vinyl often try to convince customers that a pergola attached to the home ensures the storm resistance customers seek. This is, frankly, a misnomer. A freestanding pergola can be engineered to be hurricane resistant just as easily as a pergola attached to the home. In this Florida project, the homeowners chose a fixed solid-panel roof, which necessitated substantial footings to secure the pergola.
Alternatively, an adjustable louvered roof pergola could also be chosen and would necessitate less-substantial footings and foundations because the louvers can open to eliminate the updrafts during a storm. Its these updrafts that actually cause the most storm damage to pergolas.
Trusted Installation of Pergolas in Windy Areas
Regardless of the style of pergola selected, materials and structural design are only half of the equation which determines resistance. Ensuring a pergola is being engineered and installed by a qualified professional installer is of equal importance. Because every pergola project is different, your local Azenco dealer will begin each project with an on-site meeting where they can evaluate the site-specific demands for your project. From there, each project is engineered to meet the unique demand of the location. For example, anticipated wind loads in the front of the home may be different than those in the backyard, and soil samples may dictate differing engineering levels for pergolas built on the same property. Azenco only works with the most-qualified dealers throughout the country. We also provide hands-on training for installation teams to ensure each Azenco pergola is installed to our strict specifications.
The best materials, precisely manufactured, along with qualified engineering and installation all combine to ensure this Miami pergola will resist even the most powerful storm. Understanding our client's vision for this exquisite pool-side space, we were able to transform it into an elegant entertainment area that could stand up to whatever Mother Nature brings to bear. The unique flexibility of the Azenco aluminum construction enabled our designers to reflect the mid-century aesthetic of the home while ensuring it would weather all of Florida's seasons.
---