Robert Frost coined the term, "Good fences make good neighbors." Anyone trying to relax on their patio has likely agreed with his sentiment at some point. Whether you embrace Mr. Frost's sentiment or not, establishing privacy in your outdoor living space doesn't necessarily require a "Mending Wall." If adding a privacy pergola is the ideal solution to maintain your neighborly relations then there are some basics to consider as you dive into your pergola project.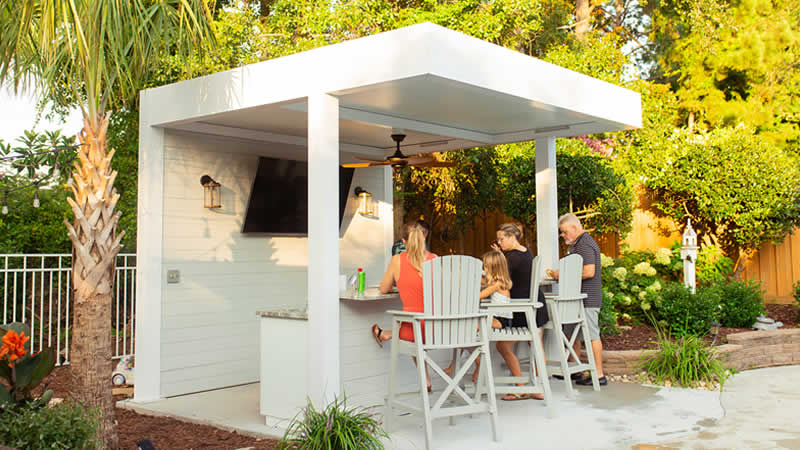 ---
Why a Privacy Pergola for Your Patio Cover
Mr. Frost might well have added a neighbor's pergola to his poetic ode to good fences, because the right pergola can deliver more than just privacy. A modern pergola like the Azenco R-Blade is a truly dynamic outdoor living structure. With its sleek exterior and louvered roof, the R-Blade makes an ideal patio cover and can add an attractive design accent to any architectural style. Incorporating retractable curtains or shades can block further sun or side-glancing neighbors, and entire walls of green plantings can provide full-time privacy beneath the pergola.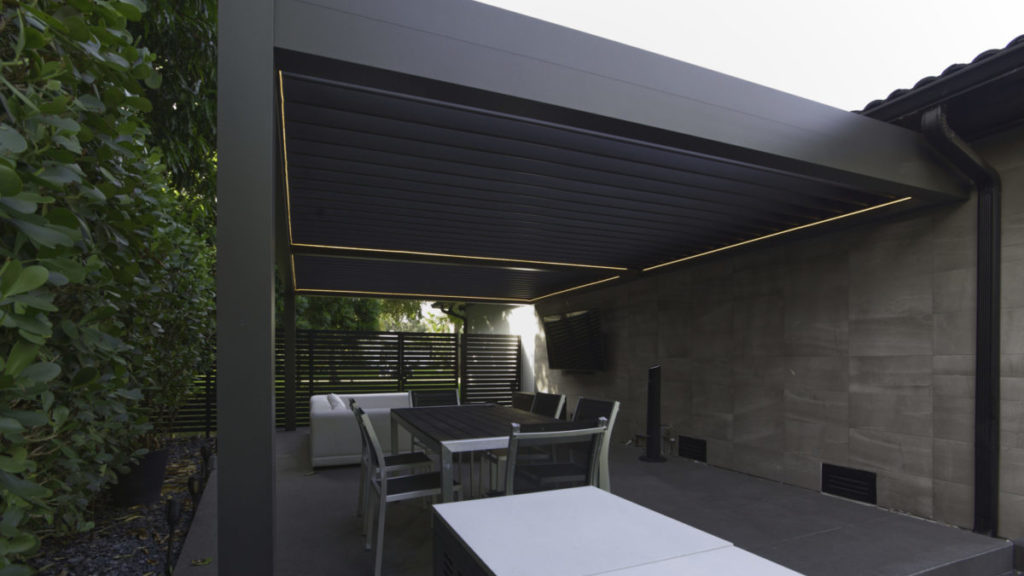 ---
Add a "Mending Wall" to Your Pergola
If the retractable curtains do not seem to be sufficient for your privacy needs, consider incorporating a full privacy wall into the pergola design. The static privacy wall is an ideal solution if your pergola is going to directly abut a neighbor's outdoor space or offer direct views from their windows. Establishing the permanent privacy wall also eliminates any awkward moments when you step outside and roll down the retractable screen as they watch. Static privacy walls are sturdy enough to support a mounted outdoor TV, decorative lighting, artwork, or a full wall of greenery. These types of privacy walls are usually fabricated from the same powder-coated aluminum as the rest of the pergola structure, so you can match them to the pergola's color scheme, or get creative and design the panels as an accent wall.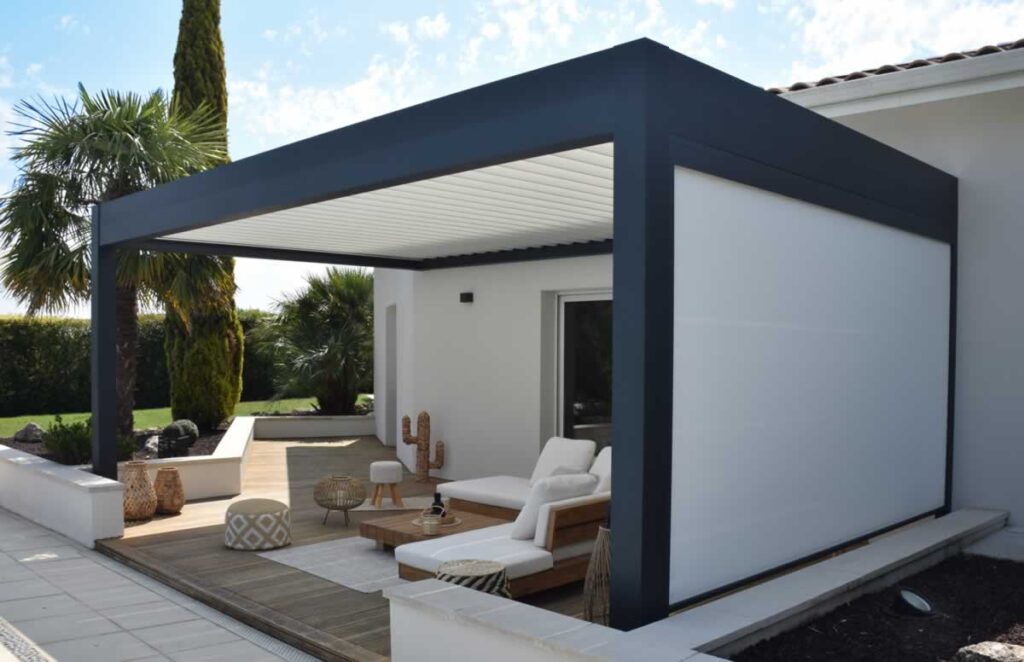 ---
Enlist the Help of an Expert
When considering a pergola project, there are regulatory issues with which you'll need to contend from state and local building regulations to often-archaic Homeowners Association bylaws and covenants. A qualified local pergola expert can help guide the design for the pergola permit, engineering, permitting processes and eventually the installation.
---
Navigating Local Building and Zoning
The next step will be determining exactly what type of pergola you are ALLOWED to build on your property, and where exactly you can build it. Every pergola project will need to abide by state and local building codes which prescribe everything from storm resistance needs to allowable size and height for the structure. Local zoning ordinances will detail the necessary "setbacks" for a given property., which govern how far from the property line a pergola must be built. Expect to find different setbacks for the front, back and sides of the property.
---
Regulatory Denial, Fear Not
If you find that restrictive setback requirements or other regulations prevent you from building a free-standing pergola or attaching one to the home, you can still evaluate some alternatives. The first option could be to explore a variance from the local zoning laws. You'll need a compelling reason for a variance to be granted though, so chart this course with the advice of a qualified professional. A second alternative could be an outdoor living structure that does not necessitate regulatory approval.
If you find yourself down this path, but are unwilling to sacrifice the benefits of a pergola patio cover, consider the Azenco K-Bana. Our customizable modular cabana can be customized to fit just about any space. It can be outfitted with a solid insulated panel roof and walls, or adjustable louvered panels. With unique self-leveling feet built into the support columns. In many jurisdictions, the K-Bana can be installed without a building permit or regulatory approvals.
---
Neighbors' Pergola: Mind the Homeowners Association
If you live in a neighborhood governed by a HomeOwners Association (HOA) the association's book of covenants, conditions and restrictions (CC&Rs) is a good place to start your research on allowable outdoor living structures. The CC&Rs are intended to maintain the look and feel of the neighborhood. These rules will also likely govern allowable colors for a structure, and even the allowable material. Often, a local municipality will not grant authorization for your patio cover or your neighbors' pergola project without the HOA's pre-approval.
---
Working with Your HOA
Generally, the CC&R documents will prescribe the application, review, and approval process for you to pursue a pergola project. It is usually relatively straightforward and easily navigable. In some cases, though, HOA rules can become dated and fail to account for modern pergola design, materials, and construction practices. For instance, some HOA rules are still conforming to 1980's era metal-roofed structure regulations. Obviously, pergolas have changed significantly in the last forty years. Increasingly, proactive HOAs are starting to adapt their rules to accommodate today's more-attractive pergola designs, such as wrapped columns that can match architectural features, and customizable powder coatings that mimic wood grain or stucco.
So, you may find that your association is willing to work with you to find a satisfactory solution for your unique project. Afterall, your home improvement project is going to elevate your home value, with a positive impact on the entire neighborhood.
---
Conclusion
If creating some backyard privacy is a priority for your next home improvement project, or if you are just jealous of your neighbors' pergola, the truly flexible and attractive pergola of your dreams may be easily in reach. If you'd like to explore exactly what type of pergola project could fit your neighborhood, contact Azenco to be put in touch with one of our local dealers near you.
---