| | |
| --- | --- |
| Location | Jupiter, Palm Beach County, FL |
| Type | Residential |
| Installer | Palm Beach Pergola |
| Date | February 2021 |
Outdoor Project
Warm days and cool nights call for outdoor fêtes, family BBQs and afternoons spent relaxing by the pool.
The owners of this lovely mansion wanted some interior comforts to make the outdoor activities more enjoyable. A luxury pergola-shaded seating area that could turn into an outdoor dining room was the perfect idea as it lends itself well to alfresco entertaining or relaxing without exposure to the elements.
Product Choice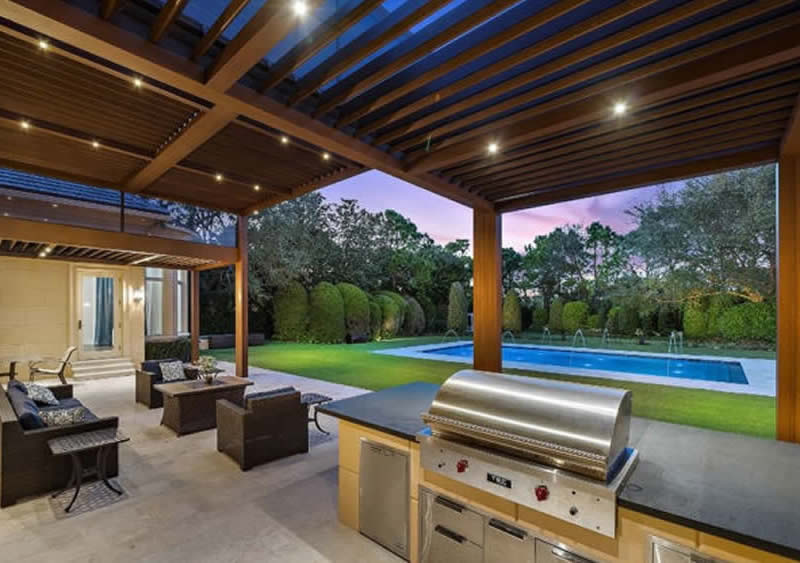 | | |
| --- | --- |
| Product | 3 Pergolas |
| Model | R-BLADE louvered roof |
| Type | Attached to the house |
| Size | 800 sqft with different heights |
| Options | Powder coated Cat. 2 + spot led beams |
| Color | Custom dark walnut with wood grain finish |
| Benefits | Amazing outdoor room |
| | |
The customers loved our R-Blade modern pergola design that could match the architecture of the mansion. These automated louvered roof systems allow for better climate management while also offering natural ventilation. This is all due to the in-built sensor system that detects the weather in real-time and reacts accordingly. For example, the rain sensors automatically close the blades, while the wind sensors find the perfect setting in case of strong winds to keep you and your guests comfortable.
This was the perfect solution for this Palm Beach county mansion in Bear's Club, Jupiter, FL, with its 800 sq. ft. space that boasts of wooden floors, a recording studio, dedicated game room, and other features.
---
The challenges of louvered pergola design for this project
Working on this special project with very exacting requirements was a very exciting challenge.
1- Three zones with different heights
This modern pergola design covers three zones with different heights – a living area, dining area, and an outdoor kitchen. Additionally, the customer wanted elaborate outdoor seating with no more than 8 spot beams, 16 LED lights, and a unique drainage system that had to be tied into the pipe under the gradient.
2 – Re-engineer our gutter system that prevents leakage
A super gutter was attached to the upper beam taking water from the main roof down a separate post, resulting in a neat design that's perfect for this luxury mansion. The customer also required a fully functional outdoor kitchen where practicality, technology, and aesthetics could provide a contemporary feel to the environment. Our bio-climactic pergola served as a perfect design feature for meeting all these needs – while also sheltering from atmospheric agents.
We designed the modern pergola with our sturdy and functional technology that provides a well-engineered solution to safeguard the deck from heavy rain and sunlight. This provides our customers with a beautiful and comfortable space to entertain friends and family members with a spectacular view.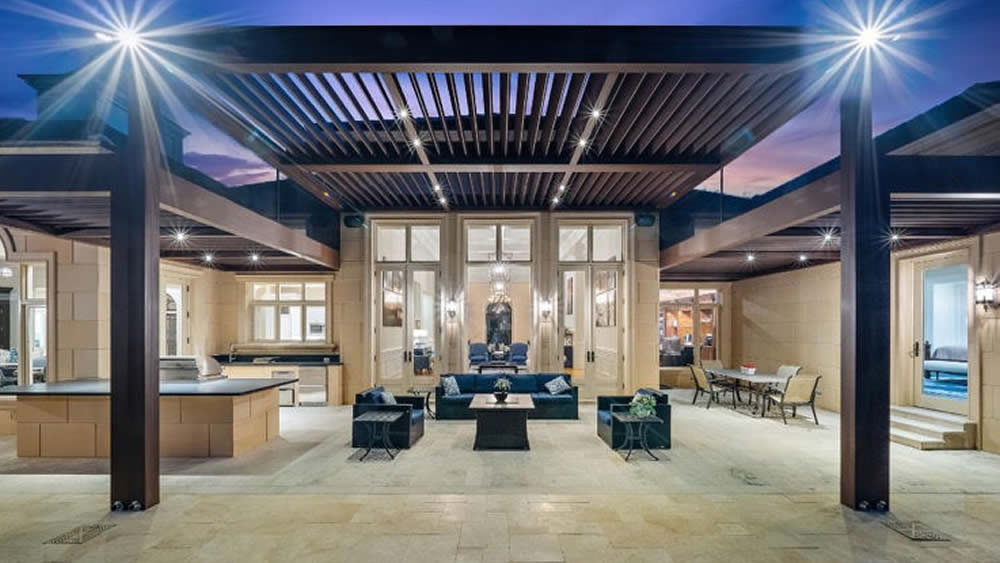 ---
Outside features and Azenco's solutions
All in all, we had to create an indoor-outdoor living room for this Bear's Club mansion. The luxury pergola had to match high standards and stand out from the rest of the architecture. That's why it was crafted in solid mahogany.
Before its renovation, this was just the huge yard with a pool. But now, it's the perfect indoor-outdoor area with casual rattan furniture and a tridimensional automated pergola that brings out the latest technology in home automation.
The large cooking area is spacious enough to accommodate a barbecue. But as chic and elegant as it looks, it can be super hard to maintain an outdoor kitchen since it is easily exposed by atmospheric agents.
However, the bio-climactic pergola offers it much-needed protection as it safeguards all your appliances, surfaces, and cooking items from excess heat and winds.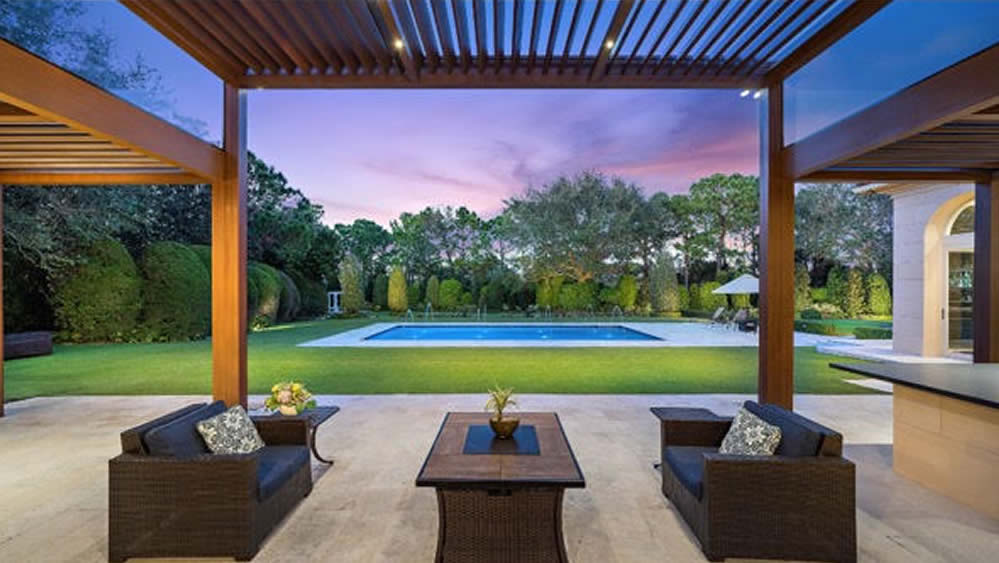 Turn around
Manufacturing: Custom-manufactured adjustable louvered pergolas and custom color. Delivery 3 week.
Mounting on site: 3 days with 3 technicians.
So the next time you plan a plain-air party and want to let your guests in on the fantastic vistas outside your home, get in touch with us. We ensure that you and your loved ones get to avoid the blazing sun or pouring rain with our louvered pergola designs.