Outdoor living has become a massive trend in home makeovers, making pergola ideas the perfect architectural additions to your backyard, patio, or garden.
If you plan to spruce up your backyard or add a little shade to the patio so you can enjoy a summer afternoon, pergolas are just what you need. Discover 30 pergola ideas and designs that you can add to your outdoor space.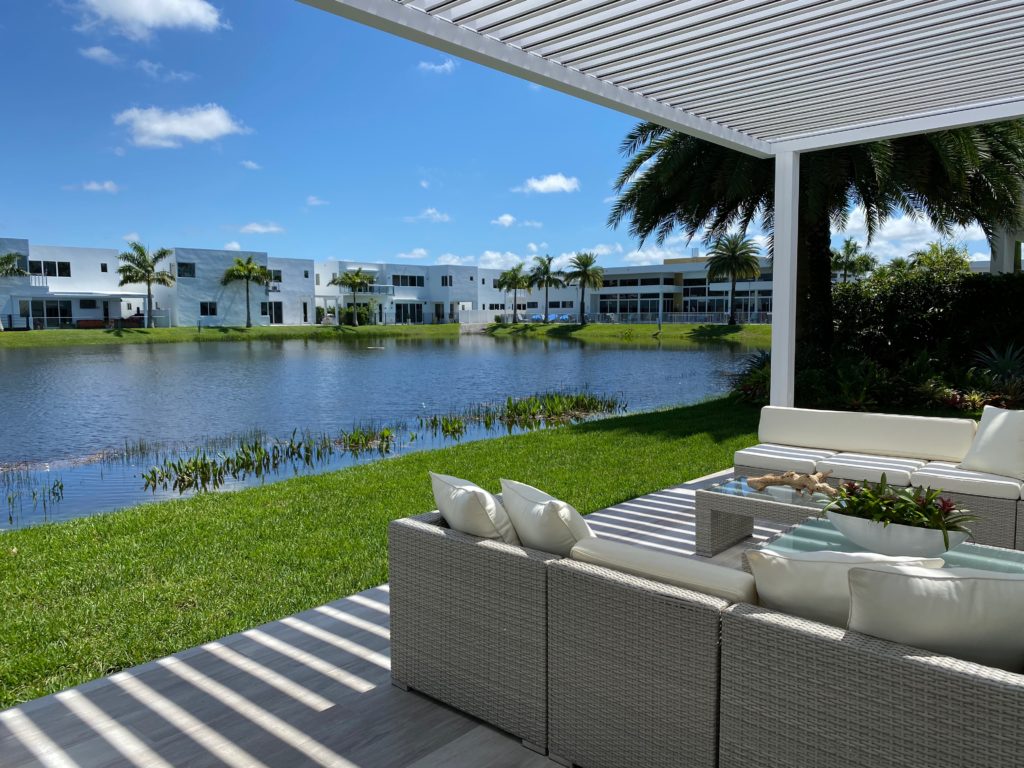 ---
1. Wooden Pergola ideas
To give a more rustic and natural vibe to your backyard or patio, go for a wooden pergola that becomes the focal point of your garden.
2. Pergolas With Roof
Play around with a range of colors for the roofed pergola and select one that perfectly matches your home's outdoor space style.
3. Louvered Pergolas
With the adjustable mechanisms of a louvered pergola, you can adjust the shade according to your preferences, making it perfect for a summer pool party.
4. Wall-Mounted Pergolas
Wall-mounted pergola ideas serve as the perfect shaded oasis. These pergolas are constructed using similar materials and colors as your home's exterior so that they can blend easily with your patio style.
5. Pergolas For Landscaping
Spruce up your garden with a pergola that blends in with other landscape elements. Don't forget to add rose beds, a stucco fireplace, or a swing.
6. Contemporary Pergolas
For a more modern look, you can go for a more minimalist construction that offers all the bare essentials, including seating furniture, fire pit, shade, and privacy.
7. Pergola Combined With An Arbor
To create a more charming entrance for your garden, you can install a pergola with an arbor that mesmerizes your guests.
8. Pergola On A Deck
Cover your deck for a more private retreat with a full-roof pergola. With arched beams and a roof over the freestanding deck, you can create a more intimate space in your garden. Add curtains or a privacy screen, and you get a perfect deck enclosure.
9. Corner Pergola ideas
Small corner pergola ideas make for the perfect decorative element for the corner of your garden or backyard. Add outdoor lights, flower beds, and seating furniture to complete the look.
10. Open Top Pergolas
This is an open roof pergola design that allows air circulation and sunlight while adding beauty to your garden. Add vines or potted plants for a cozier look.
11. Gabled Pergolas
Add more classical charm to your home by installing a gabled pergola. With a raised roof that adds more height to the pergola, you get a stunning enclosed outdoor living area.
12. Steel Pergola
Go for a steel pergola with a metal roof if you need a durable and reliable structure that adds to your house's minimal style.
13. Pergola Attached With A Heating System
Pergolas serve as the perfect structure for attaching electric heating systems to their beams so that you and your guests can enjoy a warm day out, even in the winters.
14. Pergola With Tin Roof
For complete coverage from the sun and rain, get a pergola with a tin roof that offers rugged protection from extreme weather conditions.
15. Pool Pergola ideas
Consider an extended pergola for your poolside that offers some shade at the edge of the pool and your patio.
16. Traditional Pergolas
Consider a wooden pergola decorated with climbing plants and rustic seating furniture to add a more traditional vibe to your garden or a small backyard.
17. Cantilevered Pergola
To add a more modern look to your backyard, get a cantilevered pergola that offers extra shade to your patio or pool.
18. Pergola Ideas With Roof Variations
Achieve your desired look with outdoor pergola roof ideas. You can go for bright colored roofs or patio pergolas with a roof made from solar shading panels to block out the sun.
19. Pergola With Polycarbonate Roof
A polycarbonate roof pergola offers adequate protection from the sun and heat. Available in a wide range of colors and tints, it adds to the ambiance of your patio.
20. Outdoor Roof Pergola Ideas
Pergolas elevate your outdoor living space and offer it a more defining element. Pair an outdoor pergola with your red-brick fireplace or rustic seating furniture.
21. Pergolas As A Transition Structure
Pergolas built with a roof that complements your home architecture work as a smooth transition structure when you move from your house to your backyard or the patio.
22. Pergola On A Pathway
The pathway that connects your front yard to your backyard is another transition space that can be accentuated with a pergola paired with vines and flower pots.
23. Lighted Pergola Ideas
String lights or Edison bulbs hanging from the pergola roof along with vines and potted plants give a soft and warm ambiance to your patio.
24. Pergola With Curtains
Curtains on a pergola add privacy and comfort to your outdoor living space while offering a more dramatic effect to the backyard.
25. Bioclimatic Pergola With Louvered Roof
Perfect for all weather conditions, the bioclimatic pergola offers natural ventilation and an automatic and adjustable louvered roof.
26. Pergolas For Kid-Friendly Outdoor Spaces
Make your patio more kid-friendly by adding an open pergola and a swing where your kids can enjoy their play-dates.
27. Pergola Ideas For Urban Spaces
Small apartments with balconies or homes with cramped spaces in urban areas can shelter their outdoor area with a modern pergola design elevated with lights.
28. Outdoor Kitchen Pergola Ideas
Cook outside and entertain your guests simultaneously by installing a pergola over your outside kitchen that offers shelter and warmth.
29. Pergola Ideas For A Wet Bar
Add a pergola over the wet bar and grill to make your outdoor dinners more comfortable and private.
30. Pergola With Aluminum Roof
The pergola's aluminum slats create the most dramatic effect on your garden, making it a must-have for every home.
---
Pergola Trends
Add Plants
Decorate your pergola with plants that thrive in shady spaces, such as jasmine, climbing rose, passionflower, honeysuckle, black-eyed Susan, and wisteria.
Color Trends
According to Better Homes & Gardens, black, charcoal gray, warm whites and creams, classic navy, and gray-greens are hot exterior color trends for 2021. Pergolas look fantastic when they blend in with a home's exterior, whether powder-coated to match or featuring coordinating touches. If you're painting your home, bring the update to your pergola with accents in the same color, with high-durability powder-coated finishes and decorative corbel ends.
Outdoor Furniture Trends
As people spend more time home, extending their functional and comfortable living spaces to the outdoors continues to be a priority. According to The Zoe Report, comfortable yet stylish outdoor furniture are hot purchases for homeowners this year. Since a pergola already gives your outdoor space a resort vibe, complete the look with comfy upholstered sofas and chairs for you and your guests to relax and enjoy.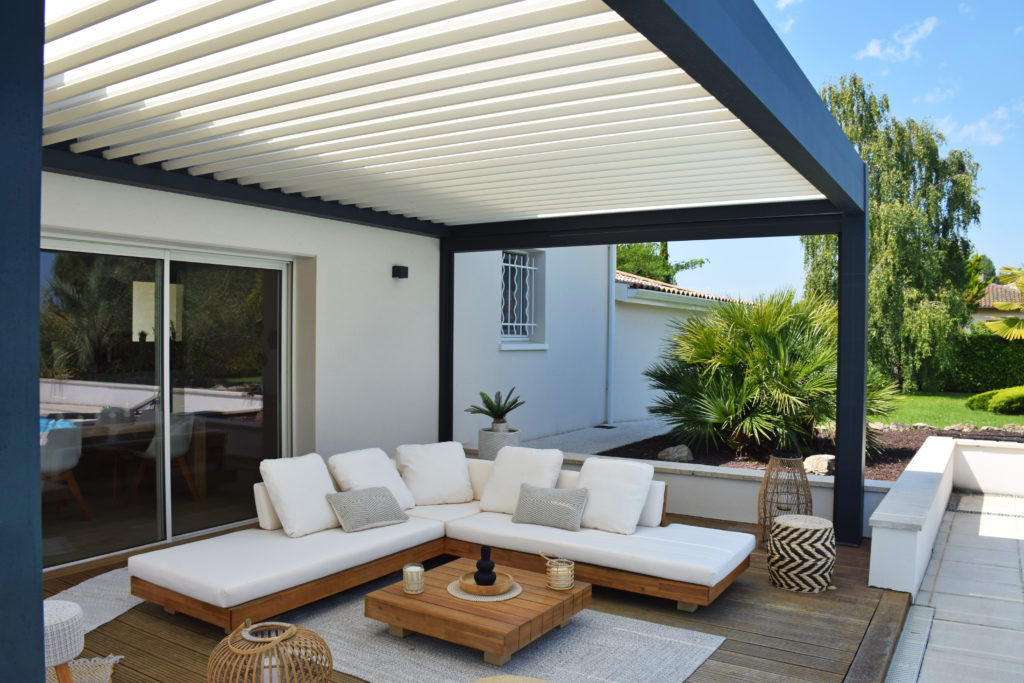 Lighting Trends
Built-in lights are also a hot trend for pergolas. Extend a party into the night with a pergola featuring sleek embedded LED lighting, whether spots or rails.
Pergola With Slat Wood Screens
Increase the privacy of your outdoor space with slat wood screens that protect you from prying eyes while allowing airflow for a cool outdoor space.
---
Innovative Options
Azenco's bioclimatic R-Blade is a pergola with innovative customizations such as sensors that close the louvered roof when it rains and open in strong winds. You can also add infrared heating, LED lights (rail or spots), solar panels, as well as solar and insect screens.
Playground Area For Kids Under the Pergola
Protect your kids from the sun with a playground area under a pergola. A fixed roof pergola insulates from harsh sun while an adjustable louvered roof can open when the weather cooperates or closed tightly to let the kids play outdoors even when it rains.
Add a BBQ
Place your grill under a pergola to barbecue out of the draining sun and keep the rain from dousing your charcoal or zapping the heat from your low-and-slow smoker, all while providing and protected space for food prep.
Add Solar Panels
If you're exploring alternative ways to generate electricity, you can customize the Azenco R-Shade with solar panels to power LEDs or embedded outlets.
Add Fans
A pergola can be fitted with a beam for mounting a ceiling fan, which will boost air circulation and comfort.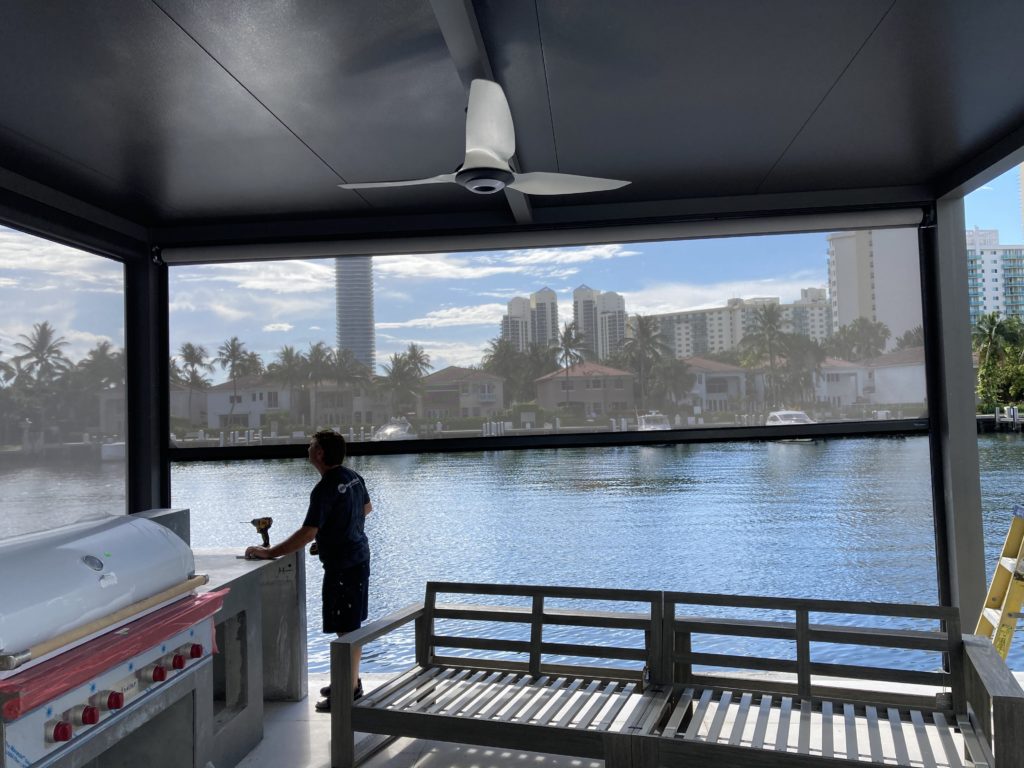 ---