Last Updated on
There is truly no better way to unwind at the end of a stressful day or week than to take a dip in a hot tub and loosen up those tense muscles. After a hard day's work, self-care is essential, but it's not just you that needs to be taken care of.
Your hot tub can get littered with leaves, bugs, and other debris carried around by heavy winds. Or maybe the sun is getting a little too hot in the summers for you to enjoy your outdoor hot tub. These are just some of the reasons why it might be a good idea to build a pergola over your hot tub.
A quality pergola not only protects your privacy but can also be a beautiful structure that blends in well with the surroundings. But be warned, building a pergola over a hot tub is not an easy task. So it's always good to work with a professional with the necessary experience and expertise.
Since these experts understand how to build a pergola over a hot tub, they can help you choose between the available materials and designs. The most popular options are wood or aluminum, both perfect for creating a cozy little shelter over your hot tub or jacuzzi.
Hot Tub Pergola Ideas – Know Your Options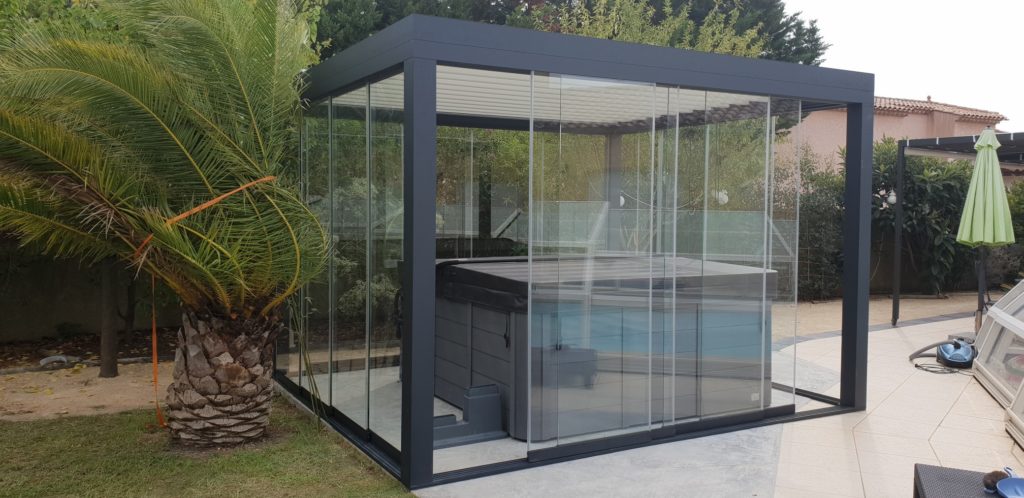 The right pergola over a hot tub or a jacuzzi pergola adds shade while simultaneously allowing air to flow through effortlessly. Pergolas are preferred over gazebos because these offer a wider variety of design and quality options for all sizes and budgets.
Pergolas cast shade over your hot tub or jacuzzi with enough sunlight coming through to make your warm afternoon enjoyable. This way, you can enjoy some quality time in your hot tub without the fear of getting sunburned or getting battered by extreme winds – what could sound better than that?
Most people often fear that hot tub pergolas don't offer enough protection from rain or strong winds. While that might be true for others, Azenco Outdoor specializes in providing outdoor overhead structures that are both wind and rain resistant. Additionally, they come with an integrated gutter system that efficiently collects rainwater.
You can even order louvered pergolas that have rafters that automatically adjust or enclosed pergolas to ensure the perfect shade underneath no matter what time of the day. These can protect you from rain by completely closing so you can enjoy the hot tub even when it's drizzling outside.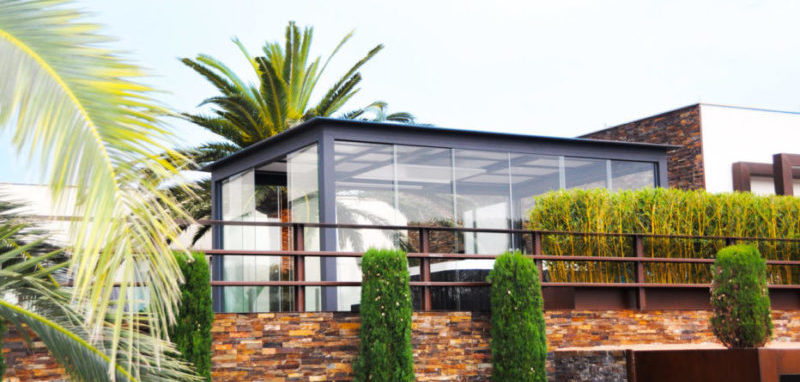 You could also opt for a pergola with screens, glass panels, metal shingles, flowering plans, fabric drapes, or even a combination of these things.
When building this structure around your hot tub, remember that it's going to come in contact with chemically treated water. Base your choice for materials and hardware on this fact if you want something that sturdy and safe for life.
You'll also have to create a clear drainage route, choose level ground that's sturdy enough to support both the structures, and choose proper hardware that's well-coated to resist corrosion.
In Conclusion
It's best to ask your local pergola company for guidance. This is a structure that can let you use our hot tub all year-round, no matter how the weather is outside. You can count on it to protect you from the elements of weather, so you need it to be built by someone who knows what they are doing.
The experts here at Azenco specialize in pergolas for outdoor spaces no matter where your home is. Our products will stand the test of time, come rain or sunshine, providing true expertise in design and construction to bring your outdoor hot tub enclosure dreams to life.
With the right design, quality materials, corrosion-resistant hardware, and regular cleaning, you can extend the life of your hot tub and pergola while also adding to the overall beauty and value of your property.
---