After a hard day's work, self-care is essential. There is truly no better way to unwind at the end of a stressful day or week than to take a dip in a hot tub and loosen up those tense muscles. If the jetted relaxation of the hot tub is your ideal outdoor respite from the grind, then you certainly do not want the hot tub to become a new source of stress. Building a pergola over a hot tub can be an easy way to not only protect your hot tub investment, but ensure the tub is even more accessible in any weather condition.
---
The Benefits of Having Pergola Over A Hot Tub – Privacy for You and Protection for Your Tub
Your hot tub can get littered with leaves, bugs and other debris carried by heavy winds. The tub's insulated cover keeps debris out of the water when it's not in use, but when you are bubbling away the last thing you want is falling leaves interrupting your enjoyment. Maybe the sun is getting a little too hot in the summers for you to enjoy your outdoor hot tub, or you have some jealous neighbors staring forlornly at your evening tub time. Not only does the pergola roof protect you from the beating sun, but it protects your hot tub investment from fading in the UV rays, and keeps damaging rain, sleet and snow off the unit. These are just some of the reasons why it might be a good idea to build a pergola over your hot tub.
A quality pergola not only protects your privacy but can also be a beautiful structure that blends in well with the surroundings and adds value to the home. But be warned, building a pergola over a hot tub is not an easy task. So, it's always good to work with a professional who has the necessary experience and know-how to execute this project properly.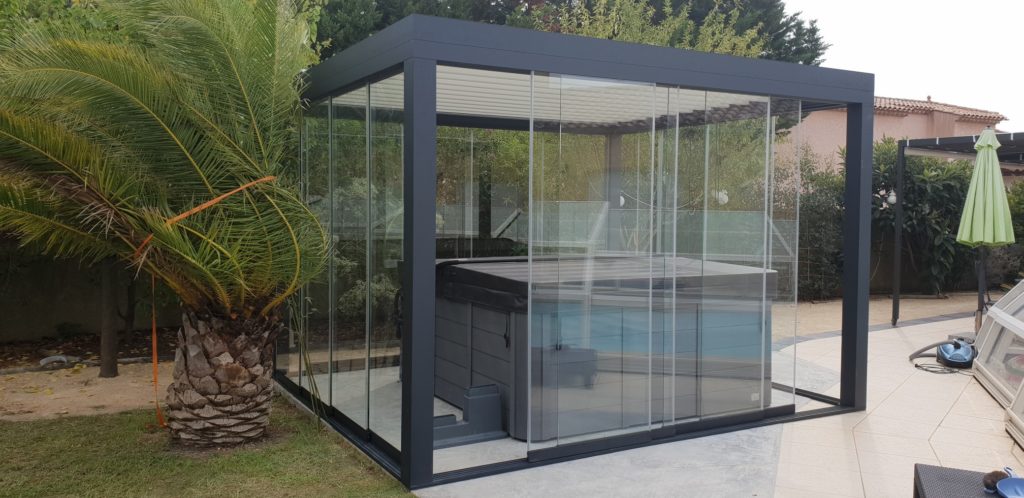 ---
Can I DIY a Pergola Over My Hot Tub?
If you are handy enough, building your pergola might be an option, but quite frankly would be a short-sighted decision. In most municipalities a pergola project will require building and engineering permits, which necessitate soil samples and engineer-certified plans. That doesn't even get into the actual fabrication of the pergola itself. So, the best option is to work with a qualified local installer who is familiar with local building codes, and has experience customizing pergolas.
Since these experts understand how to build a pergola over a hot tub, they can help you choose between the available materials and design options. The most popular options are wood or aluminum, both perfect for creating a cozy little shelter over your hot tub or jacuzzi, but well-protected aluminum structures have some distinct advantages.
---
Materials Make All the Difference
When building a pergola around your hot tub, remember that it's going to come in contact with chemically treated water. Leaking external filters, tub overflows or just splashing chlorine waters can be devastating to many construction materials, especially over prolonged exposure. Choosing materials and hardware that resist corrosion will ensure the pergola remains sturdy for a lifetime.
While wood construction can offer a rustic feel to the pergola, power-coated aluminum will stand up to these corrosive chemicals best. A quality manufacturer will also be able to customize the powder coating to match your surrounding color schemes, even allow the pergola exterior to look just like wood grain with all the benefits of durable aluminum construction. It will also be important that the pergolas internal hardware is able to combat these corrosive effects.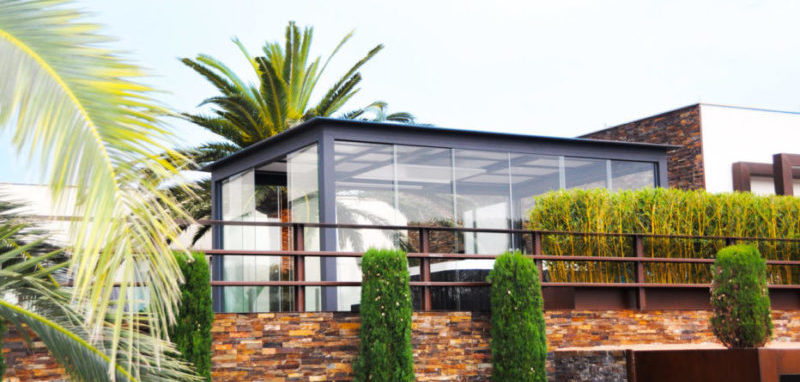 ---
How to Plan for Building a Pergola Over a Hot Tub
Beyond the chemical-infused hot tub water, your pergola also needs to stand up to anything Mother Nature can throw at it. In coastal locations, that means the pergola needs to be hurricane resistant, while in colder climates it will need to withstand winter snowfall and icing conditions.
You'll also have to create a clear drainage route while choosing level ground that's sturdy enough to support both the structures. While simple grading can ensure tub water doesn't wash away soil around the hot tub, heavy rain or snow melt can also undermine the tub. A pergola with an internal gutter system will ensure the rain water is shipped away from the tub. This is, yet another, reason to work with a qualified installer who has the engineering capabilities to conduct necessary soil samples, ensure proper code compliance, and execute a professional installation.
A qualified installer should point you to a pergola solution that combines the right materials, the structural capacities necessary for your unique location, and the integrated drainage that will keep rain water draining away from your hot tub's base.
---
Hot Tub Pergola Ideas – Know Your Options
The right pergola over a hot tub or a jacuzzi adds shade while simultaneously allowing air to flow through effortlessly. Pergolas are preferred over gazebos because these offer a wider variety of design and quality options for all sizes and budgets.
Pergolas cast shade over your hot tub or jacuzzi with enough sunlight coming through to make your warm afternoon enjoyable. An adjustable louvered roof pergola even allows you to control the amount of sun filtering through, or close it complete in the rain. This way, you can enjoy some quality time in your hot tub without the fear of getting sunburned, getting battered by extreme winds or being nagged by a passing shower. What could sound better than that?
---
Pergola with Motorized Retractable Roof
Most people often fear that hot tub pergolas don't offer enough protection from rain or strong winds. While that might be true for others, Azenco Outdoor specializes in designing outdoor overhead structures that are both wind and rain resistant. Additionally, they come with an integrated gutter system that efficiently channels rainwater away from the hot tub area.
Our R-Blade Motorized Louvered Roof Pergola checks all the boxes. Its adjustable louvered roof opens and closes at the touch of a button, and is the only product on the market that completely seals out the rain when closed. While you may see other adjustable or enclosed pergolas, Azenco leverages a unique dual-walled louver design that channels rain water to the edge of the pergola frame, and then through a hidden downspout system. The result is no annoying drips, oft seen with other manufacturers, while you enjoy your hot tub. The R-Blade Pergolas have also been certified for high-wind hurricane zones thanks to their high-quality engineering, and durable construction.
---
Intuitive Sensors Control the Pergola Roof
The Azenco R-Blade Pergolas can also be outfitted with integrated sensor arrays to make operation totally intuitive. A rain sensor can monitor for impending showers and automatedly close the louvered roof at the first sing of rain, so you don't even have to leave the cozy confines of the hot tub to close the roof. For hut tub projects in cold climates, the R-Blade's integrated temperature sensor can automatically open the roof when temperatures dip below freezing to ensure snow build up does not damage the pergola.
---
How Can I Make My Hot Tub Look Nice?
Beyond its functional benefits, a pergola over a hot tub can also provide a way to seamlessly tie it into an overall outdoor living space. With hidden assembly hardware, Azenco pergolas deliver clean exterior lines that fit any architectural style, but they can also be optimized with features that accent your unique design sense, and augment the way you plan to use your new outdoor living space.
To help connect the pergola over your hot tub with surrounding design schemes, you could opt for a pergola with screens, glass panels, metal shingles, flowering plans, fabric drapes, or even a combination of these things. Glass panels can block out rain and snow entirely, effectively making a standalone outdoor room. Fabric drapes provide great privacy from those jealous neighbors. And integrated retractable screens, combined with the precision-crafted louver system, seal out the bugs in the evening.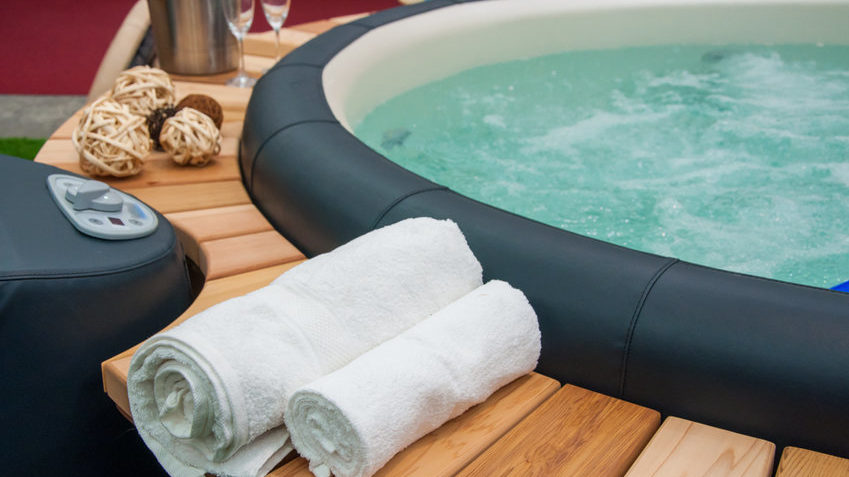 ---
In Conclusion
Can you build a pergola over a hot tub? Yes. Should you build a pergola over your hot tub? Absolutely! That said, it's best to ask your qualified local pergola dealer for guidance. This is a structure that can let you use our hot tub all year round, no matter how the weather is outside. You can count on it to protect you and your hot tub investment from the elements, so you need it to be built by someone who knows what they are doing.
The experts here at Azenco specialize in pergolas for outdoor spaces no matter where you live. Our products will stand the test of time, come rain or sunshine. Our true expertise in design and our nationwide network of qualified dealers and installers with help bring your outdoor hot tub enclosure dreams to life.
With the right design, quality materials, corrosion-resistant hardware, and regular cleaning, you can extend the life of your hot tub and pergola while also adding to the overall beauty and value of your property.
---