Estero, Florida, is a prized destination for families, retirees, seasonal residents and multigenerational households seeking the quiet, laid-back lifestyle of South Florida. In recent years, the area has seen immense development of new all-inclusive planned communities. The most recent of which, Verdana Village, features 1,200 acres of natural preserve with more than 30 lakes surrounded by 2,400 premium homesites. To bring the Floridian outdoor adventures right to residents of the community, developers included numerous sporting and relaxation amenities on property, including a massive resort-caliber pool area. To offer some comfortable shade spaces for the daybeds located throughout the community pool deck, local Azenco dealer, DB Structures was commissioned to design and install four separate fixed-roof R-SHADE pergolas.
🏡 Type: Commercial: Community Pool Pergola
📅 Date: July 2023
👷 Installed by DBStructures
Product: R-SHADE pergolas
Size: Four 8' x 8' pergolas
Options: Insulated fixed roof panels, decorative Corbel ends
Color: Gray Bronze 
Benefits: Shade structures for community pool deck
Community Pool Pergola Project Overview
Sandwiched between the sweeping Caribbean beaches of Southwest Florida and inland stretches of wide-open spaces, Estero, Florida is a magnet for families looking to enjoy everything that the state has to offer. With amazing beaches such as Bonita Beach, Lovers Key and Fort Myers Beach just a short drive away, and the tranquil Estero River running nearby, Verdana Village offers great appeal for anyone looking to get out for water activities like kayaking, fishing and sunbathing. As designers were imagining the new planned community, they sought to bring resort-level outdoor entertainment to members of the community as well. Featuring indoor and outdoor tennis and pickleball courts, a fitness center, movement studio, and full-service café, the community space is capped off by a sprawling pool and pool deck. Anticipating multiple years for new tree plantings to grow in to provide any shade for the pool deck, developers called upon local Azenco dealer, DB Structures, to design and install a series of 8' x 8' community pool pergola structures to keep bathers cool in the blazing afternoon direct sun.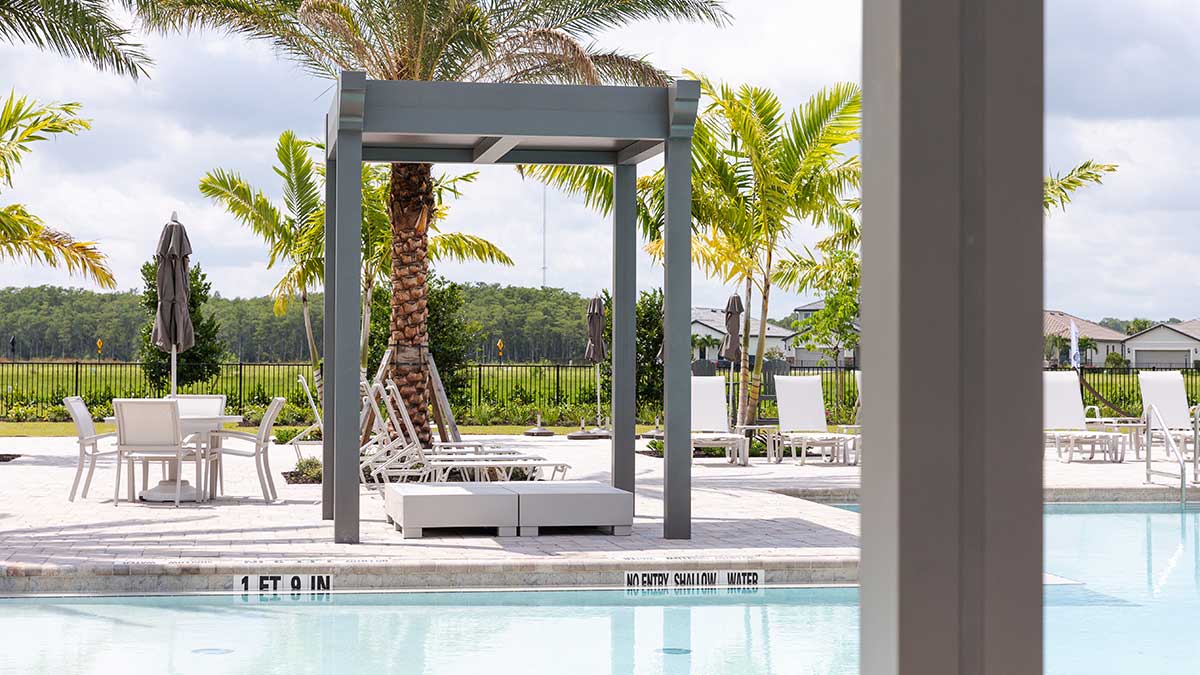 As totally virgin ground, the site for Verdana Village was an open canvas for the architects and community planners to envision a new neighborhood that would appeal to a wide array of homebuyers. With top flight amenities planned throughout the property, the community pool area needed to rise to the elegance of Southwestern Florida's destination resorts. When the DB Structures team was approached to design and install the community pool pergola shade structures, they sought to deliver on the resort-caliber styling of the surround pool deck.
Without site restrictions limiting location of the pergola structures, the team was free to focus on choosing the most durable and elegant pergolas possible. Surrounded by a wide open pool deck that would be bathed in all-day sun, the team opted for a full-time shade solution. The Azenco R-SHADE was selected for its insulated fixed roof panels that would radiate the sun's rays, and provide an escape from passing afternoon showers. With stationary daybeds situated below the pergolas, any rain water also needed to be channeled away from relaxing guests. The R-SHADE's hidden gutter system provided the perfect solution for this need, capturing every drop of rain and channeling it through the internal gutters, down the pergola support columns, and depositing it away from the shade space.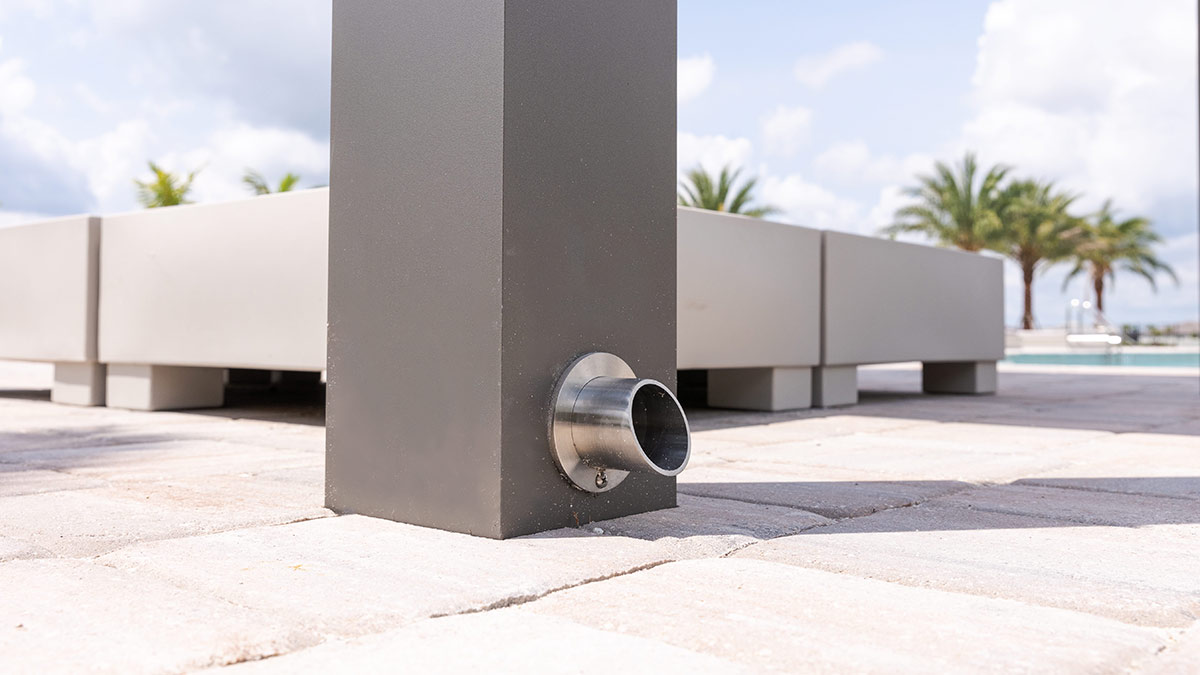 A second point of importance for the Verdana Village developers was the anticipated need for ongoing pergola maintenance. With sprawling community amenities to manage, it was important that maintenance demands for the pergola structures were minimized. Fabricated from high-quality aluminum, and coated with high-quality powder coating, the R-SHADE ensures virtually no maintenance would be needed for any community pool pergola. Located in a wide-open pool space, the structures were free from falling debris that might clog the gutter system, so the Verdana Village maintenance team would only need to gently shower the pergolas to remove any dust.
Most-importantly, the developers of Verdana Village needed assurance that any of the community pool pergola structures were going to be durable enough to withstand the routine winds and tropical storms that frequent the Caribbean Gulf. The local destruction wrought by Hurricane Ian throughout the Fort Myers area in 2022 was still fresh in everyone's minds. The DB Structures team was able to confidently recommend the Azenco R-Shade which carries a Miami-Dade County NOA certification denoting it as a hurricane-rated pergola.
With confidence in the structure's durability, minimal maintenance, and luxury styling, the Verdana Village team also wanted to ensure each community pool pergola would fit seamlessly with the look of the pool deck. The clean exterior lines of the R-SHADE were able to cast a beautiful elevation accent among the low-slung deck chairs and daybeds of the pool deck. The DB Structures team also incorporated decorative Corbel ends on the pergola supports to drive home the resort styling of the space. The R-SHADE pool pergolas were clad in a standard gray bronze powder coating to flow with the brown and slate colored brick that made up the pool deck.
Offering some of the fastest turn-around times in the custom pergola industry, Azenco was able to fabricate the pergolas in just four weeks, and the DB Structures team installed all four structures in a mere two days on-site.
Fabrication: 4 weeks
Two days on-site installation
If you are a contractor or community developer looking to incorporate community shade spaces into your next project, contact us to learn more about our innovative outdoor living structures at 305 306-3204.