Do you dream of having a rooftop deck where you can chill with your friends and family and soak in the sun? Or perhaps you want a space all to yourself where you can relax in the shade while enjoying the view from the top? Are you the owner of a commercial building or restaurant looking to expand your available square footage?
If you're looking for any of the above, installing a rooftop deck with a pergola is the perfect solution!
---
What is a roof deck?
Most-often seen on flat-roofed homes and commercial buildings, a rooftop deck is a great place to relax or take in some evening air. For restaurants, a roof deck can be a business-driving investment to expand seating capacities. A roof deck can be made of wood decking or more akin to a patio with pavers, artificial grass or crushed stone as a floor. Obviously, the roof of any home or building is going to receive full-time sun and be exposed to rain and snow, so incorporating suitable shade and weather protection into a roof deck design is imperative.
Roof decks have become incredibly popular. A rooftop deck can create new outdoor living spaces with amazing views of downtown or elevate the sunset views from a coastal home or restaurant. If you are considering adding a roof deck to your existing home, office or restaurant, it's good to get a glimpse of what that view will look like in advance.  Identifying any obstructing or distracting elements of the view, like neighboring roofs or the restaurant next door's dumpsters, will impact your design choices. If your roof can not be accessed easily or safely, call in a drone pilot to give you a bird's eye view from your future roof deck before you start planning.
---
Can any roof support a deck?
Whether installing a new roof deck or simply adding a shade cover to your existing rooftop deck, make sure that your roof structure can withstand the heavyweight. For this, you will need a contractor with access to a structural engineer or a building code official to help you determine how much extra weight your rooftop can support. A qualified builder will be able to advise on what your existing roof can support, and/or the necessary renovations required to accommodate the added structure. There are certainly situations where a home may not be able to support a rooftop deck, in older homes for example. That said, an experienced contractor will have the knowledge and skill to properly engineer your roof deck to meet your home or commercial build's unique requirements. So, always work with a professional!
---
Is a rooftop deck expensive? 
Residential roof deck projects can easily cost upwards of $100,000 depending on the size of the deck, other design elements and structural necessities outlined by local building codes. Obviously, ensuring the structure is completely safe is imperative, so a rooftop deck project is no place to take a chance with inexperienced contractors. Additionally, make sure to factor into your budget the cost of a shade cover such as a pergola. The benefits of its protection from sun and rain will certainly support the louvered pergola cost.
While adding a roof deck to an existing home or commercial building does require a sizable investment, the return on that investment can be massive. For homeowners, a stylish and functional roof deck not only offers luxurious outdoor living space, but when it comes time to sell, a rooftop deck is a high-demand amenity that can drive resale value. For commercial buildings, a roof deck can help drive tenant demand and elevate rents. The value of a rooftop space for restaurants is even more impactful, as the roof deck can often vastly expand the dining capacity of the business and help deliver that ROI in short order.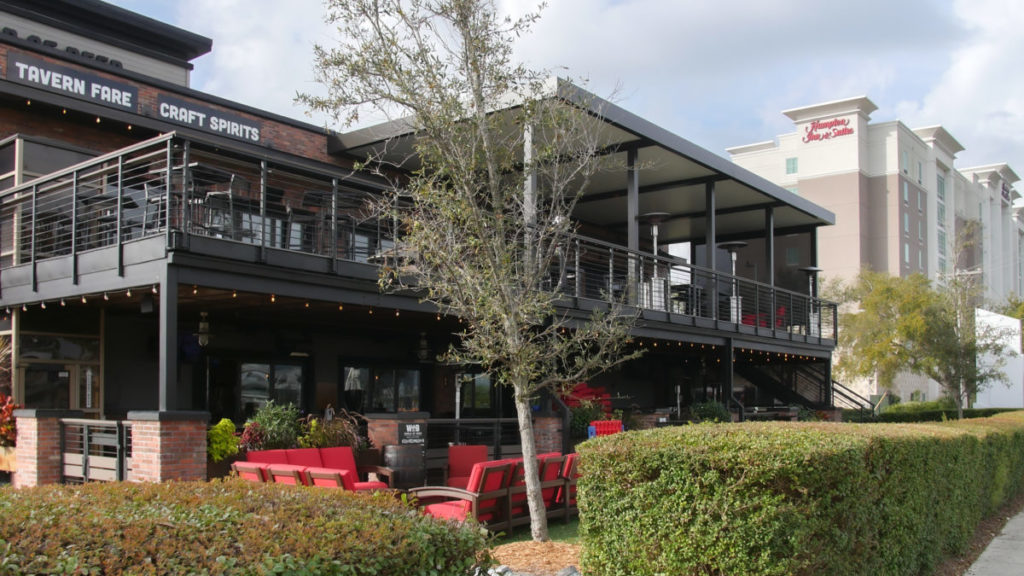 ---
Restoring a roof deck? 
Most roofs need to be replaced just about every 30 years. These projects can range from simply scraping and replacing old shingles to full replacement of the wood below as well. As this inevitable anniversary approaches for your home or commercial building, it's a great time to consider adding a new roof deck to the structure. Additionally, the nature of existing wooden roof decks is they eventually require restoration. When it's time to replace the decking or tackle other routine maintenance, it's also an ideal time to pull the trigger on a redesign of the space.
If you are committing to building a new roof deck, or restoring an existing rooftop outdoor living space, make sure its design is aligned with how you expect to use the space. If you expect it to be a minimalist relaxation space, then simple planters and outdoor furniture might be sufficient. But, if you want the rooftop deck and its sweeping views to be a true entertainment space, then consider incorporating a gas fire pit or a full-blown outdoor kitchen space. Obviously, protection from sun and rain will be necessary for year-round use of the space, and there is no shade structure more perfectly suited to a rooftop deck than a light-weight modern aluminum pergola.
---
Plan Your Rooftop Deck Design
If you're planning to have a covered rooftop deck, chances are you might already have a few ideas on how you want to design it. Do you want an overhead pergola on your deck? Perhaps you have a pool, and you want to enhance your pool deck? Perhaps you want to enjoy your terrace all year long and be protected from the wind and rain? Whatever you decide, professionals at Azenco Outdoor can help you with your unique space.
To utilize your rooftop deck space wisely, placing a pergola in the center would be a great use of the space. You can have potted trees and a tiled pathway leading to and from the pergola. Our Azenco pergolas have three different types of pergola structures. Here are a few ideas for your covered deck that can help you decide what you're looking for: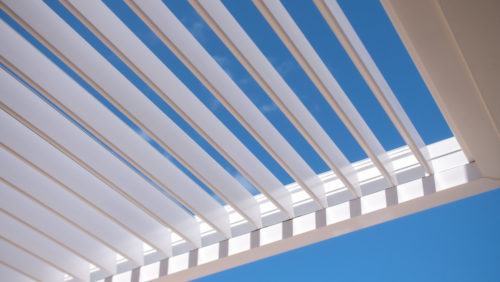 ---
Louvered Roof
The bioclimatic pergola with a louvered roof is perfect for sunny and wet climates. The roof blades can protect from the sun in the scorching heat and allow light and wind to penetrate in the winter. This R-Blade louvered roof pergola is made of aluminum to provide maximum resistance against strong weather conditions.
You can also install a ventilation system at the top where the blades allow for automatic opening and closing of blades during heavy rains and windy conditions.
---
Fixed Roof
If you fancy an elegant covered rooftop deck to organize evening parties, an R-Shade pergola would be preferable. This pergola has insulated sandwich panels to regulate the temperature inside and outside the pergola and even with its solar panels! It is waterproof and wind-resistant and requires less maintenance. For these reasons, the R-Shade pergola might be the perfect fit for you!
---
Cabana With Manual Louvered System
If you have a small covered rooftop deck, consider installing a K-Bana free-standing pergola that doesn't take up your entire space but at the same time allows you to create a flexible outdoor living space so you can enjoy the view with your friends and family.
Suppose you are unsure of your rooftop structure. In that case also, a K-Bana is perfect for installing, given its adjustable posts that can be adjusted on the unleveled ground to provide stability to the structure.
---
Commercial and Residential rooftop deck Projects
Commercial projects Examples
A well-lit, fancy rooftop can add personality to any restaurant or bar's overall structure and make it stand out. So make sure you choose a cover that goes with the architecture of your place. All Azenco's gazebos and pergolas are made with the finest materials integrated easily within modern and contemporary architecture.
---
Residential Rooftop Deck Ideas
If you're a fan of potted plants and flowers, you can create your own greenhouse pergola garden with flowering trees, plants, and bushes. This will offer a lush contrast to the wooden rooftop deck and can make your own little orchard on earth.
Consider putting brightly colored lounge chairs to add some life to your covered rooftop deck. You can also put miniature bulbs and fairy lights to have a nice, cozy lit-up space.
---