Are you in the midst of planning your dream outdoor kitchen under the shade of a magnificent Azenco pergola? Well, creating a covered outdoor kitchen can extend your living space and allow you to enjoy the beauty of the outdoors while cooking and entertaining. To transform your pergola project into a luxury modern outdoor kitchen, you'll need the right design and appliances. However, finding the perfect solution can be a real hassle. But here's the good news – at Azenco, we have curated some expert recommendations for outdoor kitchens.
Among our top recommendations is the remarkable work of Station Grill. Not only does it showcase precision craftsmanship, but it also shares a passion for design. This makes Station Grill outdoor kitchen the ultimate complement to a luxurious custom Azenco pergola.
Trust Azenco's Recommendations: Station Grill Outdoor Kitchen
Designing and building an outdoor kitchen is a significant investment, both in terms of time and money. To ensure your space is functional, durable, and stylish, it is crucial to select the right outdoor kitchen cabinets. However, the process of finding the right supplier can be overwhelming. Moreover, the market is flooded with options. This is where Azenco's expert recommendations come in. We will streamline your outdoor living project by providing our expertise. We have diligently cultivated a strong reputation for crafting exceptional outdoor living spaces. Consequently, we understand the importance of choosing the right outdoor kitchen manufacturer. Expert designers know that a luxury modern outdoor kitchen is only as good as the materials it houses. That's why we confidently recommend Station Grill without hesitation.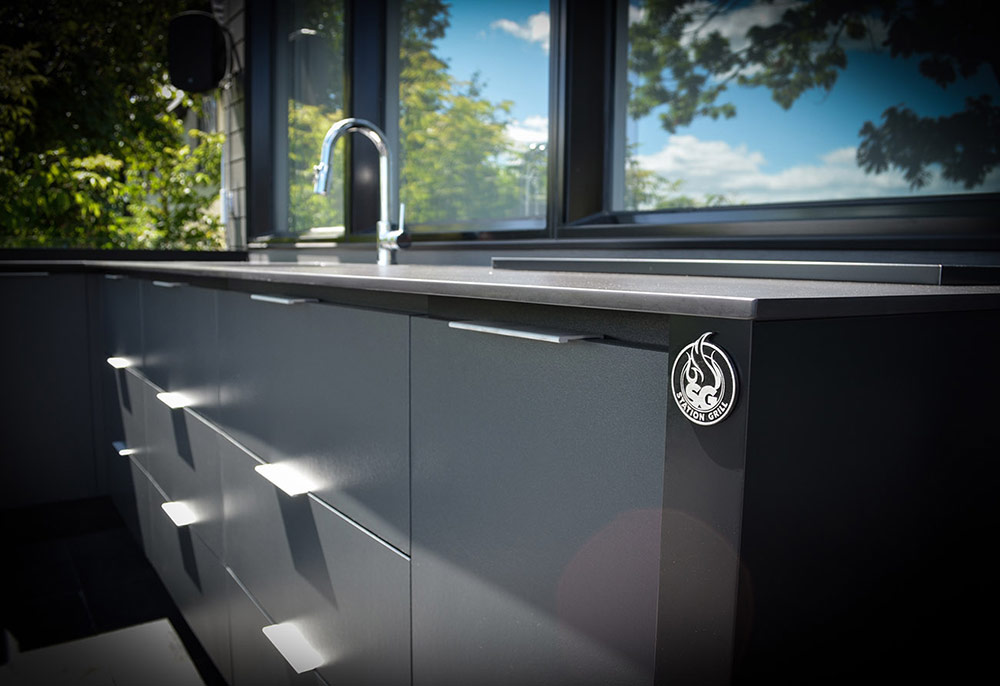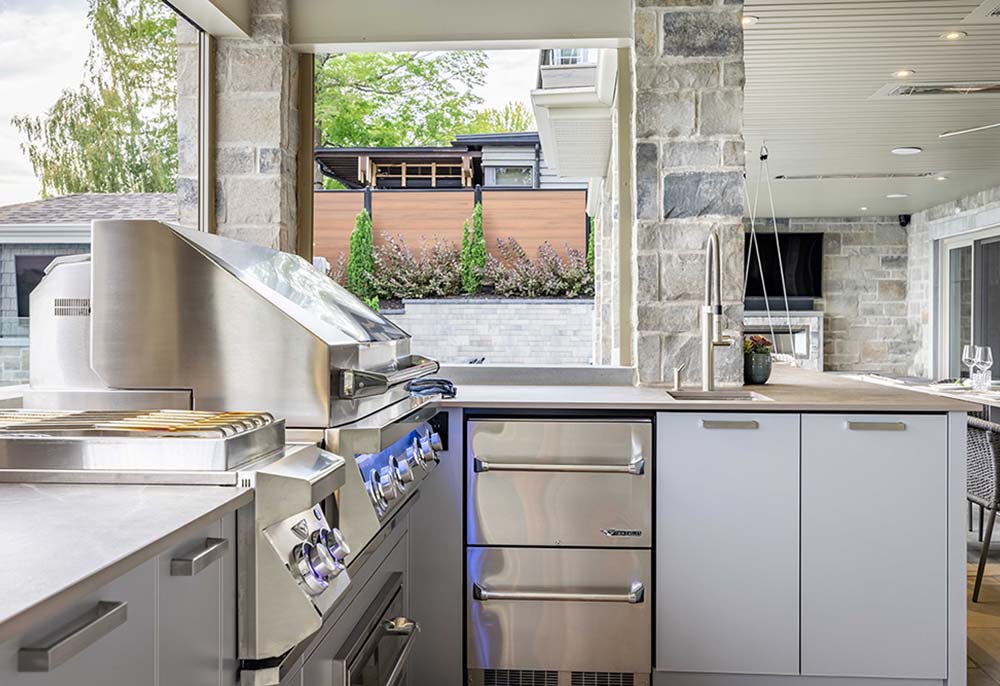 Station Grill: Elevating Your Outdoor Culinary Experience
When it comes to luxury outdoor kitchen cabinets, Station Grill stands out. The brand is synonymous with high quality, innovative outdoor cooking solutions. Not only the range of grills, smokers, and cooking accessories designers integrate into their outdoor kitchens will take your outdoor culinary experience to the next level, but Station Grill's commitment to excellence aligns perfectly with Azenco's dedication to creating luxurious outdoor covered spaces.
One of the key factors that make Station Grill a perfect match for Azenco's pergola projects is their attention to detail. Their products' sleek and modern design complements the elegant aesthetics of Azenco's pergolas. Whether you're looking for a built-in grill, cooking station ideas, or a fully custom outdoor kitchen and bar, Station Grill has a solution that fits seamlessly into your outdoor kitchen.
Like Azenco pergolas, the durability of Station Grill cabinets is another crucial selling point. Made from high-quality materials, these appliances are built to withstand the elements, ensuring they'll remain in great condition for years to come. In addition to their durability and design, Station Grill products are known for their outstanding performance. The company aims to provide an outdoor kitchen that perfectly reflects your needs and lifestyle. They strive to create captivating environments where you will be proud to entertain and share. Their product line comprises four distinct, elegant, and refined collections in various finishes and high-end outdoor colors, decorative aluminum panels, and on-site custom-made cabinets. In addition, Station Grill offers a wide range of accessories to enhance cooking stations, including stainless steel sinks, trash cans, ice buckets, and herb pots.
Creating a luxury modern outdoor kitchen under an Azenco pergola is a dream come true for many homeowners. However, finding the right outdoor kitchen designer, cabinets, and appliances can be a daunting task. With our expert recommendations, you will streamline your outdoor living project with the confidence that Station Grill and our partner brands will deliver the innovative, luxurious results you expect from Azenco. If you would like to bring a luxurious outdoor kitchen to your home, contact us to start your pergola and outdoor kitchen consultation.