An enclosed pergola can be a real game changer for residential outdoor living. Whether creating shade for a patio, turning a deck into an all-weather relaxation space, or adding an architectural accent to a new outdoor kitchen, modern pergolas deliver on both style and function. One of the unique benefits of a pergola over other outdoor structures is their open sides which can preserve sweeping coastal views or sightlines throughout your garden. But, there are times when homeowners might want to turn their pergola-covered outdoor space into a more private affair. This means investing in enclosed pergolas or other patio enclosure design ideas.
Do you have new neighbors that are a bit too nosy? Did some springtime landscaping remove the once-lush row of bushes that gave your pool deck some privacy? Maybe you simply want the ability to draw the blinds on the day's stresses and melt into a chaise lounge for the afternoon. Whatever your motivation to create more privacy for your outdoor living space, there are several options you can consider.
Of course, you'll need to get the pergola orientation and height right. But there is another critical consideration: would you rather have an enclosed pergola or one that's open to air? Let's talk about enclosed pergola options today.
---
Numerous Privacy-Creating Options For Your Enclosed Pergola
When it comes to turning your pergola into a respite from the hustle of life or the encroachment of surrounding neighbors, there are a few different options to consider.
Pergola Privacy Screen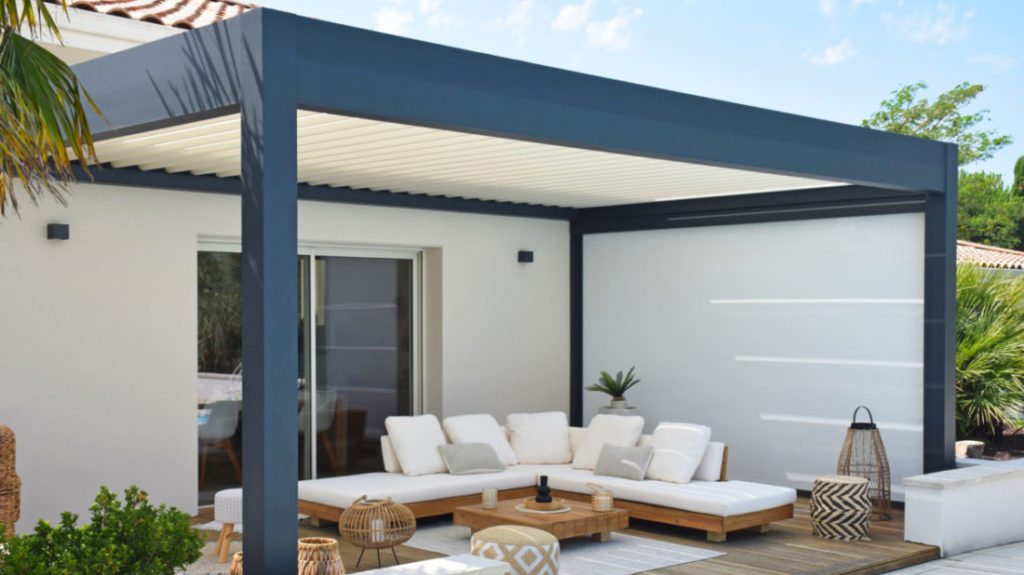 Retractable privacy screens are the first level of discretion-building privacy options. Seamlessly integrated with the pergola's frame, the screens are operated by electric motors so you can open and close them at the push of a button. Screen materials may be customized to fit your chosen style, your home's color schemes, etc. Sheer privacy screens will create an opaque barrier between your outdoor living space and the rest of the outside world. These sheer screens are great if you want to allow partial sunlight in by day but block the view into your covered patio by evening. More dense materials may also be selected to completely black out sunlight totally blocking out prying eyes. Integrated outdoor patio screens also allow you to independently control the screens on each side of the pergola.
Pergola Privacy Wall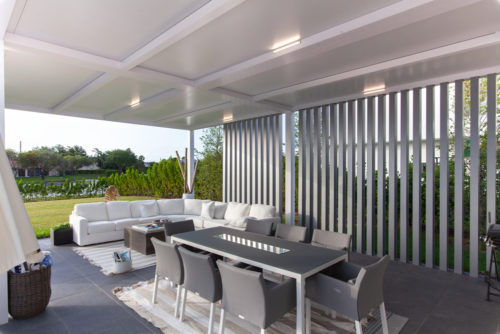 A step up from retractable privacy screens is a privacy wall. As the term connotes, privacy walls are usually static walls for the pergola. Here at Azenco, we can also customize sliding louvered wall segments that deliver privacy and promote airflow. The louvered wall sections may be set on a rail system to move across the wall to let in some light, or be closed completely when you desire more privacy. Truly static privacy walls, that are permanently set in place, can also become part of the overall interior design elements of the living space. Covered with artwork, plantings or faux shrubbery hanging on the privacy wall, you can add a touch of your personal style to the space. Obviously, both louvered or solid privacy walls block an outsider's view onto the covered patio. Solid walls, however, can also block excessive wind or rain from a prevailing side of the pergola.
Decorative Pergola Partition Design
Privacy screens and privacy walls may also be used to subdivide sections of a covered patio space. A partition design is a great option if you are hoping to create distinct areas within your outdoor living space. For example, if you are planning to add a pergola on your pool deck, it might be nice to have shaded lounge chairs in the splash zone along the pool edge, and a partitioned section further away from the pool to offer greater privacy. This partition design allows you to create changing stations for guests, a shaded and private space to nap or read a book, or even an intimate dining area for the evenings.
---
Our Favorite Enclosed Pergola Ideas
With many options available in the market, pergolas with closed sides can reflect any design aesthetics. It can be simple, enclosed with automated screens, with fabric, sheer curtains, donned in floral arrangements – the possibilities are endless. Inspired by outdoor garden shed-like structures in roman times, enclosed pergolas provide a unique aesthetic to outdoor spaces. You can customize your design in various ways and adapt it to your needs.
The Classic Enclosed Pergola
The classic pergola structure with wooden columns usually extends from your home with fixed louvered panels. This covered space is ideal for casual, cozy dining area for your family during spring/summertime. Although closed on either side, the classic pergola still allows for fresh air flow and ample sunlight through the roof while offering some shelter from the elements and a lovely view of your garden.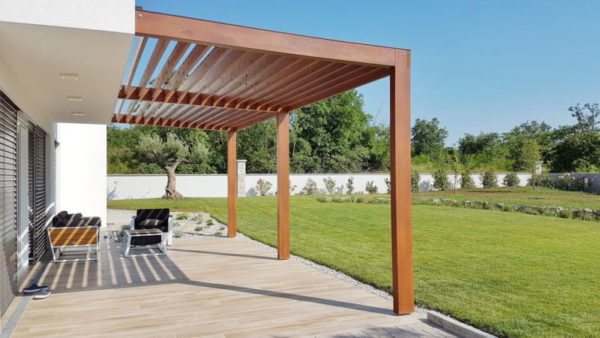 Contemporary Enclosed Pergola
As the name suggests, this style usually suits modern homes. Modern pergolas are typically made of aluminum with the home's architecture in mind, so it acts as an extension to the home and not a solo-standing structure. These pergolas look best when framed with the pool or patio of your home. This sleek and enclosed rectangular structure best works for semi-formal outdoor dining or socializing.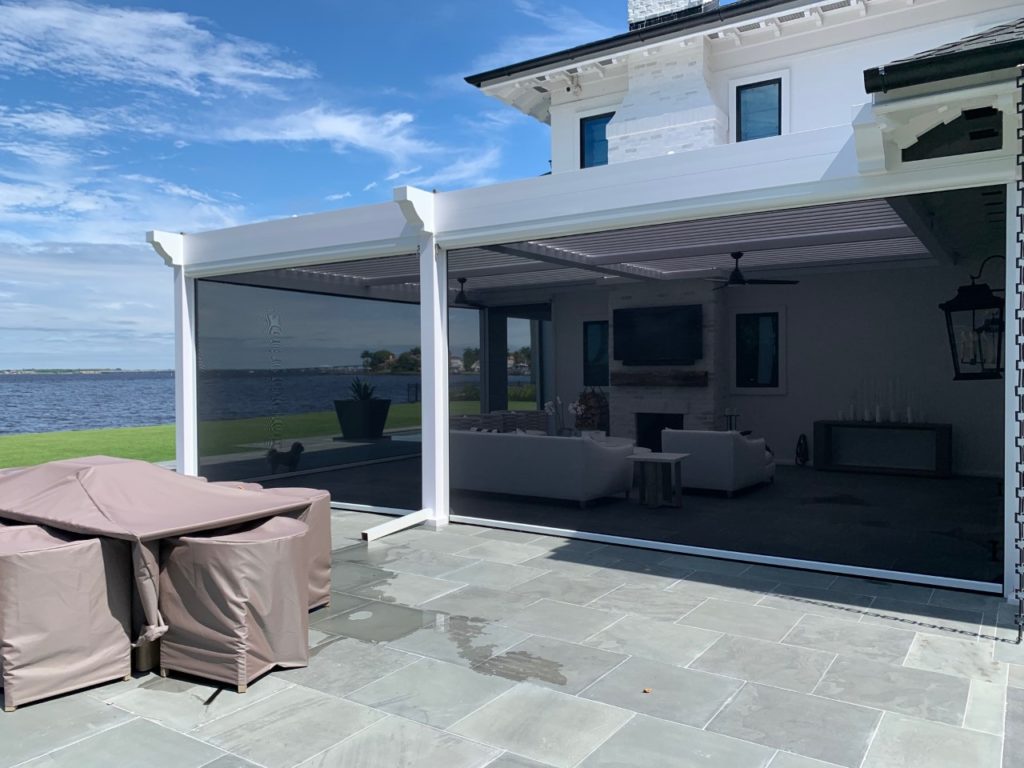 Light-Emanating Pergola with Closed Sides
This style of pergola usually has a south-facing orientation and helps filter strong sunlight. It would look perfect laced with minimalistic floral arrangements as it animates large airy spaces as the sun moves from east to west throughout the day but stays well-lit as night falls by letting moonlight through the roof, creating a serene enclosed space for social settings.
Hot Tub Hideaways
A pergola over a hot tub is almost self-explanatory. Many homeowners complain of debris and leaves littering their hot tubs and clogging the drains, which is a nuisance to clean. A covered deck with retractable screens is the best option to tackle this problem. You get to enjoy a leaf-free hot tub session sheltered under an elegant pergola, letting in just enough light and airflow to enhance your experience.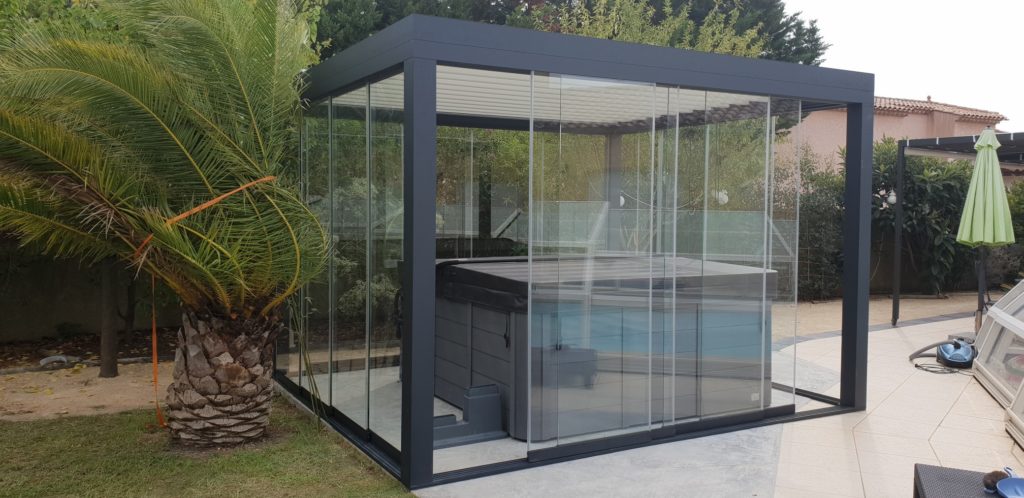 Transitional Patio with a Pergola
As the name suggests, the pergola serves as a transitional structure between the indoor and outdoor portions of your home. This style of enclosed pergola provides a doorless experience as you walk from your veranda through your den and into your backyard, all while protected by a pergola in the comfort of your home.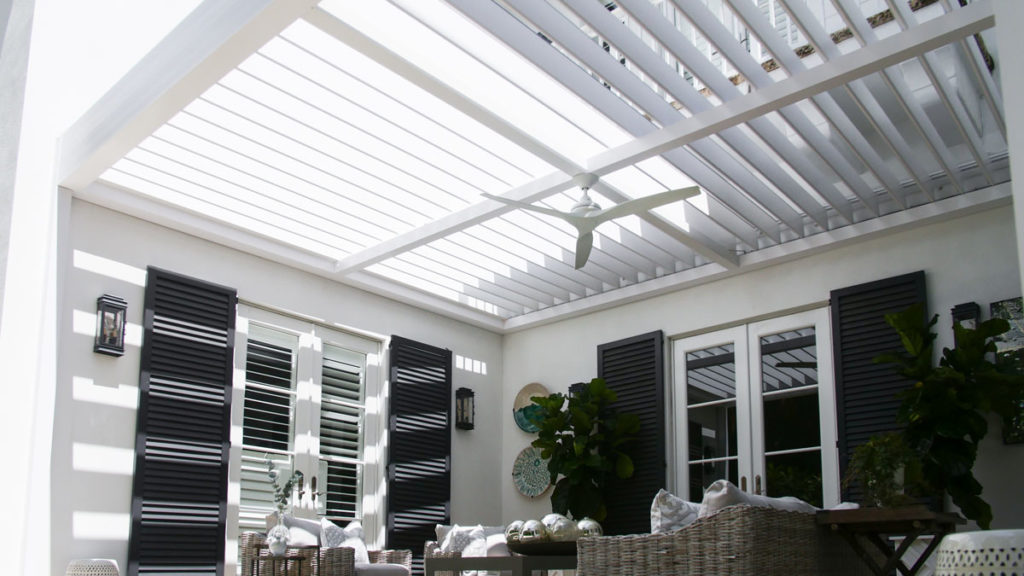 Private Pavilion
Relax in a private and cozy retreat by perching a pavilion-esque outdoor overhead structure at the edge of your garden deck. This structure with closed sides is perfect for enjoying some me-time during rainy weather as it features a sheltered roof that won't block your view. The sides of your pergola can feature curtains to complete that 'secret hideaway' kind of feeling.
Victorian Lath House
A lath house is like a compromise between a well-shaded pergola and a spacious pavilion. The roof is reminiscent of an outdoor garden shed from the Victorian era, lined with floral arrangements and plenty of sunlight for afternoon teas.
---
In Conclusion
If you're looking to spruce up your outdoor space with a pergola suited to your style, get in touch with Azenco Outdoor to cater to all your outdoor cover needs. Azenco provides quality design services that will bring your vision for your outdoor space to life.
---