The popularity of outdoor patio screen options for outdoor living spaces has continued to grow exponentially over the past decade for good reason. From creating comfortable and inviting covered outdoor kitchen and dining areas to built-in seating areas with added ambiance and more, these spaces are the perfect way to increase the appeal and functionality of any home, access the charm of nature just outside your doors, and add on to your living area.
However, to create a truly usable space that can be enjoyed every day no matter what the season, outdoor screens are a must. That's why we're going to explore not only the why behind screening your outdoor living space but also how to make the most of your investment by choosing an outdoor screen that will last and meet all of your needs so that you don't have to worry about constant maintenance or upgrade issues down the road.
But first, let's take a look at why outdoor patio screen options are such a vital part of creating a beautiful backyard oasis.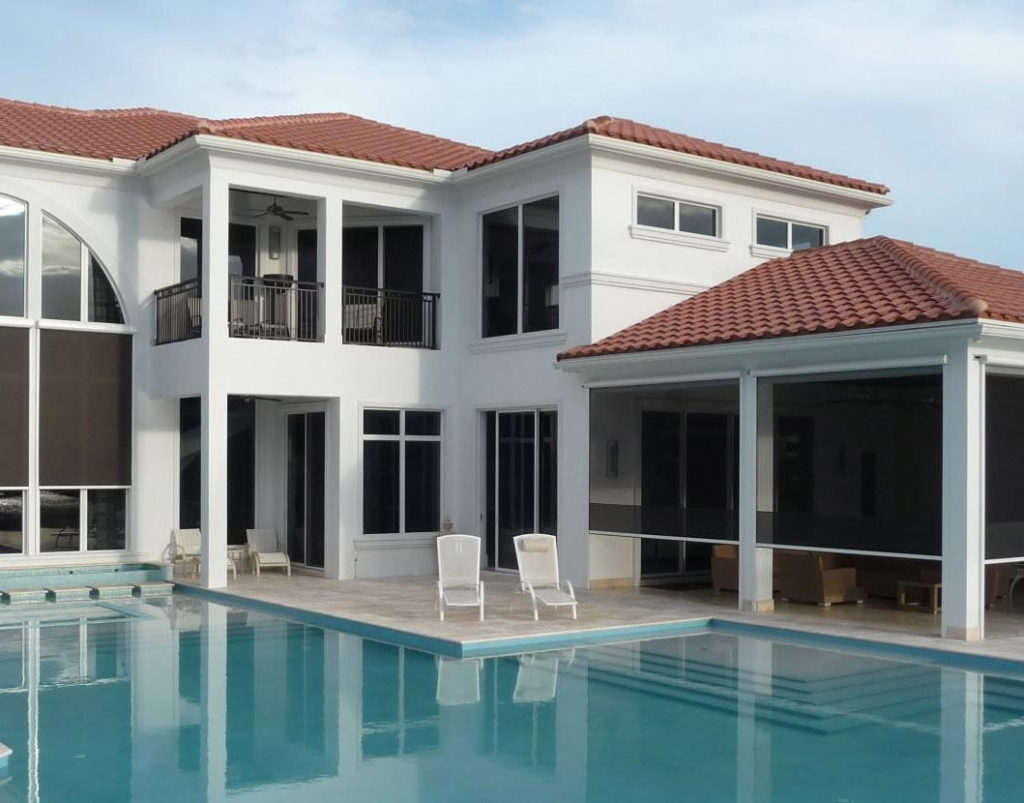 Why Install an Outdoor Patio screen?
You may decide to add screens to your outdoor space for a wide variety of reasons. In fact, whether the outdoor area of your dreams involves a porch, deck, pool area, backyard fire pit, or tranquil garden pergola, outdoor patio screens deliver important benefits whether you plan to enjoy your home for life or are looking to improve your house in order to cash in and make selling it quicker and easier.
Just a few of the benefits of upgrading your outdoor space with one of today's outdoor screen options include:
Increasing the Value of Your Home
Outdoor living areas are the perfect way to add value to your home, whether you're looking to sell now or in the future. Yet, to grab that added value and put money in your pocket, your home's outdoor space must be both beautiful and usable.
That's because when potential homebuyers compare your house to others they've seen, they must be able to picture themselves enjoying the space, breathing in a sigh of relaxation as the nature surrounding them lulls them into a peaceful, Zen state, or hosting a successful get-together. And, picturing this cannot and should not include the buyer worrying about whether the harsh rays of the sun, biting insects, or uncomfortable heat or cold will ruin their enjoyment or that of their guests.
Outdoor patio screen options can eliminate those worries and add that "X-factor" that puts the value of your home over the top so that homebuyers scramble to be the first to put in an offer in order to not miss out on the one house they've seen that offers true turnkey indoor-outdoor living.
Of course, it may go without saying but this added value cannot be realized unless the outdoor screens and the structure of your living space itself are both well-designed and durable, as well as sophisticated and seamless extension of your home. This means that when you decide to create your outdoor space, it's important to remember that a cheap and poor design or execution will do more harm than good when it comes to your home's value.
See also :
Compare a pergola to other patio covers
Taking Your Outdoor Space to the Next Level
Installing screens for your covered outdoor kitchen, pergola, or outdoor living room can help take your backyard space from ordinary to a perfect oasis you and your family have been dreaming of. They are also one of the less expensive additions you can choose from in order to upgrade your space when compared to other upgrade options.
With the latest outdoor patio screen designs as well as bioclimatic louvered pergolas available to choose you can easily get the exact look you want, whether your housing style is crying out for a modern terrace, a contemporary deck, or a classic outdoor refuge.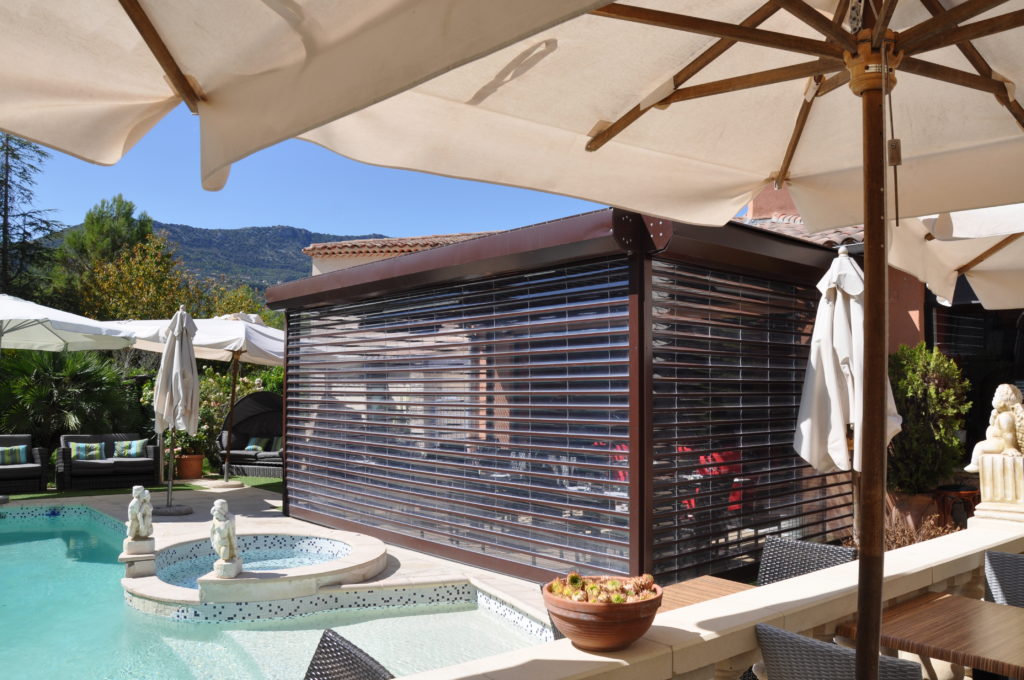 Extending the Usable Living Space of Your Home
If you want to use your outdoor space as a true extension of your home, adding outdoor screens to create your structure is a definite no-brainer.
While you can definitely enjoy a well-designed and seamless louvered pergola or free-standing, modular cabana in and of itself, screens allow you to vastly improve the usability of the living space of your home.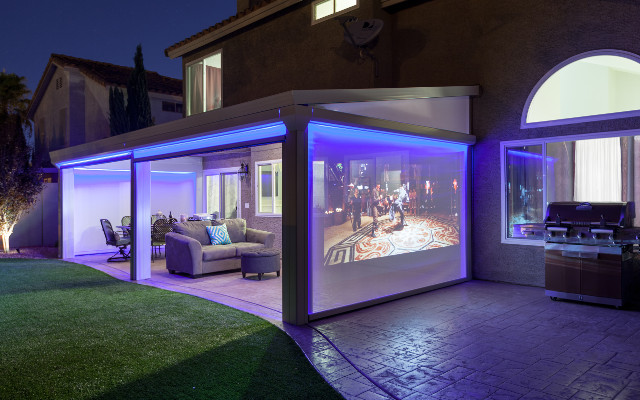 It provides a seamless transition from indoors to out so that you can utilize your outdoor space as an entertainment area that is always welcoming for your guests, a sanctuary where your friends and family can gather and enjoy outdoor living at its finest.
Adding Protection Against Insects and the Elements
Perhaps most importantly, at least when it comes to the functionality of your outdoor living space, screens offer the highest level of protection against flying, biting, and stinging insects that can ruin your enjoyment of the great outdoors. And adding outdoor screens to your gorgeous pergola or outdoor kitchen or living room offers:
optimal shade from the sun
climate control
energy efficiency
Some of the most reliable and advanced manufacturers, such as Azenco International, who has a cutting edge production facility in the United States, leveraging precision machinery and next-generation, patented designs, even offer both motorized and manual exterior solar and insect screen systems. Available in several colors to match and perfect the look and feel of your home, the retractable system is designed to integrate seamlessly with the company's R-BLADE Bioclimatic pergola with motorized louvered roof.
Privacy Walls Up the Protection and Solitude
If you are looking to maximize your protections from the elements, and permanently block the view into your pergola-covered patio, static privacy walls offer the next level of solitude. Where privacy screens are fabricated from numerous materials, privacy walls in today's modern pergolas are usually crafted from matching high-grade aluminum. Similar to the rest of the pergola, they can be custom powder coated to match the structure, or clad in a wood grain coating for a more natural look. Static privacy walls are a great place to mount an outdoor TV, artwork or elegant decorative lighting fixtures. With an outdoor projector mounted overhead, a clean privacy wall can double as an outdoor movie theater; or, to bring more greenery to the outdoor living space, plantings and flowers can be added to the wall.
Outdoor Patio Screen Options Plus R-BLADE, The Answer to Creating an Outdoor Oasis
With that said, it's easy to see why Azenco with their advanced louvered outdoor covers has become the most popular choice of homeowners and hospitality professionals looking for ways to create a sophisticated, high-end covered outdoor kitchen, living oasis, or dining experience.