According to Designscene.net, outdoor living spaces continue to be a hot trend in home design this year. Spending more time outdoors is a great way to relax and entertain at home, but to make the most of your outdoor living space, it's imperative that the space be shaded and cool especially in the hot summer months. There are numerous options for homeowners trying to figure out how to cool an outdoor space. Certainly, simply strategically locating your outdoor living space where trees or the home create plenty of shade is an easy way to cool an outdoor space. For those whose outdoor layout doesn't allow this, though, what's the best way to cool outdoor space? Let's explore some options.
Plenty of Patio Fan Options
Maintaining a nice flow of fresh air throughout your patio is an easy way to bring some cooling sensations to an outdoor living space and patio fans are amongst the most common solutions. Options for patio fans can be quite diverse, a search for "fan for you pergola" will bring you to a dizzying array of options. While portable high-speed fans offer a quick fix, adding permanent overhead patio fans to a porch or pergola is a more stylish solution. When choosing these appliances, it's imperative they be designed for outdoor use. Fans for outdoor use should be wet rated, which indicates they are sealed against rain and evaporative moisture. Keep in mind that even with a top-of-the-line outdoor fan, the lifecycle of the appliance is only about three years. So, expect to replace it regularly.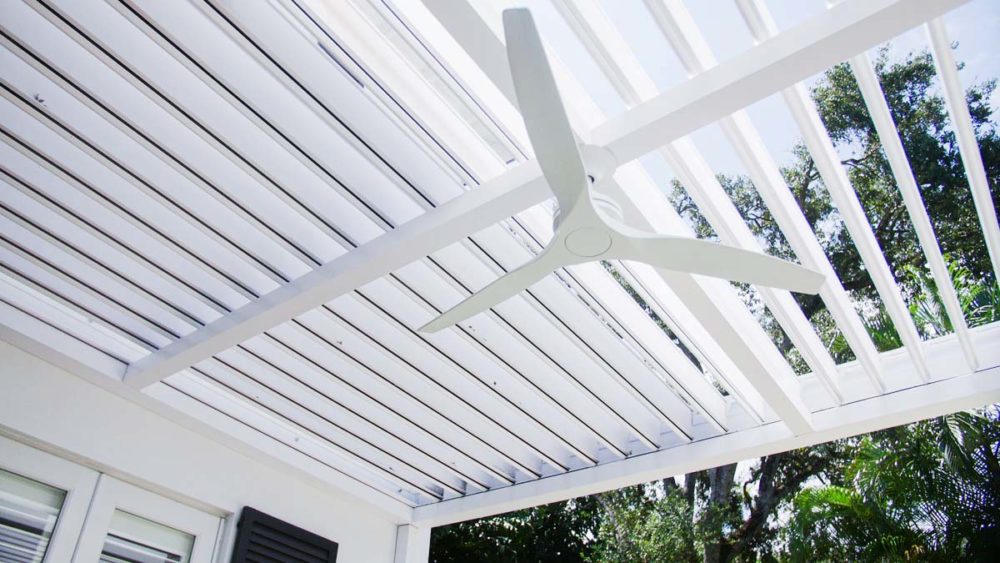 Screen Varieties for Outdoor Cooling
Outdoor patio screens are also a good way to create some shade and cool outdoor spaces. Most often, screens will integrate with an outdoor patio structure such as a pergola, porch or awning. Screens create a cooling effect simply by blocking some sun. They can be made of opaque fabrics to allow some sun penetration, or more dense materials which block the sun entirely. Lowering the shades while using the patio will keep you cooler, and keeping them closed when the sun is beating on the patio will keep pavers or floor materials from heating up and radiating more heat.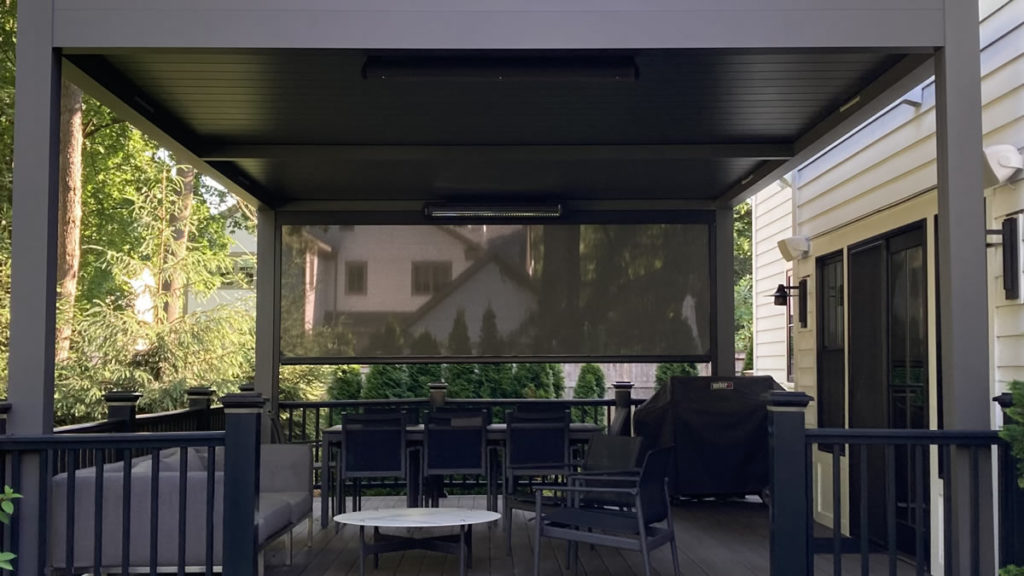 Portable Cooling Appliances
Often, simply creating airflow with a patio fan might not be sufficient for cooling an outdoor space especially on the most-humid days. Technological solutions often provide some added cooling on your patio. Portable appliances like patio misting fans or evaporative coolers might be a viable option for your home. Misting fans are just like those you've seen at luxury resorts or theme parks. With small jets feeding a light flow of misting water into the fan they shower down on guests to keep them cool. Home versions of these devices are a fun way to keep cool on the pool deck. Evaporative coolers are best suited to enclosed outdoor living spaces. The opposite of the misting system, they cool the space by pulling humidity out of the air similar to an air conditioner but using less electricity and no freon.
Pergolas Create Immense Shade Control
If you are one of the homeowners mentioned earlier whose backyard is just swamped by blazing sun all day long, a patio shade structure is going to be among your cool outdoor space ideas. Basic shade structures like shade sails or umbrellas will provide an easy fix, but little flexibility or durability. A modern aluminum pergola will truly provide the best return on your investment to get the most from a patio shade structure truly. With options for solid roof designs that create full-time shade, or a more flexible motorized louvered roof designs that allow you to control the amount of shade on the patio, today's modern pergolas offer an array of outdoor life enhancements. For example, our unique gapless louvered roof design opens to allow full sun, closes partially to create shade, or will completely block the rain when closed. Modern pergola designs can also integrate other outdoor cooling options into the pergola system. For example, we can design a pergola with integrated patio fans, mount misting systems to the frame around a pool deck, or include retractable shade screens that disappear into the frame when unneeded.
R-BLADE pergola with louvered roof
Transforming your outdoor space into a cool oasis just got easier with the R-BLADE pergola featuring a louvered roof. This innovative product allows you to enjoy your backyard even on the hottest days of the year. The louvered roof can be adjusted to provide the perfect amount of shade and temperature control. Whether you're hosting a summer barbecue or just relaxing with a good book, this pergola has got you covered – literally. Plus, it adds a sleek and modern aesthetic to any outdoor area. Don't let the weather dictate how and when you use your outdoor space – with the R-BLADE pergola, you're in control.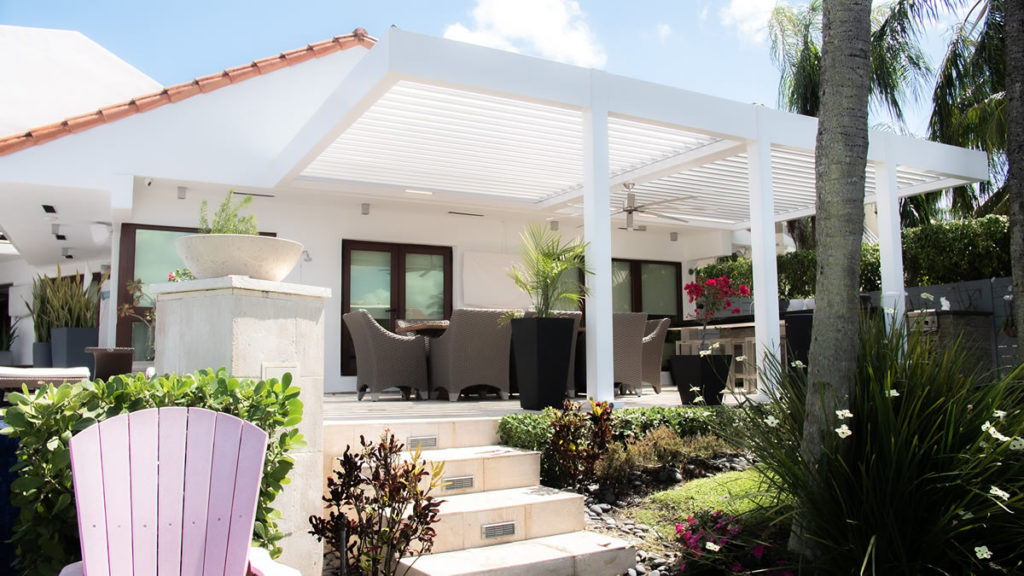 R-SHADE pergola with insulated sandwich panels
The R-SHADE pergola with insulated sandwich panels is a game-changer when it comes to keeping outdoor spaces comfortable during hot weather. Not only does it provide shade, but the insulated panels also help keep the hot sun from radiating down and warming up the area underneath. This means you can enjoy your patio or deck space without feeling like you're in a sauna. With the addition of fans or misters, you can easily make your outdoor space even cooler. Don't let the heat keep you cooped up inside, invest in an R-SHADE pergola for a comfortable and enjoyable outdoor experience.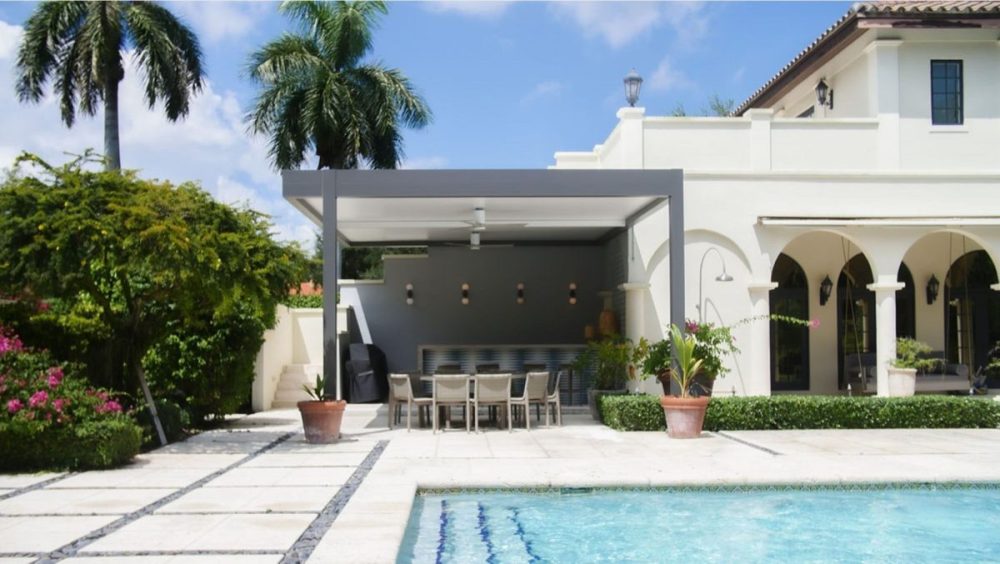 If you have been trying to figure out how to keep an outdoor space cool, there are obviously plenty of options at your disposal. If you have already found some of the simple solutions like umbrellas or portable fans to be insufficient for your patio cooling needs, contact us and we will have one of our local expert pergola dealers follow up to explore modern pergola options for your outdoor living space.