There are so many reasons to choose a modern pergola for your outdoor living space. Whether you install a fixed-roof pergola for full-time shade, or an adjustable louvered roof pergola that allows you to control the sun/shade balance, an all-weather outdoor living space will truly change the way you enjoy your deck, patio, pool deck or garden. During the daytime, the main function of your pergola is to help block out the sun and rain, but once the sun dips for the day, a well-lit patio cover will keep the evening festivities going well into the night. Let's explore some of the benefits of incorporating different lighting options and spotlights into your modern aluminum pergola.
Lights elevate Your Outdoor Space
Adding LED lights to your pergola is a game-changer for anyone looking to elevate their outdoor space. These lights are energy-efficient, long-lasting and come in a range of colors to create the perfect ambiance for your backyard oasis.
One of the key benefits of LED lights is their versatility. You can opt for warm white lights to create a cozy, relaxing atmosphere or choose bold, vibrant colors for a more lively and energetic vibe. With LED lights, you can easily switch up the ambiance depending on the occasion, making them perfect for anything from romantic date nights to lively outdoor parties.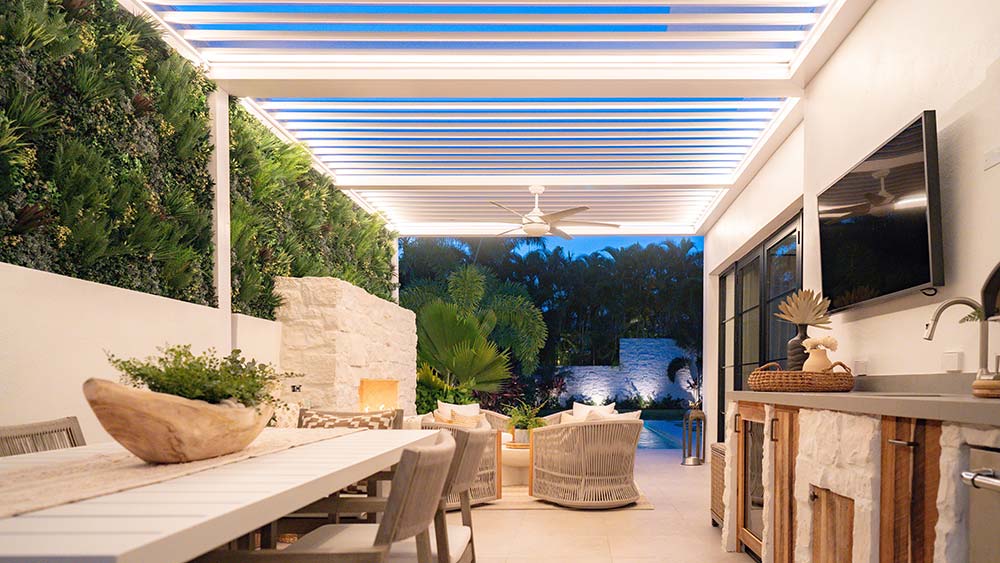 First and foremost, a well-lit patio cover imparts multiple levels of safety for you, your home and your outdoor living space. When you are outside enjoying a beautiful night under your pergola, proper lighting will help prevent an unfortunate encounter with tripping hazards or a stumble on uneven ground. A well-lit patio cover can also deter would-be intruders, whether they be people or animals, from your home and outdoor space. A forgotten dinner plate can be a beacon to raccoons and possums, but a motion-sensor light will usually scare them off…the same goes for would-be robbers.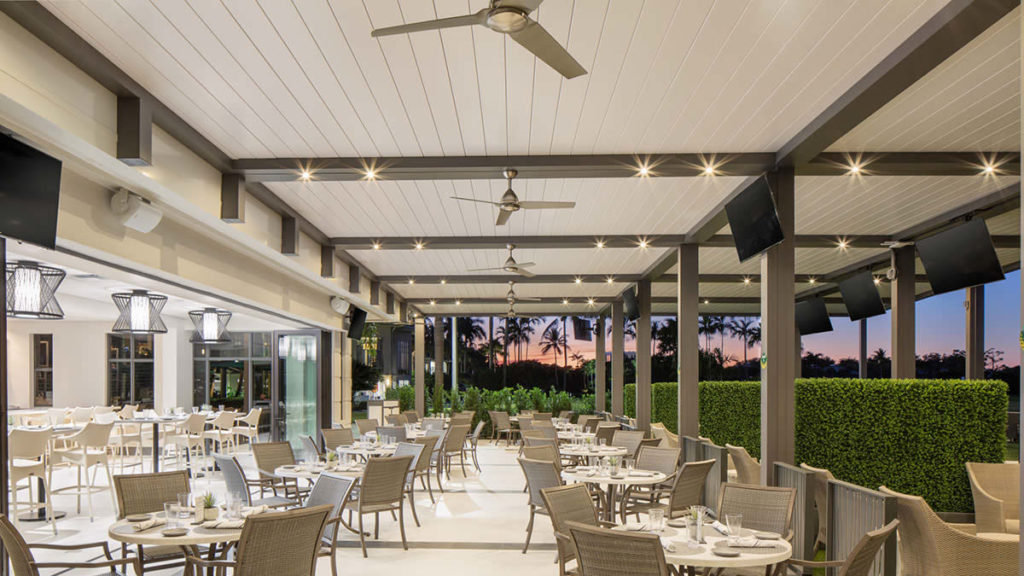 The proper lighting from a well-lit patio cover can also make your outdoor living space more functional. Obviously, lighting makes the space more enjoyable once the sun sets, but our all-aluminum pergolas give you the flexibility to mix up the types of lighting fixtures you can have throughout your outdoor space. For instance, you might choose to install recessed LED spotlights above an outdoor kitchen to ensure the best visibility when cooking outdoors at night. For lighting above an outdoor dining table, a dimmable LED light will allow you to better set the mood for dinner before you crank up the power for a nighttime game of poker. To create a surrounding glow, LED strip lights can be embedded in the pergola roof for a soft all-around light.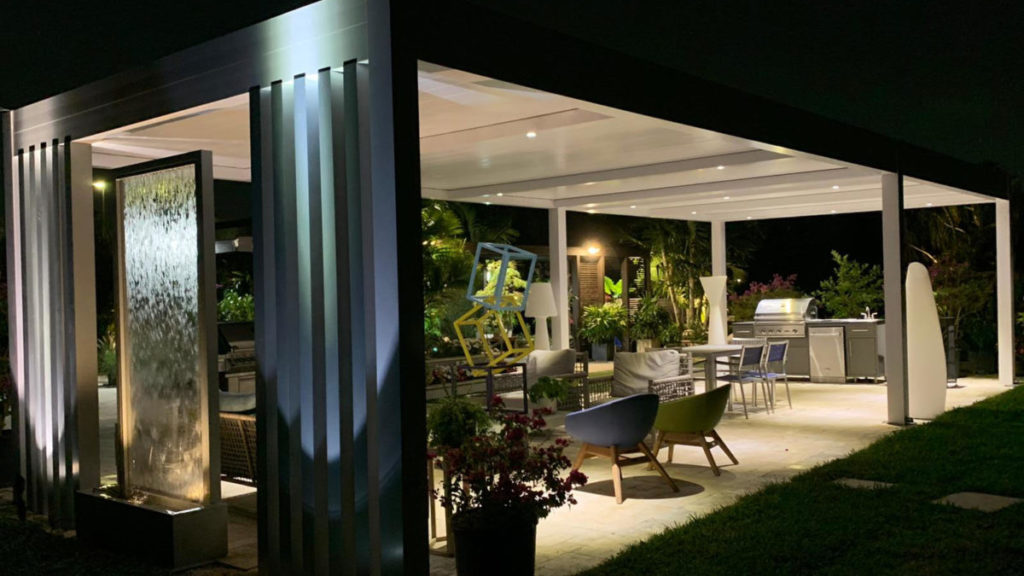 In the same way that our pergolas accent any type of architecture during the day, a well-lit patio cover can have similar impacts on the look and feel of your outdoor living space by night. When envisioning how to light your pergola-covered patio, remember subtlety is key. Too much light can look harsh, and frankly can feel harsh on night-adjusted eyes. Also, remember to focus on the height of the lighting you are adding. LEDs embedded in the pergola roof will cast wide overhead light, while scalloped fixtures on the pergola columns can cast up-light to illuminate the architectural structure of your pergola, or down-light to illuminate just the floor…or both independently. Again here, dimmable ramping LED lights will also allow you to control the ambiance throughout your pergola space.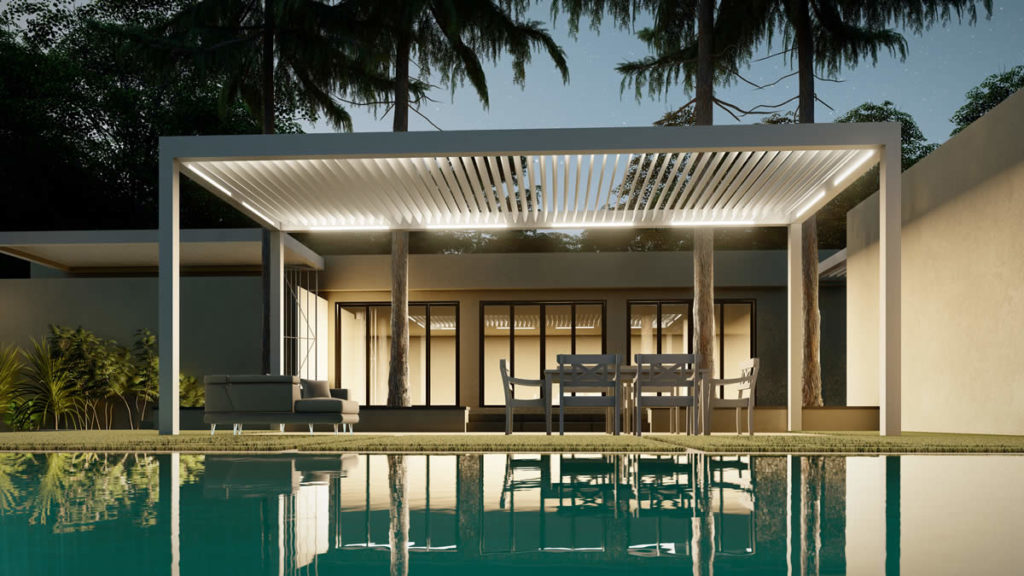 Adding lighting to your well-lit patio cover to illuminate walkways is also a must. Not only does lighting walkways make the evening easier to navigate, but it can create a more aesthetically-pleasing overall look to the space. When thinking about how to best light your walkways, make sure to consider any of the destinations you may want to reach at night that are outside the main living space. Do you have an out building housing pool mechanics, or a favorite bench in the garden, maybe a stack of firewood to feed your grill or fire pit? Make sure the path to those areas is well lit to avoid stumbles and keep uninvited nocturnal guests from surprising you.
With several different light sources integrated within your well-lit patio cover, you'll want to have some intuitive control over them all. Lighting for our modern pergolas is controlled with a smart app-based system that allows you toggle lights on and off, adjust dimmers individually, and set timers for ramping lights. This flexibility allows you to adjust lighting without leaving your chair, or even from the car as you pull into the driveway so you don't come home to a dark patio.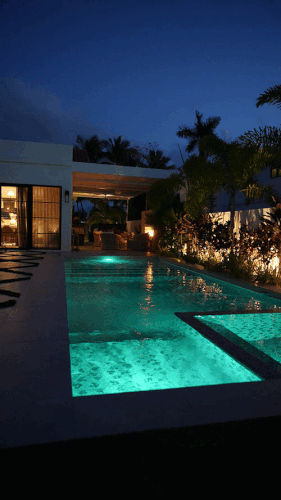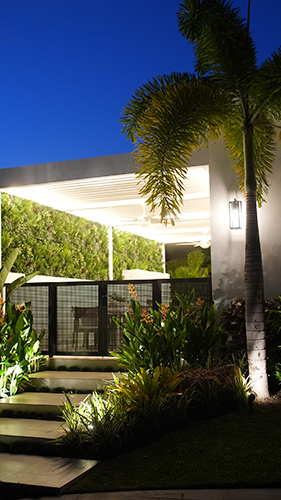 Azenco offers an array of highly-efficient LED lighting options for your pergola. Whether you are designing a solid fixed-roof pergola or a louvered roof pergola, our available lighting options will make your outdoor living space an inviting and functional space after the sun sets. The most-popular lighting options our customers select include:
LED Light: A standard LED light bar is among the most popular pergola lighting options. This dimmable bar light can be mounted along the interior of the pergola frame to illuminate the entire covered patio, or mounted as an up-light to accent the louvered roof of the pergola.
LED Strip: These long strips of LED lights have become very popular because they can be embedded around the entire perimeter of the pergola roof. In this fashion, the LEDs provide plenty of reflected light for the entire covered outdoor space, and the lights emphasize the beautiful louvered roof.
Recessed LED Light: These LEDs are embedded into the pergola's roof beams for a smooth clean look. Providing concentrated downlighting, our recessed LEDs are often preferred for outdoor dining spaces where tables can be positioned directly under the light beam to illuminate the evening's repast.
What Is The Best Way To Hang Lights On a Covered Patio?
While owners of wood or vinyl pergolas can simply drill holes to accommodate hooks for string lights, with our advanced all-aluminum pergolas you have the opportunity to design the pergola LED lights right into your structure. Drilling holes for pergola lighting after the fact is never recommended as it will likely damage the pergola's exterior powder coating and leave the structure open to rust. Instead, our expert pergola designers will make light features part of the initial design considerations for your new outdoor living structure.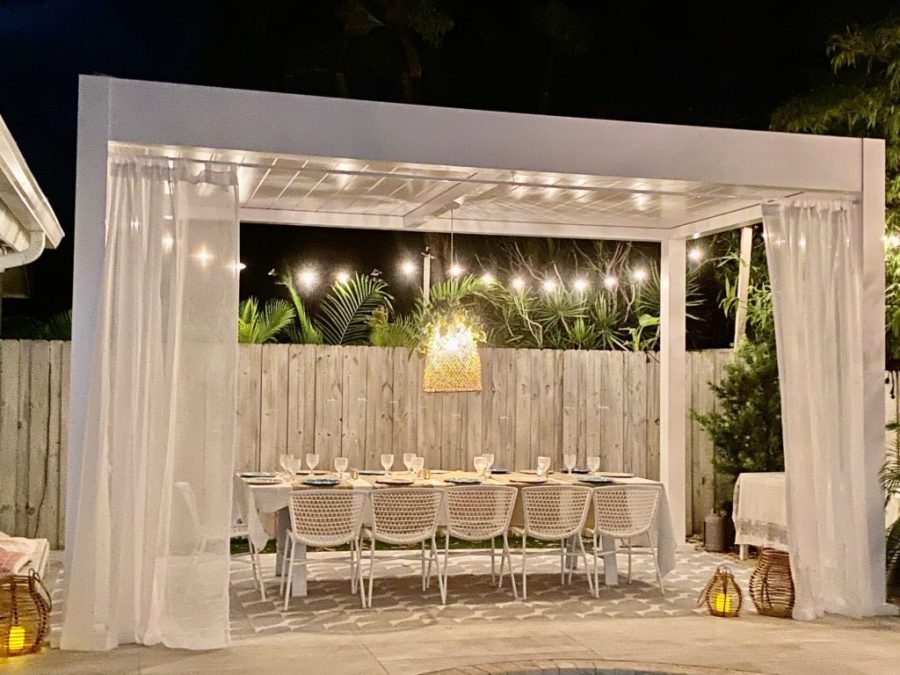 What Is The Best Lighting For an Outdoor Porch?
Generally, LED lights are the best option for outdoor illumination. They are energy efficient, and offer you an array of fixture styles from which to choose. When it comes to choosing your pergola LED lights, the ideal fixtures will also be determined by the exterior color of your patio cover. For example, for a white pergola, evening illumination can rely on reflective light to bring a warmth to the entire patio. When lighting a black pergola, the fixtures can be trained on the structure to illuminate the architectural features of the louvers and columns.
How Do You Light a Covered Porch?
If you are designing the lighting features for a pergola covered porch, it would be ideal to take advantage of the aluminum pergola's hollow roof beams to embed LED spot lights or recessed LEDs. With the lights mounted flush with the pergola roof you will maintain clean lines while ensuring plenty of light for the entryway. The covered porch is also a great place to integrate your lighting with an outdoor home automation system. This allows you to turn lights on and off via the smart home app, or even use voice commands for your favorite home assistant when your hands are full.
How Do You Light an Outdoor Patio?
When designing your outdoor patio, you will likely spend some time selecting the perfect flooring to accent the pergola, landscaping and home exterior. To keep the floor illuminated after the sun sets, so you get the full effect of your outdoor design, a combination of pergola LED lights and ground lights is the perfect option. With soft light cast throughout the floor of the patio your design remains visible, and you can more safely navigate the space in the dark.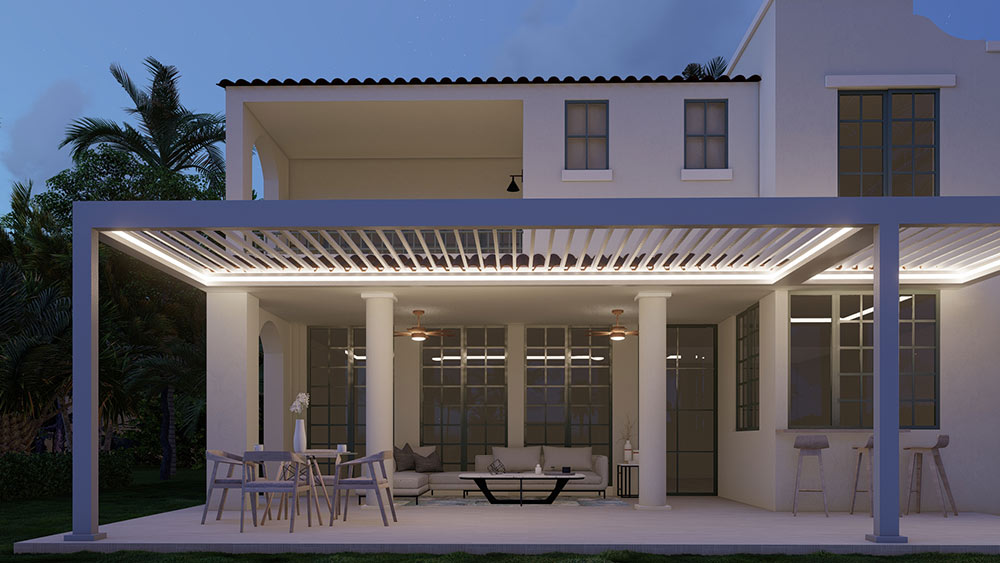 A well-lit patio cover can make your outdoor living space more enjoyable, safer and more functional. Also, with the right lighting choices it can truly exude the same heightened style that your home portrays during the daytime. If you'd like to dive into designing a well-lit patio cover for your home, reach out to us and we can connect you with one of our local dealers to arrange a consultation.