Fire pit and pergola article: Content
Outdoor kitchen spaces and fire pit ideas for outdoor living spaces have been hot, hot, hot in the last few years. The allure of cooking outdoors or simply relaxing around a fire with family and friends not only brings us all together, but the flickering fire adds a figurative and literal warmth to your outdoor space.
With some basic accommodations and simple research, adding a wood-fired pizza oven, charcoal grill or a fire pit under a pergola can be built safely. With the right location of the fire feature, smart ventilation for the outdoor living space and some common-sense fire safety, you can enjoy your fire pit under a patio cover all year round.
What Types of Fire Features Can Be Built Under a Pergola?
Unlike a pergola or a gazebo made from wood, today's modern aluminum pergolas can handle the heat emitted from a small fire pit or barbecue. Also, while painted wood or vinyl structures can easily warp or become discolored by the heat, the powder-coated aluminum exterior of our pergolas can easily be cleaned of any ash or soot.
When choosing the fire features for your covered patio you'll want to practice some restraint. Whether selecting an off-the-shelf fire pit or designing your own, moderating the size of the pit can help limit the volume of fire, keeping the potential for damage to a minimum. If self-control is not a personal virtue, then opt for a natural gas or propane fire pit.
When building an outdoor kitchen under a pergola, gas-fired grills and ovens can be a convenient and easy-to-use option, but nothing will inspire your guests' awe like cooking over real fire. From a BBQ under a pergola to a wood-burning pizza oven, the options for your outdoor kitchen can be customized to fit how you like to cook.
Recommendations for All Fire Pit Ideas Under a Pergola
There are some mandatory considerations for your pergola space if you want to incorporate a fire feature. One of the benefits of working with the qualified installers of the Azenco dealership network is they have the experience constructing a fire pit under a pergola, and can easily customize your project to accommodate these design considerations. Key considerations for a pergola project that will include a fire feature include:
Pergola Height – Ensuring there is sufficient clearance between your fire and the pergola roof is imperative. A minimum of 10 feet is a standard recommendation and can be accommodated simply by extending the structure's support columns.
Roof Ventilation – Making sure the heat and smoke have a way to easily escape the pergola is also important. While fixed roof pergolas can be designed with double-vented roofs, an adjustable louvered roof will give you the most flexibility. They not only provide maximum ventilation but can control the shade or block out the rain on your patio when desired.
Side Ventilation – For any outdoor space, designing for good air circulation will keep the space cool in the summer months, but good air flow is also key when designing for fire features. Our pergolas can be outfitted with retractable insect screens or privacy/shade curtains that can be opened to maximize air flow and lowered once the fire goes out.
Fire Pit Placement – It is always advisable to build a fire pit on a level surface, so if your outdoor space has natural contours choose a flat area. Also, it is best to locate any fire features away from support columns which can retain residual heat and risk getting hot to the touch.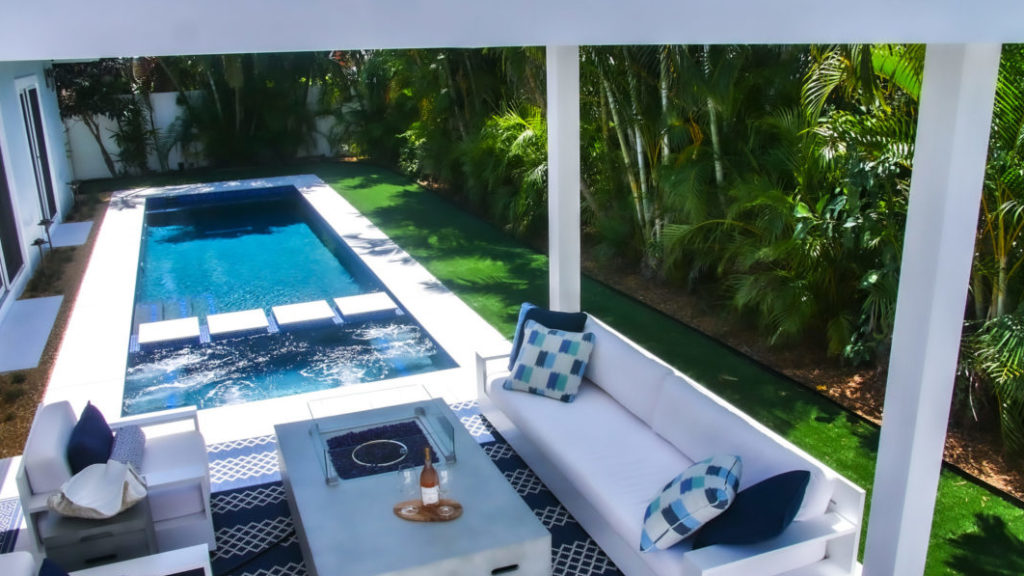 Combining Pergola Roof Designs for Fire Features
As mentioned earlier, a fire pit can be located under a pergola with either a fixed-roof or adjustable louvered roof design. While a fixed-roof pergola creates full-time shade for the patio, a louvered roof opens and closes allowing you to control the sun/shade balance in your outdoor living space. If you have designs to create a larger fire pit or fire feature on your pergola-covered patio, a combination roof design could be the best option for you. Our pergolas are crafted in independent roof zones, so each zone can be customized to your needs. A pergola can feature fixed roof panels that surround the fire pit, and a louvered zone directly above the fire feature. This design allows you to open the center roof zone when the fire is lit, then close the roof tightly against sun and rain when it is extinguished. Alternatively, the center zone be totally uncovered to lend a courtyard style to the patio.
Even with the benefits of modern aluminum pergolas, and the deft hand of a professional designer/installer guiding your design choices, local regulations are always going to provide the starting point for any outdoor living space project. Make sure to inquire with your local building department, fire department, and/or homeowners association about what kind of fire features are allowed in your neighborhood, and how they need to be installed. Additionally, you may need to revisit your homeowner's insurance policy to ensure a fire pit or outdoor kitchen will be covered by the policy.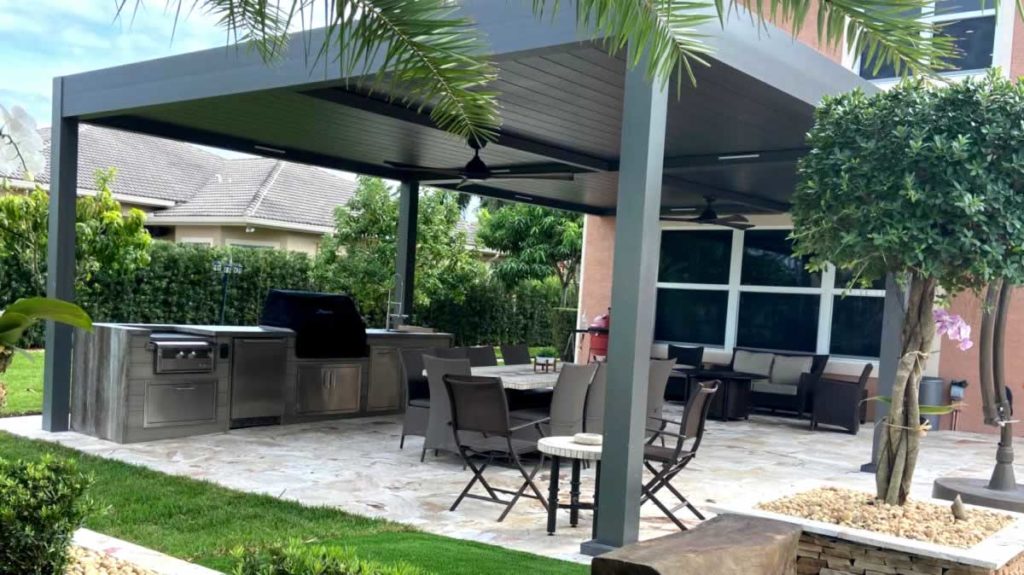 Fire Pit Safety Recommendations
Whether you chose a traditional wood-fired pit or gas-fired options, some basic fire safety is always in order. When enjoying the fire features in your outdoor living space, make sure to:
Employ a spark screen to keep flying embers contained
Never burn contaminated wood such as pressure treated or painted lumber
Never use flammable fluids like gasoline or lighter fluid
Never leave the fire unattended nor children unattended by the fire
Ensure the fire is completely extinguished before leaving the fire pit
Keep a fire extinguisher handy for emergencies
Whether it's to add a visceral design aesthetic, to bring some warmth against the evening chill or to incorporate a covered outdoor kitchen, fire features on a covered patio can be a great investment. If you'd like to learn more about options for your home, please contact us to be connected with one of our qualified local dealers.