---
Pergolas are fabricated from many different materials. A look through some old European cities will reveal gorgeous marble and stone pergolas that still stand today. In this modern era, you're more likely to find that a metal or wood pergola is among the most common material choices, and in some cases an additional material to cover wood.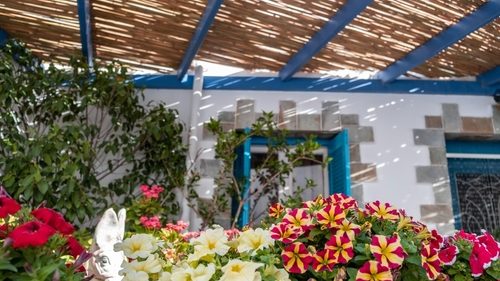 Material selection has an impact on the look, durability, maintenance demands, and built-in functionality of your pergola. So, let's take a look at some differences between a metal or wood pergola.
---
Metal or Wood Pergola Appearance?
The most obvious difference between a metal or wood pergola will be the outright appearance. Wooden pergolas are often seen as traditional. Wood can be painted or stained to match any chosen color, or left unpainted, to look distressed as it ages. While this can be a desired aesthetic for a beach house or country setting, anyone who has to paint their deck knows the pain of making this a routine activity.
Most modern metal pergolas are fabricated from high-strength, lightweight aluminum. Here at Azenco, we fabricate our pergolas from single-extrusions of aluminum using our precision robot cutting machines. This means there are no joined segments in the middle of a support column or frame. Our aluminum pergola design also allows us to conceal the assembly hardware, ensuring smooth exterior lines throughout the structure.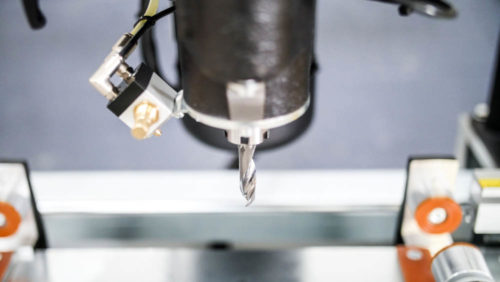 Powder coated for durability (more on that shortly), our aluminum pergolas can be color-matched to any hue you can imagine. We can even color match the exterior to match a favorite flower bush or the existing home's color scheme. For homeowners looking for the traditional look of a wood pergola, but desiring all the unique advantages of a modern pergola, we can create a synthetic wood finish.
---
Metal vs Wood Pergola: Durability and Maintenance
A key differentiator of a metal or wood pergola is long-term durability and required maintenance. A wood pergola can fade under the sun over time, and will eventually need to be repainted or re-stained to keep its original look. Plus, wood deteriorates over time and is susceptible to rot, particularly at the bottom of the pergola columns, and will eventually require mending and re-shingling.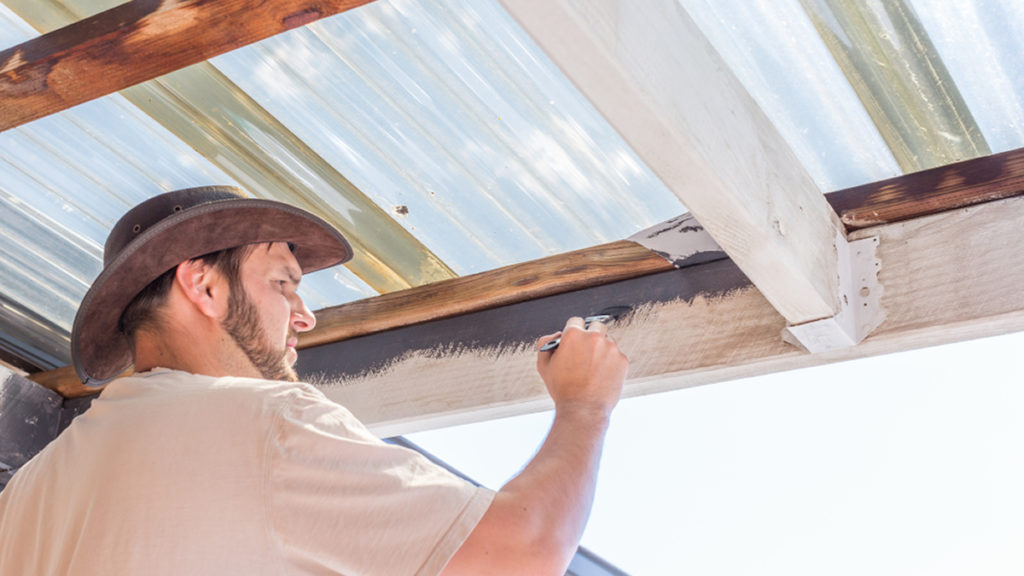 The durability and minimal maintenance of an aluminum pergola makes it the best dollar-for-dollar investment for you. We fabricate our outdoor structures from the highest quality aluminum, coupled with top-quality powder coatings that resist color fade and stand up to rain, sleet and snow.
An aluminum pergola also minimizes annual maintenance. We recommend a gentle rinse with a hose or low-power pressure cleaner, and integrated gutter system check. Your Azenco dealer will be able to offer a simple maintenance plan. Having a pergola specialist handle the cleaning will allow them to review the motorized operations, check waterproofing, etc.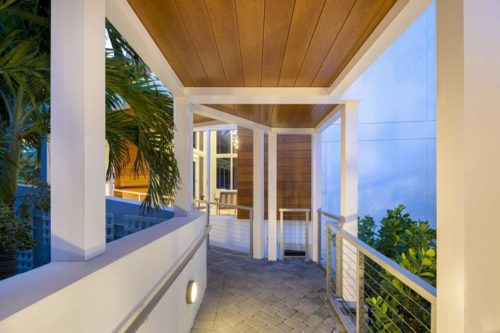 ---
Functionality
The most dramatic element that separates a metal or wood pergola is functionality. Traditional wood pergolas are all fixed-roof structures. They can be built with a solid roof or fixed open-slatted roof. The full roof of a wood pergola will block the rain and create full-time shade, while a fixed slatted roof will leave the patio exposed to the sun and rain.
A modern aluminum pergola will provide an incredibly flexible outdoor living space. If you prefer full-time shade, our R-Shade pergola features fixed insulated sandwich panels that block out the rain and sun while keeping the space below cool during the summer. For homeowners that want the best of both worlds, our R-Blade adjustable louvered roof pergola adds motorized louvers that can open and close the roof to manage the balance of sun and shade. The R-Blade is also the only louvered roof pergola on the market that can close its roof and completely seal out rain, so you can enjoy your patio in any weather condition.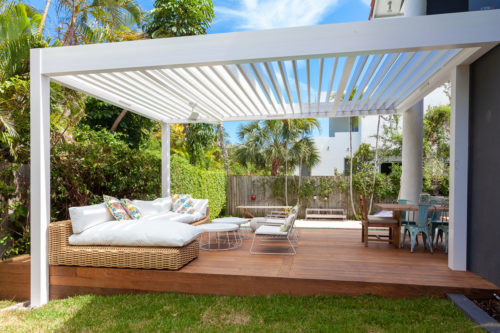 Our modern aluminum construction allows us to add numerous intuitive features to the structures. We can embed LED lights and infrared heaters, motorized privacy screens, or insect screens that retract into the structure, and even automate the controls with embedded smart sensors. This smart pergola automatically closes the louvered roof at the first drop of rain, opens the louvers in high winds to prevent damage, and opens the roof in freezing conditions to limit excessive snow loads.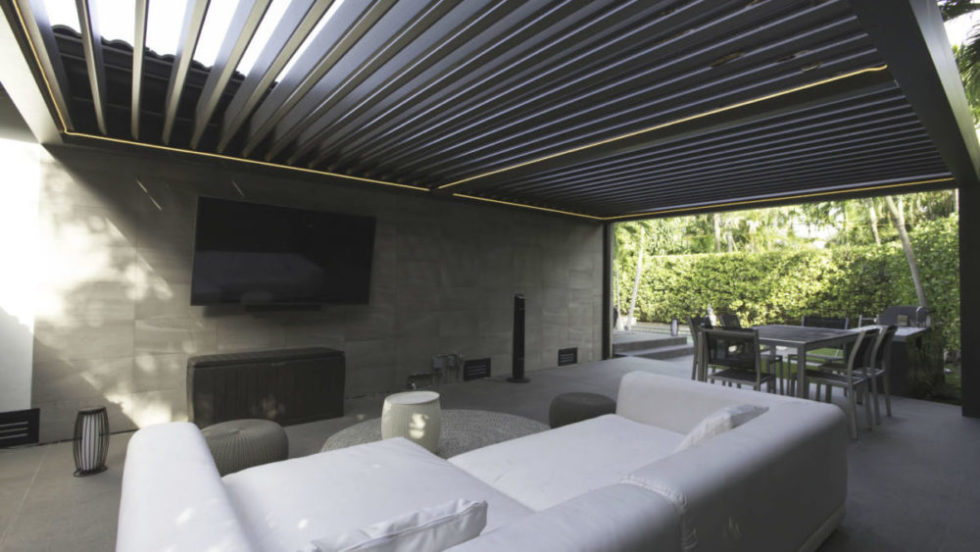 ---
Wood-Grain Powder Coatings for Any Home Style
As a custom pergola manufacturer, our fabrication team can bring the natural look of wood grain to the high-tech advantages of our modern aluminum pergolas. Whether you choose a motorized louvered R-Blade pergola, an insulated fixed-panel R-Shade, or our elegant R-Car carport, you have the complete flexibility to incorporate this stylish wood grain into your pergola design.
Our simulated wood finish look even better than the real thing, and they never fade or need to be stained or waterproofed. If you are looking to bring a bright beach-front pergola some authentic style, you can choose a lighter wood grain that simulates the look of a white pine or bamboo powder coating. Warmer colors like cherry or oak might be preferred for a wooded backyard or restaurant. To match a historic home, a deep mahogany color selection can give your brand-new pergola a sense of history.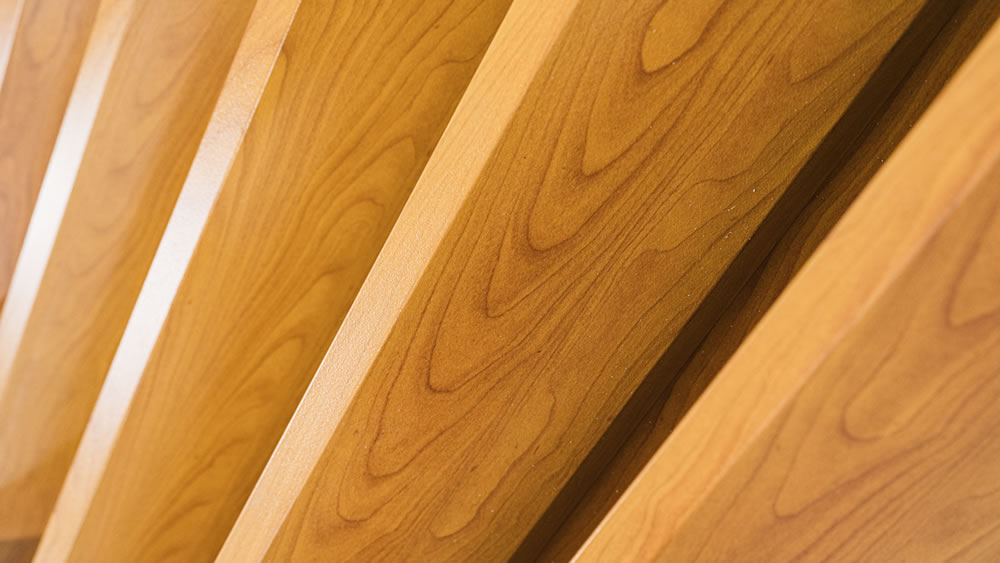 ---
Conclusion
Ultimately, when it comes to choosing between a metal or wood pergola, only one option truly stands out. If you would like to explore the many advantages of a modern aluminum pergola, please contact us today, and we will connect you with one of our local dealers to see what is possible for your home.