Nestled in Westchester County, one of the most-affluent counties in New Your State, Southern Table serves an inventive take on classic Southern cuisine. Devoted to farm-fresh ingredients the Southern Table kitchen and bar menus exude classic Southern cooking like fried green tomatoes, pulled pork, Nashville hot chicken, shrimp and grits, and cheddar biscuits. The restaurant owners also pride themselves on bringing the welcoming charm of true Southern hospitality to their diners. This meant bringing one of the quintessential elements of Southern dining to the restaurant, a year-round outdoor dining space. Unlike down South, restaurants in New York have to deal with the ever-evolving weather that can blast 90-degree heat in the summer and frigid accumulating snow drifts in the winter. To turn its seasonal patio into an all-weather dining space that would be reliably available no matter the weather, Southern Table owners worked with Azenco dealer Outdoor Living Structures to craft a covered restaurant patio complete with an adjustable louvered roof and retractable walls reinforced by embedded outdoor heaters.
🗺️ Location: Pleasantville, NY
🏡 Type: Commercial
📅 Date: August 2022
👷 Installed by Outdoor Living Structures
Product: R-Blade
Size: 23×30 feet
Options: Motorization, Pergola fans, Retractable vinyl screens, Infrared heaters 
Color: Bronze frame and columns with matching bronze pergola louvers
Benefits: Profit-driving all-weather outdoor dining space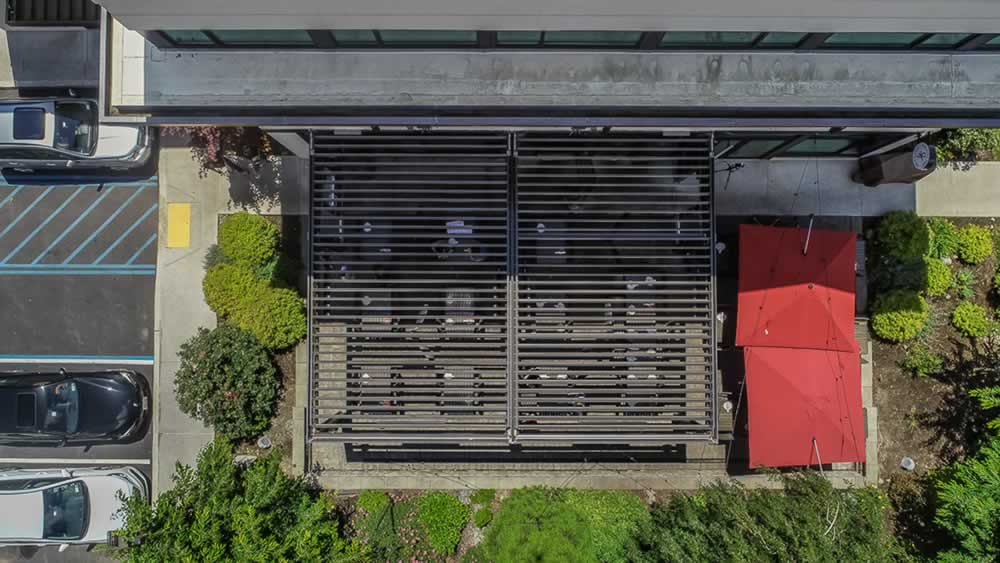 Like many restaurant owners working hard to keep their business moving forward amid the global pandemic, the Southern Table Kitchen team had erected a temporary canvas tent on their restaurant's patio to bring diners outside. As the winter months approached, and the Hudson Valley cold descended on Westchester Country, NY, they knew the temporary solution would help, but quickly realized a more well-designed outdoor dining structure was going to be a necessity in the long-term.
To create the all-weather outdoor dining space the restaurant needed, Outdoor Living Structures designed a four-zone adjustable louvered R-Blade pergola that could open to the elements during the balmy summers, and insulate against the cold New York winters. Appointed with embedded infrared outdoor heaters and motorized retractable clear vinyl screens, the new covered outdoor dining room more than doubled the space owners could rely upon to serve guests year-round.
Before, 3D renderings, & After
Situated along a wall of windows that provided a view into the eclectically-designed interior dining room, the Southern Kitchen outdoor patio was a standard rectangular shape. So, it lent well to a traditional rectangular pergola structure. In this case, though, the patio was rather large at 48×28 feet.
The Outdoor Living Structures design team envisioned four interlocked R-Blade pergola zones, each with independently adjustable louvered roofs. For this project the R-Blade was the ideal product selection as it allowed restaurant staff to open the louvers to allow direct sun to reach the patio when the weather was gorgeous during summer. They could also close the louvers partially to create shade. To ensure well-maintained air flow throughout the large covered patio, designers chose the perfect fan for pergola projects of this scale. The fan units they selected included lighting features as well, which promised a well-lit patio cover even on overcast days.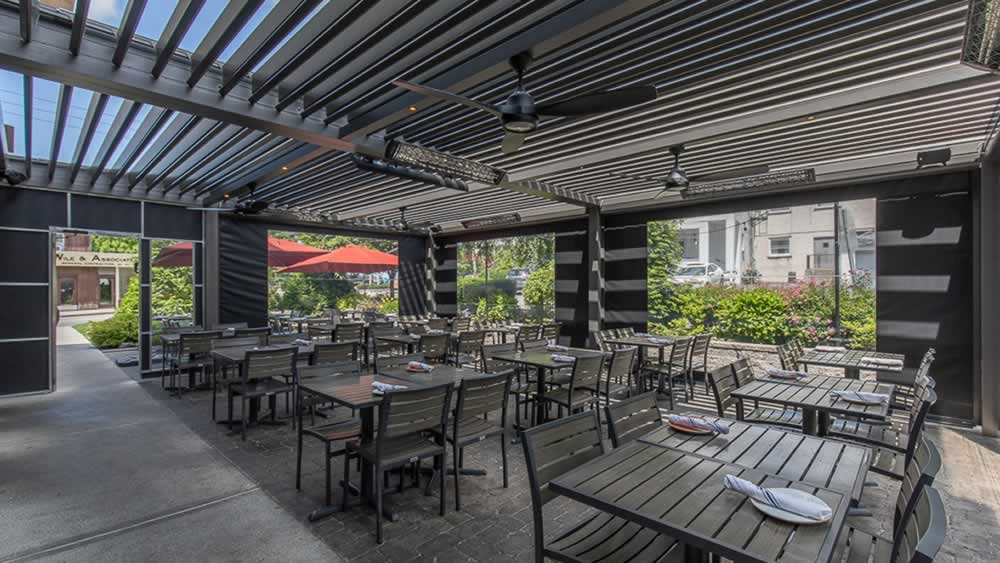 In addition to their need to cool an outdoor space during the warm summer months, Southern Kitchen also needed a robust outdoor patio cover ready to stand up to the freezing cold New York winters. With its study high-grade aluminum construction and durable exterior powder coating, the R-Blade would deliver life-long protection against this harsh weather. The R-Blade's unique dual-walled louver design also makes it the only adjustable louvered roof pergola on the market capable of completely blocking out the rain, sleet and snow. A promising feature in a county that sees an average of 32 inches of snow each year.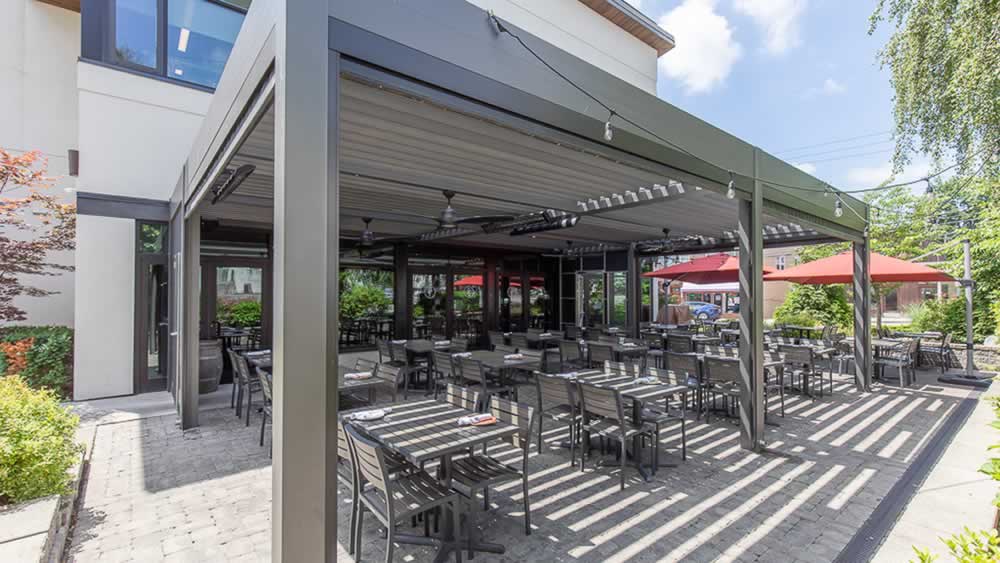 With the closed louvers of the R-Blade preventing rain and snow from falling on diner guests below the pergola, the designers also needed to turn this outdoor space into a comfortable dining room for the entire year. So, the Outdoor Living Structures team added multiple infrared outdoor heaters to each of the pergola's four zones.
Integrated with the pergola frame, the heaters could adjust to cast down just the right amount of warming for the patio depending on the external temperatures. To be ready for the sub-zero temperature dips in December and January, the pergola also featured motorized retractable vinyl screens. With the screens lowered, and the outdoor heaters maintaining a fire-side warmth, the Southern Kitchen team was able to confidently book diner parties in its new pergola-covered all-weather outdoor dining space throughout the year.
The color selections for this pergola project offered an opportunity to bring the restaurant's modern-Southern charm to the patio space. With its interior dining room styled with clean lines and brushed metals, Southern Kitchen opted to carry that outside with a bronze pergola frame and columns and matching bronze pergola louvers. Shimmering in the sunlight, the new pergola offered a perfect accent to fit with the existing dark stone paver patio.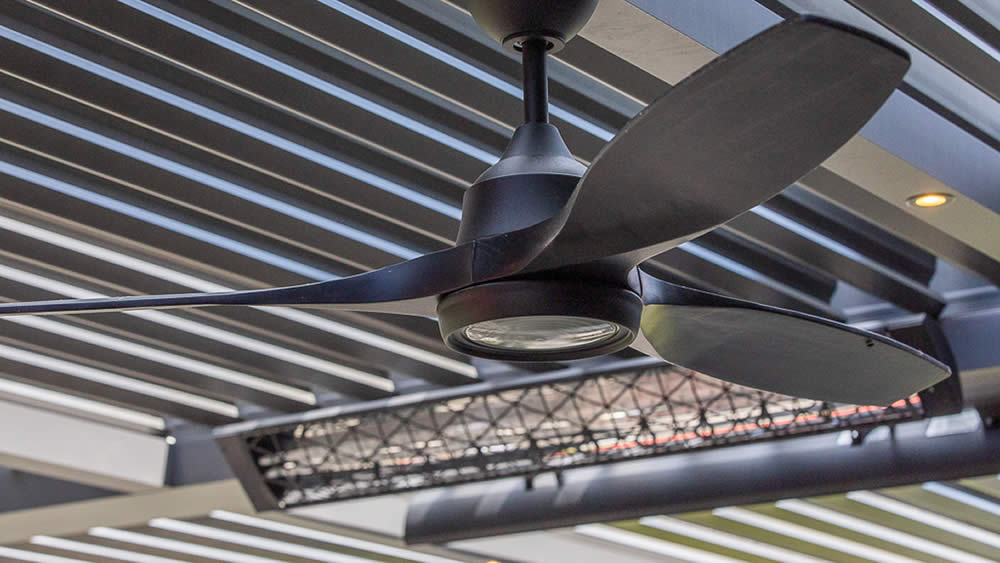 Four weeks
Five days on-site installation
If you would like to explore how an Azenco custom pergola can expand your restaurant's all-weather dining space into a reliably available profit generator, contact us to explore more of the amazing projects we've crafted, and we will connect you with one of our expert local dealers to help realize your vision. Contact us to learn more about our innovative solutions for your restaurant patio, deck or roof deck.