If you glance through some influencer Instagram feeds, you'll undoubtedly see them posing and sipping amid the glimmer of rooftop bar fire pits, rooftop pools with swim-up bars, and plenty of 365-degree rooftop views. Rooftop service areas continue to be a great experiential draw for restaurants, bars and hotels offering patrons amazing views. Opening a rooftop bar or restaurant can attract new customers or rekindle long-time fans to visit more regularly. If you are considering rooftop restaurant ideas, there are some essential considerations that need to be in play.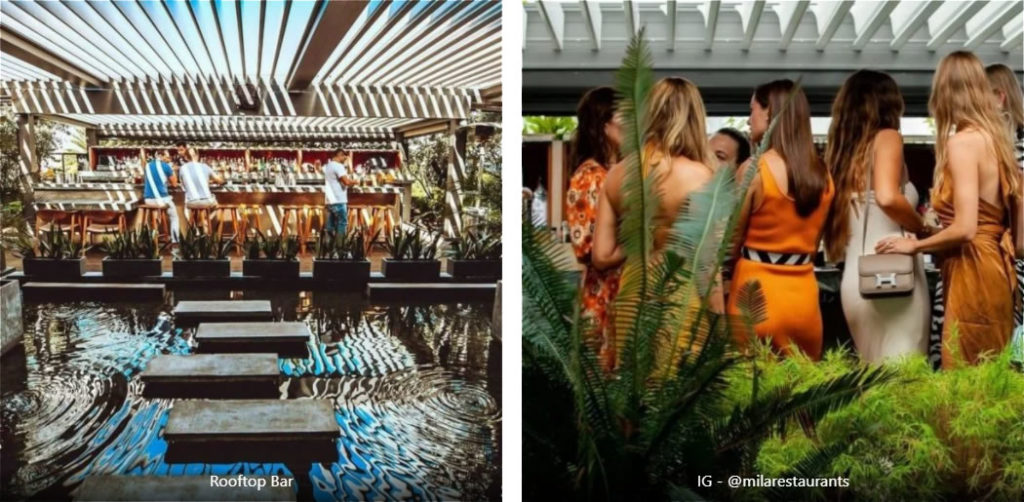 ---
Structural Challenges First
The first step when considering how to open a rooftop bar is to consult a professional engineer. Most building roofs were never designed to carry the load of crowds of people, let alone all the equipment needed to operate hospitality services, support pools and pergolas, fire features or performance spaces. So, it's highly likely that the roof will need reinforcement to meet these structural demands.
---
Access, Egress & Safety Measures
You can come up with the most exciting rooftop bar ideas imaginable, but if patrons can't safely access (and exit) the space, your dreams are sure to die on the vine. Raising existing stairways or elevators may be necessary to provide reasonable access, especially for handicapped accessibility. Of course, local regulators will also have requirements for sufficient emergency access and proper emergency. Additionally, many municipalities have firm regulations for open-air or covered rooftop decks to include tall enough barriers to keep patrons safe. Generally, a qualified local contractor should be able to help navigate many of these regulatory concerns, while also streamlining your permitting and inspection approvals.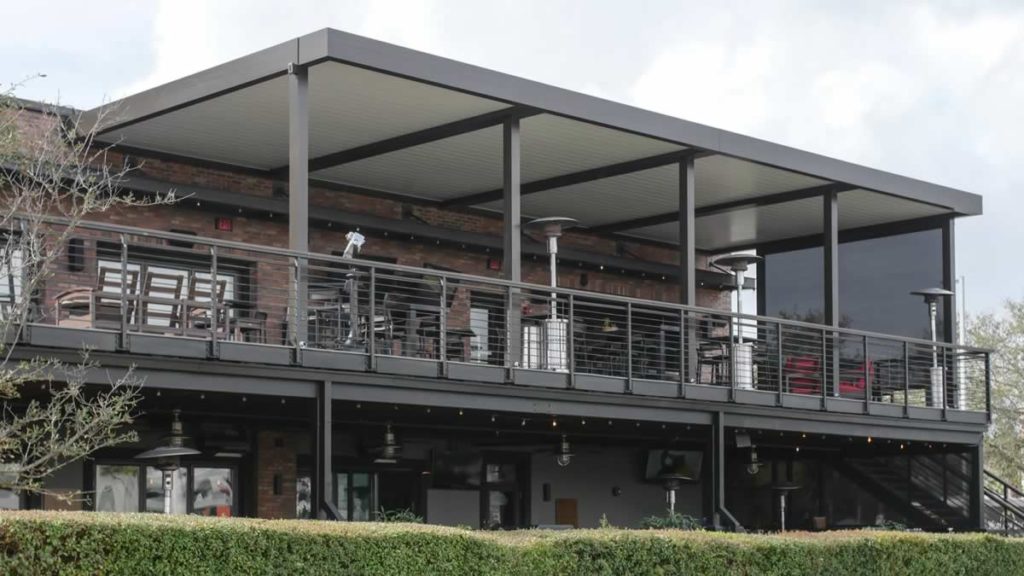 ---
Commercial Rooftop Bar & Kitchen Needs
Another factor to include in your early planning process is an evaluation of the physical plant needs of opening a rooftop bar. From tables and chairs to cold storage, utilities service for equipment, etc. Also consider where service staff will work. Protecting them from the elements, both the blazing heat of the mid-day and potential rain or even snow, will be an important consideration. Our Azenco R-Shade Pergola, with its insulated fixed roof, can provide the full-time shade that is ideal for a bar area. With added louvered sidewalls, it can even offer a discreet space to keep prep areas, storage or trash receptacles hidden from guests.
---
Take an All-Year, All-Weather Approach
Obviously, service staff and food service areas aren't the only assets in need of protection from the sun and rain. If you are going to invest in opening a rooftop bar, you'll need to ensure the space is open regardless of the weather, and that means protecting your most important asset…your guests. By adding shade solutions and rain protection, you will be able to plan for up to 365 days of operation. As you evaluate the return on investment for a rooftop bar or restaurant, knowing the space can be open year-round will allow you to better forecast that ROI timetable.

An adjustable louvered roof pergola, like our Azenco R-Blade, can deliver that all-weather protection while also giving you complete control over the dining space. Our fully-customizable R-Blade pergola can open its louvered roof to allow full sun to reach patrons, close partially to create shade while preserving airflow, or close completely to shut out the rain and snow. With its hidden internal gutter system, rainwater can be channeled to existing downspouts so the floor of the roof deck doesn't get flooded. Also, for restauranteurs that want to ensure their guests are never bothered by a passing shower, the R-Blade can be outfitted with an integrated sensor array that automatically closes the louvers at the first sign of rain.

---
Make your Rooftop Bar Instagram Ready
While customers will certainly enjoy an open-air rooftop restaurant in just about any location, designing your space for success can really help drive excitement and demand for a seat. Before you dive into designing the space, it's valuable to get a sense of what the views will look like, and if there are any sight lines that should be emphasized (or hidden). If the existing rooftop space is inaccessible before construction begins, call in the drone pilot to get a birds-eye view before hovering in at what will eventually be eye-level for guests.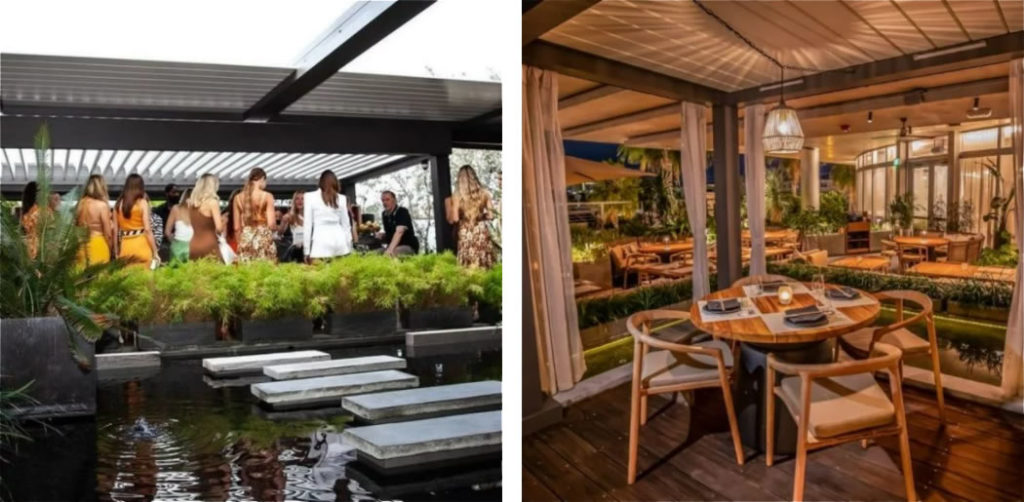 With those Instagram-worthy sightlines in mind, you can now layout the rest of your planned space. Ask the construction and design teams to work together to leave these majestic views as free as possible…those are what will really fill the place. Keeping in mind your target guests, you can accentuate the design and décor with some stylish upgrades that will keep them posting their pics from your new rooftop bar. For daytime guests, some striking architectural notes, like the symmetrical lines of a pergola, can create interesting shadow effects and backgrounds. As the sun dips, consider tantalizing fire features, creative lighting effects, or privacy curtains to create an exciting nighttime vibe.
---
Conclusion
If you would like to explore growing your business with the addition of a rooftop bar or restaurant, we and our network of experienced local dealers are ready to help. Contact us today and we can connect you with the right local commercial contractor.
---