Pergolas come in all shapes and sizes. They can be manufactured from a litany of materials. Popular material options in today's modern pergola market are PVC, vinyl, fiberglass and aluminum. While all of these material options can physically last a long time and are easy to clean, they all offer varying levels of strength, longevity, cost and styling. Let's explore some of the pros and cons of these popular pergola materials.
---
PVC Pergolas
You may be more familiar with PVC from its common usage in home plumbing, but the material can also be molded to virtually infinite shapes and sizes. While it is a durable material, PVC needs to be thick to be strong. If you've ever held a section of PVC pipe, you know it is rather heavy for its size. In the construction of a PVC pergola, the material is only used for the exterior of the structure. The internal support is usually fabricated from stronger and more lightweight aluminum. So, the weight of the internal support and the exterior material does compound to make a PVC pergola pretty heavy.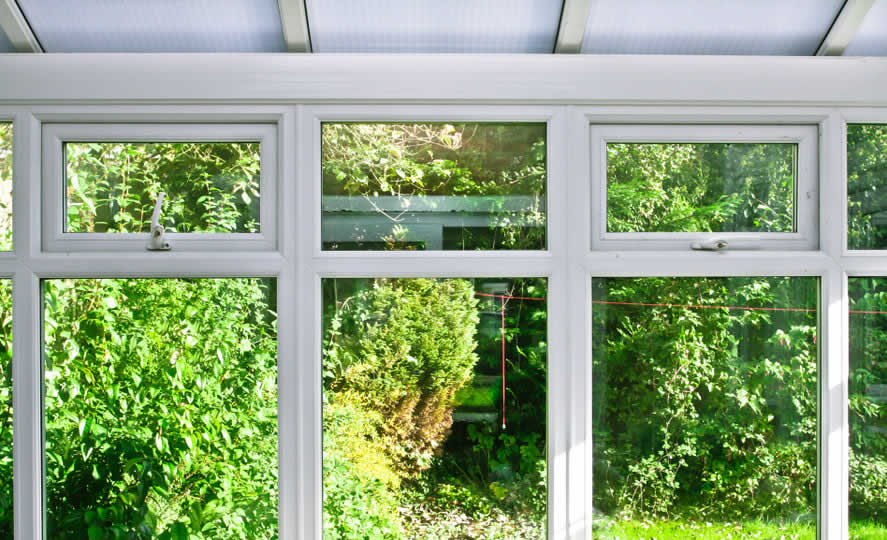 ---
Vinyl Pergolas
Vinyl pergolas have become increasingly popular as an affordable DIY pergola option. Available in kits of varying dimensions, the formed plastic can take on just about any decorative shape. Similar to the vinyl siding seen on some homes, the material itself will last a long time. But, just like the home siding, it fades in the sun over time. The vinyl also has the potential to warp or sag under the weight of collecting ice and snow. For homeowners needing a temporary pergola, or one they are able to move to new locations later, a vinyl pergola kit might be an option. If the long-range durability and robust color accuracy is more important for your pergola investment, then other materials are worth considering.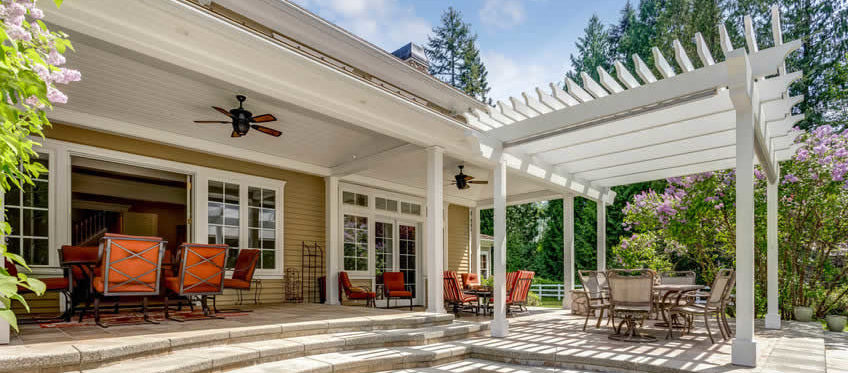 ---
Fiberglass Pergolas
Fiberglass offers improved strength, durability and fade resistance compared to PVC or vinyl. Fiberglass will survive extreme heat and extreme cold, and it can take a coat of paint when chipped or scratched. The major downside to a fiberglass pergola is the cost. Fiberglass pergola kits often come in three times the cost of a wood pergola, and double that of a comparable aluminum pergola. So, unless your project requires some extremely unique exterior shapes, fiberglass is a less-preferred option.

---
Aluminum Pergolas
Though not all aluminum pergolas are of the same caliber and quality (see more on this below), aluminum is among the most effective materials to fabricate an outdoor structure like a pergola. Its lightweight strength allows the extruded segments to be customized for long seamless sections. This strength also allows aluminum louvers to support their own weight, eliminating the need for internal support structures. Aluminum can also be contoured into unique shapes and decorative designs. The material is also an ideal recipient of powder coating which safeguards against sun-induced color fade, and protects against rust. While an aluminum pergola will come with a higher price tag than some other materials, its durability and corrosion-resistance ensure your pergola investment will stand up to anything Mother Nature can throw at it.
---
Azenco's Extreme Durability Aluminum
The Azenco pergolas are fabricated from virgin 6060 T6 aluminum. While the material is fully recyclable at the end of the pergola's life, Azenco employs newly forged aluminum to deliver the highest quality structures to our customers. Azenco heat-treats the T6 aluminum alloy to artificially age the metal, making it extremely corrosion-resistant and imparting a greater tolerance for extreme temperatures. It is this process that allows Azenco pergolas to stand up to snow, wind, rain and arid heat for years. Once our powder-coating is applied to the exterior of the pergola, it will stand as a lasting centerpiece for any outdoor space for years to come.
---
Pergola Materials: Price Comparison
Pergola cost can differ greatly based on the material selection alone, but there are several additional factors that ultimately decide the bottom-line for a truly special outdoor living space. The overall size of a pergola project will, obviously, be a deciding factor. Any optional feature sets a homeowner selects can also impact pricing. For example, Azenco offers an array of intuitive options from:
a range of embedded LED lighting
integrated patio fans and electric outlets
smart sensor arrays that can automatically close the louvered roof at the first sign of rain
automatic screens
decorative parts
different types of roofs, and more.
Unless you are extremely handy, installation costs will vary by region, and site-specific building code requirements can also play a factor.
Pricing for Azenco pergolas varies greatly depending on the job specifications, scope of work, and local building codes where the project is located. So, any interested homeowners or contractors should contact us to be connected with a one of our pre-qualified regional dealers for accurate project budgets.
---