Homeowners have several options for shading a deck or patio. This article discusses the benefits and limitations of some options for covering an outdoor living space. We're also going to take a detailed look at the motorized louvered pergola and why it is the perfect solution for enjoying your outdoor space. A pergola with a motorized louvered roof can do more than block the sun's rays, it can turn your outdoor space into a smart and versatile all-weather destination.
What does an automatic louvered patio cover offer that umbrellas, sunshades and awnings do not?
While umbrellas, sunshades, and awnings all provide shade, their drawbacks can be frustrating for homeowners.
UMBRELLLAS: Beyond their square footage limitations, umbrellas don't really delivery much in the style department. Also, homeowners have to remember to close an umbrella on windy days because most are not designed to withstand strong winds. Additionally, the lifespan of an umbrella is shorter than a sturdier structure, such as a pergola.
SUNSHADES: After you install a sunshade, it remains fixed in place. If there are days that you'd like sunshine on your deck or patio, such as in the cooler winter months, you will have to totally dismantle the sun shade. It's a step up from a patio umbrella, but still not the most flexible or convenient patio covering.
AWNINGS: While motorized and manual awnings block the sun when extended, they are an all-or-nothing shade option that fail to provide any control over the amount of sun or shade on the patio. You also have to remember to retract them in strong winds to protect against damaging the structure (or your home). From an aesthetic perspective, awnings aren't as sleek as a modern pergola, which may be a concern for homeowners with a newer home looking to match their home's architectural style.
A shade structure with an auto pergola roof maximizes outdoor living
We shared some of the limitations of umbrellas, sunshades, and awnings. Now, let's talk about pergolas, which can be a far more flexible shade solution for your home.
What is a pergola?
Attached to your home, a pergola is a structure that allows for a seamless transition from indoor to outdoor living. Freestanding pergolas, supported by four beams, are also an option if you are looking to create a distinct separation between your indoor and outdoor relaxation spaces.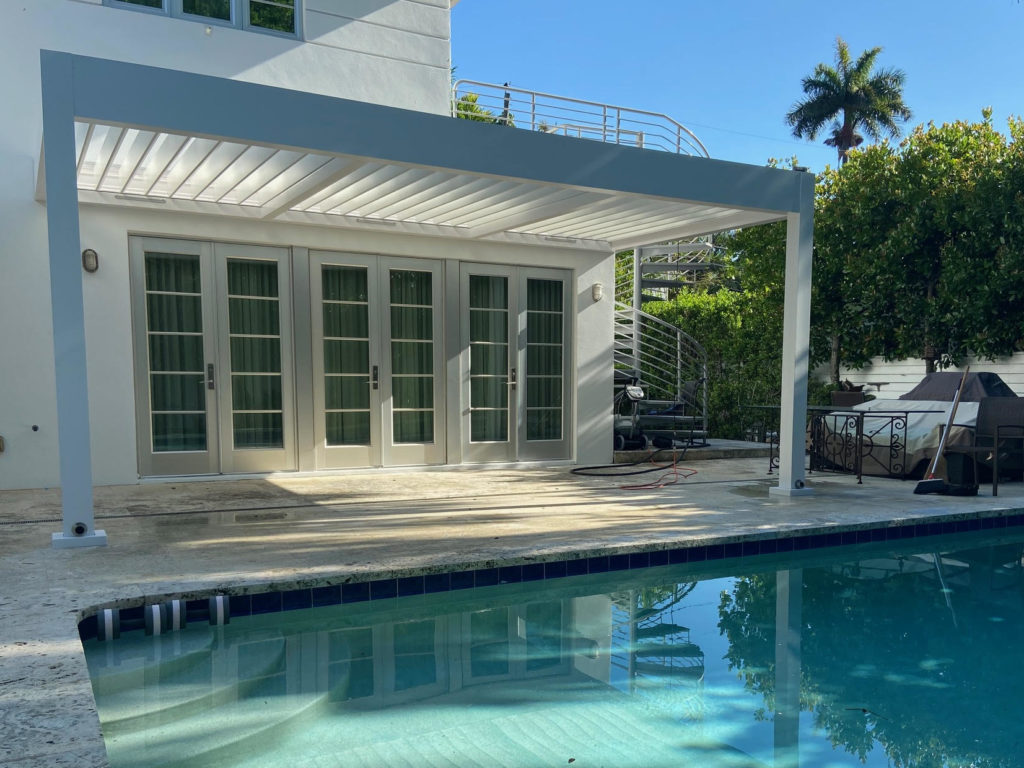 Four-season outdoor living
A pergola offers protection against the elements, such as rain, wind, sun, and for the northern climates, even the snow. Unlike the other options discussed above, a pergola can make your outdoor living space one that can be enjoyed all year.
A pergola for any style of home
No matter what kind of outdoor living space you add to your home, you want to make sure it complements the dwelling's architecture. Avoiding structures that look out of place with your home style is best for your home value, and will make your outdoor space more impressive to guests. Azenco pergolas are fully customized to fit seamlessly into your home's architecture whether classic, modern or contemporary. Deciding which type of pergola to install is the first step. Selecting between a fixed-roof and adjustable motorized louvered pergola roof pergola will really be based on how you expect to use your new living space.
The biggest difference between a fixed roof pergola and one with a motorized louvered roof
A pergola with a permanent roof creates full-time shaded areas, while an auto pergola roof creates more flexibility in your outdoor space because you can open the louvers to control the sun penetration. It's great for days when you want to limit sun exposure but still let light in. Motorized louvers can also be controlled with smart sensors which intuitively close the roof at the first sign of rain, without you lifting a finger.
The Azenco R-Blade, an automatic louvered pergola
The Azenco R-Blade pergola features a motorized louvered roof and offers the ultimate flexibility for outdoor living. When the sun is too blinding and its heat unbearable, the R-Blade's louvers can be adjusted to an angle between 30 and 40 degrees to allow some sun penetration while providing plenty of shade. When you want a clear view of the sky, fully open the louvers —there's no fixed roof to dampen your mood.
One of the great things about having a pergola is that it enables you to stay dry outside when it starts raining. But the R-Blade has additional features that do even more. In case of a rainstorm, the louvers can adjust to about an 8-degree opening, which keeps rain out but still allows some light penetration.
Why pergola motorized louvers matter
Selecting a motorized pergola is a big decision for homeowners. As with any home renovation, it will be a permanent part of your home. Choosing a pergola with high-quality, well-engineered louvers in its auto pergola roof can make a huge difference in whether your outdoor living space truly seals out the rain. The Azenco R-Blade features insulated dual-walled louvers, and their benefits are twofold. First, the dual-wall design ensures zero water penetration when the roof is closed, so no annoying drips on your dinner party below. Second, they are insulated, which means they can dampen noise. With uninsulated louvers, the sound of rain hitting the roof can interrupt conversation and disrupt the tranquility of a beautiful rainstorm. The R-Blade's insulated dual-wall louvers absorb the noise of rainfall on the aluminum roof, so you can enjoy peace and quiet outside in any weather.
Speaking of noise, be sure to consider the sound emitted when operating a motorized louvered roof. The R-Blade's motor is whisper-quiet, so you won't hear jolting sounds when operating it.
Optimize your Azenco R-Blade for style and function
We know that when you choose to install an Azenco pergola, you are looking for an elegant extension to your living space. This innate quality of our designs begins with the look of the pergola, and extends to its intuitive ease of use. Homeowners appreciate the R-Blade's hidden assembly hardware which ensures a sleek exterior look, and its integrated gutter system that funnels rainwater through the support posts and away from the entertainment space below. You can also consider customizing your R-Blade to match your lifestyle by adding options, such as an infrared heating system to offset a chill in the air, LED lighting (spots or rail) to illuminate the night, or solar and insect screens to block prying eyes or annoying insects.
Remote controlled louvered pergola
The R-Blade includes a remote that opens and closes the louvers on demand. You also have the option to upgrade to a smart sensor array for true set-it-and-forget-it management of your pergola configuration. Your installer can program the R-Blade's integrated sensor system to automatically close the roof at the first sign of rain and open in high winds to prevent damage. In case of freezing conditions, the R-Blade's temperature sensor signals the roof to open to avoid potentially-damaging snow and ice buildup.
An ideal day beneath your automatic louvered pergola
The intuitive smart features built into our R-Blade Pergola will truly make the most of your outdoor living space. Just imagine spending a full day under your R-Blade pergola. Start the morning with the roof fully open as you enjoy the soft morning light with a cup of coffee. As the sun creeps higher, you adjust the louvers for partial shade. Once the sun peaks, you completely close the louvers to block out the most heat-intensive rays of the day. After lunch, you hear there's going to be rain, but you stay reclined in your chaise knowing the integrated R-Blade rain sensor will detect the first drop and close the roof. As the rain intensifies, the insulated dual-walled louvers dampen the noise of the raindrops, and channel the water away while you stay perfectly dry. Now, sneak a look at your neighbor rushing into the rainstorm to keep their patio umbrella from flying away or to crank in their retractable awning. When the rain subsides, the evening falls and built-in LED lights come up as the insect screens lower for a pest-free dinner. After dessert, you feel a chill coming on, and with a flip of the infrared heater, the night carries on in pure comfort. As you head to bed for the night, you spot the neighbors out lashing down their sunshade and you remember the forecast called for an overnight storm as you drift off to sleep knowing the R-Blade's wind sensor will open the roof to protect your investment even in hurricane-force winds.
How the R-Blade automatic louvered pergola stands out from the competition
Not all motorized louvered patio covers on the market are the same. While many may look similar from afar, ensuring the longevity of your pergola investment requires you to look under the hood a bit. After more than 20 years designing and manufacturing the highest quality pergolas, the lessons we've learned and our attention to detail can be seen in many aspects of the R-Blade, including:
CUSTOM EXTRUDED ALUMINUM: Azenco dealers do not cut aluminum in segments out in the field like most other manufacturers because it requires finishing the joints with caulk, that is prone to leaks. Azenco's dual-walled louvers are made from factory-cut solid extruded aluminum, utilizing precision robot cutting machines. This level of precision is what ensures zero water intrusion areas.
GAPLESS LOUVERS: Azenco's louvers extend all the way to the edge of the pergola frame and are sealed with grommets, which means no light can shine through when closed and no rain can permeate the closed roof. The tight seal combined with the integrated retractable screens also keeps out bugs.
DUAL WHISPER MOTORS: The R-Blade features dual-whisper motors. Most of the other options on the market rely on one motor to open and close the louvers. Unfortunately, that puts unbalanced tension on one side of the louvers, which can lead to warping and then leaks over time. Azenco incorporates motors on either end of each louvered zone to mitigate this stress and ensure a longtime water-tight seal.
Is maintaining a motorized pergola difficult?
Maintaining a louvered roof structure is as simple as using it regularly and scheduling an annual cleaning and inspection. As the louvers are opened and closed, the moving parts will self-lubricate and keep it in great working order. The installing contractor will also be able to provide yearly cleaning and inspection of your pergola.
Choose a qualified local installer for your motorized pergola near you
When installing a pergola, be sure to choose a qualified builder with local expertise, and a track record in pergola projects. Contact Azenco today to find a local dealer you can count on to bring your R-Blade Pergola dreams to life. We provide hands-on training for our dealers to ensure that your pergola is installed properly, and in accordance with local requirements. Additionally, an experienced installer will also make sure your pergola is erected to best suit the layout of your home. For instance, ensuring the louvers are positioned in the optimal direction for the predominant direction of sun in your area, and opening away from the house to make sure you see sun and sky when they open rather than shingles and siding.
In this article, we provided an overview of the different types of products that can shade your patio or deck. We also described what a pergola is and how one with an automatic louvered patio cover offers the most flexibility for your outdoor space, providing protection from the sun, wind, rain, and snow. As the manufacturer of the R-Blade high-quality motorized louvered roof pergola, we detailed its features and explained what makes it stand out from other motorized louvered pergolas on the market.
---