In need of an inground pool cover that safeguarded their pool while complimenting the luxurious design of their pool deck, homeowners in one posh Coral Gables, FL neighborhood incorporated the Azenco PoolDeck to make their outdoor space into a multi-faceted entertainment and play space.
| | |
| --- | --- |
| Location | Cocoplum Community in Coral Gables, FL |
| Type | Residential |
| Date | July 2021 |
The addition of a customized Azenco PoolDeck transformed this stylish patio into a dynamic space for fun and entertainment, even when the pool is closed. The innovative mechanized enclosure slides over the pool to become deck space sturdy enough to hold patio furniture or people. For this luxury home, the PoolDeck allowed these homeowners to reclaim their pool space when not in use and make the pool deck a safe place for their grandchildren to play.
---
Pool Deck Ideas
Earlier this summer, a client hired SHO-Pros, part of Azenco's qualified dealer network, to devise a solution to cover their beautiful pool with a retractable decking system. The client was primarily concerned with the safety of their young grandchildren playing around the pool when it was not in use. The homeowners wanted to ensure their residential pool cover would elevate the home's distinct minimalist design, so SHO-Pros presented pool deck ideas that would provide the desired functional safety measures while blending with the existing outdoor space. After reviewing several inground pool covers, the couple ultimately chose the Azenco PoolDeck, our innovation in pool safety covers.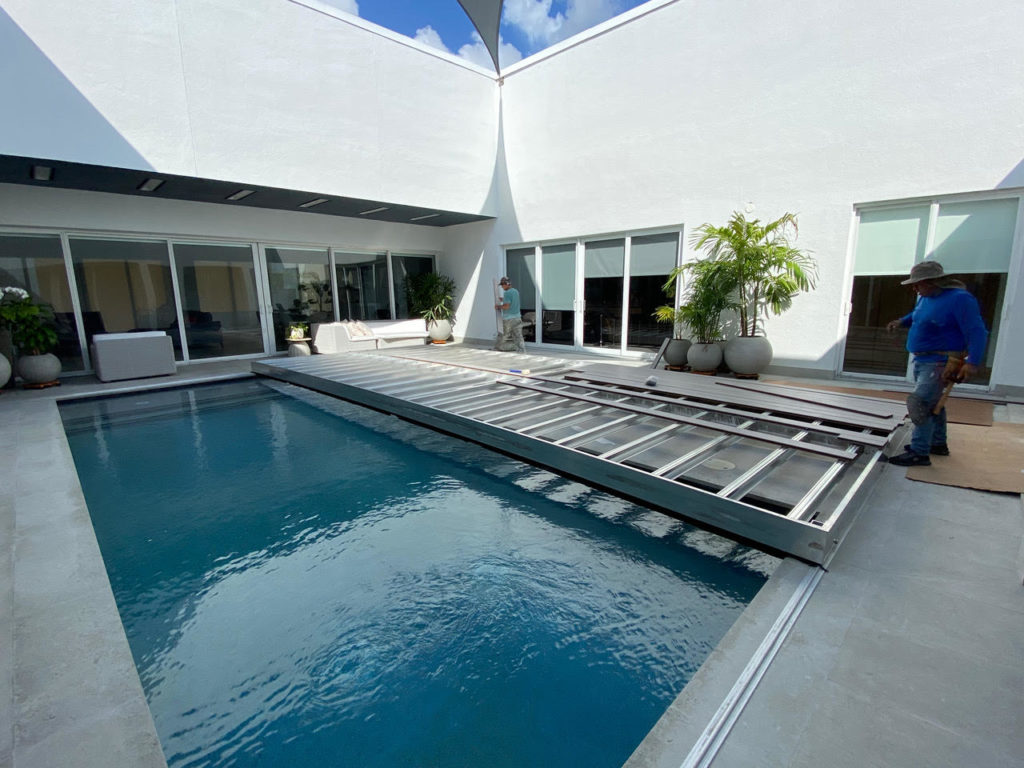 | | |
| --- | --- |
| Product | Pool cover |
| Model | POOLDECK |
| Type | 1 sliding panel |
| Size | 15 x 30 feet |
| Options | Motorization |
| Color | Gray with blue powder-coated finished ends |
| Benefits | Safety, modularity, convenience and style |
| | |
Design Considerations
As mentioned earlier, the homeowners requested a design to match their home's clean and modern look. With their large inground pool measuring 15 feet wide by 30 feet long, Azenco custom extruded the PoolDeck's aluminum segments to perfectly fit the pool. The PoolDeck's contemporary aesthetics and seamless exterior look provided a perfect complement to the geometric lines of the client's home. The homeowners selected powder-coated gray Resysta decking and blue finished ends to adorn the Azenco PoolDeck and fit their polished concrete pool deck. Sliding over the entire pool, the automated PoolDeck created new space for their large and active family to enjoy their confined outdoor space. The finished PoolDeck project made for a modern and beautiful deck space that discreetly hides the pool beneath.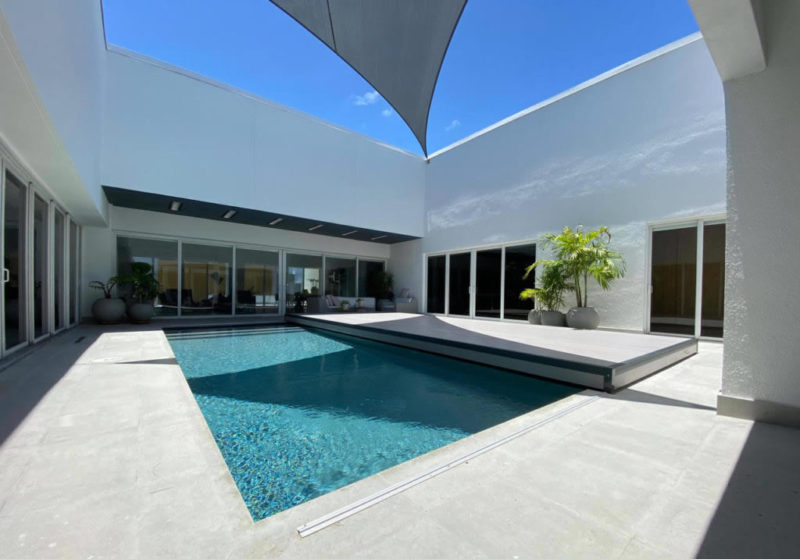 ---
Automatic Pool Covers
The key feature of the PoolDeck is its ability to slide open and closed on its smooth mechanized track system. Even with a deck of this size, a motor is not necessary for the easy-to-use retractable pool cover. However, the homeowners opted to install whisper motors allowing the PoolDeck to function as an automatic pool cover that opens at the touch of a button.
Innovative Pool Covers for Inground Pools
The Azenco PoolDeck allowed these homeowners to enjoy the convenience and protection of a pool cover while adding usable outdoor space with an elevated style. Customizable to enclose just about any sized pool, the PoolDeck is not only convenient and beautiful, it also ensures the pool area can be safe for playing children when not in use. The Azenco PoolDeck's easy-to-install modular platform ensured the team was able to complete installation in just two days on site.
---
A Party Becomes a Pool Party in Seconds
Whether heading out for a dip in the pool or to gather for a pool-side party, the Azenco PoolDeck gave these homeowners a unique flexibility in their outdoor space. When it's time for a swim, a simple press of a button retracts the insulated, solar-powered cover in seconds. When their grandchildren are finished swimming, the PoolDeck closes to make the pool area a safe space. The Azenco PoolDeck also expanded their entertaining options by offering the strength and stability to hold patio furniture or group of friends and family when the pool is closed.
Deck Around Pool Alternative
The Azenco PoolDeck is an alternative to installing a deck around the pool. Its innovative three-in-one design maximizes the use of the pool area making the square footage occupied by the pool into a dynamic entertainment space. Featuring whisper-quiet motors, the mechanized pool cover insulates and safeguards the pool, while putting swim time a mere press of a button away.
---
Turnaround time
Manufacturing: delivery in 2 weeks.
Mounting On Site: 2 days.
Contact us to learn more about our pool deck design, residential or commercial pool cover projects and other innovative solutions for your pool at 305 607-1722.
---