Small yards, terraces or other outdoor living spaces often present unique design challenges because of their small footprints. Whether you are looking to create a dedicated yoga nook, a small outdoor ktichen, or a tranquil water garden, a corner pergola will maximize your use of any small outdoor space.
Adding aluminum pergolas that open and close to a small outdoor space means you can slide into relaxation regardless of the season or what Mother Nature has in store that day. A corner pergola will bring a visual accent to any backyard, and with demand for outdoor living space at a premium, the investment will elevate the value of your home. Because our all-aluminum pergolas are custom-crafted for each individual project, we can perfectly fit any patio cover sizes for a small corner nook. Fabricated from high-quality aluminum and coated with a durable high-quality powder coating, our innovative and stylish pergolas will unlock the potential of your unused backyard oasis.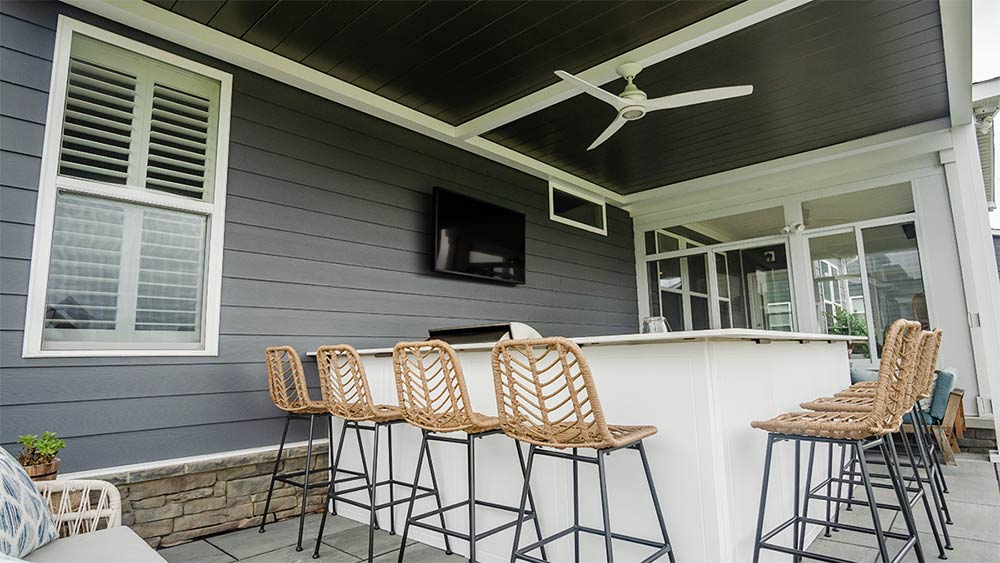 Two Roof Styles from Which to Choose
With a myriad of design options from custom colorways to innumerable optional features that can be integrated into your one-of-a-kind pergola, our pergolas deliver style and grace in every project. When beginning a corner pergola project, one of the first design choices you'll make is to determine whether a solid fixed roof pergola will best suit your needs, or if an adjustable louvered roof is preferred.
Our R-SHADE™ pergola features an insulated sandwich panel roof that creates full-time shade for your corner patio.
Alternatively, our R-BLADE™ pergola features a motorized adjustable louvered roof that you control with a remote control. The adjustable louvers allow you to decide just how much sun reaches the patio, but also ensures the roof will close tightly to seal out every drop of rain and melting snow.
Luxe Outdoor Living Options for Any Application
Regardless of the roof style that you select, we offer a dazzling array of customizable features that can be integrated with your corner pergola. Motorized retractable shades can be fitted with sheer material to defray sunlight or more dense material to create total privacy on the patio. For permanent privacy needs, fixed louvered wall panels will keep the airflow at a maximum and invasive eyes at a minimum. Embedded LED lights allow you to adjust the illumination, pergola fans can add extra airflow, and embedded infrared heaters will zap the evening chill.
Whether you choose a minimalist design or load up the extras to outfit your pergola, every Azenco outdoor living structure delivers in the style department. With hidden internal gutters to channel water away from the covered patio, and no visible assembly hardware for clean exterior lines, an Azenco pergola will seamlessly fit with your home's existing architectural style.
With our pergolas able to be customized to any footprint regardless of size, and an array of feature options at your disposal, an empty backyard corner can easily turn into a diverse array of relaxation spaces. Some inspiring options could include:
For those who love to challenge their inner mixologist, an unused corner of the yard can easily become a cute outdoor bar space. With just a small 5×5 foot area, a solid fixed roof pergola will provide plenty of all-weather coverage for a two or three seat wet bar. Add a pergola fan overhead to keep cooling air flowing as the blender picks up speed, and bring the whole design concept together with our customizable wood finish exterior powder coatings for a true tiki bar vibe.
An out of the way corner is a perfect space to add a hot tub for your late-night soaking pleasures. Consider incorporating an adjustable louvered roof that opens so you can take in the stars and ventilate plenty of steam off the bath. If you want to ensure maximum privacy for the bathing nook, fixed louvered privacy walls along exterior sides of the pergola will completely block the view, while a motorized retractable curtain on the yard facing side of the corner pergola allows you to manage the view into the tub from your own yard.
A corner pergola is the ideal size to bring all of your outdoor cooking dreams to life. Adding an L-shaped outdoor cooking station to the corner of a yard with a grill, smoker, pizza oven, or any other outdoor cooking tools you may need will instantly make your unused backyard nook into a neighborhood favorite. For outdoor grilling stations, or any covered patios with fire features, consider choosing an adjustable louvered roof pergola that can open to ventilate smoke, fire, ash and heat. Modern aluminum pergolas are ideally suited to protecting patios with fire features because their durable coatings easily stand up to the additional heat.
If you have a small nook in your backyard, on a roof deck, or a patio that is currently unused, consider how a beautifully optimized corner pergola will help make the most of that space. With all-weather and all-season whether protection for your backyard nook, you can turn it into your new favorite evening and weekend hangout year-round. If you would like to explore corner pergola options for your home, reach out to us today, and we will have one of our local dealers contact you to start the design process.