Your backyard pool is always a great place to relax, cool down and enjoy some family time. The tranquil waters and the sun-drenched pool deck are an ideal place to unwind from a busy week, spend a staycation or enjoy a barbecue with friends. Adding a modern aluminum pergola over the pool, or a poolside pergola, will make this relaxation destination even more enjoyable. A pool pergola allows you to control the shade in and around your pool, bring some added luxury styling to the pool deck, and provides space for all the amenities that make the pool a great addition to any home.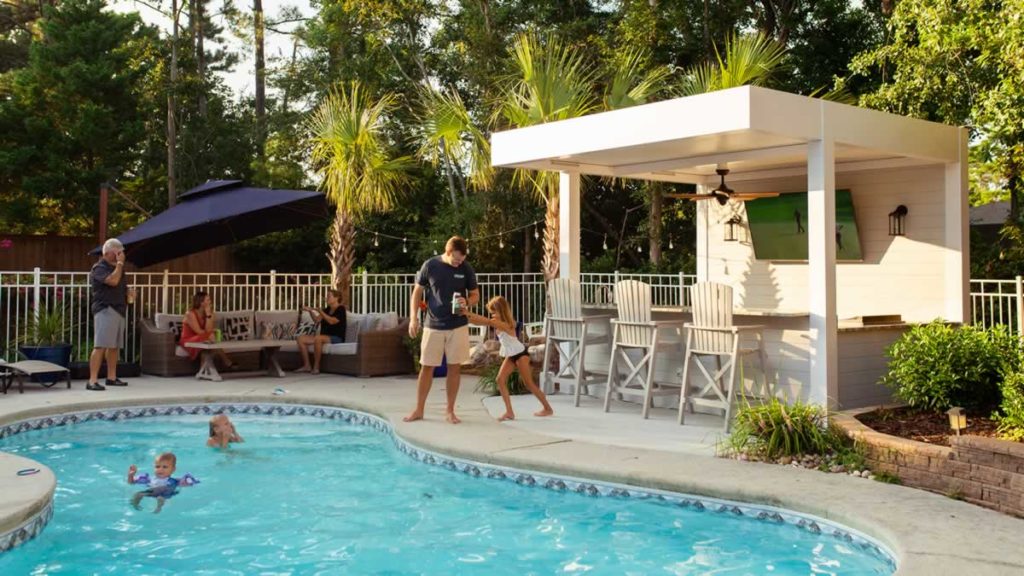 ---
Poolside Pergola for Shade and Rain Protection
Creating shade in and around the pool allows you and your family to use the space all day, rather than worrying about too much sun exposure. Modern pool pergolas come in two main roof styles. An insulated solid roof design creates full-time shade in and around the pool, while an adjustable louvered roof pergola provides flexibility in the amount of sun reaching the pool deck. With this roof design, the louvers open for full sun on the pool deck, close partially to create shade and promote airflow, or close completely to block the sun. Our unique gapless louver design also fully blocks the rain, so your pool deck becomes an all-weather destination.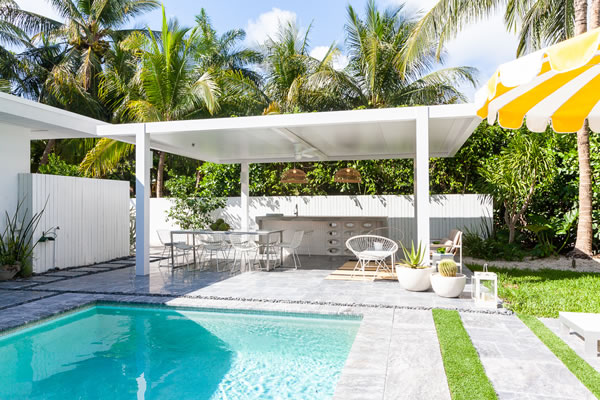 ---
Added Style for the Pool Deck
The pool deck can sometimes be a rather barren space with plenty of concrete around the pool, but a poolside pergola brings an added level of style and luxury to the space. The architectural angles of the pergola roof and support columns, as well as the attractive shadows cast by a louvered roof, up the artistic feel of a backyard instantly. Pool area pool pergola ideas offer diverse design options. The exterior of a modern pool pergola can be color-matched to any home's existing exterior color scheme, or even coated with a faux wood finish for a more rustic look. Beyond the standard rectangular framed pergolas, you could design a cantilever-style roof that hangs over the pool as a pool shade pergola to create shade for people lounging in the water. We can also design an integrated poolside pergola with our PoolDeck three-in-one pool cover, patio and deck solution that will take your pool to the next level as an entertainment space.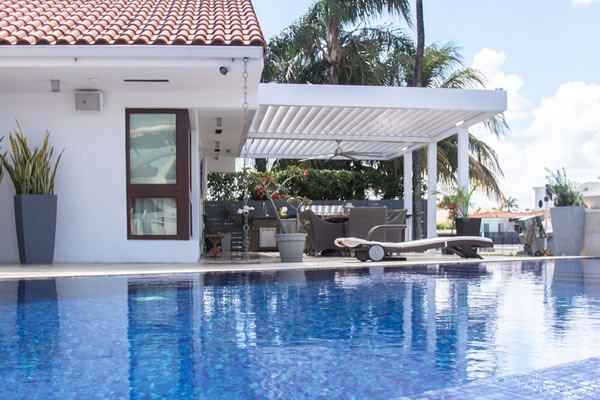 ---
Outdoor Dining Below a Poolside Pergola
Beyond simply creating shade for your outdoor space, a pool pergola is also the ideal place to create an outdoor dining space. Built as a standalone structure at the pool's edge, the structure creates a headquarters for grilling and relaxing right next to the pool. Adding a pergola attached to the house is a great way to create a transitional space from the indoor to outdoor living areas. Appointed with a full outdoor kitchen, wet bar or simple dining table and chairs, your pool with pergola greatly extends your living space.
---
Bring More Indoor Amenities to the Pool Deck
When considering pergola over pool ideas imagine the amenities that you enjoy in the house being readily available poolside. A poolside pergola provides a weather-protected space to mount a TV to watch sporting events while chilling in the cooling water. Our pergolas are fabricated from light-yet-strong extruded aluminum, so the support columns and roof frame are actually hollow. These spaces allow us to integrate LED lighting or infrared heaters to bring some evening-time fun to a pergola over pool design. Your poolside pergola can also feature retractable privacy curtains or insect screens, that are perfect for keep prying eyes and bugs away while you relax.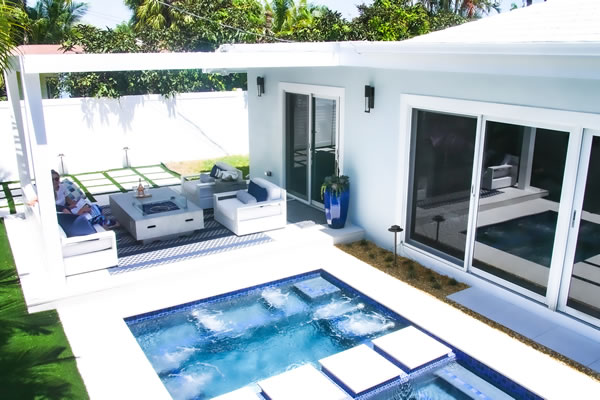 ---
Conclusion
Adding a poolside pergola to your pool deck will change the way you use and enjoy your pool. If you would like to explore pool pergola ideas for your home, contact us and we will have one of our local pergola experts reach out for a consultation.
---