Today, we are excited to announce the release of our new 2022 product catalog. Featuring dozens of beautifully photographed pergola, cabana, carport and pool cover projects, the new catalog will help you envision how our innovative designs can accent your home, garden, restaurant or private club. If you have dreamed of turning your patio, deck, garden or pool into an all-weather outdoor living space ideal for entertaining, private relaxation or to elevate the hospitality experience for your business, then Azenco can customize a solution to meet your needs.
---
The Azenco Difference
With more than 30 years of design and manufacturing expertise, Azenco proudly crafts the highest-quality, most-durable, and most-beautiful outdoor living structures on the market. At our Miami, Florida headquarters and production facility, we are merging precision manufacturing processes with innovative smart features and elegant European designs, to elevate your outdoor living or hospitality space. Fabricated from the highest-quality aluminum, Azenco outdoor structures are coated with durable custom-colored powder coatings that ensure every Azenco project can stand up to anything Mother Nature has planned. With a growing coast-to-coast dealer network, an Azenco outdoor living expert is ready to help you envision the outdoor living space you deserve.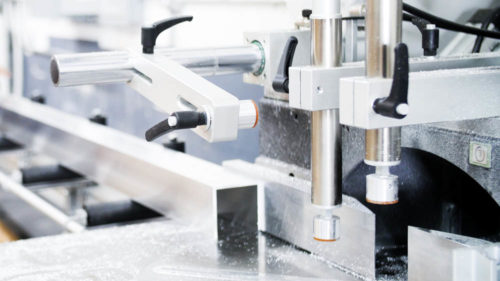 ---
Azenco Bioclimatic Pergolas
We invite you to download our new catalog to help realize which of our customized pergola designs will best meet your unique outdoor living lifestyle. For homeowners and hospitality providers requiring full-time pergola shade for their outdoor space, the insulated fixed-roof R-Shade Pergolas is an ideal deck cover.
Featuring clean exterior lines, the R-Shade can be constructed as a freestanding structure or attached to a building for a seamless indoor-outdoor design. If a truly flexible patio roof is a priority, then flip to the pages featuring our R-Blade Adjustable Louvered Pergola. Its unique dual-walled louver design is the only louvered roof pergola on the market which can both completely seal out the rain or adjust to allow the sun to reach the entertainment space below.
Combining the R-Blade with our integrated sensor array allows it to become a truly autonomous part of your smart home solution that intuitively closes at the first sign of rain, and opens to prevent damage from high winds or accumulating snow loads.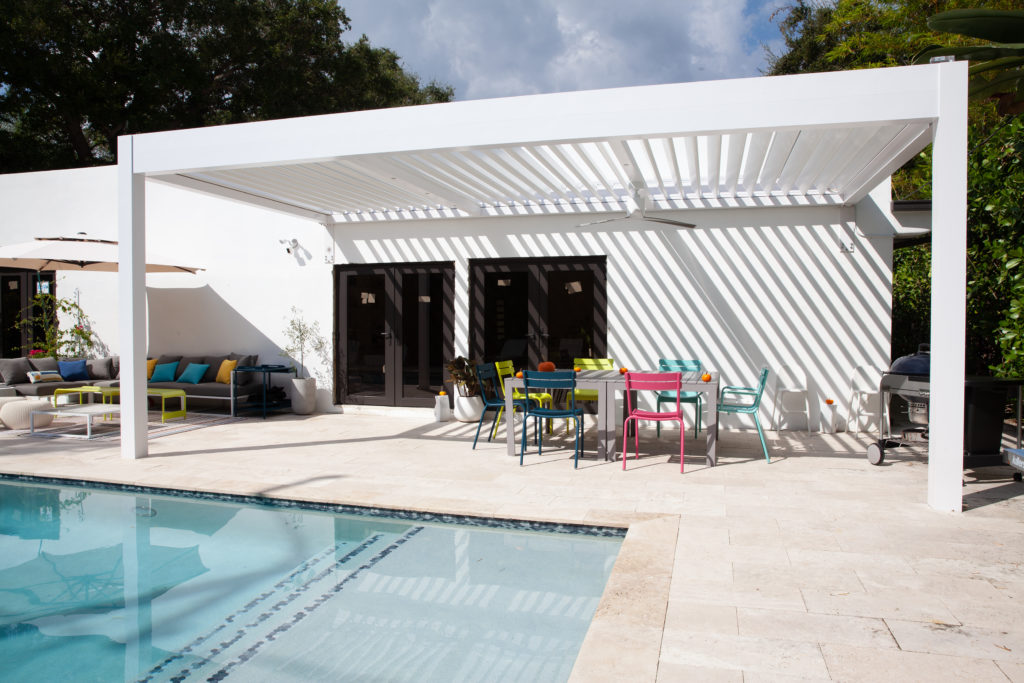 ---
Azenco Modular Cabanas
For homeowners looking for an easy and elegant way to bring shade, privacy and style to their outdoor living space, the award-winning Azenco K-Bana is a modular cabana system that is so easy to install it often does not require a building permit. Jump to the K-Bana section of the new catalog to see how the modular panel sections can be combined to create a truly unique poolside retreat or an intimate outdoor dining space with the full flexibility of our adjustable louvered roof systems, integrated self-leveling supports and integrated drainage system.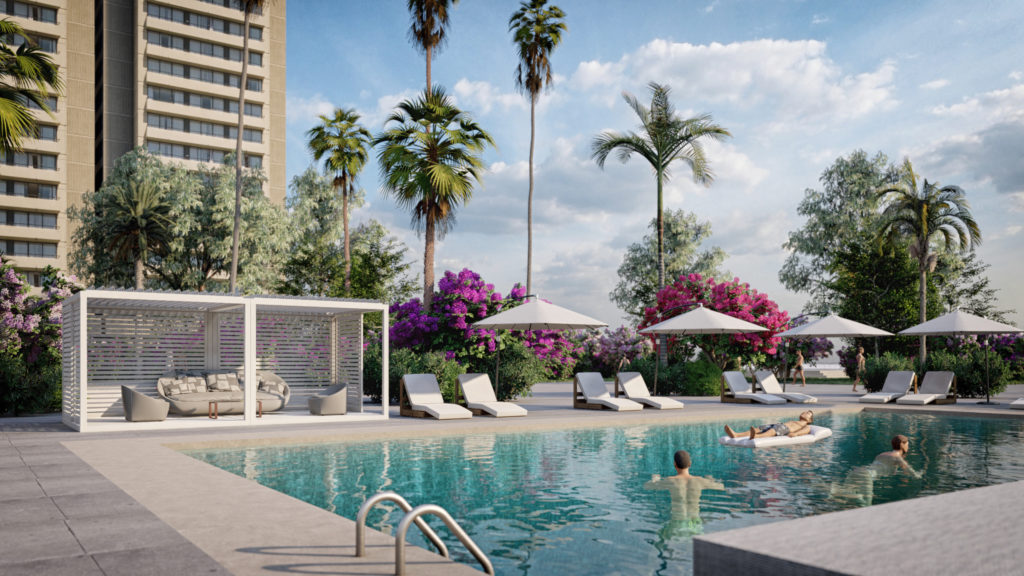 ---
Style and Function with an Azenco Carport
Beyond protecting you, your family or your business patrons from the midday sun or rain showers, an Azenco outdoor cover can provide full protection for your vehicles. Homeowners looking to make the entry to their property more inviting can find some gorgeous photos of our Azenco R-Car carport projects here in the catalog. The sandwich panel roof of the R-Car can be customized to provide shade and rain protection for a single or multiple cars, or even extended to cover an RV or boat. Its heavy-duty structural supports can house integrated lighting or even be customized with solar panels to power electric vehicles.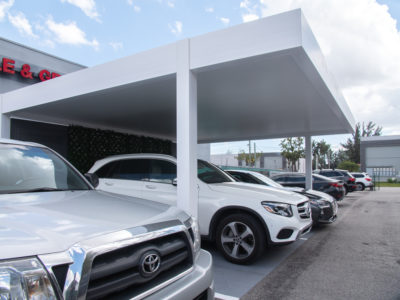 ---
Truly Dynamic Pool Covers
With the company's roots in creating truly innovative pool covers for both residential and commercial pool facilities throughout Europe, it should be no surprise that Azenco offers some of the most original pool cover designs to elevate any pool deck. Featured in the new brochure, the Azenco PoolDeck automates the safety and function of any inground pool. The three-in-one design allows the motorized decking to cover and insulate the pool when not in use while leaving splash time fun a mere press of a button away. The exterior powder coating can be customized to accent any architectural style allowing the PoolDeck to provide an elegant backdrop for your outdoor entertainment venue whether you are hosting a black-tie dinner soirée or children's pool party.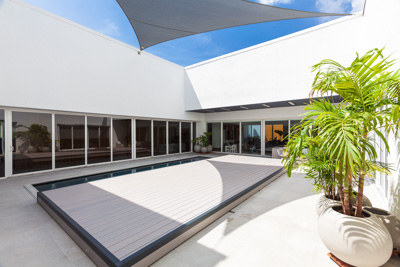 ---
How to Get Our 2022 Catalogue
If you'd like to learn more about our lineup of innovative outdoor living structures, please request a catalog today. While the outdoor construction season in colder northern climates is coming to a close, if you are looking to make the most of your spring outdoor living in the Hamptons, the New Jersey shore or in your Chicago backyard, now is the time to evaluate your options with one of our qualified local dealers.
For customers in southern climates ranging from Virginia beach to Miami, Dallas to San Diego, our network of affiliated dealers is eager to help you reimagine your outdoor living space for the New Year.
---