Today's modern pergolas are simply the most-flexible options for any backyard, garden, patio or deck outdoor living space, but pergolas can also go beyond basic shade structures. Adding a roof structure between two separate buildings, like a pergola between house and garage, can turn unused square footage into a value-add.
Building a pergola between two structures such as a main residential dwelling and a garage or to connect your home with an in-law suite can seem a relatively simple project but is nonetheless one which should be taken on with the help of a professional. A pergola expert will be able to confirm whether the pergola roof requires footings and support columns, or if the span is short enough to simply attach the pergola to the existing buildings. A skilled pergola designer will also be able to craft an integrated gutter system that seamlessly flows into the home's existing downspouts, ensuring runoff is ported away from the space covered by the new pergola.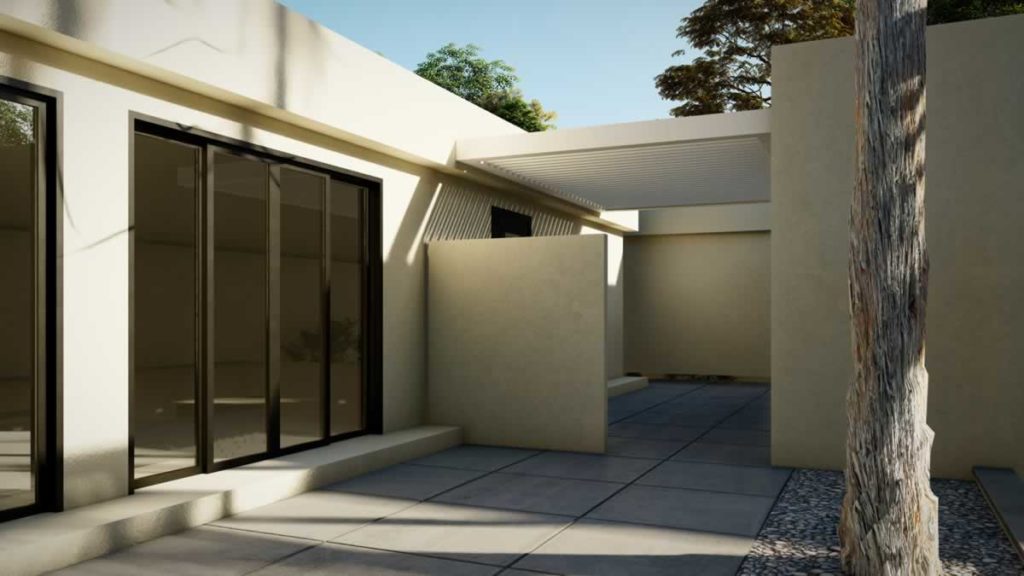 So, let's look at some of the ways pergolas step off the patio to create a true value-added space between existing buildings.
---
Shade and Rain Protection for the Daily Commute
Is there anything worse than running for the car amid a downpour, then having to ride to the office as jackets and clothes stick to the seat? It is certainly high on the chart of avoidable discomforts. Constructing a pergola between house and garage will make the beginning and end of the daily commute far more bearable. With a solid pergola roof overhead, the walk from your home to a detached garage can be traversed in full shade and out of reach of any downpours. Returning home after a long day, you can make that weary trip from the garage to the house at whatever pace you see fit even if the deluge is upon you.
---
Relaxing Covered Lounge Between Buildings
If you are looking to make the most of the space between a home and outbuilding, a pergola roof is the ideal patio cover to attach to existing structure walls. Fitted with insulated fixed-panels or a dynamic motorized adjustable louvered roof, the pergola creates shade and rain protection for a stylish lounge space. If you keep an art studio in a detached building, outfitting a lounge in the space connecting the studio and home can be a great place to host clients. If the out-building is a dedicated in-law suite, a covered connecting patio is a perfect communal space oasis for all to enjoy without encroaching on the others' indoor space.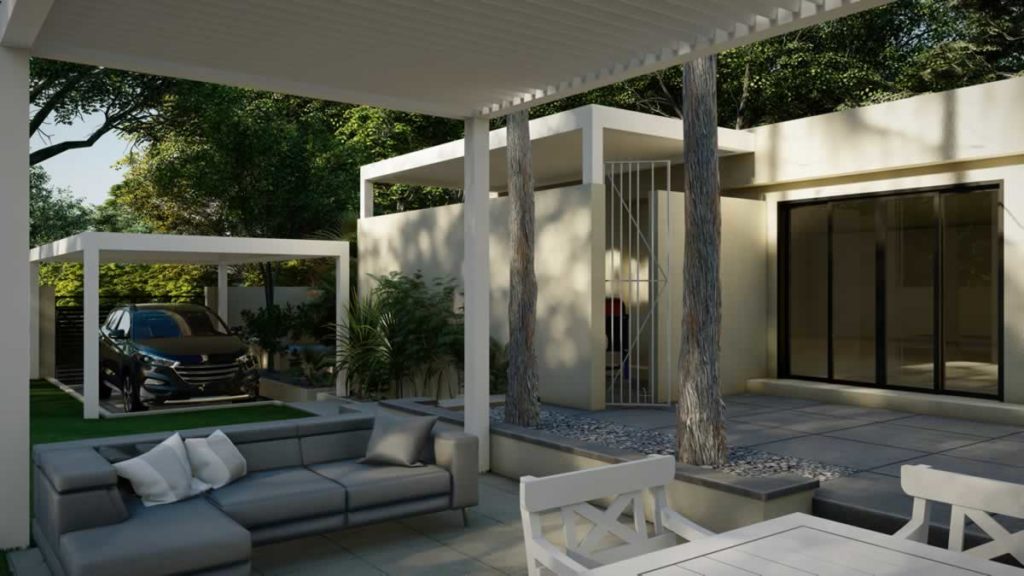 ---
Drive-Through Carport
If your garage has already outgrown your vehicle collection, adding a pergola between house and garage (or other out-building like a barn or sturdy tool shed) makes a great carport. You can keep your golf cart out of the blazing sun, or create a space to tinker on your jet skis out of the rain. Azenco's innovative R-Car carports can also be customized with extended support columns to create a vaulted roof ideal for storing an RV or boat. The investment in a dedicated home storage space is quickly recouped when off-site storage is no longer needed. If the layout of your property allows, leaving the carport open on both ends makes a perfect drive-through design so you're never trying to remember which way to turn the wheel when reversing the boat trailer.
---
Add Solar Panels Without Risking Roof Damage
If you have researched adding solar panels to your home, you have probably read some horror stories about the installation causing damage to home roofs. Well, a pergola roof is the ideal location for solar panels that can offset your power needs, and allows you to safeguard the roof over your head. Making the panels part of the initial design will allow a pergola expert to ensure the brackets and attachment points are protected from potential rust and will not encumber the pergola's internal draining system.
---
Everyone Wants to Shovel Less Snow
In colder climates, erecting a pergola roof over a pathway between buildings can cut down on snow removal demands. With the proper insulated sandwich panel roof, even heavy snow loads can be handled. As the snow on the roof melts, the hidden internal gutter system will port the runoff away from the walkway to prevent icing. For some added protection, add motorized retractable screens to the pergola structure to keep blowing snow from your walkway, and you'll never shovel that pathway again.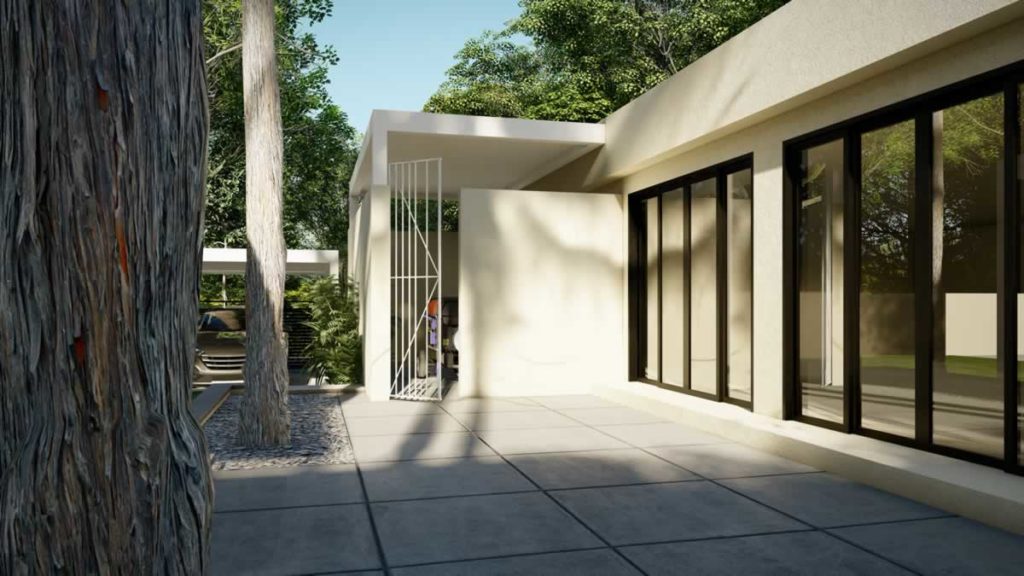 ---
White Pergola Roofs Keep Exteriors Bright and Cheery
One of the top concerns we hear from customers considering erecting a pergola roof between buildings is how the new roof will impact the light reaching their home, or that adding the structure will make the outdoor space too dark in general. While these concerns are most often assuaged once the pergola is installed, there are some steps that can be taken to keep the newly-covered space bright and cheery. The first option is in color selection. Opting for a white pergola roof ensures light is well reflected throughout the outdoor space. For homeowners that want to guarantee even more light, embedded LED lights can be integrated with the pergola design to make sure the evening of entertaining or commute from the garage to the home are fully illuminated. If you are opting for integrated LED lighting, it is imperative that you work with a qualified pergola dealer to incorporate this feature into the overall design. Attempting to add lighting to the pergola after the fact can be potentially damaging to its internal workings such as the motorized louvers or the pergola gutter system.
---
Conclusion
If traversing your property out of the reach of unbearable sun or driving rain and snow sounds like a great value-added home improvement project, then contact us to be connected to one of our local pergola dealers who can help you explore the possibilities for adding a pergola between house and garage.
---