Here at Azenco creativity and reimagining the possible are essential to our ethos. These central tenets influence the design of our outdoor living solutions, the creative way we approach unique customer projects, and also the way we hope to inspire our customers to make the most of their outdoor living spaces. So, when we dispatched our designers to reimagine our website, they responded with a new look, new educational content, and a whole new interface that will help you, "Get Inspired. Get Informed. Get Connected."
Today, we invite you to take a tour of our new customer portal.
Outdoor Design Inspirations
Product specifications alone can not tell the story of how an innovative Azenco outdoor structure will completely change the way you enjoy your outdoor spaces. So, it is invaluable for new customers to experience the outdoor lifestyle possibilities that await them with the completion of an Azenco project. Our new website transports you to the luxurious designs that we will create for you. With inspirational portfolios of louvered roof pergolas, solid roof pergolas, modular cabanas, innovative car ports and patented pool cover designs, you can flip your way through some of the amazing projects we have designed. If you want to learn more about how our designers turn the unique challenges of some outdoor living projects into relaxation-boosting advantages, you can surf our array of Highlighted Projects.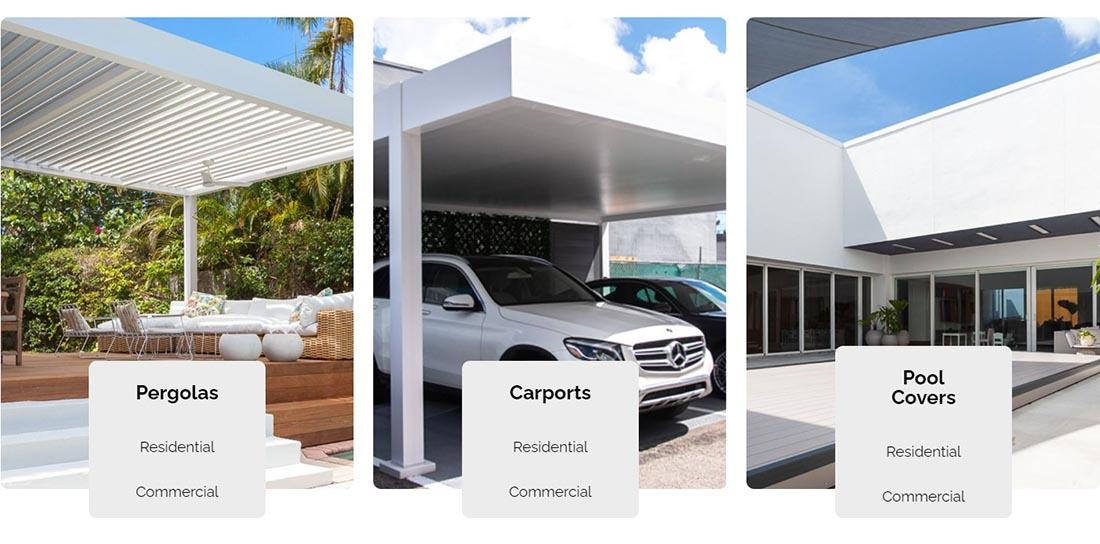 More Accessible Product Information
We are also extremely proud of the innovative designs that our team has created over more than 25 years leading the outdoor living industry. While we hope many visitors to our site have come for some outdoor design and décor inspirations, ultimately, you are also looking to learn what sets Azenco products above other outdoor structures. So, we've redesigned our website to showcase the unique advantages of the Azenco pergolas, cabanas, carports and pool covers. From the new homepage, you can easily compare the look of a louvered pergola roof to a solid roof design before digging deeper into each product.

Educating Consumers on Pergolas and Beyond
Our new website is much more than a place to learn about Azenco products. We also want to be a resource for home designers, decorators, homeowners, restaurateurs, etc. to explore the possibilities that a high-quality, meticulously-designed, and expertly-crafted outdoor living structure can deliver for them. So, we've also expanded our new Azenco Blog to help you learn about the dizzying array of outdoor living structures, and choose the style and functionality that best fits your unique outdoor living lifestyle. You'll also find articles to help guide landscape design around your new pergola, deep dives into louver design and how it unlocks the all-weather potential of your patio, or discussions on how pergola projects can impact your home's value and restaurant bottom-line. In all, our blog is your one-stop-library for some of the most in-depth expert insights on outdoor living.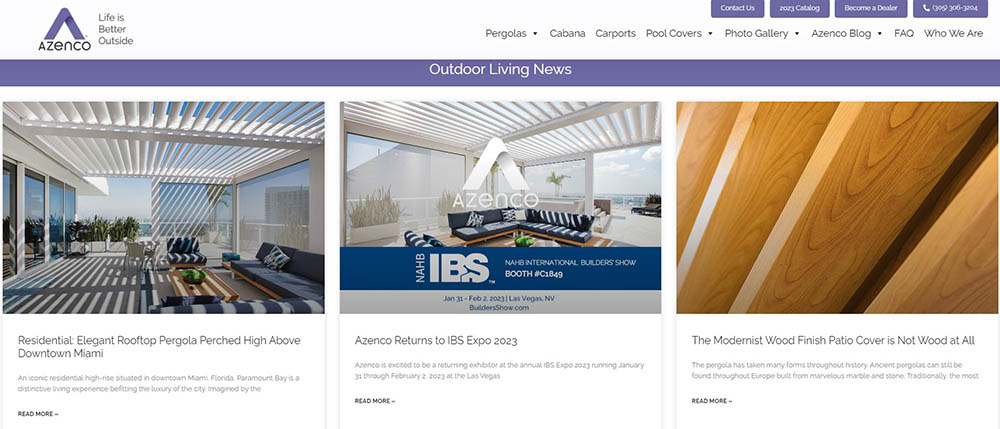 Of course, amazing outdoor living solutions do not design or fabricate themselves. So, we also wanted our new website to allow customers to get to know the people behind the innovation. As Azenco has grown to span six factories on two continents, and our US dealerships have crested many design/build experts throughout the country, we never lose sight of the individuals who make your outdoor living dreams come to reality. In our new "Who We Are" section, you'll get introduced to our founder and CEO, Charles Chapus, and explore some of the innovative designs he and the team have invented. You'll also get a look at the myriad of craftsmen who are hard at work every day at our robot extrusion and laser-guided aluminum cutting machines. Afterall, it is their hard work that enables us to drastically reduce project turnaround times, so you can start enjoying your elevated outdoor living space as soon as possible.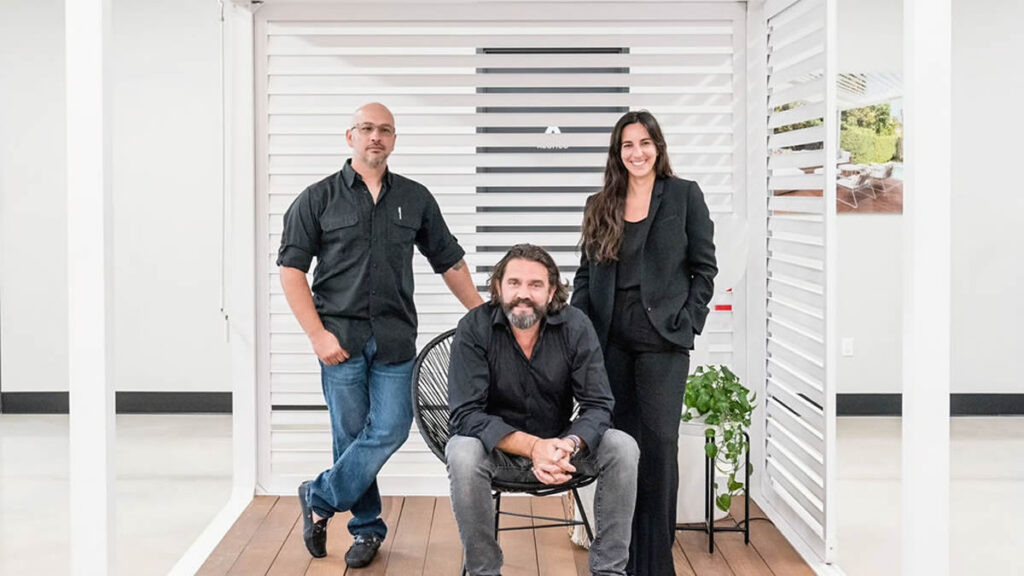 Come Explore and Take Some Inspiration Home
If you are feeling inspired to add a modern pergola, innovative cabana, luxury carport or elevated pool cover to your home or business, you can always request one of our catalogs, or reach out to us directly so we can connect you with one of our expert local dealers to start your design consultation today.
Again, we welcome you to the new Azenco website, and invite you to explore our world of luxury outdoor living. Please, come see first-hand how Life is Better Outdoors!